In collaboration with The Works.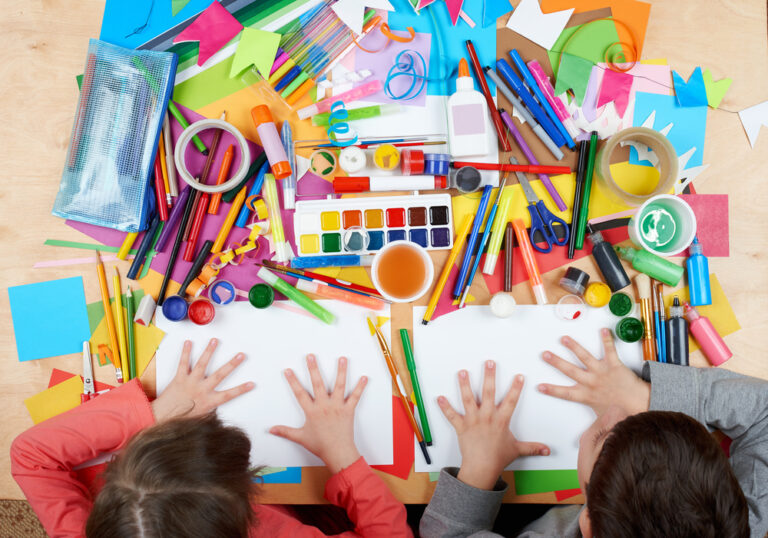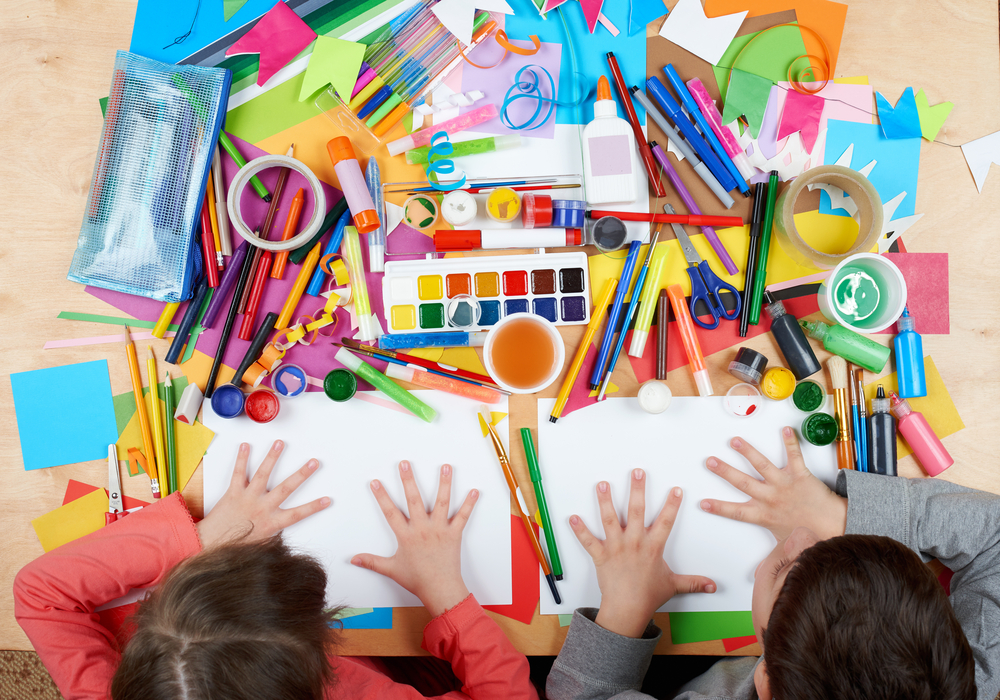 The summer holidays are nearly upon us! Where has the time flown! In fact, today is the last day of this school term for my children as we're heading away a few days early for a weekend Chocolate Experience in Brussels! Yes, it's been ok'd by the school – we're a little bit more laid back up here in Scotland than some of your English schools!
Still, six weeks of school holidays means a lot of time to fill entertaining the children and, although I'd prefer to get outside and explore and be adventurous, sometimes the weather just isn't on our side.
That's where my crafting drawers come in handy. I tend to hoard bits of ribbon from chocolate boxes, coloured papers, embellishments and, oh, anything that might come in useful again some day, and store them in 'the crafting drawer'.
I also like to top up the drawer with new supplies and crafting kits, all available from The Works and at prices that won't break the bank!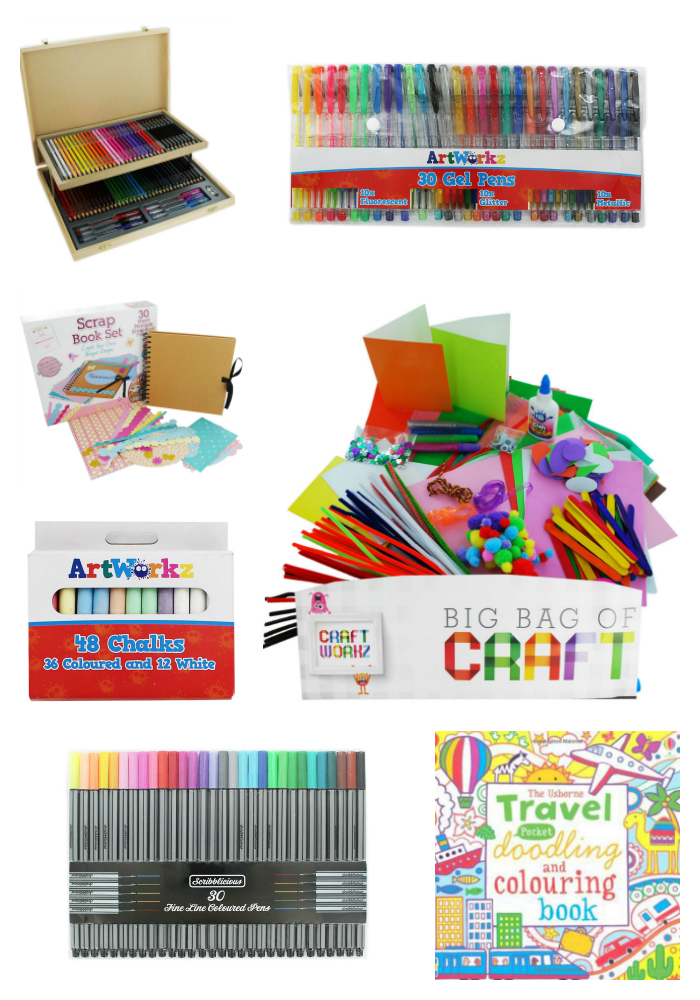 Wooden Stationery Set with 75 Pieces – perfect for colouring, drawing, outlining and more. All stored in a beautiful wooden case which features fold out upper level tray and fastening mechanisms to keep items secure when travelling. Includes: 8 Top grade sketching pencils, 60 Quality colouring pencils, 1 Metal sharpener, 3 Glitter gel pens and 3 Gel pens – this is sure to keep the kids entertained for hours! RRP £10
30 Gel Pens – a pack of 30 high quality gel pens in a wide variety of bright and vivid colours. Includes 10 x fluorescent gel pens, 10 x glitter gel pens and 10 x metallic gel pens. RRP £4
Scrapbook Set – Treasure those summer memories with a hand made scrap book – this kit contains a 30 sheet (180gsm) spiral bound scrap book, 8 sheets of craft paper, 12 decorative borders, 8 background frames and 8 glitter embellishments – everything you need to start scrapbooking! RRP £6
48 Coloured Chalks – A fantastic box of chalk with 36 coloured blue, orange, yellow, green, pink, purple and 12 white – suitable for the whole family! Who doesn't love turning the pavements outside your house into works of art in the summer sun? RRP £1
Kids Big Bag of Craft – this craft bundle includes craft essentials such as: 56 x pom-poms, glue, sequins, glitter glue, shapes, googly eyes, 48 x lollipop sticks, corrugated card, paper and so much more! All the little bits and bobs you might need. RRP £6
Scribbilicious Fine Line Coloured Pens – This pack of 30 coloured pens, each with a 0.4mm super fine tip, provide a comfortable writing/drawing style for those discerning artists in your house. RRP £6
Travel Doodle Colouring Book – while away the hours colouring with this pocket sized colouring book! We could really be doing with this today as it's going to take us 36 hours on the ferries/trains to get to Belgium! RRP £5.99
What would be on your summer crafting wish list? Let me know in the comments!
OTHER THE WORKS WISHLISTS YOU MIGHT LIKE
My World Food Cookbook Wishlist by Recipes from a Pantry
My Dream Cookbook Wishlist by Hedgecombers
My Vegetarian Cookbook Wishlist by Veggie Desserts
My Cookbook Wish List by Little Sunny Kitchen
My Cookery Book Wish List by Foodie Quine
This is a paid post. Top image from Shutterstock, crafting images from The Works.