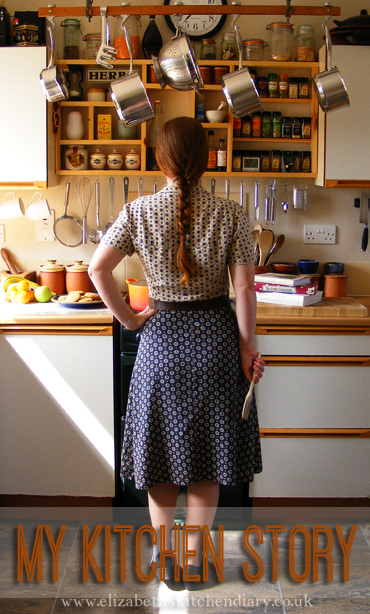 The kitchen is the centre of our house. It's the hub, the restaurant, the laundry room, the study space, project space, radio-listening space and it's my space. Where the style, colour and set up of every other room in the house is dictated by the rest of my family's wants and needs the kitchen is completely under my control.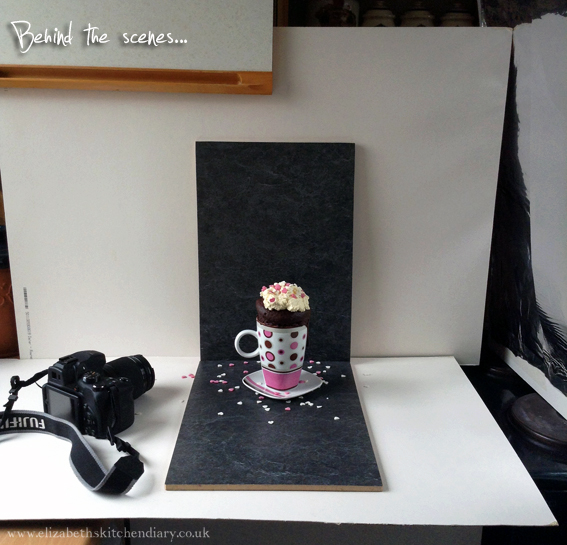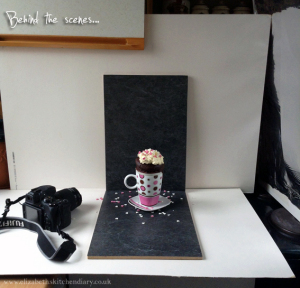 I spend most of my waking hours in this room, from the chaotic morning breakfast routine (don't ask me for anything until I've had at least two coffees!), the school rush, to baking cakes and kneading dough, preparing meals, food styling and photography in the 2 foot square space next to the only window in the house that lets in enough light for adequate photographs, to blogging, time spent on social media and our evening family meals.
We're very lucky that we get to sit down as a family for dinner as I understand a lot of families are far too busy to regularly do this.
It all happens in the kitchen: learning, love, laughter, tears, the occasional sunken cake thrown against a wall in frustration.
However, as far as my kitchen goes it is nothing special. It's not one of those posh country kitchens with a Rayburn or Aga or one of those modern stainless steel affairs. We live in rented accommodation so besides a coat of paint and rearranging the furniture in what little space there is available there is very little we can do about the layout.
The kitchen desperately needs redone; cupboard doors keep falling off, things are constantly breaking and the chipboard under the counter by the sink is coming loose. Unfortunately our landlord has no budget for renovations, so we have to make due.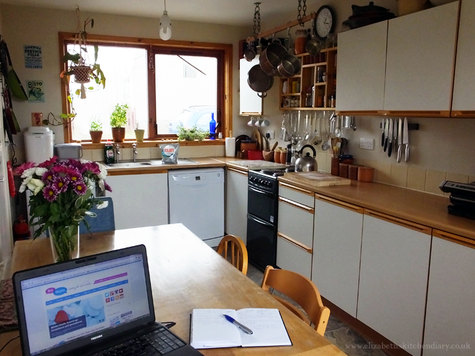 My cooker is an electric one I picked up second hand for £50 and the heat distribution in the oven's frustratingly uneven. How I manage to make photograph worthy cakes in it is beyond me! It's got a dent in the oven door where I lost my temper a few years back and I kicked it. On my list of things I'd like: a brand new dentless cooker with even heat distribution – preferably one of those new Lady Aga ones! Ah, one can dream!
The previous occupants used to cook on gas but they blew up the house so the landlord removed the gas fittings. They'd accidentally left the gas grill unlit but switched on and they closed the kitchen door. Later on one of them walked into the kitchen smoking a cigarette and BOOM! The kitchen door got blown all the way down the hallway and embedded itself in the downstairs bedroom door, all the windows blew outwards and the cigarette smoker lost their eyebrows.
Fortunately no one was hurt, but we're still filling cracks in the house foundation to stop the damp/wind/winter getting in. When we landscaped our garden a few years back we had to pick quite a lot of glass out of the grass to make it safe for the children!
One of the key features about my kitchen is the spice rack. There's a gap above the cooker area where an extractor fan should be (why is there no extractor fan?!) and after storing spices in the cupboard for years and fighting with them all tumbling out every time one reached in to grab the cumin I resolved to make a custom designed spice rack to fit that space.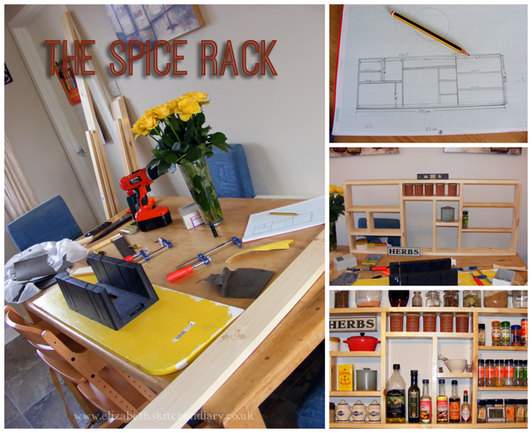 I set to work with pencil, paper and measuring tape and designed a spice rack to fit the space and to fit the selection of spice jars I owned (namely my lovely terracotta Suffolk cannisters – Ideal for Home or on Safari – if I ever go on safari I am taking these!). Wood from the local hardware store cost about £12 and it took me an evening to build it. Muse was blaring on the stereo while I sawed and measured and drilled (and drank beer as carpentry and beer go hand in hand, no?). The only external help I had was my dear husband showing me how to countersink screws. Mostly everyone just left me alone while I got creative.
I am quite pleased with my first attempt at carpentry. I find it hard to believe that the image of me standing in front of my cooker with my spice rack in the background is now known worldwide as Elizabeth's Kitchen. There were a few disappointed followers when I changed my blog design to not have that image as part of my header (it's still there in the About Me section though!). I'm also really surprised that despite that image being on my website for nearly a year no one has noticed the backwards clock!
So there you go, My Kitchen Story. This post is an entry for the "My Kitchen Story" Linky Challenge, sponsored by Fairy Platinum.
Elizabeth's Kitchen Diary was sent a packet of Fairy Platinum dishwasher tablets for being one of the first 100 bloggers to sign up to this BritMums competition challenge. This is not a paid post.