Super U's mushroom coffee blend is perfect for a morning brew or mid-afternoon coffee break on the top of a hill to help power through your day. This review is in collaboration with Super U, although all thoughts and opinions expressed are our own.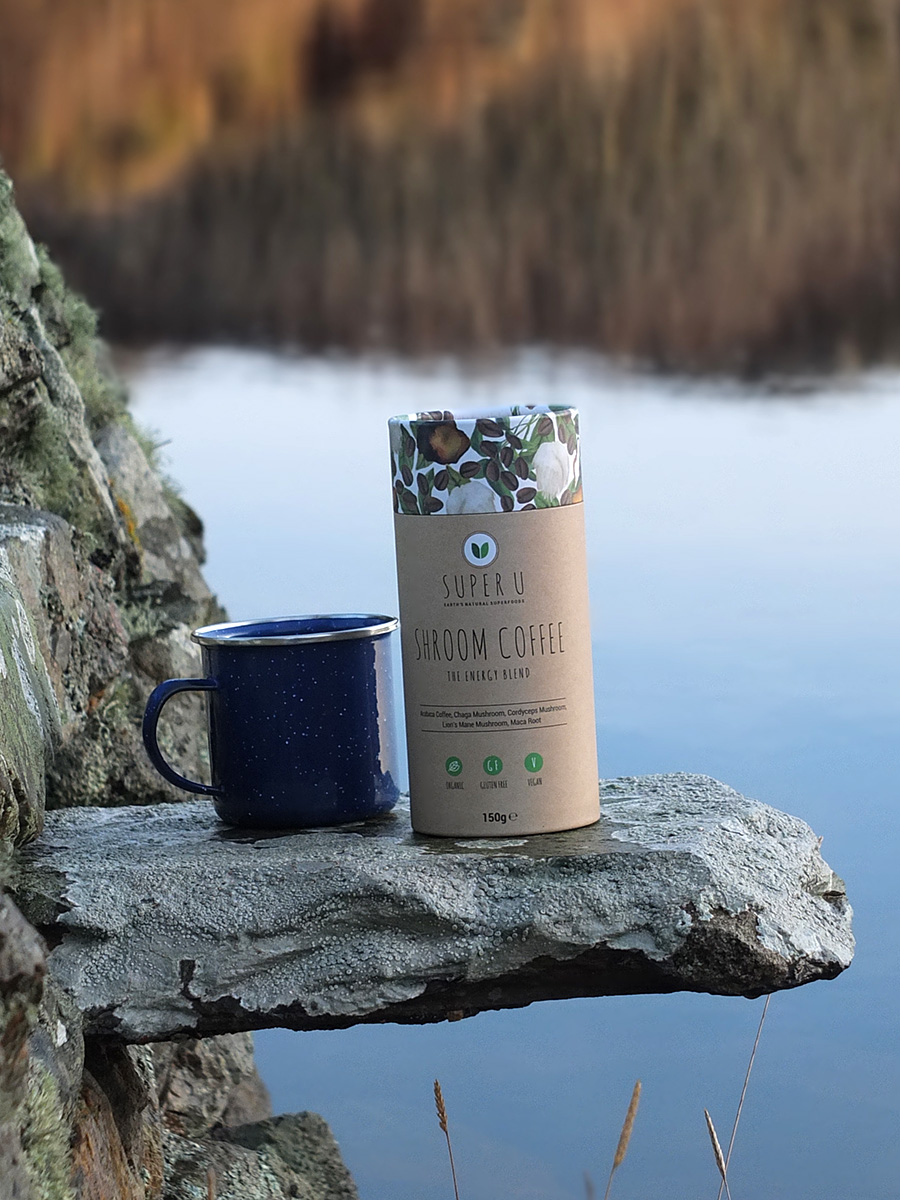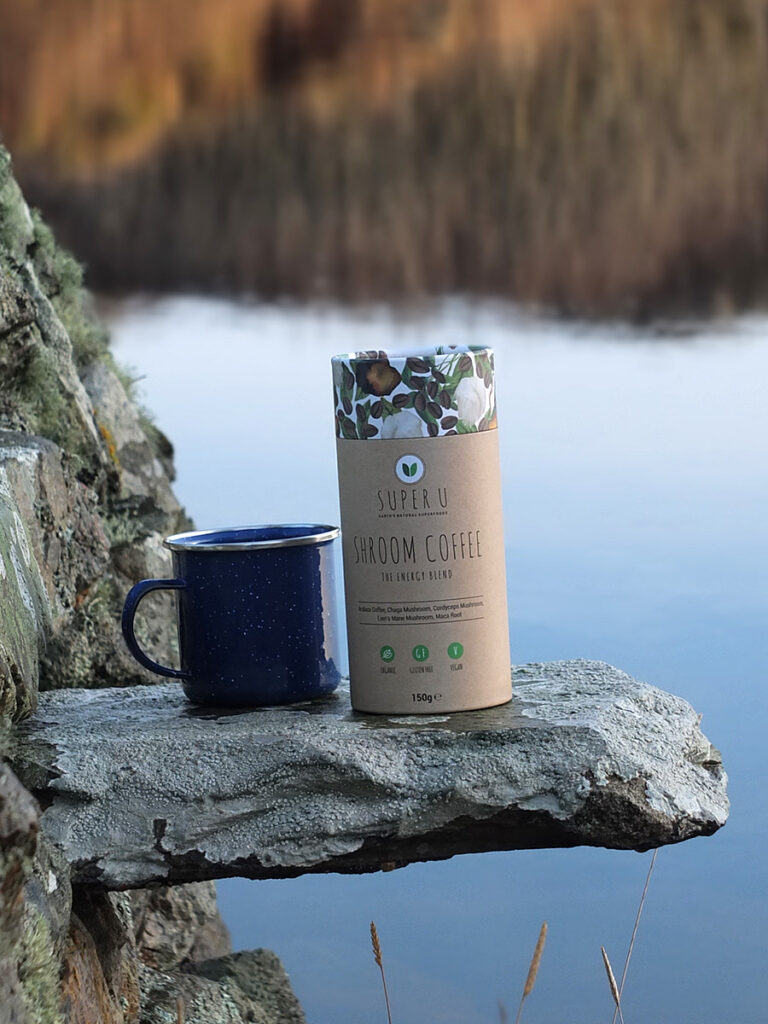 One of the many perks of my job is that I get to try all sorts of awesome new foodie products. Recently, one of these products was something completely new and previously unknown to me: mushroom coffee. I confess at first I was intrigued by this unusual food pairing, and now that I've tried it I can see the appeal!
What is mushroom coffee?
Mushroom coffee is a blend of regular black coffee and adaptogenic mushroom extract such as chaga and lion's mane, renowned for their health-giving properties.
Does mushroom coffee have coffee in it?
Yes! This mushroom coffee contains organic Arabica coffee, as well as three mushroom extracts and maca root powder.
What is in Super U's Shroom Coffee blend?
Organic Arabica instant coffee – a Columbian coffee with an amazing aroma and smooth taste
Chaga mushroom extract – foraged off birch trees in the Northern hemisphere & praised for its medicinal properties
Cordyceps mushroom extract – from the fruiting body of Cordyceps militaris; helps support a steady stream of energy
Lion's Mane mushroom extract – a white, globe-shaped fungus with long, shaggy spines resembling a mane; thought to help support brain health
Maca – aka Peruvian ginseng, this root can help improve energy and mood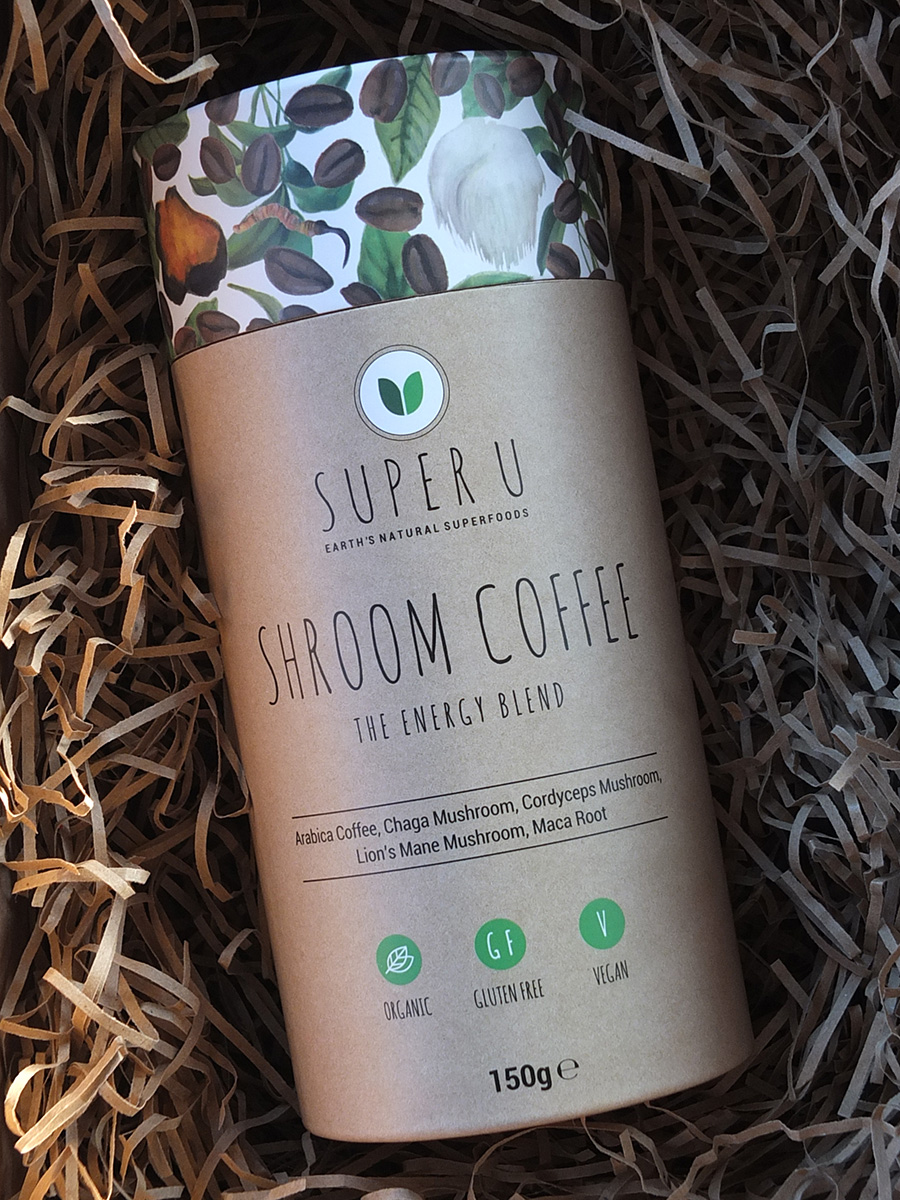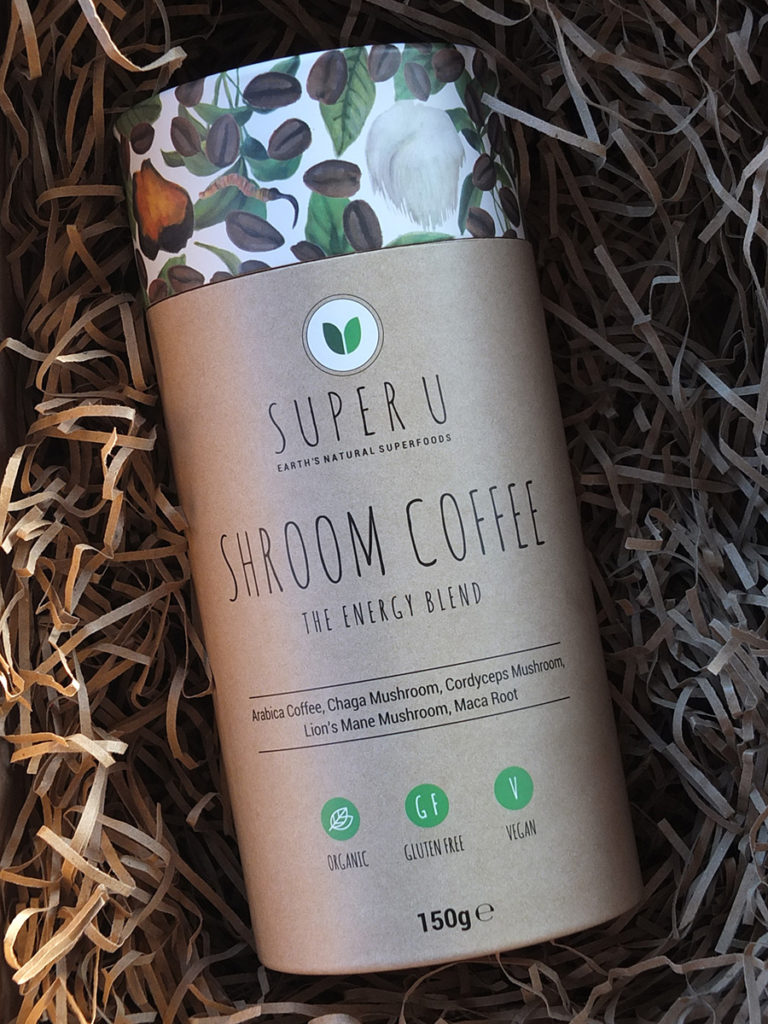 Why on earth would you want to drink mushroom coffee?
The adaptogenic mushrooms used in this coffee are packed full of immune-boosting, focus-enhancing and energising properties. It's next-level coffee, the ultimate superfood brew with all the things you love about coffee enhanced with the properties of the adaptogenic mushrooms.
Rest assured, it doesn't taste like mushrooms (and no, you're not going to trip on it either, they're not that kind of shrooms!).
What does mushroom coffee taste like?
Mushrooms, with their earthy flavour, pair very well with the flavour of roasted coffee beans resulting in a smoother, less bitter coffee drink packed full of antioxidants. It doesn't taste like mushrooms at all, not like the kind you would have on your dinner plate anyway. This coffee is made with adaptogenic mushrooms, like chaga and lion's mane.
Why you should pick Super U's mushroom coffee blend
there's only half the caffeine than a regular cup of coffee in every serving – just 50 mg compared to 90-140mg
it is organic, gluten-free and vegan
it's only 59 pence per cup (there are 60 servings in a 150-gram container)
Shroom coffee is free from any allergens, sweeteners, additives, GMO, preservatives or anything artificial
you can drink it hot with water, your favourite nut milk or mix it up in a smoothie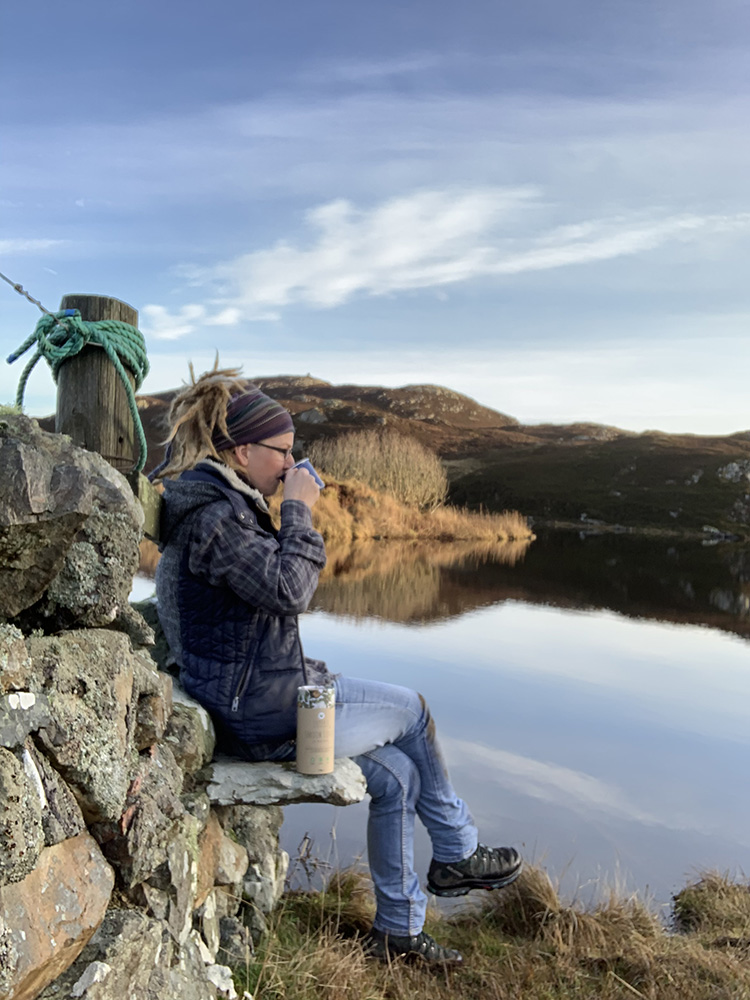 Our thoughts!
I love this! As a coffee fan (I can't start my day without my cup of caffeine!) I am really impressed by the smooth, well-rounded flavour of this super brew. It doesn't taste like mushrooms at all, rather, it's got a subtle, pleasant earthy taste to it.
It's a nice source of energy; perfect for those days between weathers when you just have to go for a walk up the hill and blow the cobwebs away between gales.
Although originally it appears more expensive than my coffee budget would usually allow, at £34.99 per 150 grams, each serving only needs 2.5 grams so it works out to only 59 pence per serving; substantially cheaper than what I would pay in a cafe.
All in all, I really like the flavour of this Shroom Coffee – you should definitely give it a try!

Super U – Earth's Natural Superfoods
Super U – Earth's Natural Superfoods, is a small British company founded by Charlotte & Sean who have both experienced, first-hand, the benefits of natural superfood ingredients.
They produce a range of seven superfood blends: Muscle Protein: The Strength Blend; Clean Green: The Immunity Blend; Berry Beauty: The Antioxidant Blend; Shroom Coffee: The Energy Blend; Magic Matcha: The Focus Blend; Coco Dream: The Chill Blend and Lean Protein: The Fit Blend.
For each order placed through the Super U website, Charlotte & Sean plant one tree through their collaboration with One Tree Planted – a non-profit organisation working directly with reforestry groups.
To find out more, visit the Super U website. Don't forget to check them out on social media too! You can find them on Facebook and Instagram.
This is a paid advertorial in collaboration with Super U, although all thoughts and opinions expressed are our own. Thank you for supporting the brands who make it possible for me to do what I love: mess up my kitchen and share recipe stories.