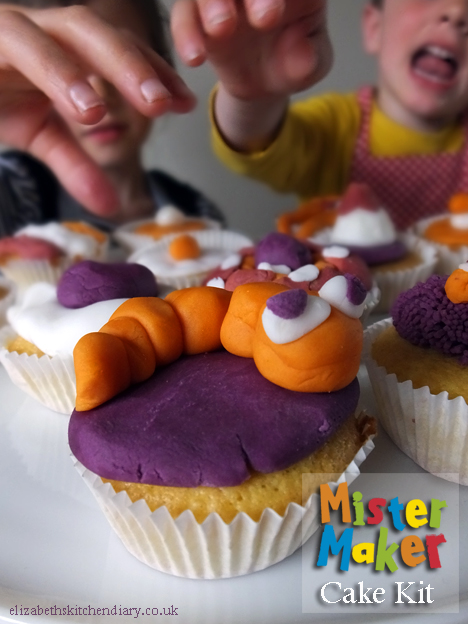 I'm one of those mean Mums who never buys their children boxed fairy cake mixes. My excuse is always that it's cheaper and tastier to make it from scratch at home.
However, when Green's, the number one kids cake mix brand, contacted me asking if my children would like to review their recently launched Mister Maker Cake Kit on #KidsCorner I said they'd be delighted, and they were!
For those who don't know, Mister Maker is an arts and crafts show on CBeebies for pre-schoolers which teaches and entertains in fun and imaginative ways. They make all sorts of awesome crafts out of recycled household items and easily obtainable craft supplies like pipe cleaners and poster paint.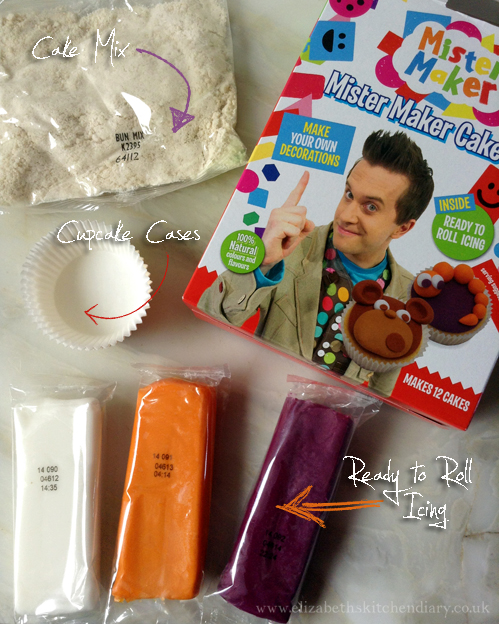 Greens and Mister Maker have teamed up to make a vanilla fairy cake mix with three colourful blocks of ready to roll icing to make and mould into shapes. The icing comes in naturally flavoured and coloured purple, orange and white ( natural colours and flavours gets Mum's stamp of approval!)
The kit contains nearly everything your Mini Maker needs to make 12 fantastic decorated vanilla cakes. All you need from home is an egg and some water.

DD (7) made the cakes with no interference from an adult. She found the instructions very easy to follow and really enjoyed doing all the mixing and pouring herself. I was sceptical that there wasn't enough batter to make 12 decent sized cakes, but my fears were unfounded as the baked cakes were of an ideal size for children and decorating.
The cakes only take 12 minutes to bake and they cool quickly. The cake box comes with detailed instructions on how to make three different cake toppers: a caterpillar, a bear and a purple monster. DD started with the caterpillar which worked quite well (isn't he cute!) but the bear couldn't be done in brown. The box says to obtain a brown icing mix equal parts purple and orange together. DD did using scales to make sure she was using equal quantities. It came out burgundy, nothing like the brown on the box (you can see the colour in the cupcake behind the caterpillar photo above, right), so no bear was made. The purple monster is made by pushing some purple icing through a metal sieve to make hair and adding eyes: a simple and effective decorating technique. There was just enough icing to make decorations for the 12 cakes to child-decorating standards (ie: loads!).
Now to the eating – the kids loved the cakes. Well, they loved the piled up icing on top of the cakes (the cake is only a carrier for the icing anyway, isn't it!). The adults – well, we tried a cake each and decided we'd leave the rest for the kids. They're not nearly as nice as home made cakes, bring rather bland and dry, in our grown up opinion, but the kids didn't care.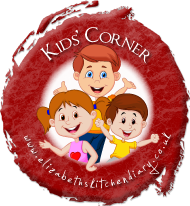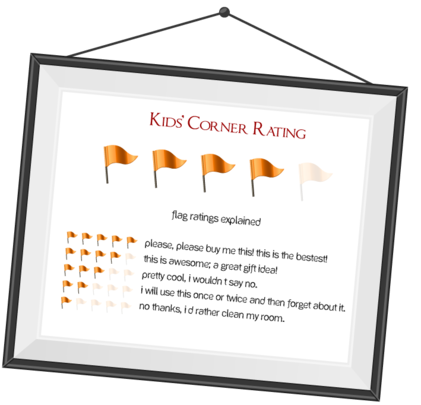 Retailing at £2-69 you can  pick up a mix at your local Tesco or Sainsbury's store. The kids loved making and eating the cakes and the adults liked that the kit kept them busy for quite some time. It's a great way to let them get creative.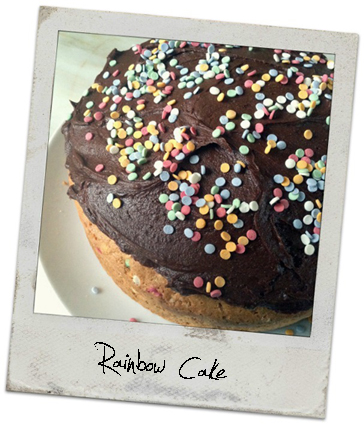 Green's have also relaunched their Rainbow Cake mix, due to popular demand. We were also sent one of those kits to try out but I only managed one photo before the cake was devoured by a group of DD's friends over on a sleepover. This cake tasted much nicer than the cupcakes, us grown-ups thought, with a lovely chocolate frosting and colourful sprinkles inside the cake and out.
Elizabeth's Kitchen Diary was sent a selection of Green's cake mixes for the children to review on Kids' Corner. All opinions expressed are our own. This is not a paid post.