Spicy kidney beans with lime, fresh coriander and home made tortilla chips – ideal for sharing!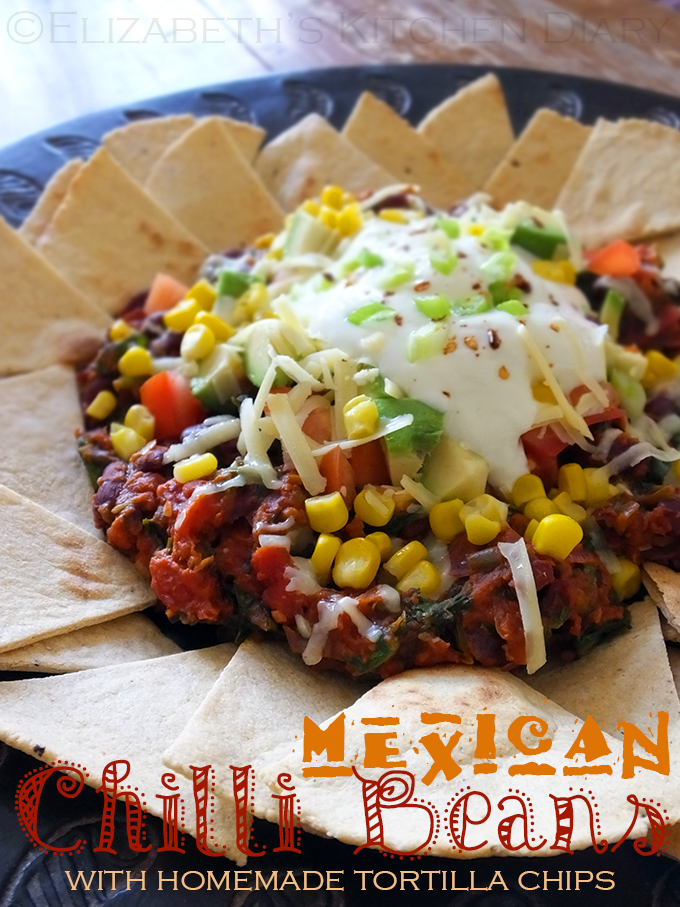 This meal was borne out of the desire to find something really quick, low calorie and filling for myself for dinner. On the two afternoons a week I work at our local village shop, I close the shop at the end of the day myself, meaning I don't get home until well after the kids and my husband have eaten their dinner. I'm hungry and tired after a long day on my feet, and I'm not fond of reheated leftovers.
Stocking the shelves one day I discovered Heinz had a new product – Heinz Fajita Beans. Intrigued, I bought a tin to try. I bought some tortilla wraps, and, on a whim, I bought some Old El Paso nachips, just in case. I was skeptical that any Heinz product would be solid enough to be able to stay in a wrap (my hunch was correct! They aren't!). So, I heated up half a tin, sprinkled the fajita beanz with some grated mature cheddar cheese and generous sprinkling of cayenne pepper and tucked in with a bowlful of nachips. Total comfort food in less than five minutes! Perfect!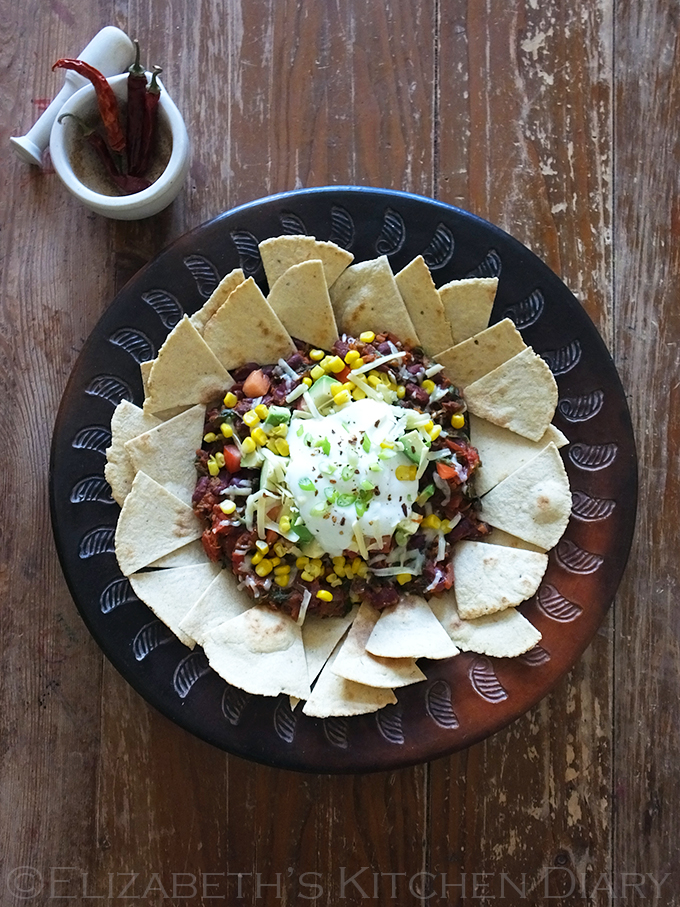 The next day, to jazz up the other half of the tin, I heated a little oil in a pan and sauteed a small sliced red onion, added the beans and a generous handful of chopped spicy Chinese greens, my new all-time favourite spring vegetable from my Turriefield veg box, and ta-da! Bliss, doubled!
I bought a few more tins, all the while wondering if I could make a reasonable facsimile at home.
For my next spicy fajita beanz meal I added the sauteed red onion, the spicy Chinese greens, and then topped the beans with some natural yogurt, some sweetcorn, chopped tomatoes, chopped avocado, spring onions and a generous sprinkling of cayenne pepper.
Oh yes, I was on to a winner here!
Then the shop ran out of beanz and so I had to come up with my own recipe.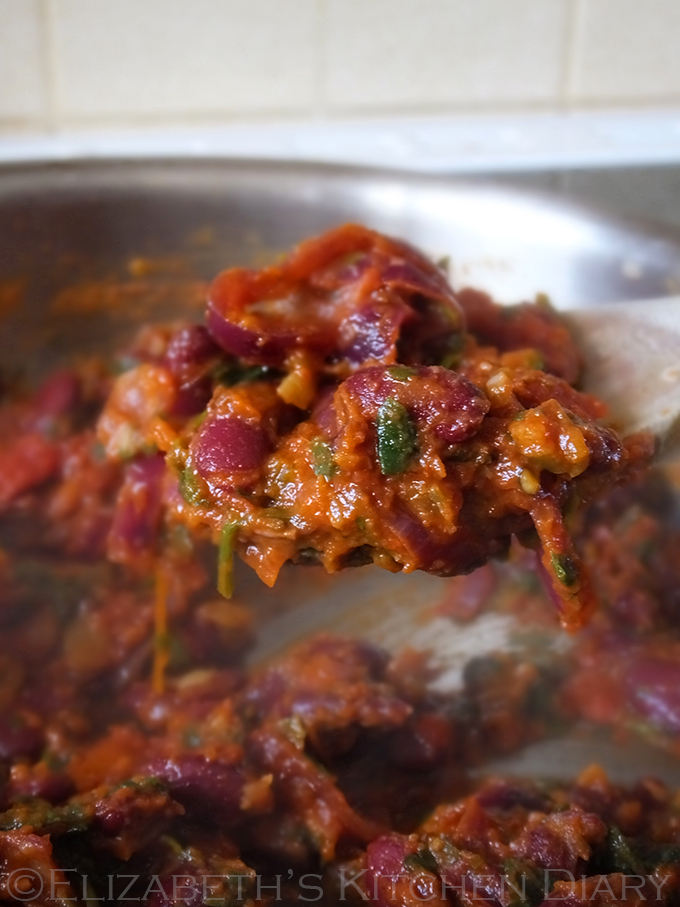 This Mexican Chilli Beans recipe was inspired by the Heinz Fajita Beans, but I have to confess, they taste nothing like the tinned version (they're much better!). A squeeze of lime juice and some fresh coriander add a lovely fresh zing to an otherwise spicy tomato kidney bean dip. For extra kick I used a chilli infused olive oil from Pomora, but if you don't have a chilli infused oil, use the best olive oil you can get and add either chilli powder or fresh chillies to your taste.
You could, I suppose, try and eat these in a warm soft tortilla, but I prefer to load them up and dip in with nachips (easy version) or homemade tortilla chips (takes a bit more time, but worth it!).
I was surprised at how easy it was to make homemade tortilla chips, and my new non-stick 8 inch Ozeri Green Earth Pan certainly helped. Make sure you roll your dough out very thin – this will help the tortilla chips crisp up better.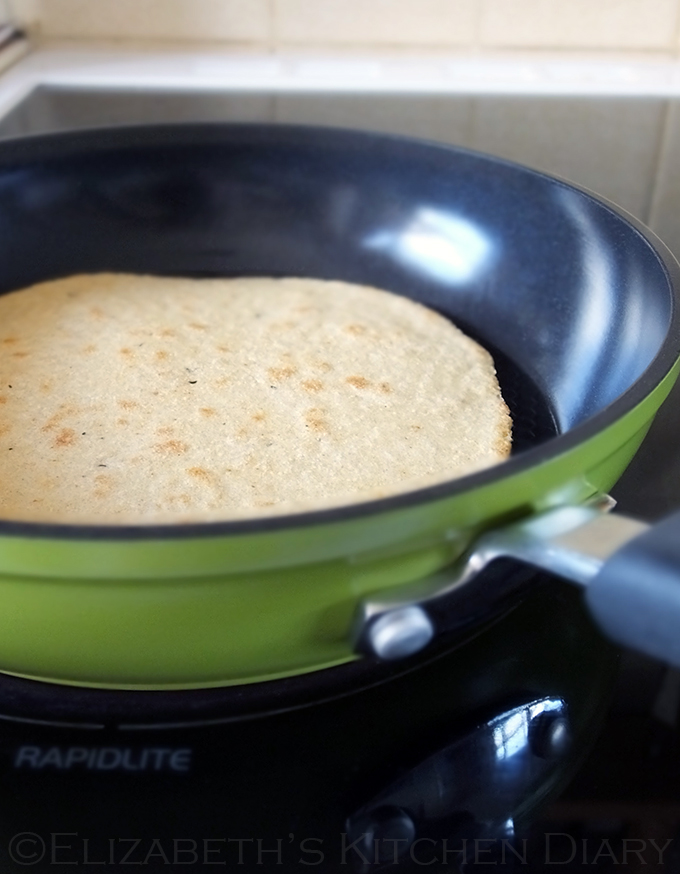 I've been using Ozeri pans for a few years now, having reviewed my first one in a spicy kidney bean burger recipe, and their fantastic wok in a stir fried kale recipe. As I mentioned in my two previous reviews, I think that the Green Earth range is fantastic – besides the gorgeous vibrant green colour of the pan, their non-stick coating is completely eco-friendly and there is nothing to flake off and stick to your food, like you get with some other branded non-stick (for awhile!) pans. My old Green Earth pans are just as non-stick as they were the day they arrived.
As with their whole range, this 8 inch pan is made from ceramic, and with a comfortable silicone handle it's a pleasure to use. My only gripe with the previous two pans I reviewed was the plastic handle, and I'm really pleased to see they've replaced that with a nice silicone one. This version has an elevated texture on the cooking surface which creates air pockets, distributing heat underneath the cooking food, meaning food cooks easier.
This 8″ Green Earth pan retails for £39-99, but at the time of writing it's available for £19-99 on Amazon.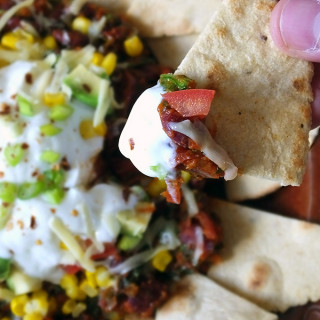 Mexican Chilli Beans with Homemade Tortilla Chips
A blend of spicy kidney beans with a squeeze of lime and fresh coriander and home made tortilla chips - ideal for sharing!
Print
Rate
Ingredients
for the Mexican chilli beans
1

tbsp

chilli infused olive oil

I use Pomora (see badge in sidebar)

1

large

red onion

halved and finely sliced

3

cloves

garlic

finely chopped

1/2

small

green pepper

finely chopped

1

tsp

coriander seed

toasted and ground

1

tsp

whole cumin seeds

toasted and ground

250

grams

cooked kidney beans

(one 400 gram tin)

2

tbsp

tomato puree

230

gram tin

chopped tomatoes in tomato juice

1

lime

juice only

2

handfuls

leafy greens

spinach, chard, spicy Chinese greens, etc

handful

fresh coriander leaves
toppings
sweetcorn kernels

chopped tomato

chopped avocado

soured cream

or natural yogurt

spring onions

chopped red chillis

mature cheddar cheese

grated
Affiliate Links
This recipe card may contain affiliate ingredient and equipment links. As an Amazon Associate I earn from qualifying purchases.
Instructions
Heat the oil in a large saute pan over a medium heat. Gently saute the onion and garlic until they begin to soften.

Add the finely chopped green pepper and fry for a further minute or two, until it softens.

Add the toasted and ground coriander and cumin seeds and fry for a further minute.

Stir in the kidney beans, tomato puree and finally the chopped tomatoes.

Pop the lid on, reduce the heat and simmer for 15-20 minutes, stirring occasionally and squashing some of the kidney beans with the back of a wooden spoon. This can be cooled and reheated later at this stage, if needed.

Meanwhile, prepare the tortilla chips.

Mix together the flour, polenta, baking powder, salt and spices in a small bowl.

Add the hot water and vegetable oil, and combine well with a wooden spoon.

Knead for one minute until it forms a smooth ball. Wrap in cling film and chill in the fridge for 10-15 minutes.

Preheat the oven to 170 C/150 C (fan).

Divide the dough into six even pieces and roll out to a thickness of 1 mm, about 20 cm in diameter.

Heat a nonstick pan over a medium high heat and cook the tortilla for 2 minutes on each side, until browned slightly.

While still warm, cut the tortilla into 6 triangle chips and arrange on a baking tray, sprinkling with flakes of sea salt, if desired.

Repeat with the remaining dough.

Bake the tortilla chips for 10-12 minutes and leave to cool completely before eating. They should be lovely and crispy.

When the beans are ready, stir in the chopped leafy greens and cook until they are just wilted. Squeeze in the lemon juice and stir in the fresh coriander leaves.

Serve immediately with your choice of toppings.
Environmental Information

LINKING UP WITH:
Recipe of the Week by A Mummy Too
Cook, Blog, Share by Supergolden Bakes
Meat Free Mondays by Tinned Tomatoes
Extra Veg by Fuss Free Flavours and  Utterly Scrummy, hosted this month by Veggie Desserts
OTHER DIPS YOU MIGHT LIKE
Red Lentil, Lime & Coriander Hummus by Fuss Free Flavours
Pink Beetroot & Green Avocado Picnic Dips by Coffee & Vanilla
Courgette, Yogurt & Mint Dip by Recipes from a Pantry
Helen at Fuss Free Flavours also has a quick tortilla chip recipe!
If you want to be kept up to date on my recipes, occasional craft tutorials, adventure stories and giveaways then please subscribe to my weekly newsletter; it gets sent out every Monday morning if there is new content. Your email address won't be passed on to anyone, you will never be spammed and you are free to unsubscribe at any time, no questions asked. Make sure you confirm your subscription or you won't receive the newsletter – if it hasn't arrived check your junk mail folder.
[wysija_form id="1″]
Elizabeth's Kitchen Diary was sent an Ozeri Green Earth Pan for review purposes. All opinions expressed are our own. This is not a paid post, although it does contain an affiliate link to Pomora, the brand of olive oil I choose to use. If you adopt an olive tree through this link I will receive a commission and you will be directly helping to support my family.