In collaboration with Cole & Mason.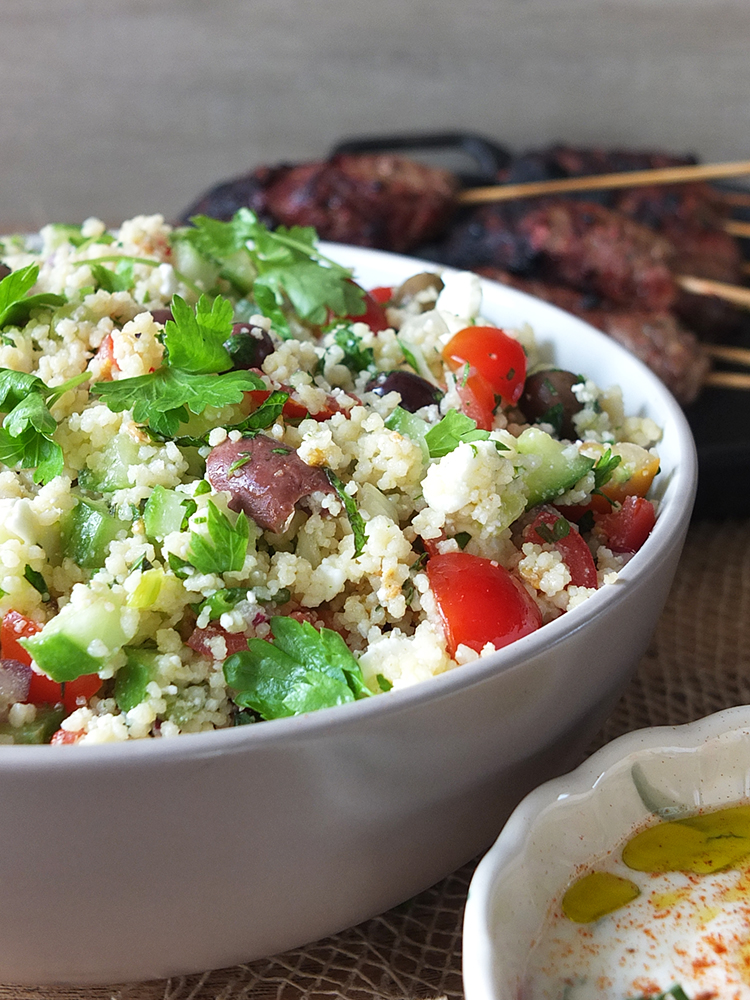 The sun came out yesterday! For the fourth time this summer I actually felt the warmth of the summer sun on my face. It was gloriously wonderful!
As it's still the school holidays the kids and I packed a picnic lunch and headed to a nearby wooded area for a spot of exploration. As the BBC weather app predicted full sun all day and well into the evening my husband and I planned on having a barbecue in the garden.
Keeping things relatively simple I prepared a Mediterranean-inspired meal for us – bbq koftas made with minced pork (I would have preferred lamb but there was none to be found in the shop); a couscous salad bursting with loads of lovely vegetables, feta cheese and some gorgeous tiny little Taggiasca olives I picked up in town the other day and a baharat yogurt dip to serve.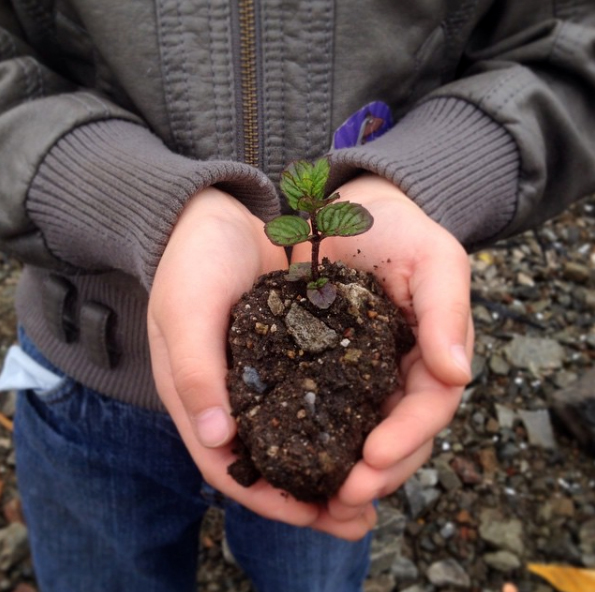 The star of this meal is, of course, the use of fresh herbs. My herb garden disappeared last year when our house underwent some serious renovations. A five foot deep moat appeared around our house while I was out one day and all my trees, garden plants, everything – gone. Buried under heaps of rubble.
A few months later we found, among the rubble, several meters away, a tiny sprig of mint which we salvaged and planted. It has now spread and has filled an outdoor plant pot, awaiting its more permanent home in our new herb garden (currently under construction by my husband who has, this summer, discovered a love of gardening).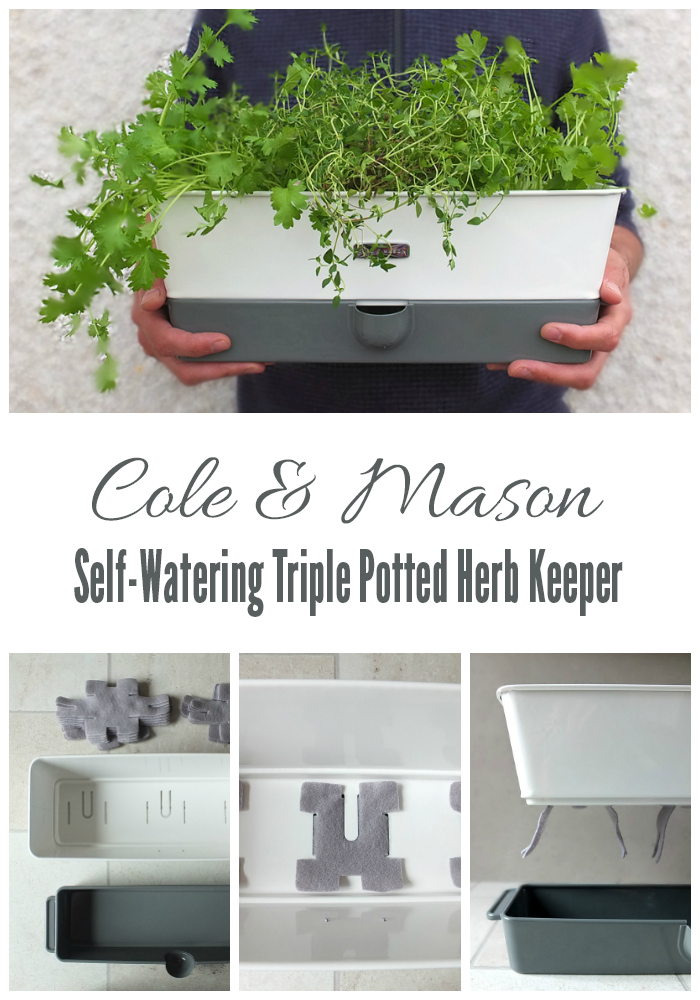 For all my other herbs I've been using this rather snazzy self-watering triple potted herb keeper from Cole & Mason. Hands up, who else buys potted herbs from the supermarket and then promptly forgets about them in the windowsill and then they die? It's remarkable how quickly those herbs wilt in the warmth of a window sill.
Firstly, herbs don't like windowsills unless they're out of direct sunlight and draughts. They also don't like to be watered from above as the soil can easily become waterlogged. They like to draw moisture up from their roots as and when they need it, which is why this herb keeper is so handy.
The sturdy metal herb keeper, retailing at £29.99, contains three components: the water vessel (dark grey) which accommodates up to 1100 ml of water, the slotted herb pot container which accommodates up to three standard supermarket sized herb containers and 12 reusable hydro felt pads.
To assemble, simply slot three hydro pads under the retaining arm within the herb pot container and slide the wings through the holes in the bottom. These act as wicks, absorbing water from the water vessel into the mat and the potted herb plant can draw up the water it needs from the mat, staying green and fresher for longer; no replanting required.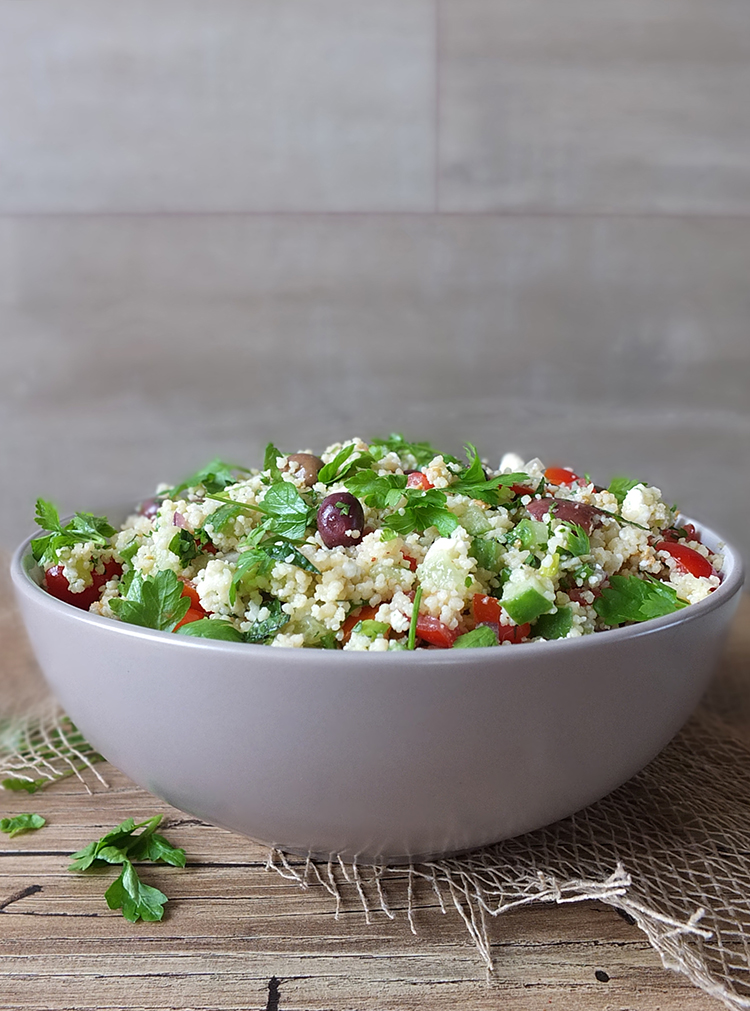 Using fresh mint from outdoors and fresh parsley from my herb keeper I prepared this Mediterranean-inspired couscous salad. I often make a Greek pasta salad with similar ingredients but I wanted something a bit lighter, so I went for couscous instead.
To accompany, I mixed some plain natural yogurt with a bit of chopped fresh mint, sprinkled it with my mother-in-law's baharat recipe (freshly ground in a Cole & Mason herb & spice mill) and drizzled over some lemon infused olive oil from Pomora (see badge in sidebar).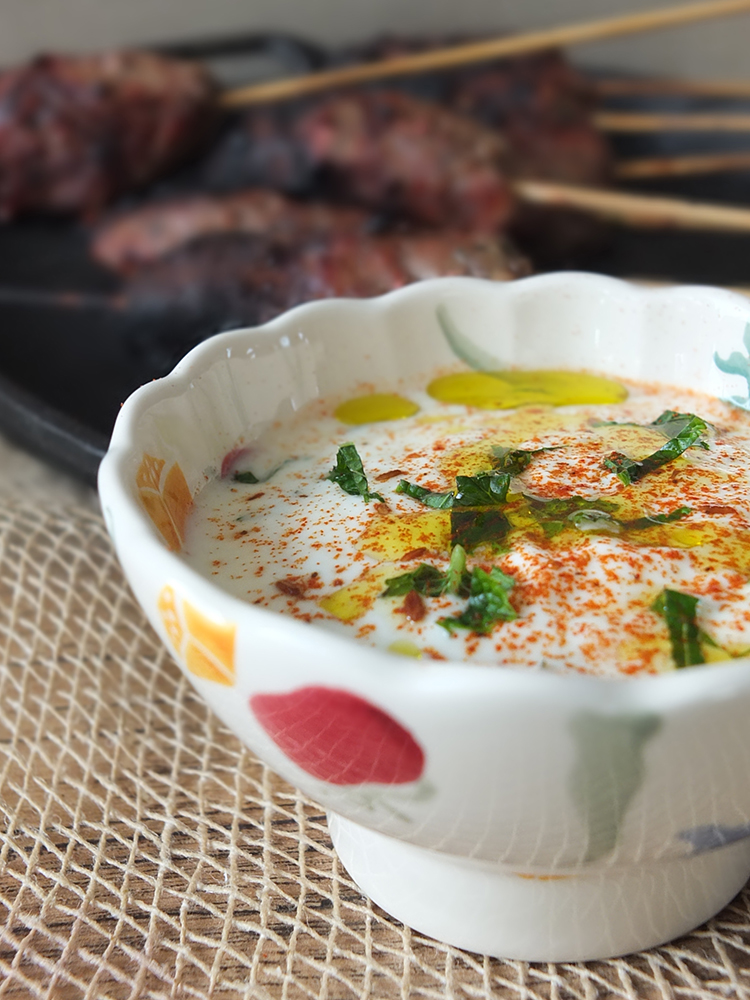 In true British summer style as soon as all the components of the barbecue were ready and the meat was waiting to be cooked, the clouds came in and the wind picked up. That didn't stop us from enjoying ourselves though.
We are novices with the whole barbecue thing, but we are determined to keep trying until we get it perfected. Forgive the slightly charred look of our koftas, we're getting there!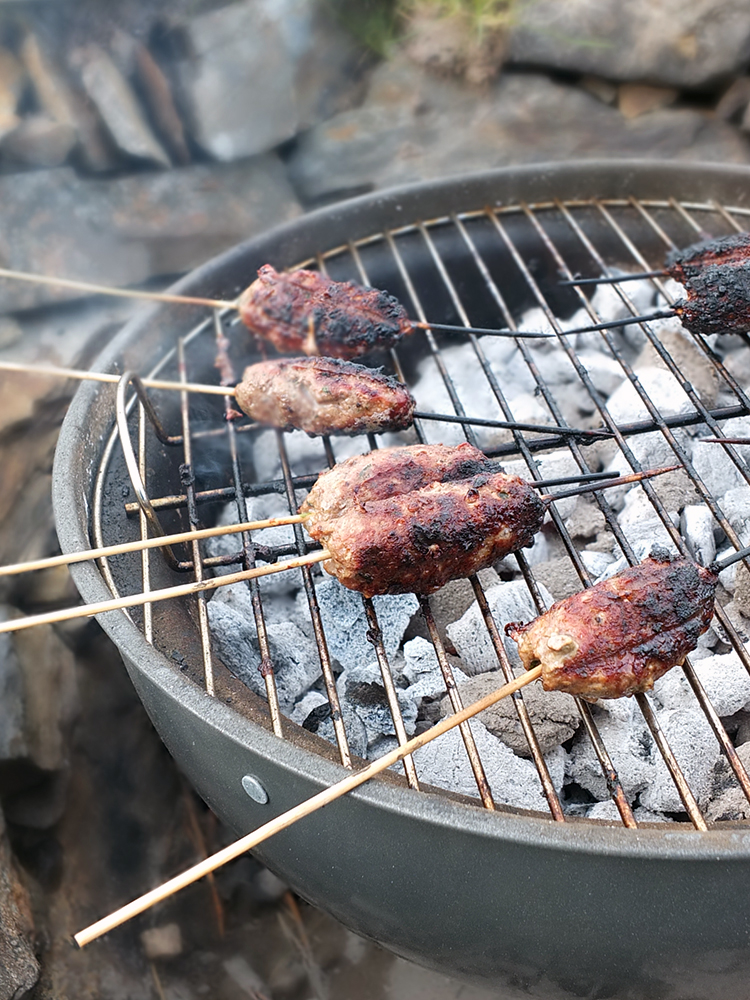 For afters the kids toasted marshmallows over the open fire and we enjoyed some courgette cupcakes with home made lemon curd and marscapone frosting, a recipe from Jane Hornby's What to Bake and How to Bake It. Gorgeous.
Today we batten down the hatches for two days of summer gales, but we dream of warmer days and sunny Mediterranean food.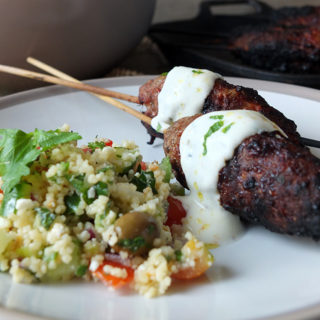 Mediterranean-inspired BBQ Koftas, Couscous Salad and Yogurt Dip
A simple Mediterranean-inspired BBQ meal made with plenty of fresh herbs.
Print
Rate
Ingredients
for the couscous salad
100

grams

couscous

100

ml

vegetable stock

I use Essential Cuisine stock granules

1

small

cucumber

finely diced

0.5

medium

red onion

finely diced

225

grams

cherry tomatoes

cut into 8ths

3

spring onions

finely chopped

80

grams

Taggiasca olives

or kalamata, chopped

100

grams

feta cheese

crumbled

3

tbsp

lemon infused olive oil

I use Pomora

3

tbsp

fresh parsley

finely chopped

3

tbsp

fresh mint leaves

finely chopped
for the baharat yogurt dip
Affiliate Links
This recipe card may contain affiliate ingredient and equipment links. As an Amazon Associate I earn from qualifying purchases.
Instructions
for the kofta skewers
Soak 8 wooden skewers in warm water for at least 20 minutes.

Heat a dry pan over a medium heat and toast the coriander, cumin and allspice berries until they release their aroma.

Transfer to a mortar and pestle along with the peppercorns and crush to a fine powder.

Add the olive oil to the pan and gently saute the onion and garlic until they begin to soften.

Add the ground spices and cook for a further minute.

Remove the mixture from the heat and allow to cool before adding to the meat along with the fresh mint.

Using your hands combine the mixture well and divide into eight even pieces. Using wet fingers roll each piece into a sausage shape at the end of the one of the pre-soaked skewers.

Brush will olive oil and chill in the refrigerator until needed.
for the couscous salad
Measure the dry couscous into a small bowl and cover in the boiling vegetable stock. I just use hot water mixed with 2 grams of Essential Cuisine vegetable stock granules. Cover with a plate and set aside until you have finished chopping the vegetables.

Chop the vegetables and place them into a large bow. Crumble over the feta and add the olives and chopped herbs.

Fluff the couscous with a fork and drizzle over one tablespoonful of lemon infused olive oil. Alternatively, use a good quality extra virgin olive oil and squeeze over the juice of half a lemon.

Add the couscous to the chopped vegetables and drizzle over another 2 tablespoonfuls of lemon infused olive oil.

Chill in the refrigerator until needed.
for the baharat yogurt dip
Stir some chopped mint into a small bowl of plain natural yogurt.

Sprinkle with some baharat spice, if you wish, some extra chopped mint and a drizzle of lemon infused olive oil.
to serve
BBQ the kofta skewers, turning occasionally. Serve with the couscous salad and the yogurt dip.
Environmental Information
OTHER BBQ RECIPES YOU MIGHT LIKE
Tahini Sauce with Clementines and Smoked Paprika by Tin & Thyme
Quick & Easy Five Spice BBQ Sauce by Elizabeth's Kitchen Diary
BBQ Sardines with Wild Garlic Salsa Verde and Couscous by Foodie Quine
Chocolate Orange Camp Fire Cake by Elizabeth's Kitchen Diary
Our Family Favourite Potato Salad Recipe by Elizabeth's Kitchen Diary
Disclosure: this is a paid post in collaboration with Cole & Mason. Thank you for supporting the brands who make it possible for me to do what I love, mess up my kitchen and share food stories!