It's 1942. The world is at war.
A young handsome Canadian chap with sticky-out ears and a great big cheeky smile has been posted to a military base on the south coast of England. There he falls in love with a beautiful young English woman who looks like Queen Elizabeth. She is driving a bakery van. She returns his love and when the war finishes they get married and he takes her back home to Canada.
These were my grandparents on my mother's side. I never knew my grandmother has she sadly passed away long before I was born, but I was named Elizabeth because my grandmother looked like the Queen. I don't know anything else about her other than where she came from in England and that she drove a bakery van, but when I immigrated back across the pond in 1999 I brought with me a handwritten copy of her pie crust recipe.
While growing up my mother used to make meat pies out of leftover roast beef and her mother's pie crust recipe, written in her own note book as 'Mum's Pie Crust'. She had been given my grandmother's electric meat grinder and in it would go cold, leftover roast beef, a carrot and an onion. Any leftover gravy (always made with Bisto gravy granules!) would get poured into the resulting minced meat and spooned into a deep pie dish lined with pastry.
Any leftovers would get made into little sausage rolls, and oh my, the combination of this lard-filled pastry crust encasing the minced meat mixture….  pure childhood heaven. If we were lucky we'd get a slice of this pie, cold, in our packed lunches and it was like Christmas every time this happened.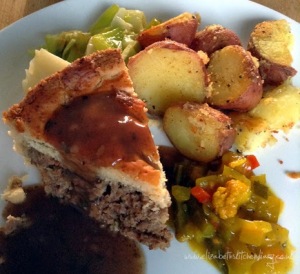 I stopped making the pie crust years ago, preferring a lighter, flakier butter shortcrust pastry, but I still have this recipe in my notebook. Recently I had some leftover cold roast beef in the fridge and I thought I would try and recreate this recipe from my childhood, with a few of my own adaptations, of course. The original recipe is double what I've written for here and calls for lard, but I have a suspicion my mother used to use Crisco shortening in hers instead. If doubling, use a whole egg instead of two yolks (as written in the original recipe).
Here's what I made, just as I remember, and my family loved it (although they do prefer a butter shortcrust pastry as well)! Serve with potatoes, veg and some Cape Breton Chow Chow for an authentic Canadian childhood taste!