I love treasure hunts. I'm a big kid at heart myself, so when I saw that Tots100 was hosting a #KiaWalkToSchool treasure hunt photo competition my heart leapt with excitement.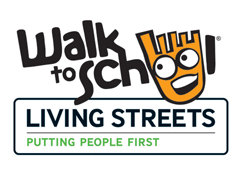 To celebrate National Walk to School Week on the 19-23 of this month Kia has launched a fab competition to get parents and their children walking to school together. There's a treasure hunt with ten items on the list which can be photographed and shared with@Tots100 via Instagram or Twitter. Each photo tagged with #kiawalktoschool is a competition entry.
Our children walk to school every day; they always have. We're very fortunate to have an excellent school within a short walking distance. In fact, I think it would probably take longer to drive there what with faffing about with getting the children in the car and belted and the engine started.
This morning the sun was shining brilliantly down upon us (t-shirt weather!), so we quickly got ready so we could take a little longer to do the school run than usual. The following photos are what the children found for each challenge item. My personal favourite is the 'interesting shadow' made up of the three children into one 'monster' shadow.
First prize for the competition is a fortnight's loan of a posh Kia seven seater and £300 Love2Shop vouchers. Wining the car loan would be ideal as we're planning our first proper family summer holiday away together to England and a bigger car would make this trip a lot easier!
Nonetheless, we had  lot of fun finding our photographs and we hope you enjoy them!