Because even kitties deserve a Halloween treat!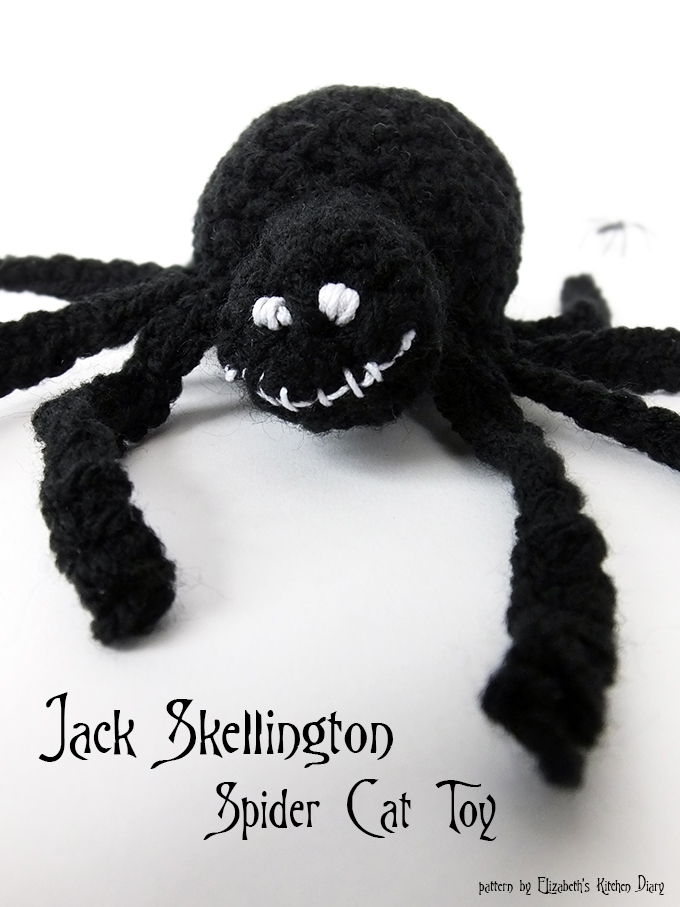 The clocks went back in the UK last night.
Yesterday, after dropping DD off at her best friend's birthday party, I drove home in torrential wind and rain. It was pitch black by 6 pm. With the clocks going back an hour I awoke this morning at my usual time just after 7 am, which means just after 6 am in the morning GMT. It's just a hop skip and a jump until Shetland has only six hours of daylight, a daylight usually filled with wind and rain.
Daylight forgot to make an appearance today.
And it's been the longest day in eternity.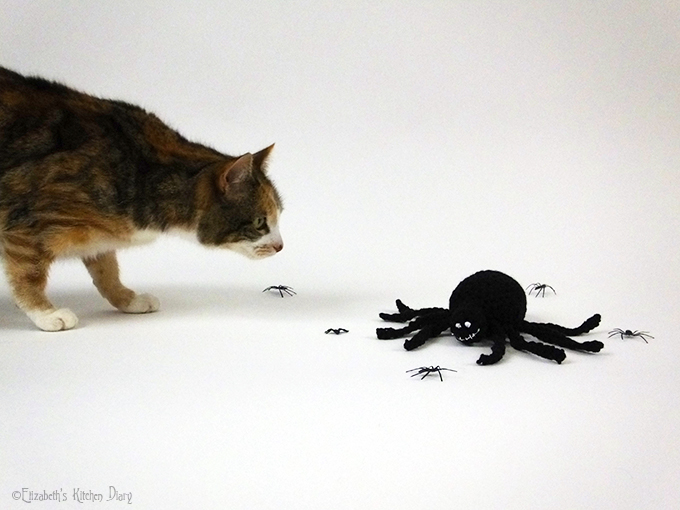 Come 9 am I'd drafted a blog post planned for publication in mid-November, and I'd finished a freelance piece I've been working on. I did some housework, folding and putting away laundry, cleaning the kitchen, tidying up stray Lego under the coffee table before hoovering, and made a cake (a rather lovely cake using the vegetable pulp from my morning juice). All before noon.
The craft section of my blog has been sorely neglected over the summer months, you might have noticed. There's something about the long, dark, Shetland winters that makes me want to take out the knitting, the crochet, the sewing machine, and get maakin'. That urge to make has been growing over these last few weeks, and I've got some winter projects planned.
This afternoon I designed this Jack Skellington-inspired crochet spider cat toy for our cat, Izzy. I sat there on the couch with my crochet hook and my husband called me an old woman (he was busy playing Minecraft with the children on the computer upstairs – a much more worthwhile pastime on a rainy Sunday, apparently).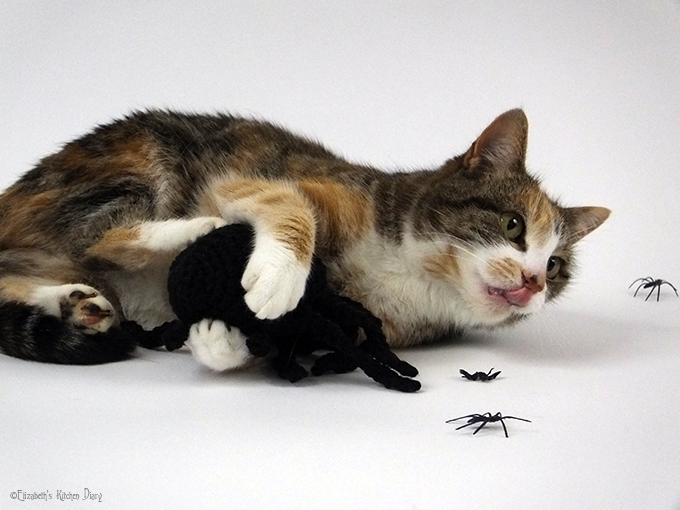 Izzy was a feral Cat's Protection rescue we got when she was a mere 3 weeks old. She had to be fed milk with a syringe. She was adorable (she still is) and we all fell in love with her. She was six years old this summer.
I wanted to name her Luna Lovegood, after the character in Harry Potter, but the husband wasn't having it. So, we named her Izzy, short for Isadora Le Strange, another character from Harry Potter. Hubby was ok with this name.
Izzy, like many cats the world over, loves catnip. So I made her this little Halloween treat and I belly laughed as she played with it.
It was well worth the effort.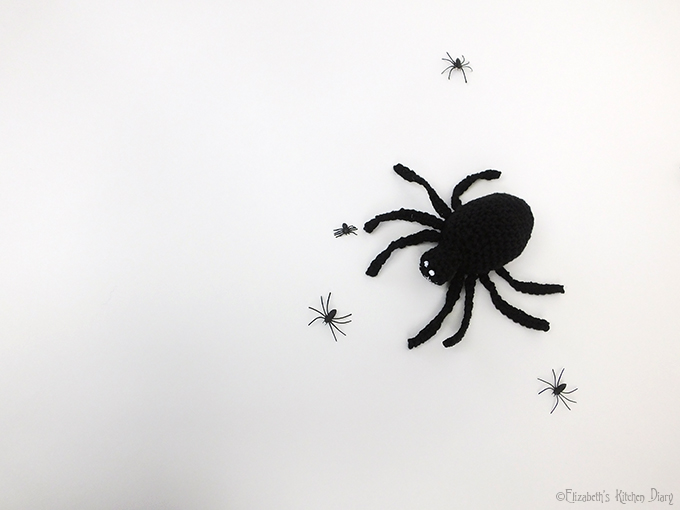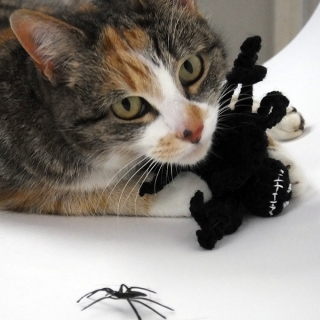 Ingredients
50

grams

black wool

1

x 4.0 mm

crochet hook

1

6 inch square black gauze

2

tbsp

dried catnip

black cotton fabric

cut into strips

thick white thread

scissors

needle

black thread
Affiliate Links
This recipe card may contain affiliate ingredient and equipment links. As an Amazon Associate I earn from qualifying purchases.
Instructions
Using black wool crochet the body of the spider, working the rows in a spiral pattern. Row 1: [0 st] 0 st in a loop Row 2: [5 st] inc, inc, inc, inc, inc2 Row 3: [11 st] inc, 2, inc, 1, inc, 1, ic, 1, inc, 1 Row 4: [16 st] 2, inc, 3, inc, 2, inc, 2, inc, 2, inc Row 5: [21 st] 4, inc, 5, inc, 4, inc, 4, inc Row 6: [25 st] inc, 7, inc, 8, inc, 7 Row 7: [28 st] 22, inc, 5 Row 8: [29 st] 8, inc, 20 Rows 9-10 [30 st] 30 Row 11: [29 st] 22, dec, 6 Row 12: [28 st] 8, dec, 19 Row 13: [25 st] 5, dec, 7, dec, 8, dec, 2 Row 14: [21 st] dec, 4, dec, 4, dec, 4, dec, 5 Row 15: [16 st] 1, dec, 3, dec, 2, dec, 2, dec, 2, dec, 1 Row 16: [11 st] dec, 1, dec, 2, dec, 1, dec, 1, dec, 1

Place the catnip in the square of black gauze and sew into a little bag. Place the bag into the bottom of the spider 'body' filling the remainder of the cavity with scraps of black fabric.

Row 17: [11 st] 11 Row 18: [15 st] inc, 2, inc, 1, inc, 2, inc, 1 Row 19: [16 st] 8, inc, 7 Row 20: [15 st] dec, 14 Row 21: [11 st] dec, 1, dec, 2, dec, 1, dec, 2

Fill the head with scraps of black fabric.

Row 22: [6 st] dec, dec, dec, dec, dec, 1 Row 23: fasten off

To make the legs, crochet 15 stitches and single crochet into the second from the end and back to the beginning (13 st). Fasten off and repeat 7 more times.

Fasten the legs to the body of the spider, and using thick white thread, embroider a smile and eyes onto the face.

Give to your cat and enjoy the show!
Environmental Information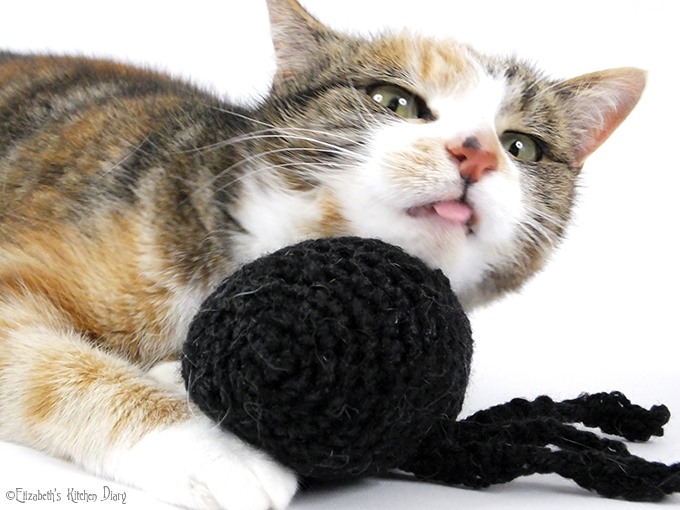 If you want to be kept up to date on my recipes, occasional craft tutorials, adventure stories and giveaways then please subscribe to my weekly newsletter; it gets sent out every Monday morning if there is new content. Your email address won't be passed on to anyone, you will never be spammed and you are free to unsubscribe at any time, no questions asked. Make sure you confirm your subscription or you won't receive the newsletter – if it hasn't arrived check your junk mail folder.
[wysija_form id="1″]