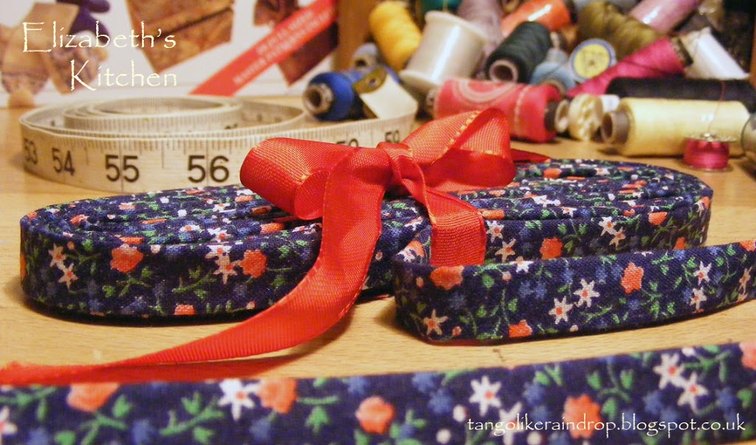 When I first started crafting I thought that binding was something you had to buy. It wasn't until a few years ago when I got back into quilting that I found out you can make your own! It was more cost, for me, and the limited colours and availabilty here in Shetland for shop bought bindings that prompted me to make my own. There are many different ways of going about doing this, some more complicated that others, but I'm a 'path of least resistance' kind of gal, and so this is what I do.
I usually use recycled fabrics in my creations (our local charity shop is a treasure trove of inexpensive clothing in incredible ranges of colours and patterns) and so I need to cut off any embellishments, elastics, etc so that there is a flat piece of fabric. Iron flat.
Using a pen and ruler I mark the width of the binding strips on the back of the fabric. To get the size double the width you want your binding to be and add 1/2 inch. I wanted a 1/2 inch binding for a project I'm currently working on so I drew marks at 1 1/2 inches apart (1/2 inch for each side plus 1/4 inch each side for the hem).  Draw lines between each mark to make cutting straight lines easier.
Cut out your strips of fabric. It doesn't matter if you've only got a short piece of fabric as you'll be sewing the strips together. Leave a 1/4 inch seam when sewing each strip together (remember right sides together!). Iron the seam open flat.
When you've got a long length of fabric iron 1/4 inch over on each side. Then, go back to the beginning and iron the entire thing in half, lengthwise. There you go, one length of homemade, recycled straight seam binding!
If you want bias binding cut your strips at a 45 degree angle to the grain.