A high protein lunch box recipe in collaboration with Zyliss Fresh.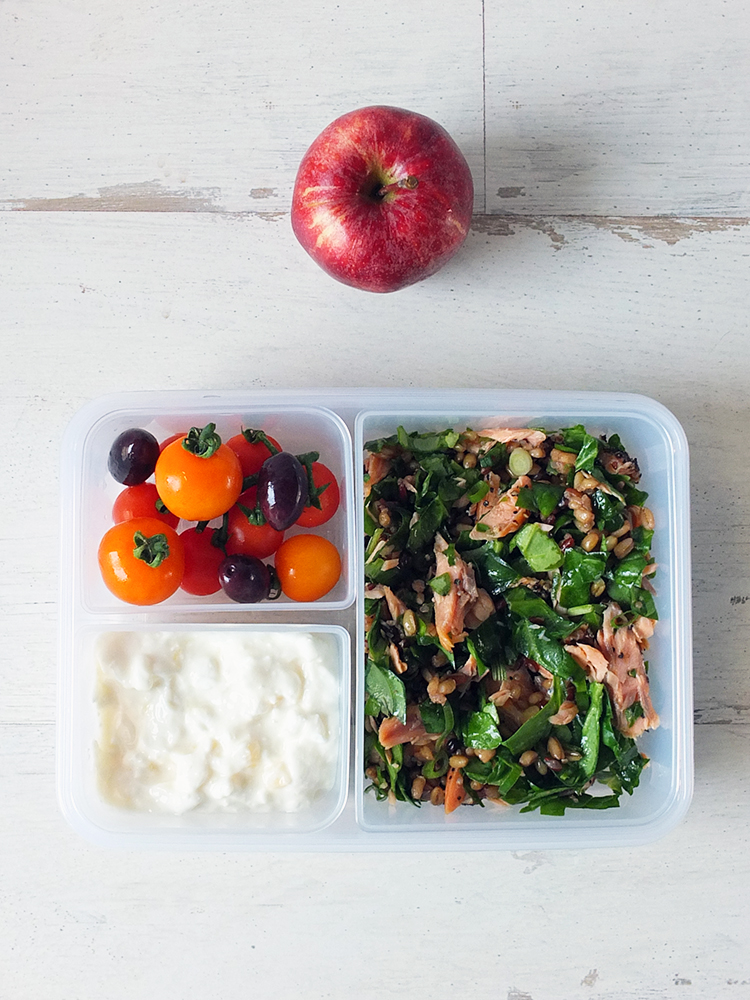 Being mainly self-employed (except for the few hours a week I work in the local village shop – my 'getting out of the house and talking to people' job) means that I don't often need a packed lunch, unless I'm planning an extended hill walk or a day event out somewhere. My home office is my kitchen table – I'm only a few feet away from the food. This can sometimes be a bad thing!
Regular readers might remember me writing a 40 Things I'd Like To Do Before I Turn 40 list last year. #35 on this list is to attend a yoga class.
So I did!
Holistic therapist, reflexologist and yoga teacher Hazel Thomson along with yoga teacher Niki Thomson co-hosted a Yoga and Relaxation Day here in Shetland last weekend, and I went along for a look-see.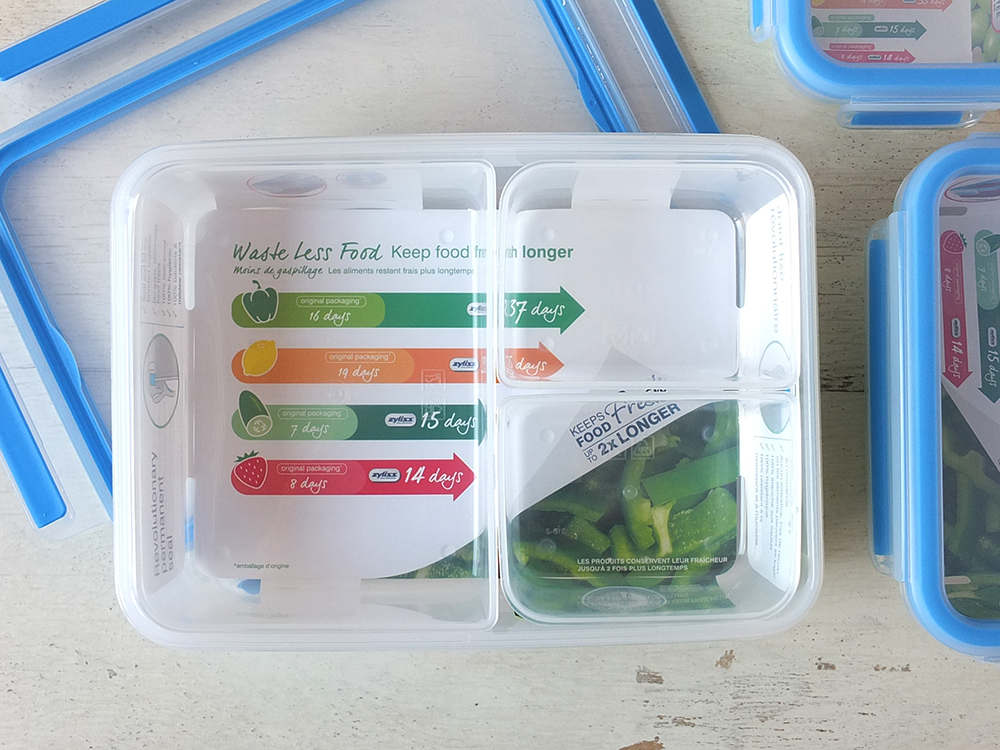 As it was an all day event I needed a packed lunch, and I got to give my brand new Zyliss Fresh plastic storage rectangle with three inserts a trial run. With a 1.2 litre capacity and a leak proof lid that fits snugly this container is ideal to use as a lunch box.
I had grand plans of making, in advance, this really lovely healthy energy protein ball recipe for my packed lunch (I got as far as buying the dates), but I ran out of time after a busy week – the kind of week that makes you feel like you've got 50 browser tabs in your mind all open at once and you keep flicking back and forth between them.
A yoga and relaxation day was just what I needed.
The class itself was absolutely fantastic. I've been doing yoga at home myself for about 16 months, having been introduced to it via the P90X extreme home exercise program. The P90X instructor Tony Horton doesn't do gentle yoga. It's extreme stuff, so that's what I've grown accustomed to.
The class wasn't extreme yoga. As a relaxation class the instructors guided us through some gentle stretching yoga – hatha yoga – as well as a reflexology session and mindfulness and meditation session with a group of absolutely lovely ladies.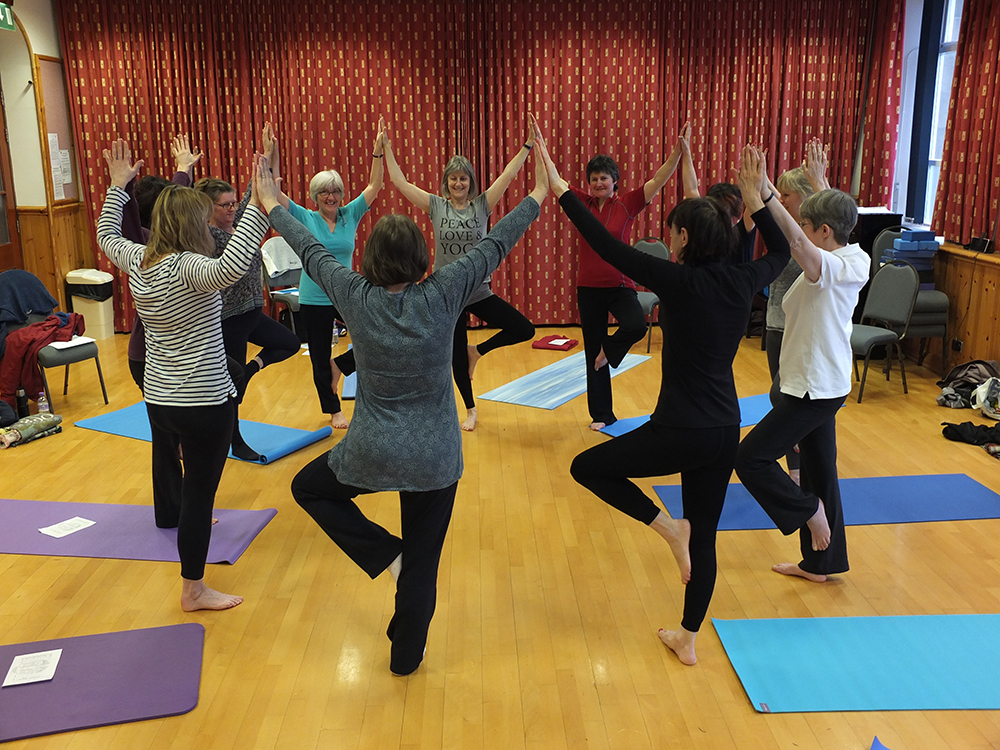 I'm currently trying to tone, strengthen and build muscle (I keep hinting about this – all will be revealed soon!) so my diet is very protein-centred as my body needs extra to help repair what I am doing to it.
Hence, my packed lunch for the day contained a whopping 36 grams of protein through the addition of hot smoked peppered Shetland salmon (I can't get enough of this stuff!) and the low fat cottage cheese with pineapple (this ended up going in the space in my lunch box where my energy protein balls were supposed to go, but hey ho!).
Some cherry tomatoes (red and orange for variety) and the addition of a generous handful of Fresh & Naked baby spinach leaves (chopped up) means my lunch provided a whole host of healthy vitamins, minerals and fibre.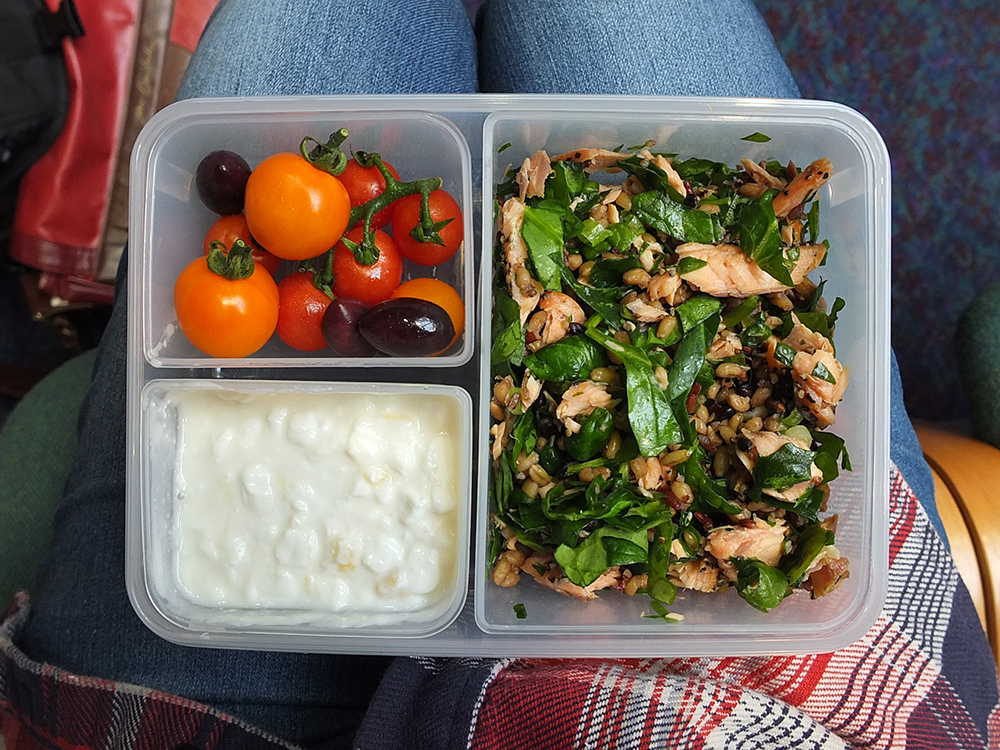 My lunch had tipped over in the car on the way to the yoga class (my father says I drive like a 19 year old boy), but despite this, everything was safely contained in its individual compartments, and after a morning of yoga my lunch was well needed (along with a cup of licorice Yogi Tea which I have become frightfully addicted to!).
I'm really rather impressed with my new lunch box. First, the individual compartments meant that I could easily weigh out everything I put into it (for monitoring my nutrition via My Fitness Pal), and the fact that it's spacious and can fit loads of food unlike many Bento boxes out there. Also, the lid fits so snugly there is no worry about spillage. Win!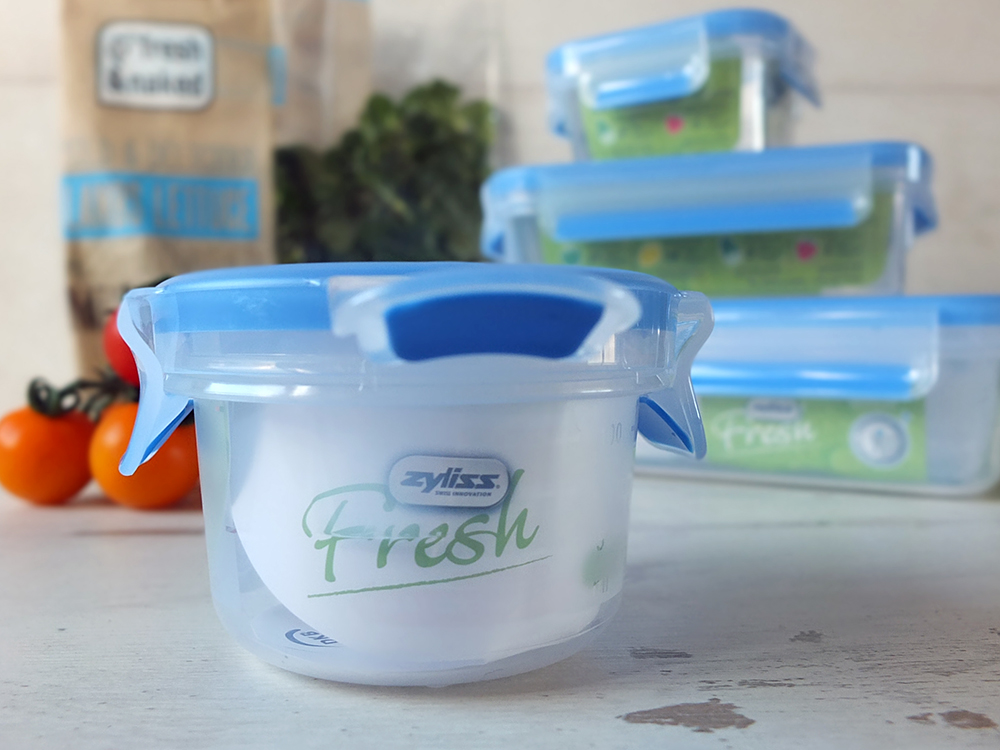 Zyliss have recently launched a whole new range of superb storage containers. Their revolutionary permanent seal means there are no gaps and it eliminates food traps. They are 100% leak-proof, 100% hygienic and 100% bacteria and mildew resistant. Anyone who is familiar with that black gunge that sometimes forms under the seals of other plastic containers will be pleased with this feature.
Using plastic storage containers to store fresh produce also keeps them fresher for longer, in some cases up to two times longer! That means no more bags of wilted salad in the back of the fridge!
Prices for these containers start from £2.49. The 1.2 litre container with the inserts that I used as a lunch box retails for £7.49.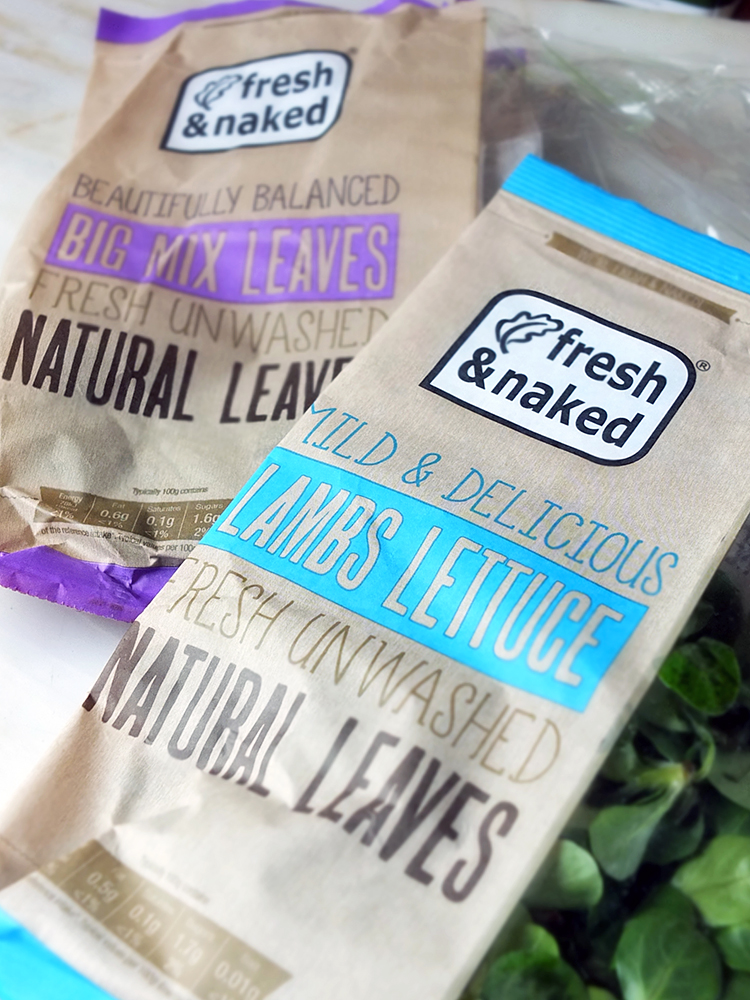 Zyliss have teamed up with salad growers extraordinaire Fresh and Naked to launch this new storage container range. Fresh and Naked produce a wide range of gorgeous salad leaves including baby kale (my favourite!), wild rocket (peppery and awesome) and lamb's lettuce. Keep an eye out for them in the salad aisle of your supermarket.
In the meantime, here's my quick and easy hot smoked peppered salmon salad with quinoa, grains and red rice. I always buy some sachets of ready to eat grains by Merchant Gourmet to keep in my pantry and their quinoa, grains and red rice mix contains quinoa, green wheat, black barley, white quinoa, olive oil and natural flavourings. It makes a super quick lunch box salad too. I used some recently delivered olio nuovo from Pomora, an extra peppery olive oil direct from Italy (see link in sidebar!).
If you don't want your salad as peppery as mine use a plain hot smoked salmon.
ps. when bringing your own packed lunch make sure you pack a fork. Just sayin'.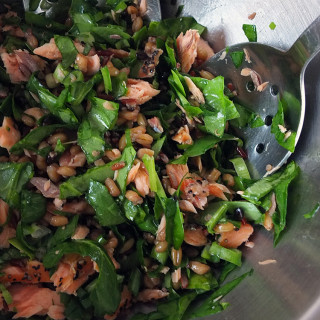 Hot Smoked Salmon Salad with Quinoa, Grains & Red Rice
A quick five minute high protein lunch box recipe packed full of flavour.
Print
Rate
Ingredients
2

spring onions

finely chopped

50

grams

Fresh and Naked baby spinach leaves

washed and chopped

135

grams

hot smoked peppered Shetland salmon

flaked

1

tbsp

new olive oil

(I use Pomora, see link in side bar)
Affiliate Links
This recipe card may contain affiliate ingredient and equipment links. As an Amazon Associate I earn from qualifying purchases.
Instructions
Combine all the ingredients in a large bowl and toss lightly.
Notes
If you are not using peppered smoked salmon you might want to season the salad with salt and pepper to taste.
Environmental Information
Click here for the nutritional information for this recipe.
GIVEAWAY
Zyliss and Fresh and Naked have very kindly offered the chance for one of my UK readers to win a set of  four Zyliss Fresh plastic storage containers and a selection of Fresh and Naked salad bags worth £19.49 in total. Simply fill out the Rafflecopter entry form below!
The giveaway includes:
1 x 1.2 litre Zyliss plastic storage container with 3 inserts worth £7.49
1 x 0.55 litre Zyliss plastic storage container worth £2.99
1 x 0.25 litre Zyliss plastic storage container worth £2.49
1 x 0.15 litre Zyliss plastic storage container worth £2.49
4 x Fresh and Naked salad bags
HOW TO ENTER
For your chance to win a set of  four Zyliss Fresh plastic storage containers and a selection of Fresh and Naked salad bags worth £19.49 in total. enter using the Rafflecopter form below. Come back and tweet about the giveaway every day for more chances to win!
TERMS & CONDITIONS
This giveaway is open to UK entries only. Entrants must be age 18 or over. The winners will need to respond within 30 days of being contacted; failure to do this may result in another winner being selected.
The prize is offered and provided by Zyliss. The prize is to win a set of  four Zyliss Fresh plastic storage containers and a selection of Fresh and Naked salad bags worth £19.49 in total. There is no cash alternative and the prize is not transferable.
There is no entry fee and no purchase is necessary to enter this giveaway. The promoter (Elizabeth's Kitchen Diary) reserves the right to cancel or amend the giveaway and these terms and conditions without notice.
Entry into our giveaways will be deemed as acceptance of these terms and conditions.
If you need some help using Rafflecopter, here's a quick clip to show you how. Rafflecopter will pick the winners at random from all the entries received. I will be verifying entries and any automated entries or those who have claimed they have made the mandatory blog post comment and really haven't will be disqualified. It's mandatory! Please make sure your comment is eight words or longer or Google views it as spam.
Closing date is midnight (that's 00:00 hours, 12 am on Sunday night/Monday morning) on Monday 7 March 2016 (GMT) and the winner will be announced shortly afterwards.
OTHER GROWN UP LUNCH BOX RECIPES YOU MIGHT LIKE
Croquiches by Fab Food 4 All
Miso Muffins with Kale, Carrot and Courgette by Tin & Thyme
Scottish Barley Smoked Salmon Salad with a Whisky Dressing by Foodie Quine
BBQ Pulled Chicken Flatbread by Eats Amazing
If you want to be kept up to date on my recipes, occasional craft tutorials, adventure stories and giveaways then please subscribe to my weekly newsletter; it gets sent out every Monday morning if there is new content. Your email address won't be passed on to anyone, you will never be spammed and you are free to unsubscribe at any time, no questions asked. Make sure you confirm your subscription or you won't receive the newsletter – if it hasn't arrived check your junk mail folder.
[wysija_form id="1″]
Elizabeth's Kitchen Diary received complementary Zyliss storage containers and a selection of Fresh and Naked salad bags for the purposes of this post. This is a paid post although all thoughts and opinions expressed are our own. This post also contains Amazon affiliate links highlighted in orange. This means if you click through and make any subsequent purchase through Amazon we will get a small commission and you will be helping support our family. Elizabeth's Kitchen Diary is also a Pomora ambassador, and any purchases made through our website will earn us a small commission.