In collaboration with Delicious Alchemy: Gluten Free Magic.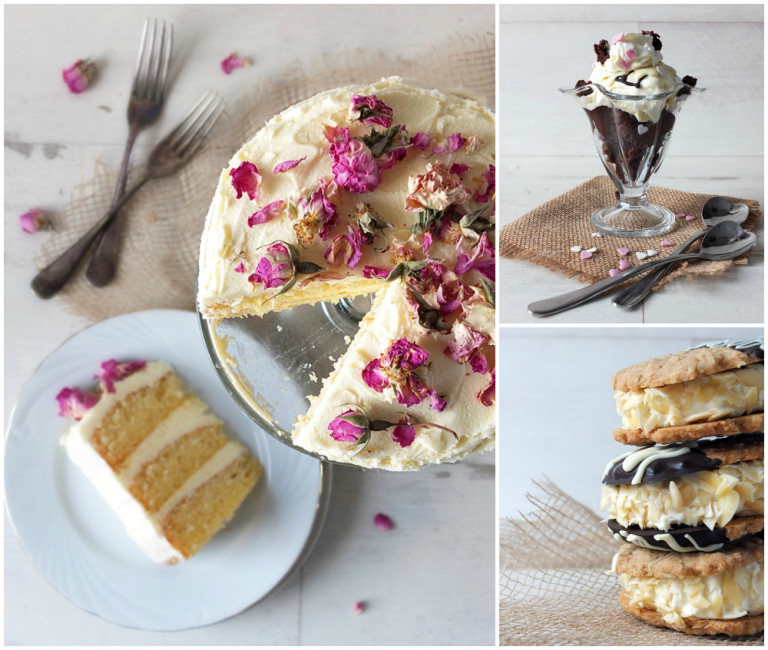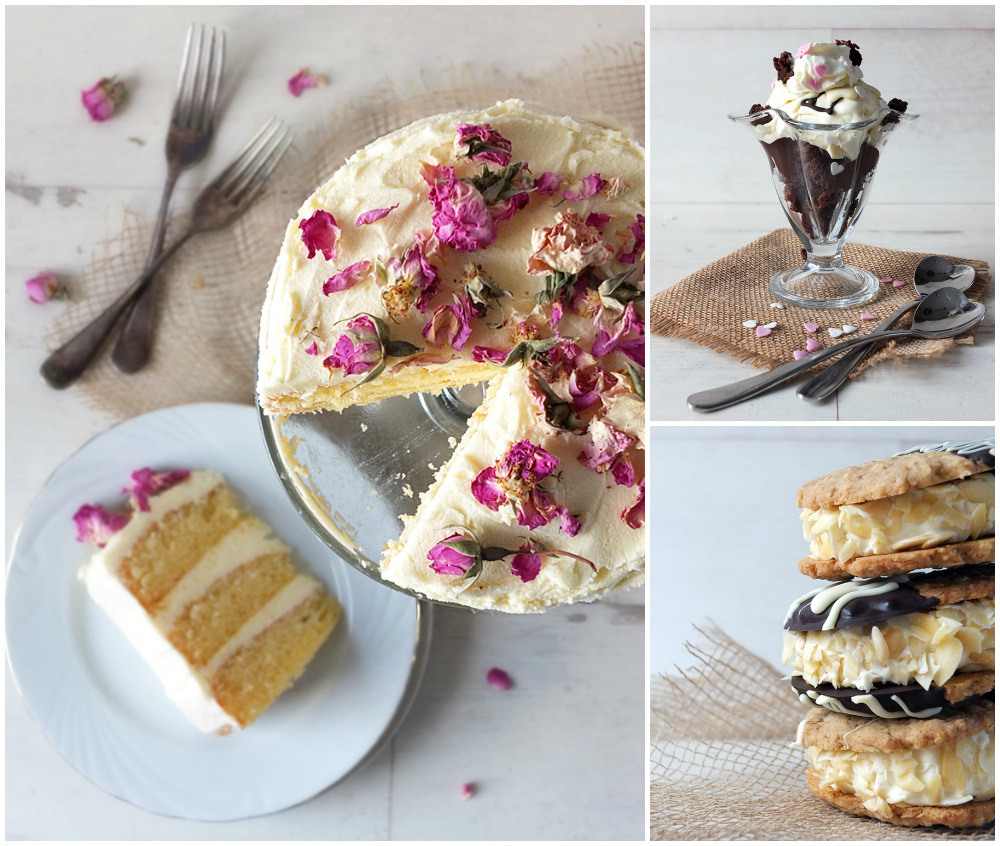 One of the most common food intolerances in the UK, and in fact much of the Western world, is that of gluten – a protein found in many cereal grains, especially wheat, which gives bread its characteristic elasticity. More and more people are becoming intolerant to this protein and with coeliac disease (a hypersensitivity to gluten affecting digestion) affecting 1 in 100 people in the UK, the food and drinks industry is catering to the demand for tasty, easy to prepare, gluten free foods.
One of these companies is the award winning Delicious Alchemy, maker of mighty fine gluten free cake, cookie, brownie and bread mixes in addition to supplying certified gluten free oats and flours.
As I am one to enjoy playing with my food and getting creative with new foodstuffs, when I was challenged by Delicious Alchemy to create three delicious gluten free recipes suitable for Valentine's Day, I got my thinking cap on.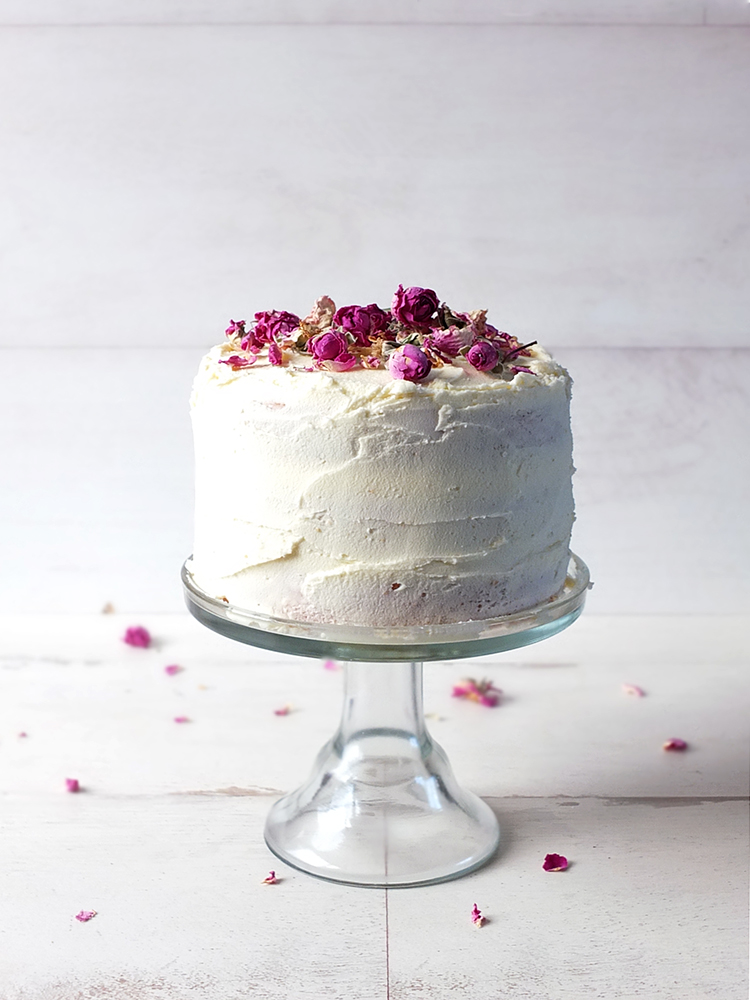 First up, everyone (ie: me!) loves cake so I prepared the Delicious Alchemy gluten free vanilla sponge mix as per the instructions and spooned the batter into three six inch cake tins, sandwiching them together after cooked and cooled with a light and fluffy rose syrup infused buttercream frosting.
Topped with dried rose petals this cake, I believe, is quite the show stopper. I was really impressed at how light and fluffy the cake mix was for not containing wheat flour, and everyone who taste tested it raved about it. They had no idea they were eating gluten free.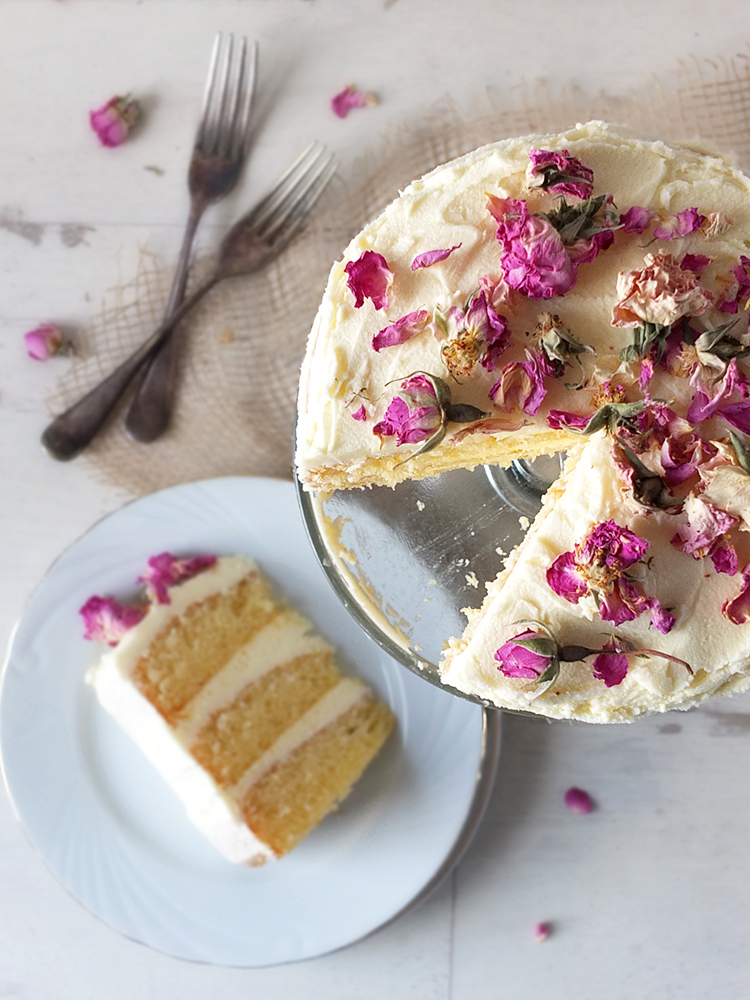 I do confess that my cakes sunk a bit in the middle, as you can see from the sliced cake photo above, but I don't know if that's due to my own, or due to using too small of a cake tin (the recipe recommended using two 8-inch tins) or because I'm still trying to get to grips with using my new (ok it's a year old now) fan oven.
Still, frosting hides a multitude of sins and there was no compromise on taste!
Next up, I prepared the Delicious Alchemy Chocolate Brownie Mix as directed. Initially I was going to blitz up the brownies and mix with some chocolate fudge frosting to prepare little chocolate fudge brownie truffle bites, but I was that impressed with how ooey and gooey the brownies turned out after they were baked I had to leave them just as. Half of them I frosted with Betty Crocker Chocolate Fudge Frosting and decorated them with some heart shaped sprinkles.
The remaining brownies were broken into pieces and placed at the bottom of an ice cream sundae glass, topped with a simple homemade chocolate sauce, a scoop of home made ice cream, melted white and dark chocolates , squirty cream and Valentine's sprinkles. A few more bits of brownie were crumbled over the top. A seriously indulgent gluten free treat.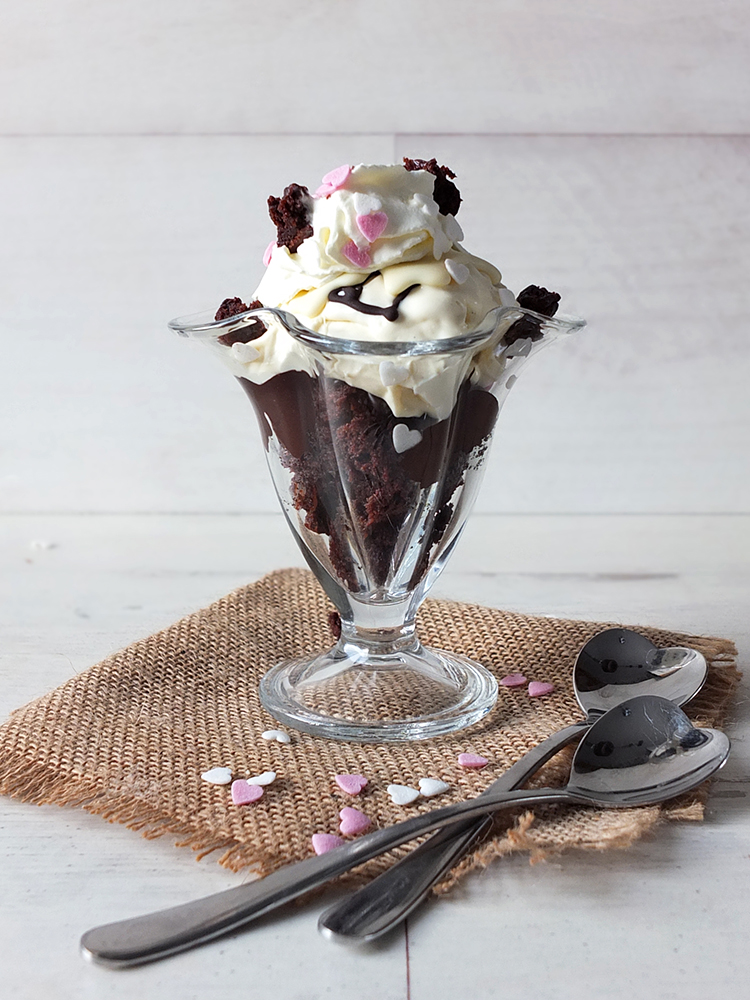 Finally, I made some double chocolate dipped gluten free oatmeal cookie ice cream bars. They might look a bit faffy but these are surprisingly easy to make.
I followed the instructions for the Delicious Alchemy Oaty Cookie Mix, but found the mixture was a little too moist for my liking. I added an additional 20 grams of Delicious Alchemy Gluten Free Oats and baked the cookies. The mix makes ten cookies, the perfect number for a family of five.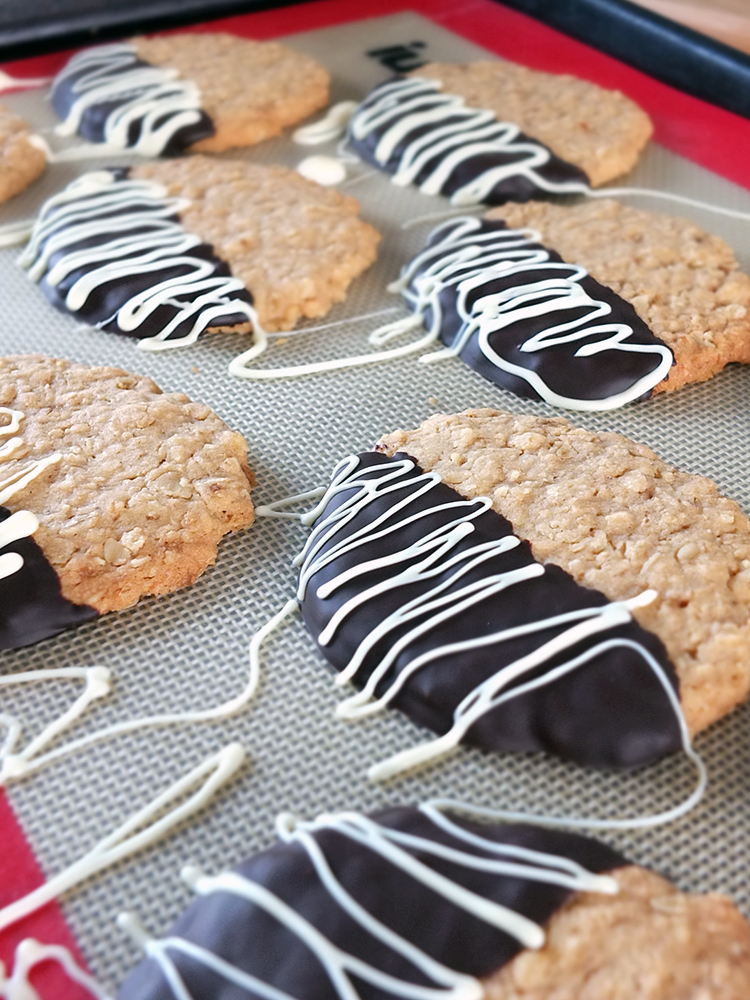 These oaty cookies were half dipped in dark chocolate and then drizzled with a bit of white chocolate. The evening prior I'd prepared a simple batch of no churn bourbon vanilla bean paste condensed milk ice cream and left it to freeze in two silicone cake tins – pouring the ice cream mixture to about an inch in depth.
After the chocolate hardened on the cookies, I used a circular cookie cutter to cut out rounds of ice cream, leaving it to soften slightly. I rolled the edges of the softened ice cream rounds in flaked almonds and sandwiched each ice cream circle between two chocolate dipped cookies. These were popped back into the freezer for twenty minutes or so to allow the ice cream to refreeze.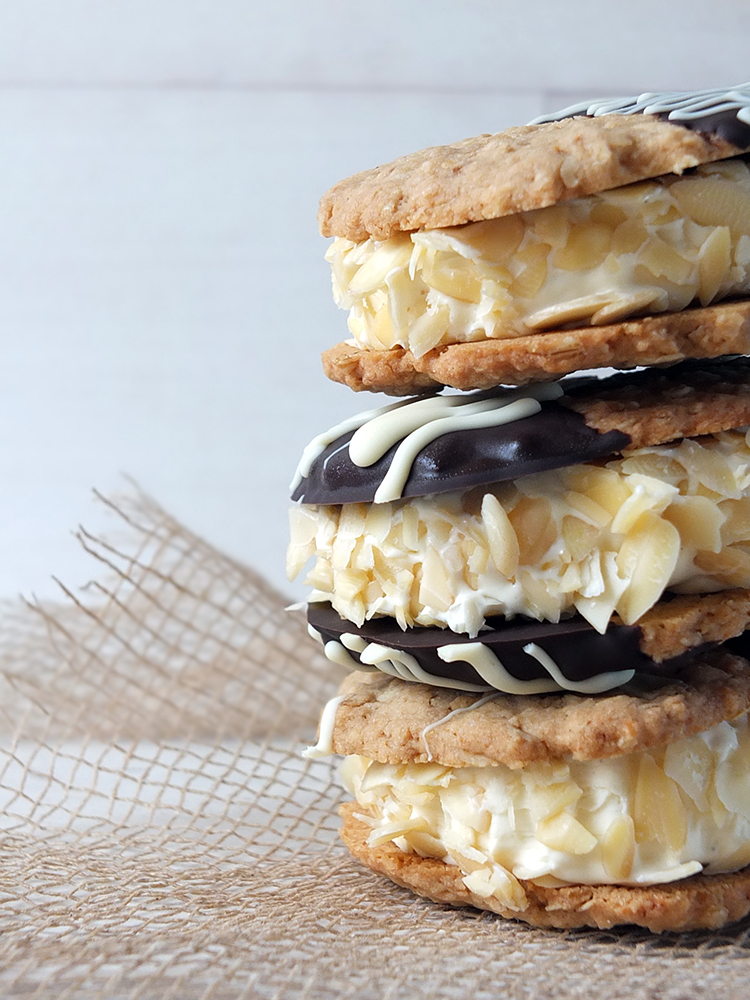 The verdict? A little bit awesome. My husband, being the taste tester extraordinaire that he is, was put into a happy sugar-coma while the kids were particularly pleased with the brownies. If I'm to be honest, I'm saving the chocolate dipped oaty cookie ice cream sandwiches for actual Valentine's Day – a treat for us all.
All in all I'm really rather impressed with the quality of the ingredients which arrived in my Delicious Alchemy box, and I am delighted to announce that they have very kindly offered the chance for one of my UK readers to win the very same box! Simply fill out the Rafflecopter form at the end of this post to enter!
Delicious Alchemy has an online shop and you can find them on Twitter and Facebook too. Prices for their gluten free products range from £1.99 to £2.99 so they are really quite affordable!
Do you follow a gluten free diet? What's your favourite sweet treat recipe? Let me know in the comments!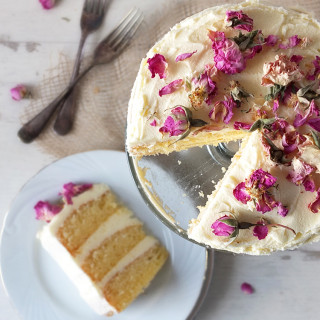 Three Gluten Free Valentine's Day Treats
Three indulgent sweet treats made using the Delicious Alchemy gluten free mixes.
Print
Rate
Ingredients
Affiliate Links
This recipe card may contain affiliate ingredient and equipment links. As an Amazon Associate I earn from qualifying purchases.
Instructions
For the Rose Scented Buttercream Frosting
Cream the butter and icing sugar together until well blended. Add the rose syrup and continue to beat until light and fluffy. Use to frost layers of the Delicious Alchemy Gluten Free Sponge cake and decorate with dried rose petals.
For the Vanilla Condensed Milk No Churn Ice Cream
Whip the double cream until light and fluffy. Add the vanilla bean paste and condensed milk and stir until well combined. Pour into a freezer proof container and leave overnight to freeze.
For the Chocolate Dipped Oaty Cookie Ice Cream Sandwiches
Prepare the Delicous Alchemy Oaty Cookie recipe according to the packet instructions, adding an extra 20 grams of gluten free oats. Dip half of each cookie in dark chocolate, allow to harden, and drizzle in white chocolate. Cut out rounds of vanilla ice cream and roll each round in flaked almonds. Sandwich the ice cream between two of the oaty cookies and pop back in the freezer for 20 minutes to harden.
For the Chocolate Brownie Ice Cream Sundaes
Crumble a Delicious Alchemy gluten free chocolate brownie in the bottom of an ice cream sundae glass. Drizzle with chocolate sauce and top with a scoop of no churn vanilla ice cream. Drizzle with melted dark and white chocolate, if desired, squirty cream and sprinkles. Decorate with a few bits of brownie and serve immediately.
Environmental Information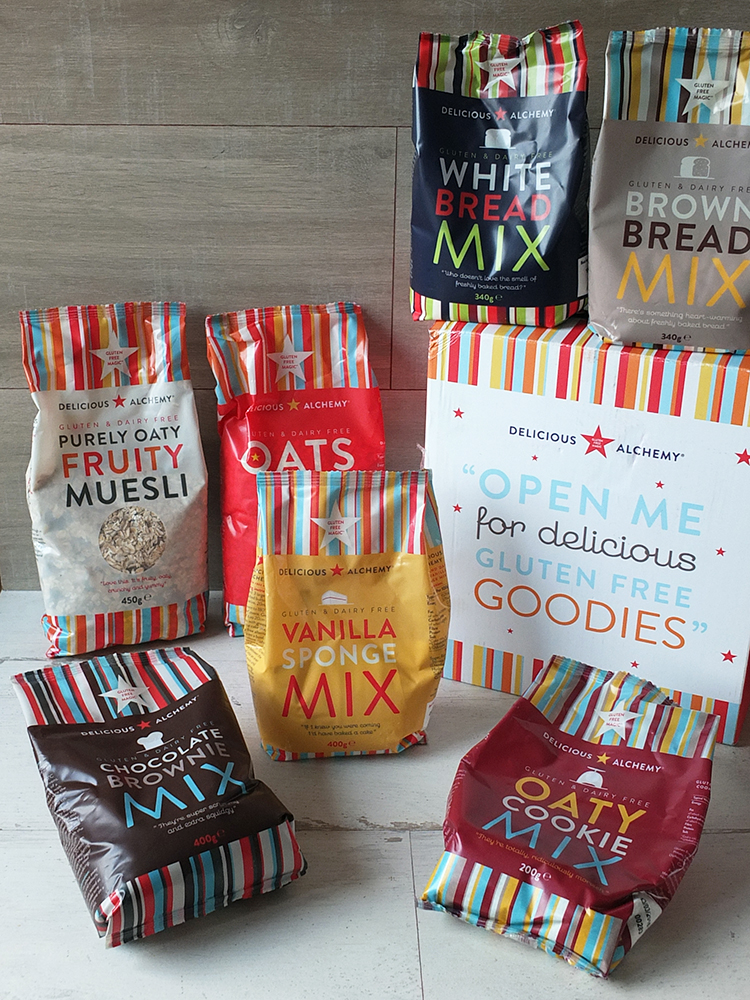 GIVEAWAY
Delicious Alchemy have very kindly offered the chance for one of my UK readers to win a Delicious Alchemy Gluten Free Gift Set worth over £18. Simply fill out the Rafflecopter entry form below!
HOW TO ENTER
For your chance to win a win a Delicious Alchemy Gluten Free Gift Set worth over £18 enter using the Rafflecopter form below. Come back and tweet about the giveaway every day for more chances to win!
TERMS & CONDITIONS
This giveaway is open to UK entries only. Entrants must be age 18 or over. The winners will need to respond within 30 days of being contacted; failure to do this may result in another winner being selected.
The prize is offered and provided by Delicious Alchemy. The prize is to win a Delicious Alchemy Gluten Free Gift Set worth over £18. There is no cash alternative and the prize is not transferable.
There is no entry fee and no purchase is necessary to enter this giveaway. The promoter (Elizabeth's Kitchen Diary) reserves the right to cancel or amend the giveaway and these terms and conditions without notice.
Entry into our giveaways will be deemed as acceptance of these terms and conditions.
If you need some help using Rafflecopter, here's a quick clip to show you how. Rafflecopter will pick the winners at random from all the entries received. I will be verifying entries and any automated entries or those who have claimed they have made the mandatory blog post comment and really haven't will be disqualified. It's mandatory!
Closing date is midnight (that's 00:00 hours, 12 am on Sunday night/Monday morning) on Monday 22 February 2016 (GMT) and the winner will be announced shortly afterwards.
OTHER GLUTEN FREE TREATS YOU MIGHT LIKE
Rose Syrup Poached Fig and Pomegranate Pavlovas by Cook Sister
Pink Waldorf Salad by Coffee & Vanilla
Gluten Free Chocolate Mug Cake by Elizabeth's Kitchen Diary
Chocolate Topped Coconut Biscuits by Celery & Cupcakes
Hungarian Plum Cake by Elizabeth's Kitchen Diary
No Bake Raspberry Chocolate Truffles by My Food Happiness
Ooey Gooey Gluten Free Brownies by Elizabeth's Kitchen Diary
LINKING UP WITH SOME BLOGGING CHALLENGES
Love Cake by Jibber Jabber UK
If you want to be kept up to date on my recipes, occasional craft tutorials, adventure stories and giveaways then please subscribe to my weekly newsletter; it gets sent out every Monday morning if there is new content. Your email address won't be passed on to anyone, you will never be spammed and you are free to unsubscribe at any time, no questions asked. Make sure you confirm your subscription or you won't receive the newsletter – if it hasn't arrived check your junk mail folder.
[wysija_form id="1″]