Encouraging a healthy, vegetable rich lifestyle.
It's National Vegetarian Week!
National Vegetarian Week 2015 is organised by the Vegetarian Society and sponsored by Nothing But, makers of freeze dried fruit and vegetable snacks. This year National Vegetarian Week is all about sharing and enjoying delicious veggie food with your friends, family, colleagues, neighbours and community.  Sharing delicious food is a great way to connect with those around you and explore tasty meat-free meals together.
Although I do love vegetarian meals, and come the summer months when our organic veg boxes are bursting with gorgeous, fresh produce we eat very little meat, we are, nonetheless, a meat-eating family. As such, in the spirit of being useful and sharing during National Vegetarian Week, I'd like to share a few of my favourite vegetarian food blogs who I think you simply must follow whether you are vegetarian or not!


Jacqueline over at Tinned Tomatoes – the Scottish Vegetarian. Her blog, voted best vegetarian food blog by Vegetarian Living in 2014, is a treasure trove of over 500 easy vegetarian and vegan recipes with photos and simple instructions. Check out her savory cauliflower rice recipe, her kidney bean falafel or her mouthwatering collection of smoothie recipes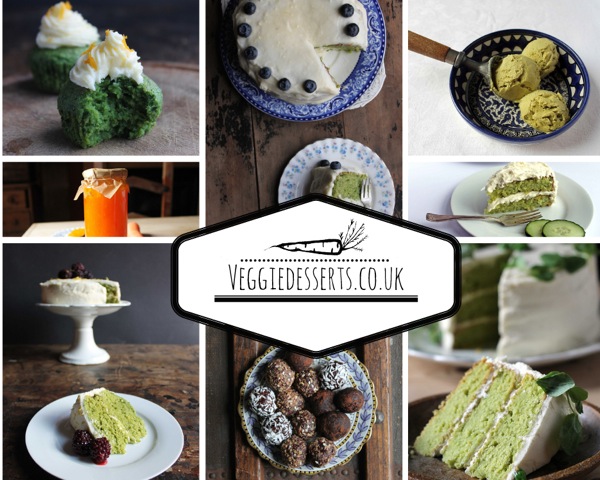 Kate over at Veggie Desserts is vegetable obsessed. She packs a healthy dose of vegetables into each and every one of her incredibly mouth watering desserts. Seriously, you have to go and check her blog out! Fancy some nettle and lemon cake with lemon icing and blackberries? Maybe beetnut butter cups are more your thing (think Reeses peanut butter cups but healthy, and made with cashews and a ruby red filling). Pure culinary genius.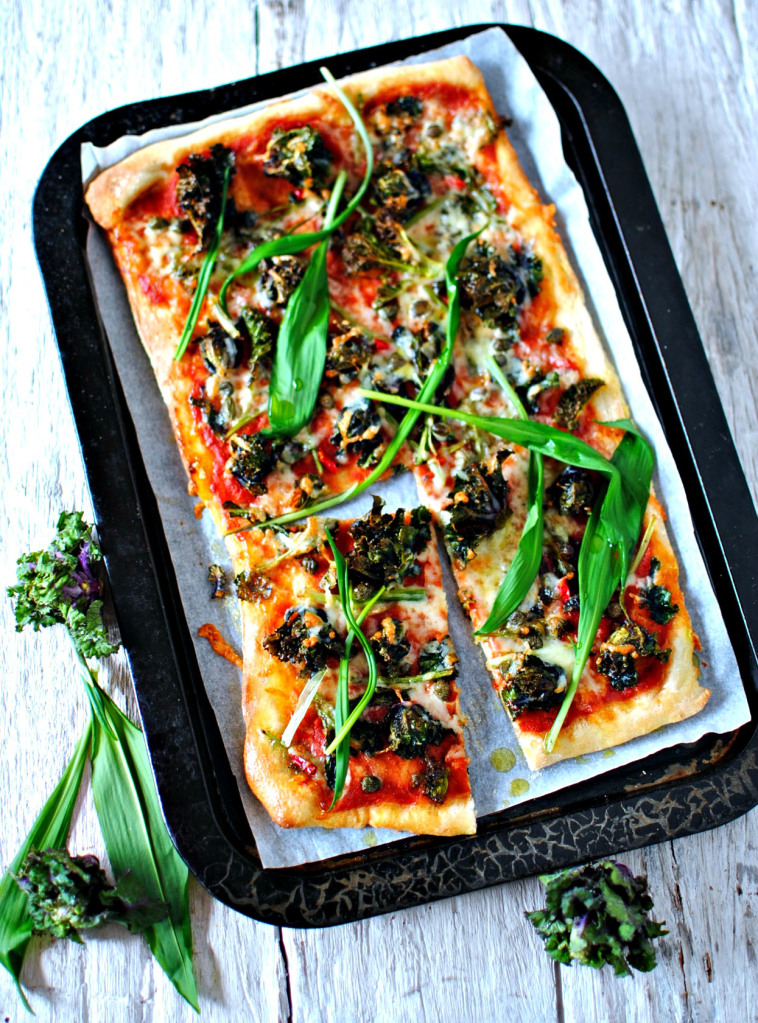 Kellie at Kellie's Food to Glow features healthy, plant-based recipes with an occasional decadent twist. Although Kellie is an omnivore her recipes are predominately plant based, and she speaks fluent vegan. She's an ex-pat American cancer health educator living in Edinburgh, and her recipes are inspirational – fancy some wild garlic pizza (pictured above)? She's got you covered. Her recipe for puy lentils with a poached egg and paprika spiked yogurt is made at least once a fortnight in my house – it's my go-to meal when I want something fast!
There is no debate that including plenty of fresh fruits and vegetables into one's diet is part of a healthy lifestyle. Slow juicing is one way to quickly get a daily dose of vitamins, minerals and phytonutrients in a delicious, thirst-quenching beverage. I use my Optimum 600 slow juicer to make my fresh juices.
FROOTHIE OPTIMUM 600 SLOW JUICER GIVEAWAY
To celebrate National Vegetarian Week and to help encourage a healthy, vegetarian lifestyle, Froothie, the UK distributor of the Optimum 9200 and 9400 high speed blenders and the Optimum 600 slow juicer, are providing giveaways of their blenders and juicers through their blogging ambassadors!
Optimum 600 Whole Fruit Slow Juicer

The Optimum 600 whole fruit slow juicer means no more chopping, no more clogging, just faster, better, more nutritious fresh juice. Compared to a centrifugal juicer, the Optimum 600 slow juicer delivers more juice and more nutrients with the added bonus of being much quieter, too. A few features you're going to love:
Large auger which perfectly crushes your fruits and vegetables for maximum output and nutrient retention
You can also make ice cream, nut butters, nut milks, smoothies, baby food and more
Large chute and internal knife will eliminate chopping and clogging, making cleaning a breeze.
Juice whole apples, pears and more!
The Optimum 600 retails for £329 but will be on sale for £249 during National Vegetarian Week. Visit Froothie's website for details.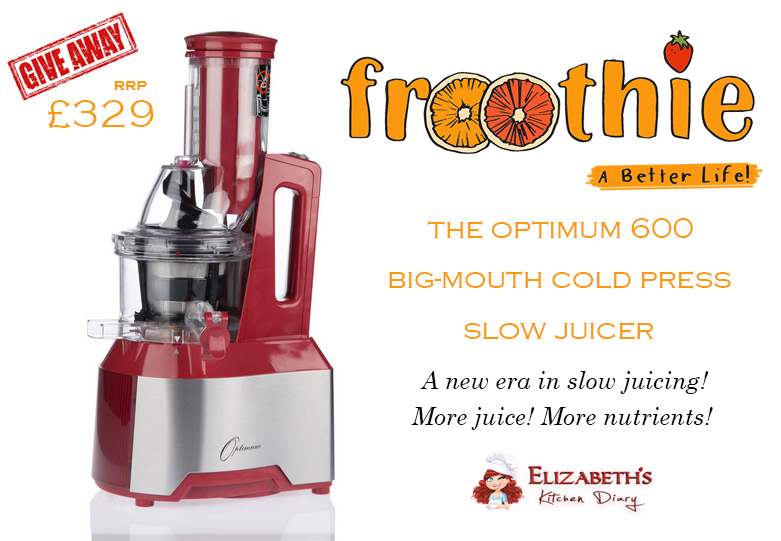 HOW TO ENTER
For your chance to win a Froothie Optimum 600 Whole Fruit Slow Juicer worth £329 enter using the Rafflecopter form below. Come back and tweet about the giveaway every day for more chances to win!
TERMS & CONDITIONS
This giveaway is open to UK entries only. Entrants must be age 18 or over. The winner will need to respond within 7 days of being contacted; failure to do this may result in another winner being selected.
The prize is offered and provided by Froothie UK. The prize is to win a Froothie Optimum 600 Whole Fruit Slow Juicer worth £329. There is no cash alternative and the prize is not transferable.
There is no entry fee and no purchase is necessary to enter this giveaway. The promoter (Elizabeth's Kitchen Diary) reserves the right to cancel or amend the giveaway and these terms and conditions without notice.
Entry into our giveaways will be deemed as acceptance of these terms and conditions.
If you need some help using Rafflecopter, here's a quick clip to show you how. Rafflecopter will pick the winner at random from all the entries received. I will be verifying entries and any automated entries or those who have claimed they have made the mandatory blog post comment and really haven't will be disqualified. It's mandatory!
Closing date is midnight on Saturday 20 June 2015 (GMT) and the winner will be announced shortly afterwards.
Don't forget to visit my Giveaways Page for other fab prizes!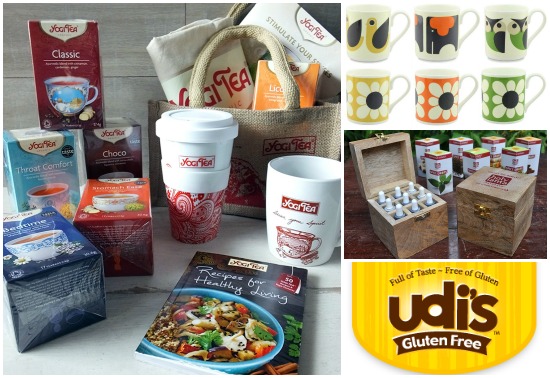 OTHER GIVEAWAYS ON ELIZABETH'S KITCHEN DIARY
E: 25/05 Win a set of Orla Kiely Mugs RRP £34
E: 15/06 Win a Holy Lama Spice Drops Starter Set Gift Box RRP £35
E: 15/06 Win a Yogi Tea Hamper
E: 22/06 Win an Udi's Gluten Free Afternoon Tea Hamper
OTHER FROOTHIE AMBASSADORS HOSTING JUICER OR BLENDER GIVEAWAYS
Veggie Desserts – Optimum 600 Slow Juicer Giveaway
Recipes from a Pantry – Optimum 9200 High Speed Blender
Kellie's Food to Glow
Kavey Eats – Optimum 9200 High Speed Blender
Tin and Thyme
Simply Sensational Food – Optimum 600 Slow Juicer Giveaway
Franglais Kitchen – Optimum 600 Slow Juicer Giveaway
Tinned Tomatoes – Optimum 9200 High Speed Blender
Naturally Bee – Optimum 9200 High Speed Blender
How to Cook Good Food – Optimum 9200 High Speed Blender
Bunny Kitchen – Optimum 9200 High Speed Blender
Fuss Free Flavours – Optimum 600 Slow Juicer Giveaway
Smarter Fitter – Optimum 9200 High Speed Blender
Demuths – Optimum 9200 High Speed Blender
and more… to be added as their giveaways are published!
You can also enter a chance to win an Optimum 9200 super blender by liking and sharing this post on Facebook.
If you want to be kept up to date on my recipes, occasional craft tutorials, adventure stories and giveaways then please subscribe to my weekly newsletter; it gets sent out every Monday morning if there is new content. Your email address won't be passed on to anyone, you will never be spammed and you are free to unsubscribe at any time, no questions asked. Make sure you confirm your subscription or you won't receive the newsletter – if it hasn't arrived check your junk mail folder.
[wysija_form id="1″]
Elizabeth's Kitchen Diary uses the Froothie Optimum 9400 blender, and the Froothie Optimum 600 slow juicer to make her juices, soups and smoothies. These are affiliate links, meaning if you buy a blender or juicer through them we will earn a small commission and you will be helping to support our family. This is not a paid post and all thoughts and opinions are our own.