A review and giveaway in collaboration with CLIF bar.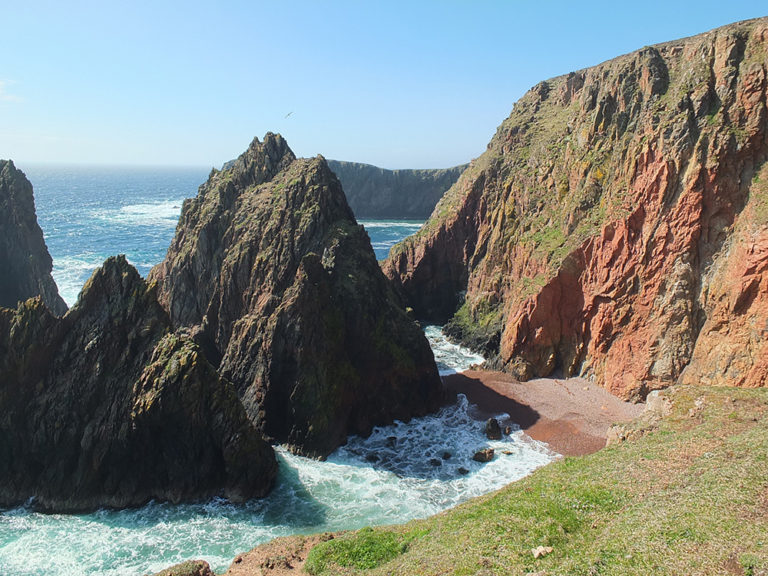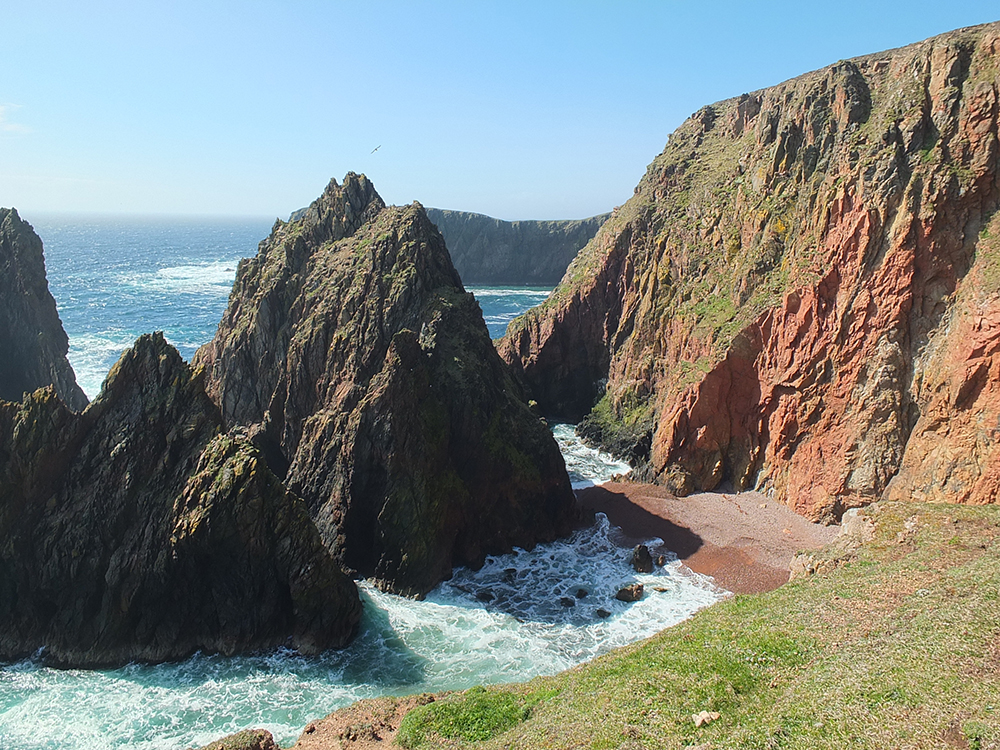 I feel so lucky to live on one of the most beautiful islands in the world. In fact, Lonely Planet declared Shetland as one of the top regions in the world to visit in their book Best in Travel 2011. They called it the 'last untamed corner of the UK', advising 'adventurous travelers to step this way'.
Being primarily self-employed I have the luxury of declaring sunny days official holidays. The computer gets shut off, the housework gets ignored and I go out exploring and adventuring the wild and remote corners of my little island archipelago in the North Sea.
Yesterday was one of those days.
Full sun was predicted for the whole day, so after accompanying my eldest son to the polling booths for the very first time (how is he old enough to vote?!) and packing the younger kids off to school, I headed out over the hills for a 17 mile cycle ride, training for my epic 250 mile mountain bike ride this summer through the highlands of Scotland.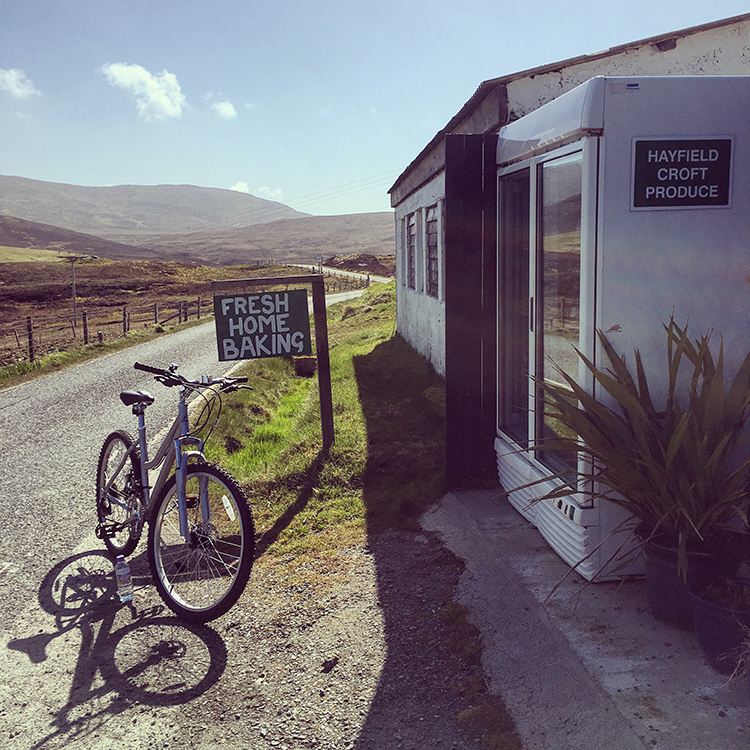 My route was a rather hilly stretch of road we call 'The Alps' – good training for this summer's adventure. On the way out the wind was at my back and I made five personal bests, according to Strava. The way home, however, the wind was in my face and it was hard going even cycling downhill into the wind. Good training.
I had to stop at this little roadside honesty cupboard for some water (I haven't yet bought myself a water bottle holder for the bike and I was parched after the long slog downhill!), returning later by car to pay for my purchase and picking up some lemon cupcakes and tiffin for the family.
The mail had been delivered by the time I returned home late morning. A parcel had arrived: three CLIF bar samples in the oatmeal raisin walnut, chocolate almond fudge and the new coconut chocolate chip.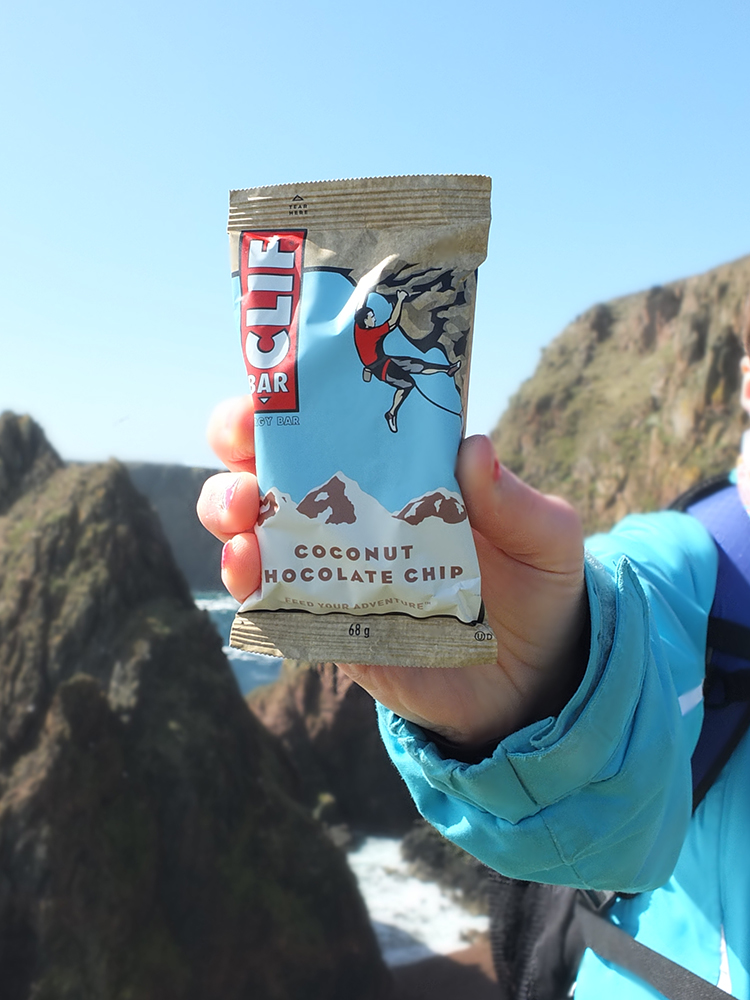 The sun was still shining. I didn't have to pick the kids up from school for another few hours. More outdoor adventuring was needing to be had, so I rang a friend and we headed out to nearby Silwick – a particularly scenic coastal area on the west side of Shetland.
It just seemed a rather appropriate place to taste test the CLIF bars, don't you think? The first of the spring wildflowers are starting to bloom – we spotted some white and mauve common scurvy grass on the cliff tops as we admired the scenes below.
Parking the car at the end of the road at Silwick we crossed through a gate and followed the fence line a short ways to the cliff edges, following them along a stretch of coastline dramatically shaped by the sea. Our destination was the end of that finger of land you see in the photo below.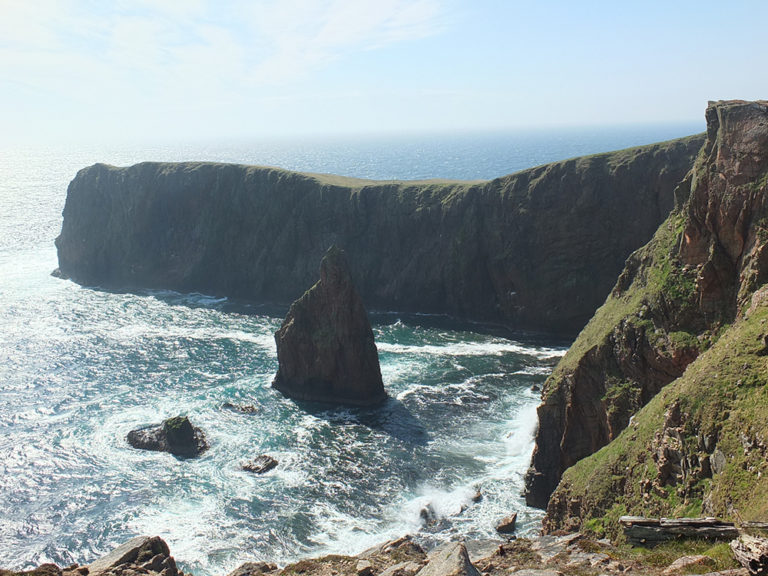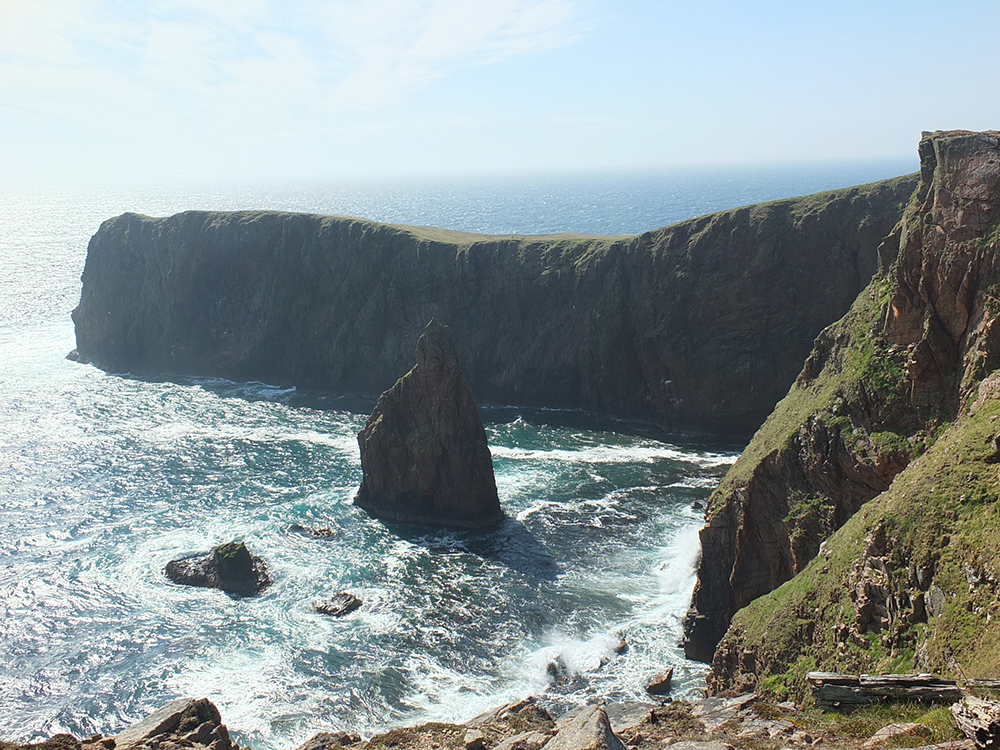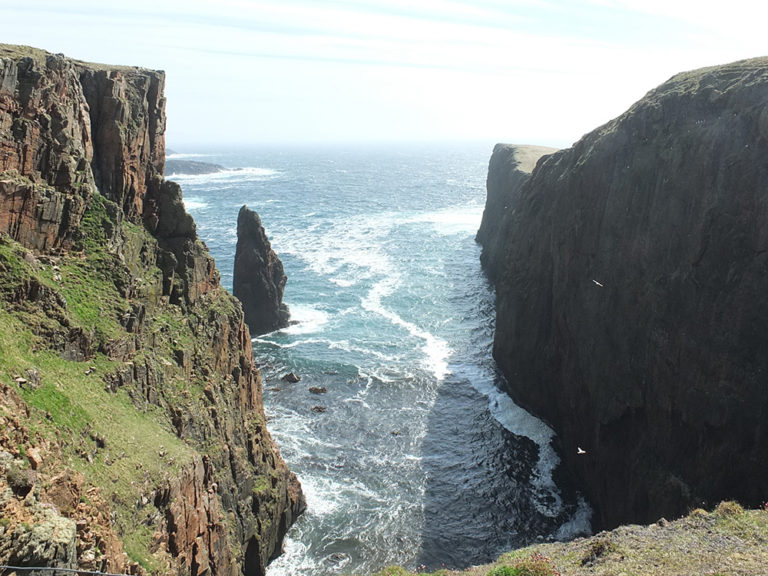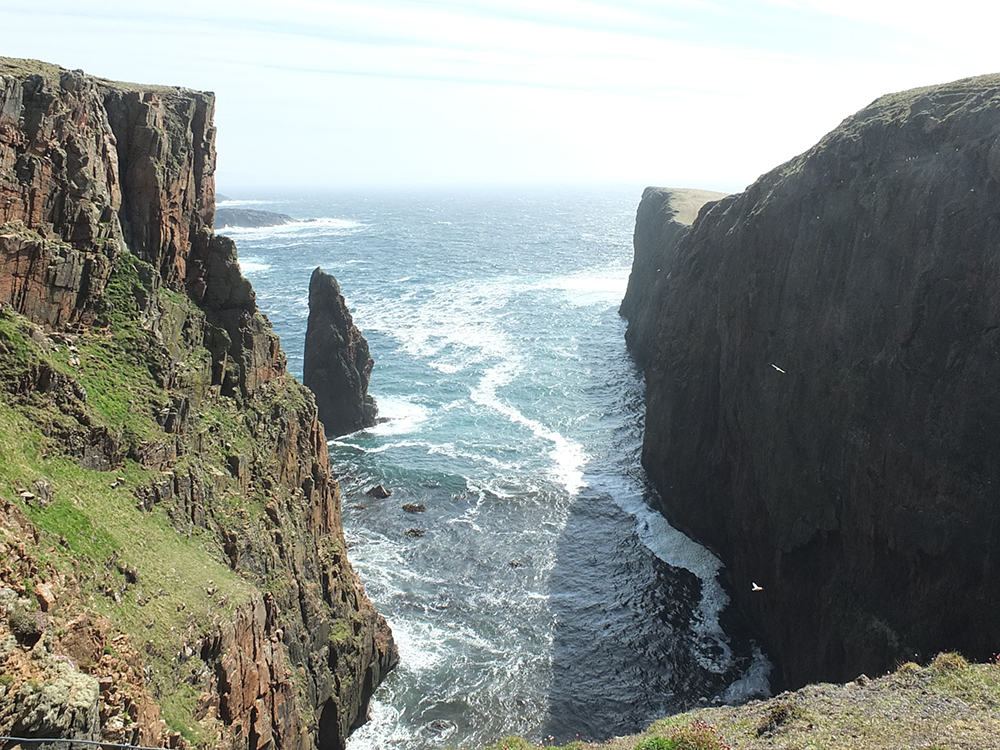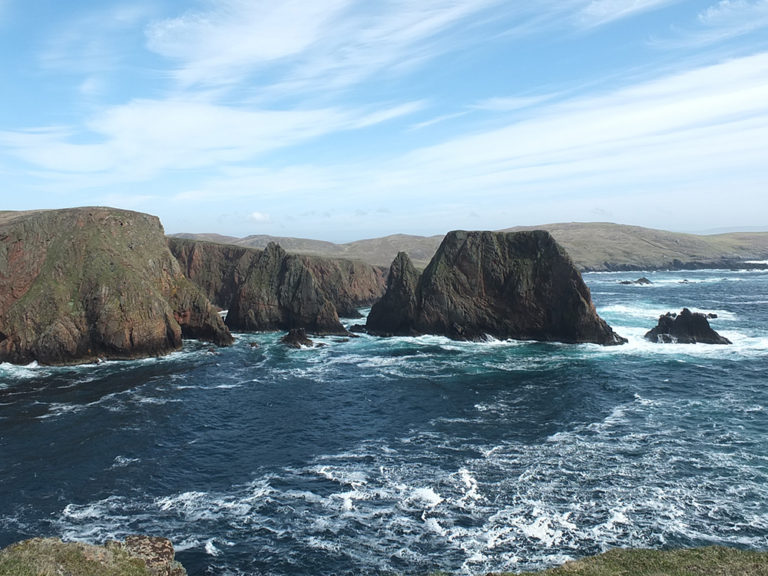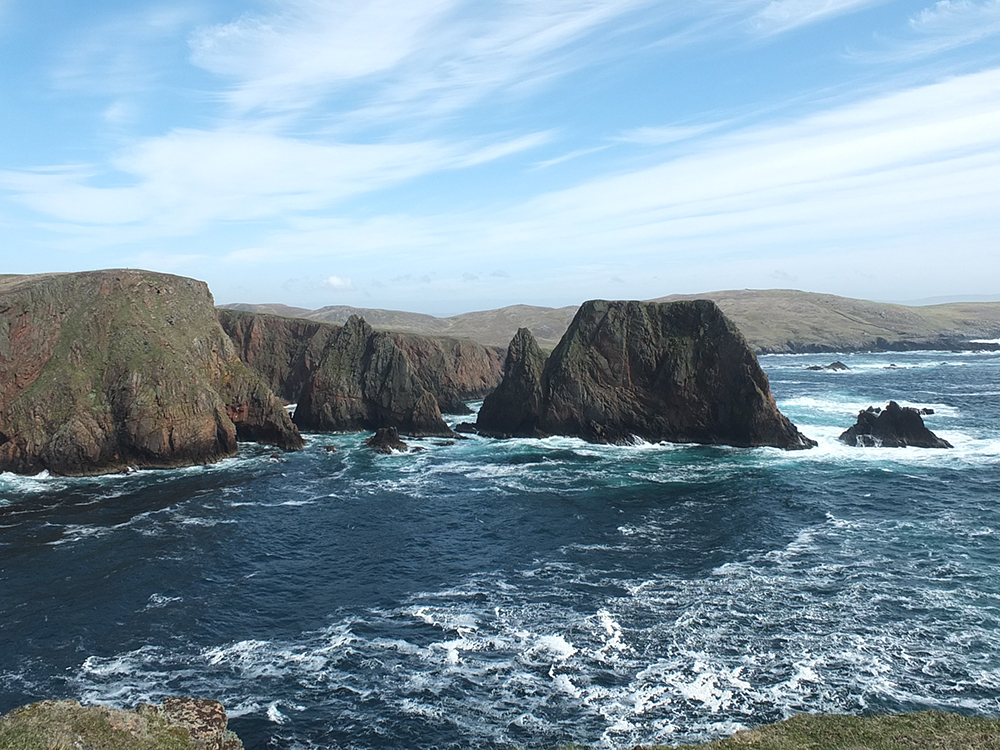 It was quite windy yesterday, but the wind was from the south and wonderfully warm (for Shetland standards! The temperature was reading about 10 degrees Celsius!), adding to the air of adventure we felt exploring such a stunning coastal area.
Stopping for our hastily thrown together lunch at the end of the promontory we taste tested the three different flavours of CLIF bars, starting with the new coconut chocolate chip flavour. This one, with its attractive chocolate drizzle, didn't have as strong a coconut flavour as we expected, although it was quite perfumed and exceedingly sweet due to the use of brown rice syrup (the first ingredient listed on the label). Of the three this was my walking companion's favourite.
The second one, the oatmeal raisin walnut, was like a very sweet raw oatmeal cookie scented with cinnamon. This was my favourite of the three bars, but it was still very sweet.
The third, the chocolate almond fudge, wasn't as sweet, thankfully, I'm wondering if the brown rice syrup sweetness was counteracted by the inclusion of cocoa powder. It was rather tasty, but after having taste tested half of the other two bars I was starting to get that sickly sweet sugary feeling in the back of the throat.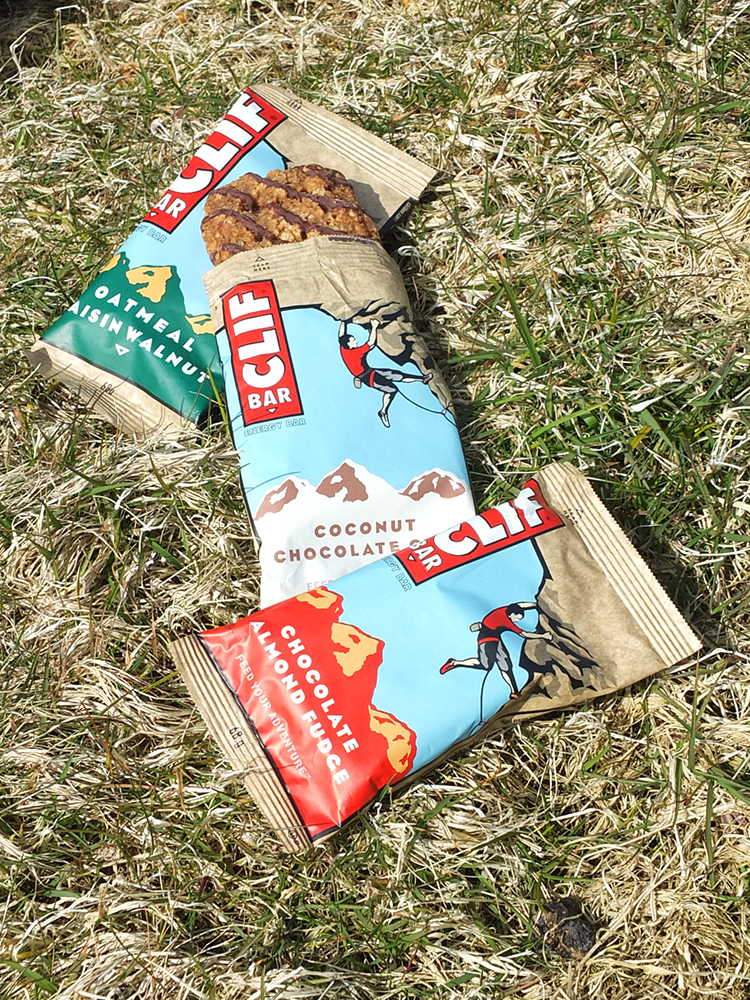 The CLIF bar story began in 1990 with a day long 175 mile bicycle ride. Gary Erickson, the founder, had been on a long cycle trip with his friend. They'd been gnawing on energy bars all day and, unable to take another bite of one he thought, "I could make a better bar than this!" and so he set to work to develop a better tasting energy bar.
Now, with a range of 17 flavours of energy and performance related products, CLIF bars (named after Gary's father, Cliff) are a well known US brand for making nutritious and wholesome food for athletes and adventurers. They use organic rolled oats as a base for their energy bars which are available in seven different flavours. They average around 250 calories each and provide around 10 grams of protein as well as 11 different vitamins including B6 and B12, vital for energy release in the body.
These bars are carb rich (around 38 grams per bar) to supply working muscles with the fuel they need for extended periods of activity. Retailing for £1.60 you can buy them online or from Ocado, Boots, Tesco, Asda, WHSmith, Holland & Barret and many independent health food and sports retailers.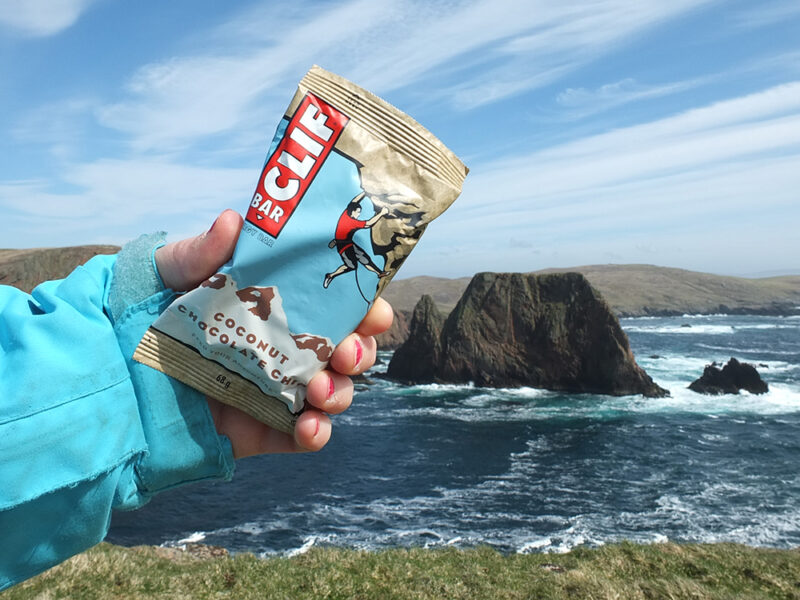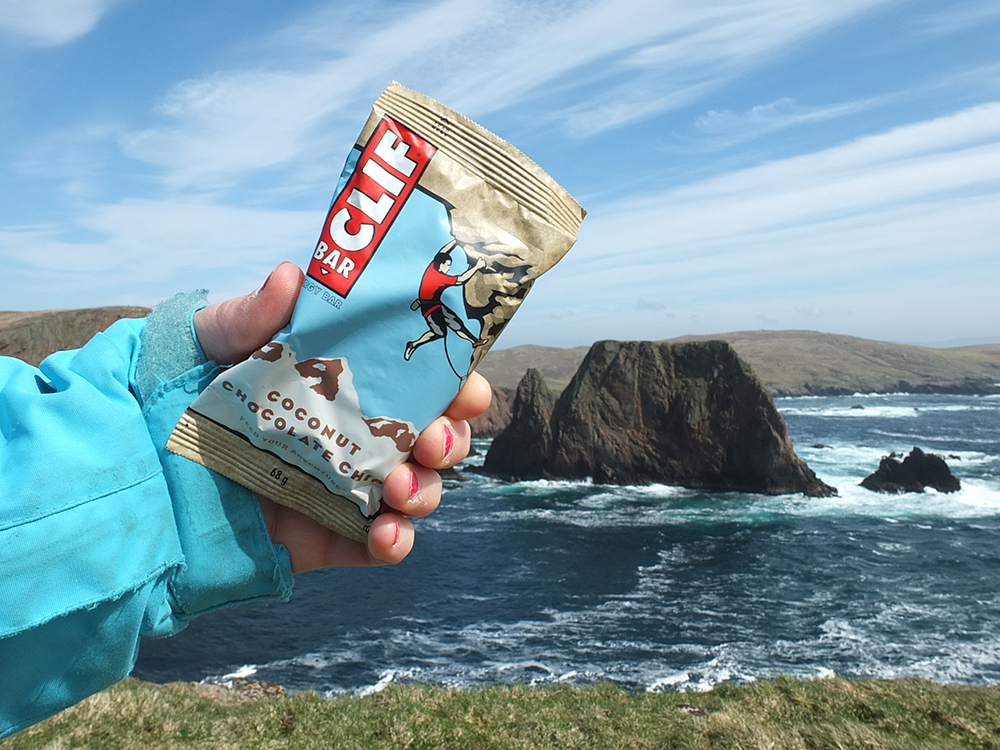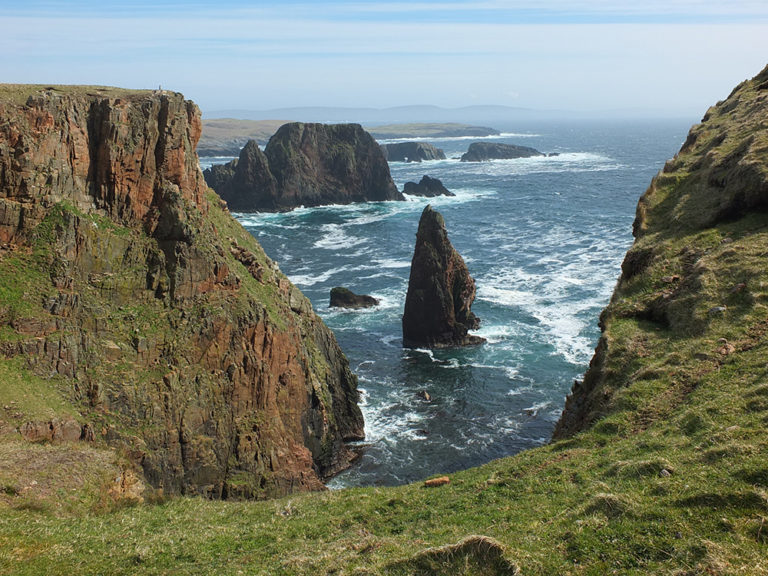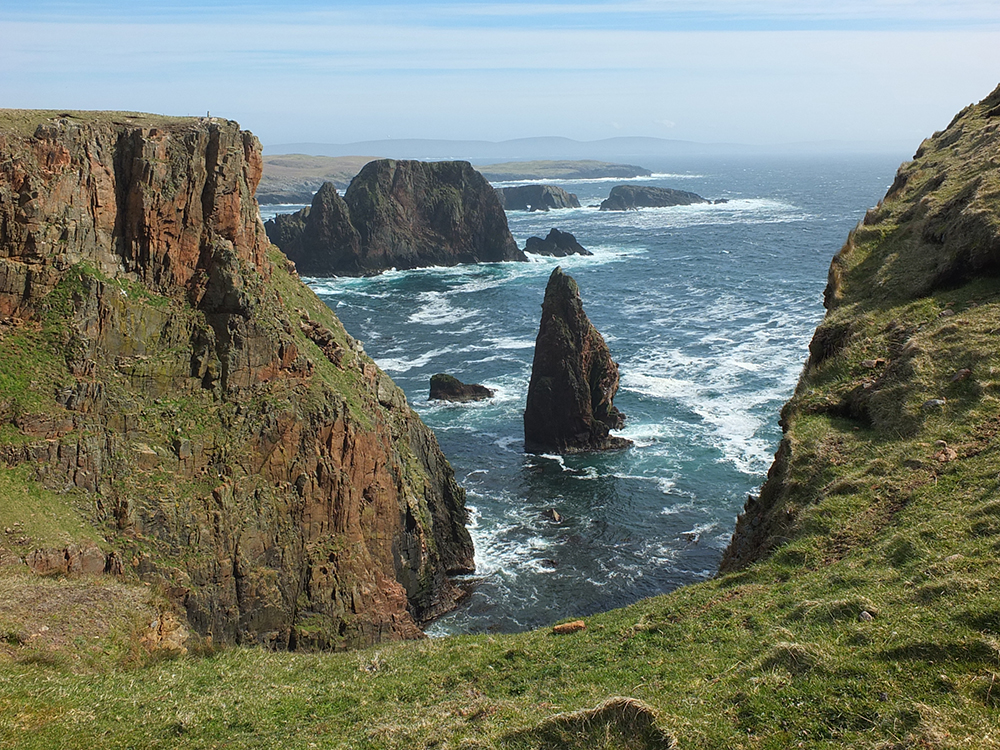 Although we found these particular bars a bit too sweet for our palettes I could see how they could be very useful during extended periods of activity.
UPDATE: 20 miles into a 30 mile cycle my cycling friend and I stopped on the top of a hill and shared a peanut flavoured CLIF bar between us – this one I like! Maybe it was all the exercise we'd just done on the hilly roads of Shetland, or just that it was a different flavour, but it didn't seem as sweet. It was almost savory and quite palatable. It did the trick too, providing enough fuel to complete the training ride.
CLIF also make protein bars and the new CLIF SHOT energy gels and bloks which I'm going to look into for taking along on our 250 mile cycle. I think they might be the lightweight source of fuel we'll need to sustain us through the highland cycle (it's going to be all uphill into the wind, isn't it…) and mountain climb.
Now, as soon as I hit publish on this post I'm switching the computer off again for the day. It's going to be another full day of sun – I'm heading out for some cycle training. What are you up to today?
To find out more about CLIF Bar visit their website. You can also find them on Twitter, Facebook and Instagram.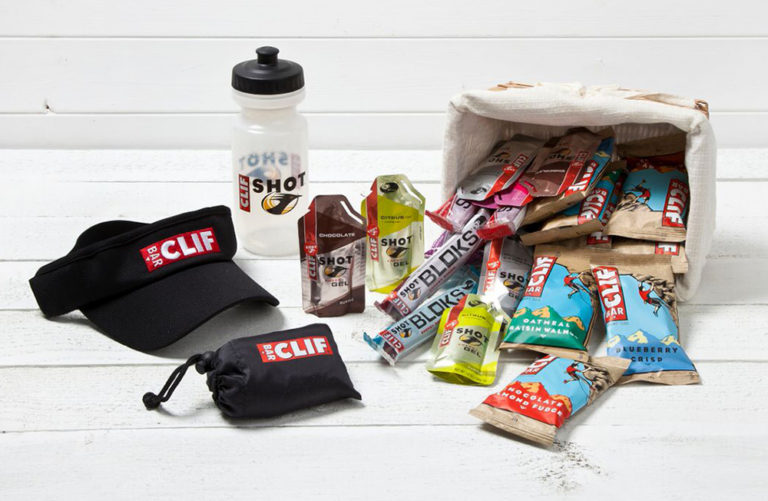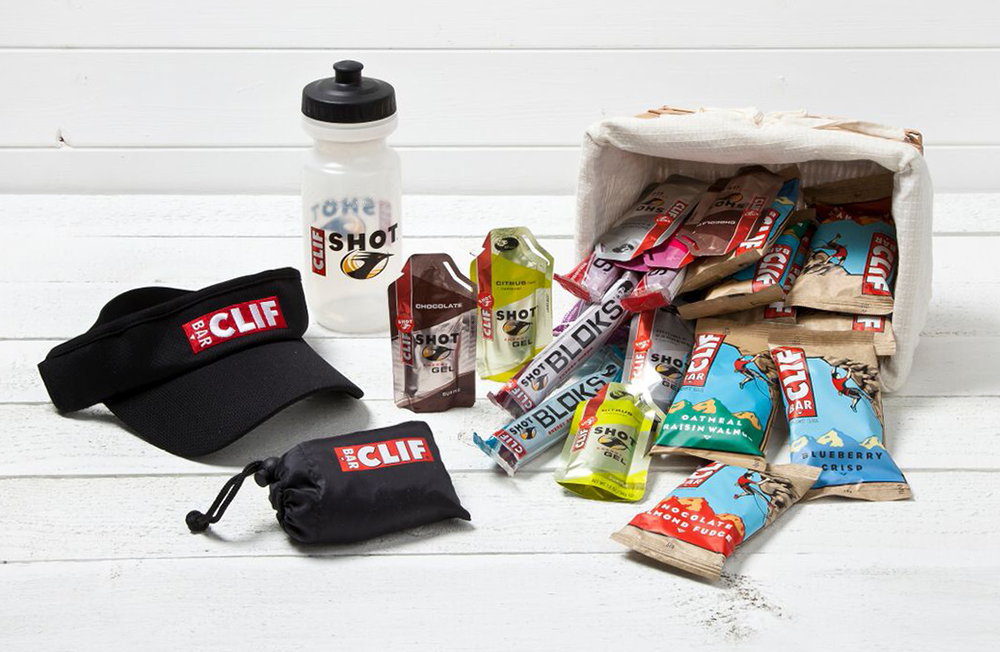 GIVEAWAY
CLIF Bars have kindly offered a mixed hamper of CLIF goodies as a giveaway prize for one of my adventurous UK readers. To enter, simply fill out the Rafflecopter entry form below!
HOW TO ENTER
For your chance to win a mixed hamper of CLIF goodies enter using the Rafflecopter form below. Come back and tweet about the giveaway every day for more chances to win!
TERMS & CONDITIONS
This giveaway is open to UK entries only. Entrants must be age 18 or over. The winner will need to respond within 30 days of being contacted; failure to do this may result in another winner being selected.
The prize is offered and provided by CLIF bar. The prize is to win a mixed hamper of CLIF goodies. There is no cash alternative and the prize is not transferable.
There is no entry fee and no purchase is necessary to enter this giveaway. The promoter (Elizabeth's Kitchen Diary) reserves the right to cancel or amend the giveaway and these terms and conditions without notice.
Entry into our giveaways will be deemed as acceptance of these terms and conditions.
If you need some help using Rafflecopter, here's a quick clip to show you how. Rafflecopter will pick the winners at random from all the entries received. I will be verifying entries and any automated entries or those who have claimed they have made the mandatory blog post comment and really haven't will be disqualified. It's mandatory! Please make sure your comment is eight words or longer or Google views it as spam. >>>>> All entries with comments fewer than the mandatory 8 words will be disqualified. <<<<<
Closing date is midnight (that's 00:00 hours, 12 am on Sunday night/Monday morning) on Monday 16 May 2016 (GMT) and the winner will be announced shortly afterwards.
You could help me become an award winning blogger! I've made the shortlist for the Britmums Brilliance in Blogging Awards in the Food category. If you enjoy my blog posts please consider casting your vote for me to reach the finals. Click here or on the image below to take you to the voting page, open until May 18th! Thank you! x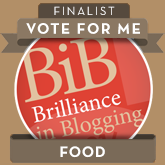 [wysija_form id="1″]
Elizabeth's Kitchen Diary received three CLIF Bars to sample and review. All thoughts and opinions expressed are our own. This is not a paid post.