Hands down the best balsamic vinegar I have ever tasted!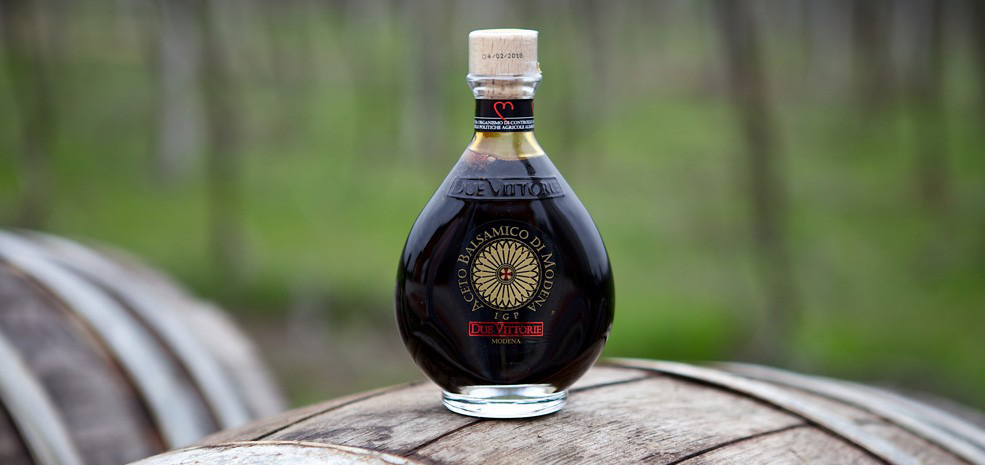 Balsamic Vinegar has been produced in Modena, Italy, since the Middle Ages and is now famous throughout the world. It is one of the true stars of Italian cuisine.
Traditionally, balsamic vinegar is used as a dressing, as an accompaniment to Parmesan cheese and to enhance steaks, eggs and grilled fish.
It's also surprisingly delicious with strawberries, pears and ice cream.
In more recent years, balsamic vinegar has been introduced into a far wider selection of recipes and foods. For example, balsamic vinegar is now used as a tasty and healthier alternative to soya sauce with sushi – it's especially popular with parents as it allows children to enjoy the sushi experience without the high salt content of soy sauce.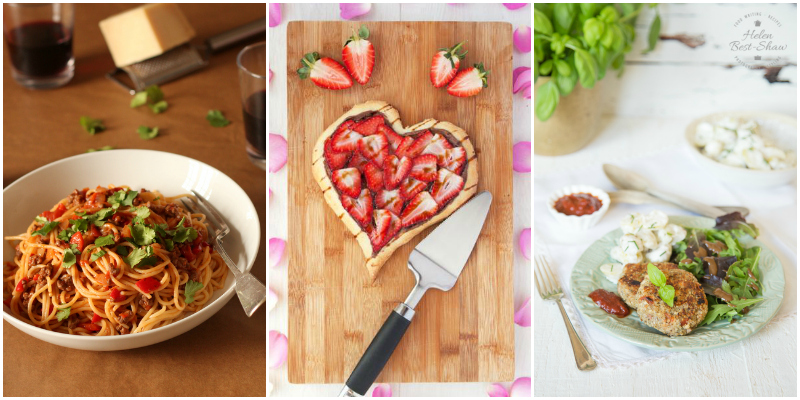 Why not add a splash to some bolognese sauce, Sierre Leone style (recipe by Bintu from Recipes from a Pantry), drizzle it over a strawberry nutella pizza (by Emily Leary aka A Mummy Too for Avon) or infuse some cacao nibs in it for a rich, chocolate flavoured drizzle for salads (by Helen of Fuss Free Flavours).
My own children love balsamic vinegar drizzled in olive to dip their bread into. I can refill the little ceramic dipping bowl several times throughout the course of a meal to keep them happy!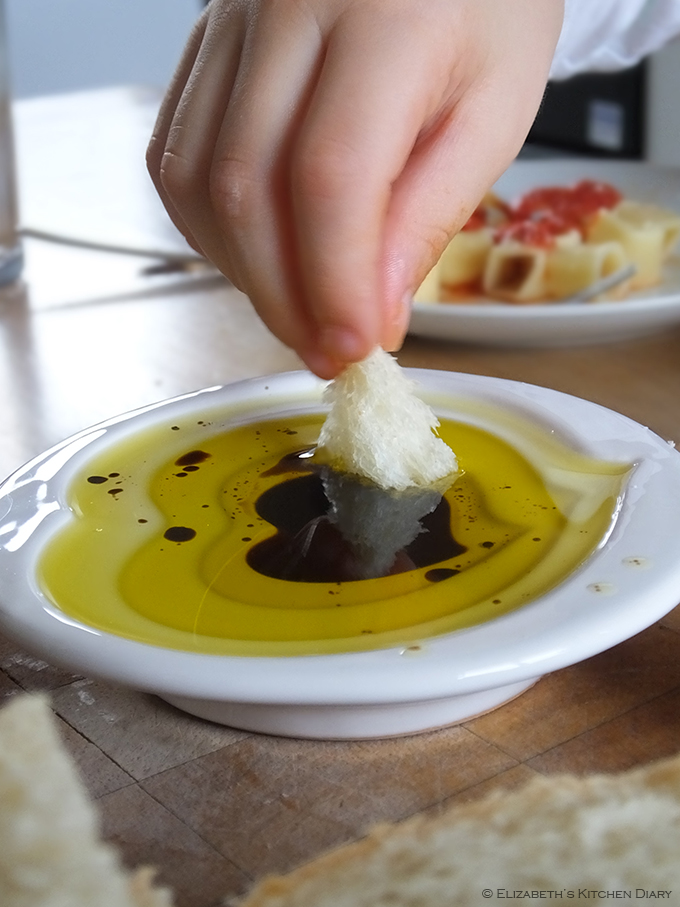 Until recently I thought balsamic vinegar was just balsamic vinegar, without much variation between brands. It's one of my favourite vinegars and I mostly use it in salad dressings or drizzled over strawberries and sliced avocado with plenty of freshly ground black pepper.
I've now learned that there are different qualities of balsamic vinegar.
Due Vittorie, Italy's favourite Balsamic Vinegar, have two different products for sale in the UK through Ocado:
the Tradizionale a high-end luxury balsamic for special occasions RRP £49.99 for 100 ml
the Oro, for everyday use RRP £9.99 for 250 ml
£50 for a bottle of vinegar!? What makes this vinegar so special?
The proof was in the tasting.
Earlier this week I cracked open the corks on both bottles of balsamic vinegar and did a blind taste test with our meal for two adults and five children (we had guests for dinner). Several little dipping bowls were laid out onto the table with balsamic drizzled onto a good quality olive oil (I use Pomora). When I poured out the Tradizionale a little drip landed on my finger. I licked it off. Oh my goodness gracious me – what a sweet, gorgeous flavour! With a perfect balance of sweet and sharp, and a full, rich flavour, this vinegar immediately became the best balsamic vinegar I have ever tasted. The Oro was delicious as well, but with the familiar vinegar kick I'm accustomed to with balsamic. Both vinegars were thick, almost syrupy, compared to my usual brand of vinegar, I noticed as I poured them each into the oil.
By the end of the meal I could understand why people would want to treat themselves to an expensive bottle of vinegar. At £50 for only 100ml the rest of this bottle will be reserved for very special occasions, but now that I have a taste for it… I don't know if anything else will do!
To find out more about balsamic vinegar I had the chance to interview the Italian Export Manager of Due Vittorie, Giacomo Cinelli.
1. What exactly is balsamic vinegar? How is it made?
Balsamic Vinegar of Modena is created as the result of the special fermentation and aging of two ingredients; wine vinegar and cooked must, made from seven exclusive varieties of grape (including Lambrusco, Sangiovese and Trebbiano). And it is only in the small Italian provinces of Modena and Reggio Emilia, with their unique combination of climatic and environmental factors, that this special magic is created.
2. I understand balsamic vinegar has been produced in Modena since the Middle Ages.Can you tell me a bit about the history of the vinegar and Due Vittorie?
The Italian Renaissance witnessed a culinary revolution with a host of new recipes appearing. Balsamic was used to sweeten and enhance many of the latest dishes and the towns of Modena and Reggio Emilia soon became famous for the jealously guarded and rigorous process they used to create their fine Balsamic Vinegar. And it's a process that's virtually unchanged to this day.
Due Vittorie actually only started to produce balsamic vinegar in the early 2000. However, Mr. Maletti, the owner, had previously worked in the production of Lambrusco wine – one of 7 vineyards accepted for the production of Balsamic Vinegar (indeed, one of the best). From his Lambrusco experience, saw the opportunity to produce a premium, dense balsamic vinegar. In just a few years this has become very successful both in Italy and abroad.
3. What are the differences (besides price) between the Oro and the Tradizionale?
Tradizionale is a DOP Balsamic Vinegar of Modena. It is made only with cooked grape must. There is no wine vinegar. The product is then aged minimum 12 years (Affinato) in small wooden barrels. Our Oro is an IGP Balsamic Vinegar of Modena and it contains high quantity of grape must and a small quantity of wine vinegar.
4. When taste testing, what should we be looking out for? Do you have any tasting notes?
The Oro should have the right balance of sweet and sour. You should feel the sweetness of the must with a slight cherry aftertaste, and a hint of the acidity of the vinegar.
5. What is your favourite way to enjoy balsamic vinegar?
I  love it on many dishes. I use it on salads, and always as an appetizer with Parmesan cheese. I love it on ice cream too. If you haven't experienced this combination, you really must try it. Also, in recent years I've started using Balsamic on Sushi – it's a flavoursome and less salty alternative to soya sauce.
You can find out more about Due Vittorie by visiting their website and following them on Twitter and Facebook.
GIVEAWAY
However you choose your Balsamic Vinegar – the Due Vittorie Tradizionale is reported to be one of the world's most iconic condiments, and the Due Vittorie Oro is an excellent, affordable alternative for everyday use. For your chance to win a bottle of the Oro, fill in the Rafflecopter form below!
HOW TO ENTER
For your chance to win a 250 ml bottle of Due Vittorie Oro Balsamic Vinegar RRP £9.99 enter using the Rafflecopter form below. Come back and tweet about the giveaway every day for more chances to win!
TERMS & CONDITIONS
This giveaway is open to UK entries only. Entrants must be age 18 or over. The winner will need to respond within 7 days of being contacted; failure to do this may result in another winner being selected.
The prize is offered and provided by Due Vittorie. The prize is to win a 250 ml bottle of Due Vittorie Oro Balsamic Vinegar RRP £9.99. There is no cash alternative and the prize is not transferable.
There is no entry fee and no purchase is necessary to enter this giveaway. The promoter (Elizabeth's Kitchen Diary) reserves the right to cancel or amend the giveaway and these terms and conditions without notice.
Entry into our giveaways will be deemed as acceptance of these terms and conditions.
If you need some help using Rafflecopter, here's a quick clip to show you how. Rafflecopter will pick the winner at random from all the entries received. I will be verifying entries and any automated entries or those who have claimed they have made the mandatory blog post comment and really haven't will be disqualified. It's mandatory!
Closing date is midnight on Monday 29 June 2015 (GMT) and the winner will be announced shortly afterwards.
Don't forget to visit my Giveaways page for some other fab prizes!
Loquax and The Prizefinder greats site for finding more competitions to enter too.
OTHER RECIPES WITH BALSAMIC VINEGAR
Lamb Shanks with Red Wine & Balsamic Vinegar by Kavey Eats
Balsamic Roasted Strawberry and White Chocolate Layer Cake by Jen's Food
Avocado with Prawns and Balsamic Vinegar by Fab Food 4 All
Tomato, Red Onion & Goats Cheese Salad with a Balsamic Dressing by Elizabeth's Kitchen Diary
If you want to be kept up to date on my recipes, occasional craft tutorials, adventure stories and giveaways then please subscribe to my weekly newsletter; it gets sent out every Monday morning if there is new content. Your email address won't be passed on to anyone, you will never be spammed and you are free to unsubscribe at any time, no questions asked. Make sure you confirm your subscription or you won't receive the newsletter – if it hasn't arrived check your junk mail folder.
[wysija_form id="1″]
Elizabeth's Kitchen Diary was sent a bottle of each of the Due Vittorie Tradizionale and Oro balsamic vinegars for review. All opinions expressed are our own (unless otherwise specified!). This post does contain an affiliate link to Pomora. If you make a purchase through this link we will earn a small commission and you will be helping to support our family. This is not a paid post.