In collaboration with Harveys Furniture.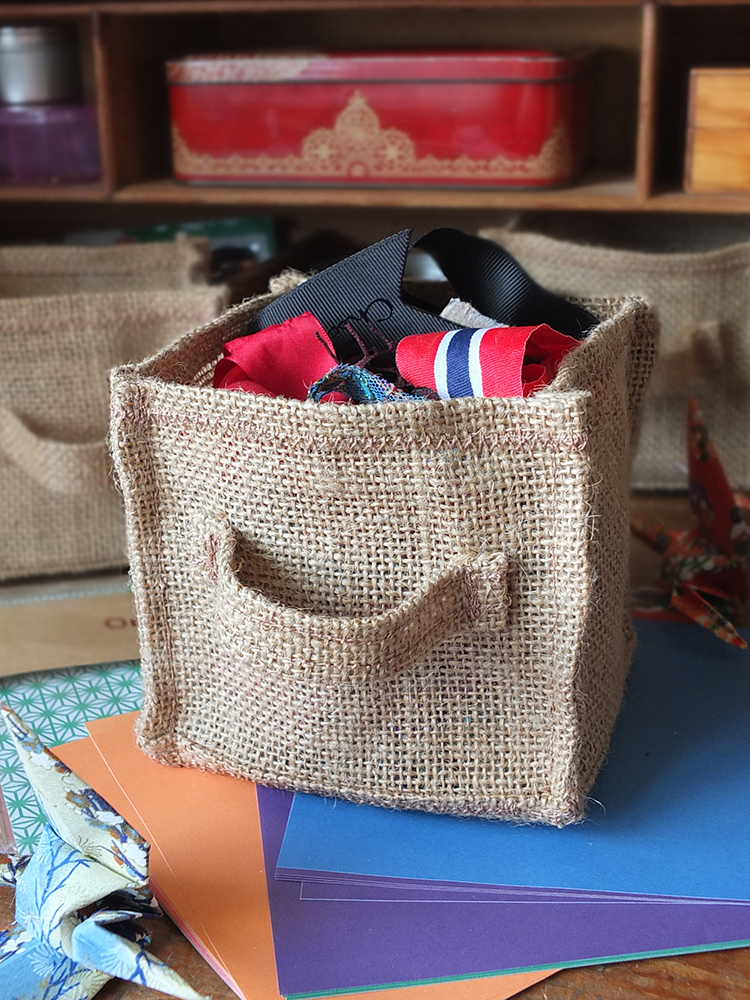 Are you a hoarder of little bits of string, ribbon and buttons? I am. I've teamed up with Harveys Furniture to bring you my quick and easy storage solution – a custom sized small storage box to store crafting bits and bobs on my craft desk. The whole project can be completed in less than half an hour.
You could even use these as gift boxes during the upcoming holiday season – why not fill them with a selection of home bakes or chocolates, or even a selection of crafting supplies for any avid crafters in your family.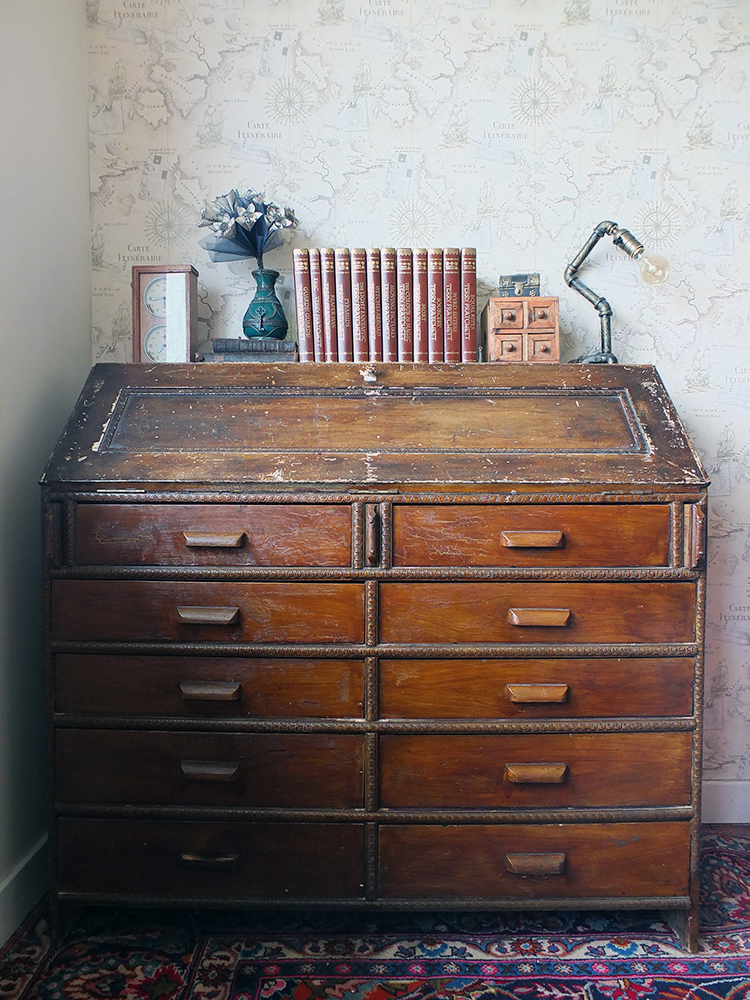 Introducing… The Craft Desk, as it is currently known.
I picked this desk up around 16 years ago at the Harry Hay's Auction in Lerwick, Shetland. It cost me a grand total of £10 and it has been a much used and loved addition to my household ever since.
It's gone through various guises – office desk, study desk, craft desk, and, recently, the place where our daughter shoves all of her drawings and then hides the mess by closing the lid and hoping no one will notice desk.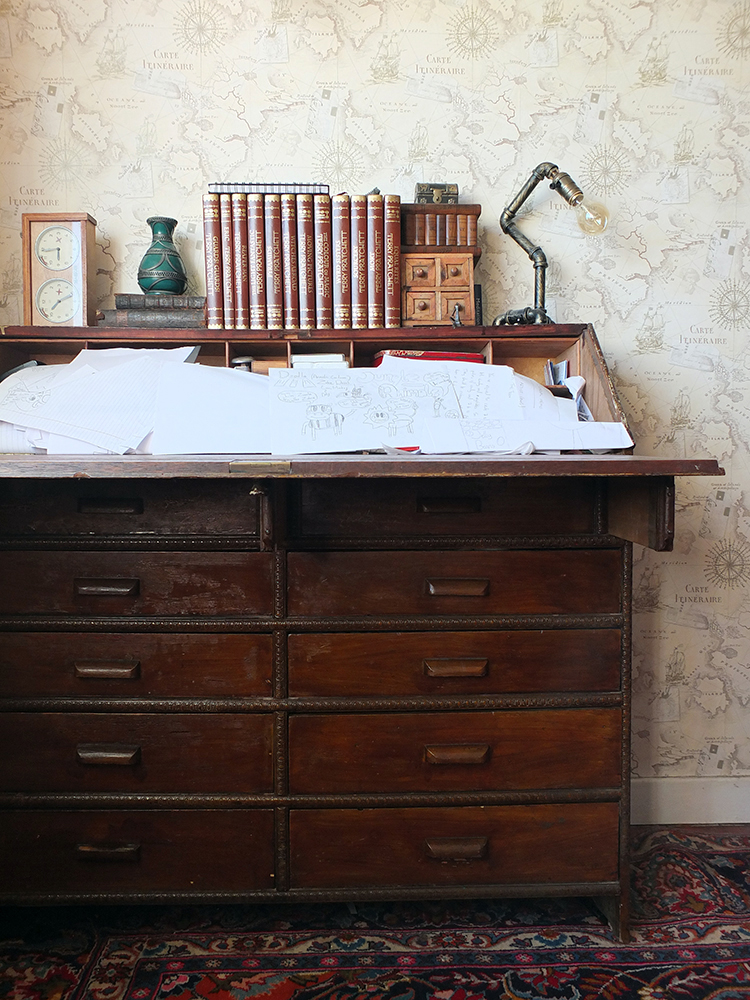 Whatever it is, it's ultimately a handmade vintage writing desk with drawers big enough to store all sorts of things. There's the 'Things that stick things to other things' drawer, the 'Paper' drawer, the 'Paint' drawer, the 'Sewing' drawer, the 'Letter writing paraphernalia' drawer, the 'Electronics' drawer. You get my drift.
That bottom right hand drawer is just big enough to store all the 59 ml Crafter's acrylic paints I bought when I was feeling creative and painted our staircase in a Fair Isle knitwear pattern (check it out, honestly, you'll like it!). There's over 70 of those paint bottles in that drawer with loads more room for brushes, etc.
The desk was in desperate need of sorting out.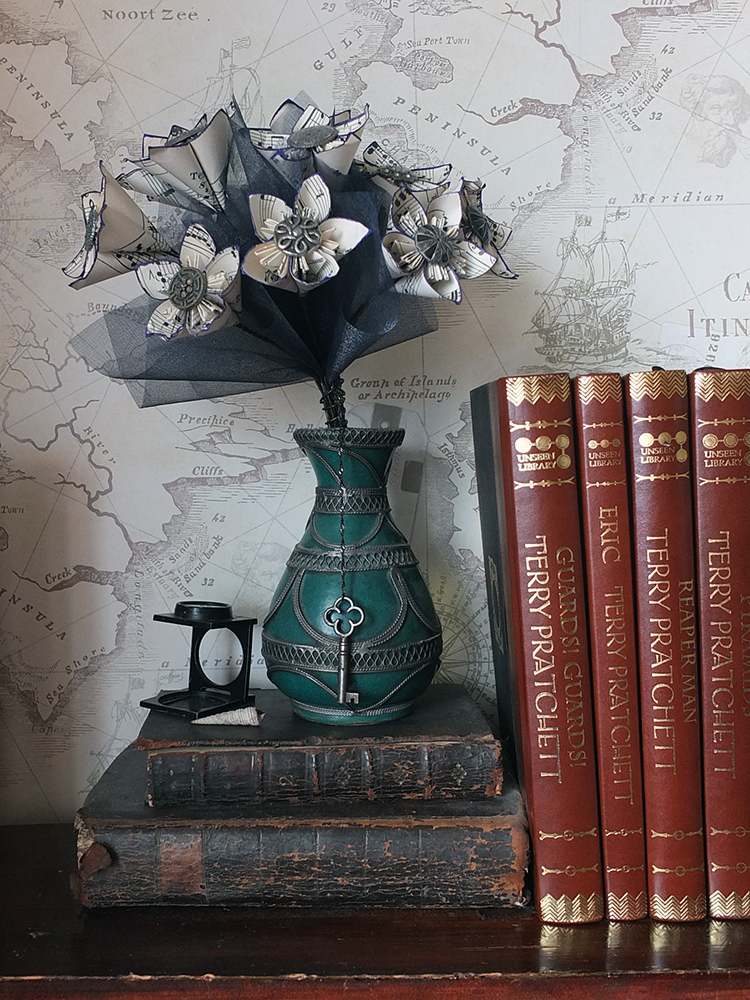 Insert arty shot of my DIY origami wedding bouquet to break up the text. This was made from reclaimed fencing wire burnt in our village bonfire during the annual Bonfire Night, upcycled sheet music and old buttons. A rather effective result, no? It's still going strong after all these years even though the kids/cat keep knocking it on the floor and binkling the edges of the flowers.
Recently Harveys Furniture, a UK company specialising in all things for the home, got in contact. The challenge: create a 2-3 minute long craft tutorial video highlighting the theme "Small Spaces, Big Ideas." Oh, and you have one week to do it in. Be as creative as you want.
Grin!
My husband and I have recently branched out into making videos. We've made a few pretty awesome ones in the past, but we're really trying to up our game in the video department, and to have free reign in creating a craft video tutorial – well, we had a whole lot of fun with this project. One idea led to another, and then the next thing you know we've made a really wacky craft video tutorial! Don't just take my word for it. Watch our video below, I think you'll be pleasantly surprised!
DIY Small Storage Box Tutorial
Given that our living room, where the craft desk is located, has a distinct distressed vintage/steampunk theme we thought we'd do the same with the video. Rest assured that my England born husband does not sound like he does in the video narration in real life – he was just getting into character, and I think it totally works.
If you liked our video please do subscribe to our YouTube Channel – we've loads more videos in the pipeline!
I made five of these little burlap/hessian storage boxes to organize all my little crafty bits and bobs in the space available under the shelves in the writing desk. When it comes to buttons and ribbons I am a hoarder. I never throw out the ribbons on boxes of chocolates (that red tin on the shelf is my button box!) and that meant that the sewing drawer was an absolute disorganized mess of bits. Now, everything's in a box, easy to find, and our Cat's Protection rescue cat, Izzy, has a new place to observe the world from and the kids have a cleared space for homework/crafting.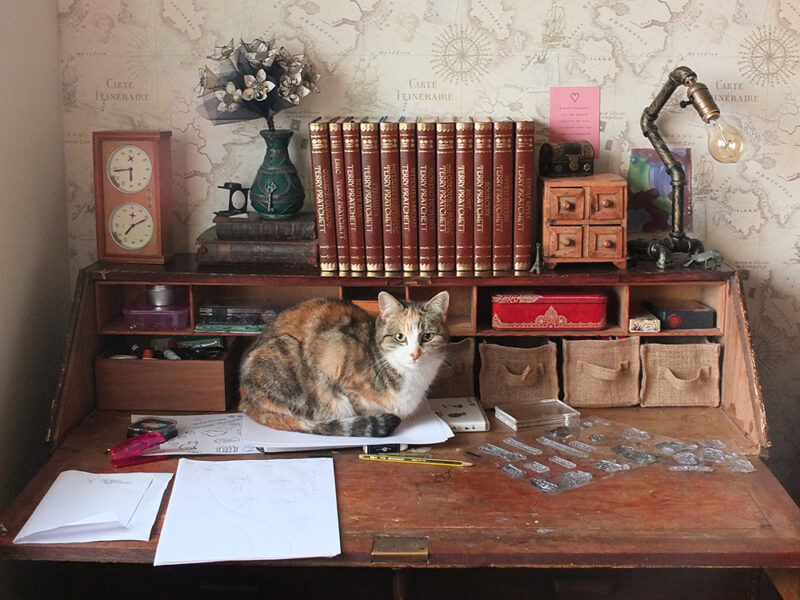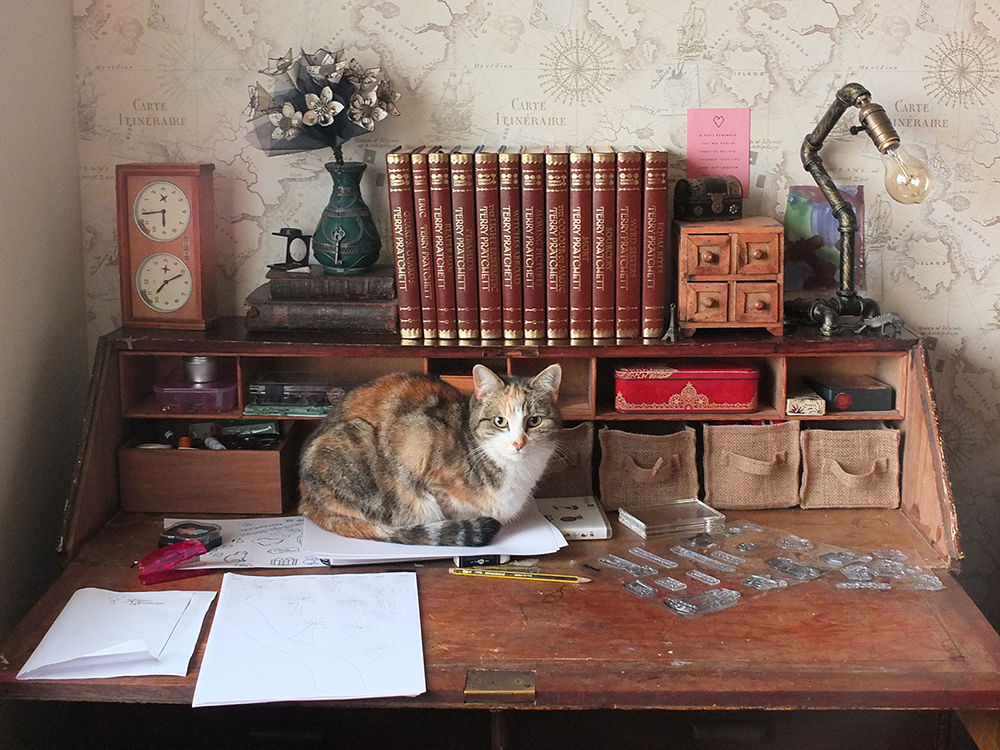 My new storage solution came in handy pretty quickly. Madame was heading to a birthday party and the fancy dress she was wearing didn't fit her in the waist as close as she'd like, so I rummaged through my ribbon box and found two lengths of coordinating ribbon to make a tie in the back. Mum win!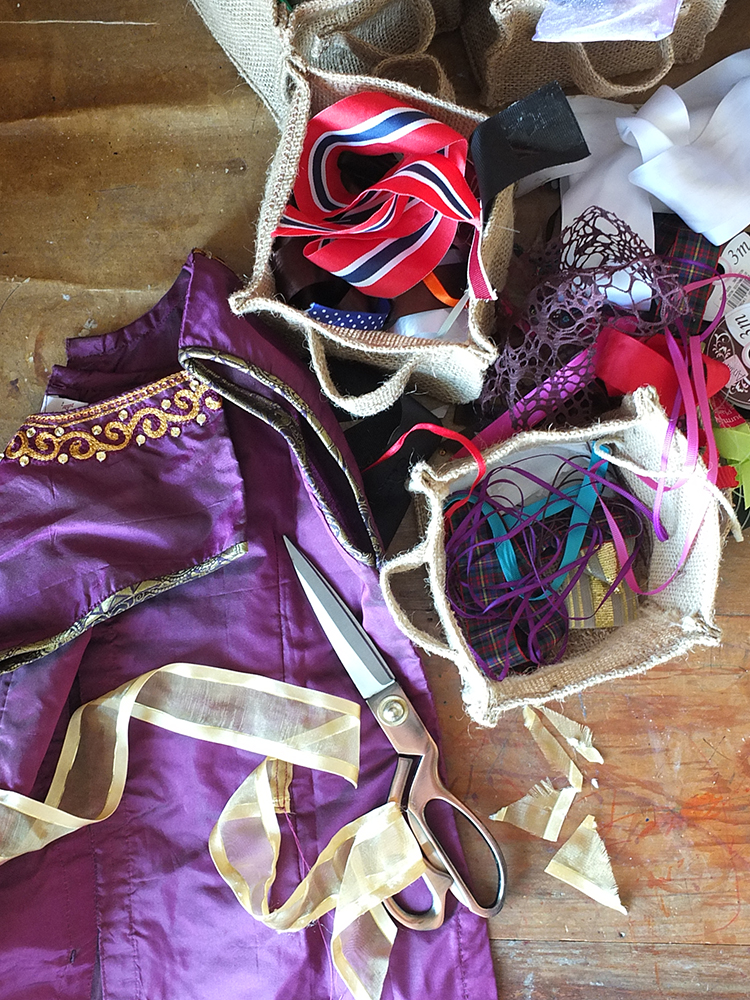 HARVEYS FURNITURE SPACE SAVING COMPETITION
Harveys Furniture want to hear your creative space saving ideas. They believe that small spaces needn't cramp your home style, so they want to hear what tips and suggestions you have to make the most of small spaces.
To celebrate 'Small Spaces, Big Ideas', they're giving away a Cargo Hartham Dining Table and four matching chairs – perfect for dinner parties! Simply pop on over to their website and enter! No purchase is necessary.
For more home inspiration you can find Harveys Furniture on Facebook, Twitter, Pinterest and Instagram. Search the hashtag #HarveysBigIdeas to see what other folk have been up to!
In the meantime, here's the written instructions for our craft tutorial, just in case you fancy making your own!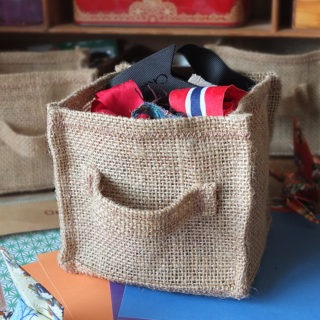 DIY Small Storage Box Craft Tutorial
A quick and easy storage box solution for small crafting spaces. This box isn't designed to carry heavy items, rather to store lightweight things such as ribbons and threads. You could also make one as a gift, filling it with cookies or sweet treats!
Print
Rate
Ingredients
0.5

metre

hessian fabric

aka burlap

1

ruler

1

fabric scissors

100

metres

extra strong thread

pins

sewing machine

embellishments

if desired

fabric glue

if using embellishments

5 inch square heavy card

optional (for the base)

0.25

metres

cotton fabric

optional (for the base card)
Affiliate Links
This recipe card may contain affiliate ingredient and equipment links. As an Amazon Associate I earn from qualifying purchases.
Instructions
Cut your fabric into a six inch wide strip.

Measure and cut out a 6 x 6 inch square base.

Cut four sides 6 inches wide by 5 inches deep.

Cut two handles 6 inches long by 1.5 inches wide.

Fold over the top edge of each of the sides with a quarter inch fold and straight stitch into place. Zig zag over the bottom edge of the fold to keep the fabric from fraying.

Pin two of the sides to opposite side of the base, right sides together and straight stitch leaving a 1/4 inch gap from either end.

Pin the seams inwards towards the centre of the base and straight stitch them in place. Zig zag along the bottom edge of the seam. This provides reinforcement for the base and prevents fraying.

Repeat with the other two sides.

Pin each of the box corners together, taking care to line up the upper outside edges of the box. Straight stitch in place.

Turn the box right side out and pin along the outside edge of the corners for reinforcement. Straight stitch.

Make your handles by folding each side over 1/4 inch and straight stitching in place.

Pin the handles to the opposite sides of the box and stitch into place.

Embellish as desired. Fabric glue could be used to stick on any decorations.

If you want extra reinforcement, cover a 5 inch square piece of heavy card with some cotton fabric (use the fabric glue to fix it in place) and place in the bottom of the box.
Environmental Information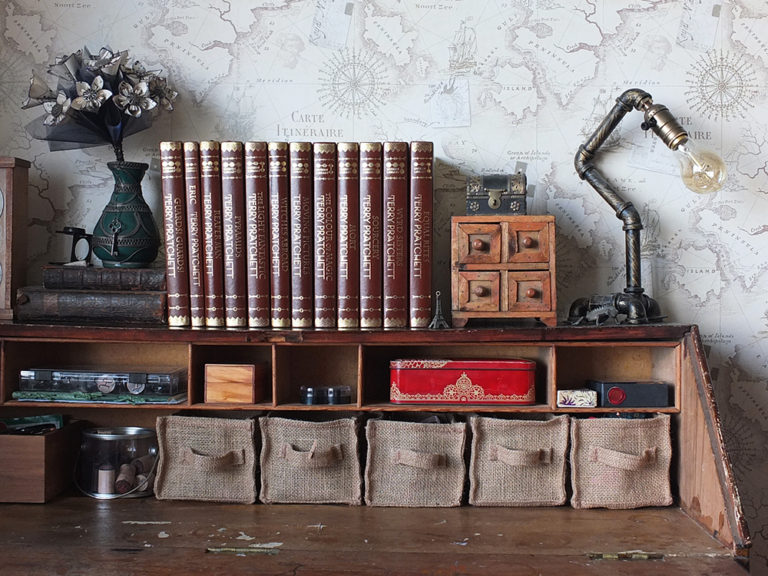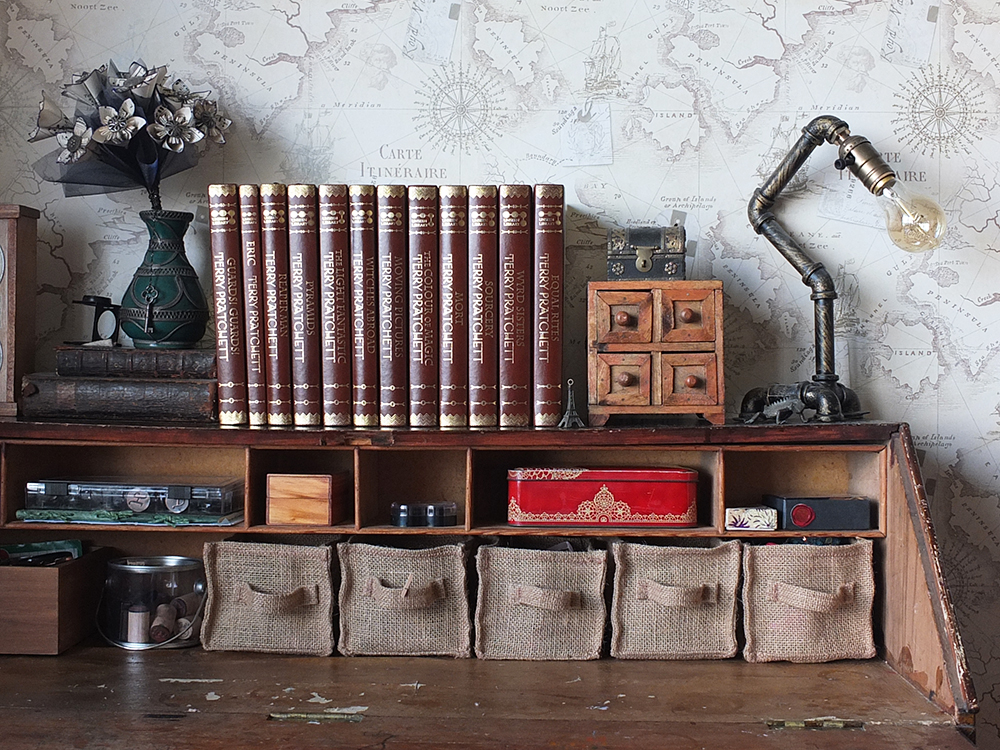 Disclosure: this is a paid post. Thank you for supporting the brands who make it possible for me to do what I love: mess up my kitchen and share recipe (and craft!) stories.
[color-box]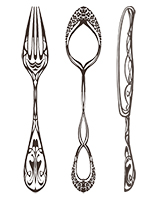 Have you made this craft?
Take a photo and tag @tangoraindrop or use the hashtag #elizabethskitchendiary and share on Instagram and Twitter. It would make my day to see your creations!
[/color-box]