For the past few weeks I have had the pleasure of guest hosting Credit Crunch Munch, a food blogging challenge run by the fantastic foodies Helen at Fuss Free Flavours and Camilla at Fab Food 4 All. This challenge asks us to share our frugal food recipes in a bid to help us all save some pennies.
We have quite the variety of frugal recipes for you this month, made with reduced-price items, leftovers, windfall fruits, quick cooking times and using up store cupboard items. So here we have, for your perusal, a great range of budget-saving recipes!
Becky over at Mint Custard got creative with some reduced price filo pastry (only 35 p for the packet!), some sausages and some wrinkly vegetables collided on her kitchen counter. She also shares a handy You Tube video demonstrating how to roll the pastry into the characteristic triangle shapes. Spicy sausage triangles, who could resist these?
Ros over at The More Than Occasional Baker points out that her home made lemon frosting is just sugar, butter and a bit of lemon juice, so why not add some flour, leftover cream cheese and eggs and make some gorgeous little lemon frosting cookies! Clever and delicious!
Helen at Fuss Free Flavours, one of the co-creators of Credit Crunch Munch, gathered some windfall pears from her orchard and blackberries from her hedge to make an Autumnal blackberry and pear traybake. Foraged foods are an excellent way to save pennies!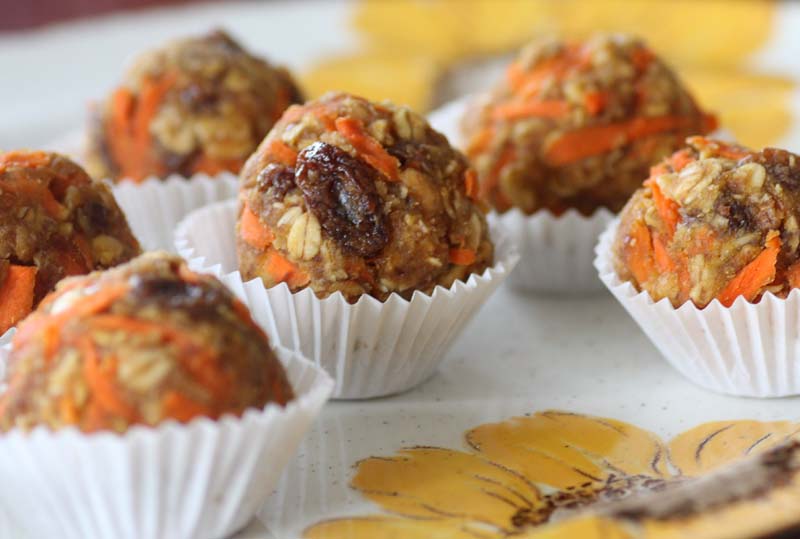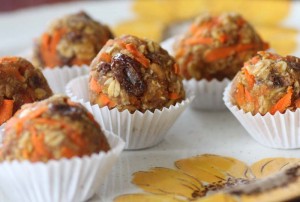 Shaheen over at Allotment2Kitchen used up some carrots which had seen better days in these delightful vegan no bake carrot cake granola bites. Her partner thinks they look like bird seed balls, but they taste fantastic and Shaheen insists they are made for human consumption!
Sarah at A Dinner with Crayons uses up some leftover beef steak and a burger to make this very frugal bolognese sauce.  This just goes to show that bolognese doesn't always have to use beef mince!
Jane over at Onions and Paper shares a Pasta with Rosemary Braised Flageolet Beans recipe she cut out of a magazine sometime between 1975 and 1990. She uses wibbly pasta and home grown beans to make this very inexpensive, quick to cook and filling pasta dish.
Camilla, the second co-creator of Credit Crunch Munch over at Fab Food 4 All makes a very economical jam using damsons from her parent's garden. To avoid waste she even uses the stones! A deliciously frugal recipe indeed!
Jacqueline over at Tinned Tomatoes serves up this beautiful warm dressed noodle salad using store cupboard ingredients, and a quick cooking time makes it a very economical recipe indeed.
Kellie over at Food to Glow makes this Greens and Grain Salad with Sorrel and Sunflower Seed Pesto using sorrel from the garden and 'dog-ends' of vegetables that she had (and you may too), as well as store cupboard bits. It's also quick to cook, thereby saving on energy. She also gives some suggestions on how to use up the leftover pesto.
Laura at How To Cook Good Food has created this spiced and warming Moroccan Style Spiced Chickpea & Tomato Soup using bits and bobs out of her kitchen. These impromptu leftover soups are often the best!
Anneli over at Delicieux uses up a glut of courgettes straight from her garden in this quick and easy Courgette Noodle Carbonara. Fresh garden vegetables are always an economical option!
Kellie over at Food to Glow shares a second frugal recipe this month, her "Creamy" Zucchini, Walnut and Thyme Soup made with some very large zucchini. Kellie says large vegetables like this are perfect for soups, and although she regrets throwing away the peel, at least the rest of the vegetable got used.
Janet at The Taste Space shares her delicious hummus-tzatziki fusion dip made with tinned chickpeas and half a cucumber. It's quick to make and uses inexpensive store cupboard items.
Shaheen from Allotment 2 Kitchen shares a second entry this month: a vegan Beetroot Brazil Nut Roast. She made this very clever dish using up some leftover bits and bobs she found in her cupboard and fresh beetroot.
Camilla from Fab Food 4 All shares a second recipe this month, her delicious looking apple and blackberry cake made with foraged fruits! I could seriously go a big slice of this right now!
Ros at The More Than Occasional Baker also shares a second recipe this month, her peanut butter and granola bars made with a combination of seeds, nuts and fruits all of which were sitting in her cupboard gathering dust.
Laura from How To Cook Good Food has been a very busy frugal baker this month! In her third recipe for Credit Crunch Munch she shares a lovely baked plums with ginger topping which uses up free plums from her neighbour's tree and some store cupboard ingredients she needed to use up.
Lucy over at Supergolden Bakes shares a superb Pistou soup recipe which uses up any vegetables you might happen to have on hand that are in season. This is a perfect recipe to use up those veggies languishing in the vegetable crisper!
Soup is a fantastic way to  use up veggies which are past their best, as Jacqueline from Tinned Tomatoes demonstrates with her Scottish tattie, neep and carrot soup made with traditional economical Scottish ingredients. She says, "My soup is frugal as the ingredients are lovely and cheap as well as being healthy. Good if you are on a budget and there are lots of portions in this soup, so it should last a few days."
Janice at Farmersgirl Kitchen shares a quick frugal sweet recipe using cereal and chocolate with these chocolate crunchie munchies. This recipe is very versatile and is a great one to get the kids creative in the kitchen!
Aimee The Wallflower Girl shares her recipe for a warming spicy root and lentil soup which she batch cooked. Batch cooking is a superb way to cut down on energy costs as extras can be frozen and reheated at a later date for a quick meal.
Camilla at Fab Food 4 All shares another recipe this month, a very thrifty comfort food bacon and potato layer bake. A splash of tomato sauce and this would make a perfect filling meal for these cold Autumn evenings.
Caroline at Caroline Makes… gets creative with a tub of coconut Muller light in this lower calorie curry. Most kormas have fattening creamed coconut in them, but using coconut Muller light keeps the calorie content low without compromising on flavour. She also uses reduced price spices (54p down from £3!) and even the yogurt was on sale!
Joanna over at Green Gourmet Giraffe gets clever in her kitchen too this month, using up the leafy ends of celery to make her very own celery salt! As she suggests, making your own flavoured salt is a very thrifty option when you consider how much they cost in the shops!
Alida at My Little Italian Kitchen shares a gorgeous rustic apple and yogurt cake which uses up leftover yogurt. It's also a very economical recipe, and looks entirely delicious to boot!
Choclette over at Chocolate Log Blog combines foraged windfall apples with chocolate chips to make a delicious sweet muffin. Don't you just want to grab one and start eating?
Cashew nut butter is expensive if you were to buy it in the shops. Tina at The Worktop gives us a more frugal option: make your own! She combines her cashews with a little bit of coconut oil to make it creamier.
A sincere thank you to all who participated in September's Credit Crunch Munch. October's challenge will be up soon, so don't forget to link up!