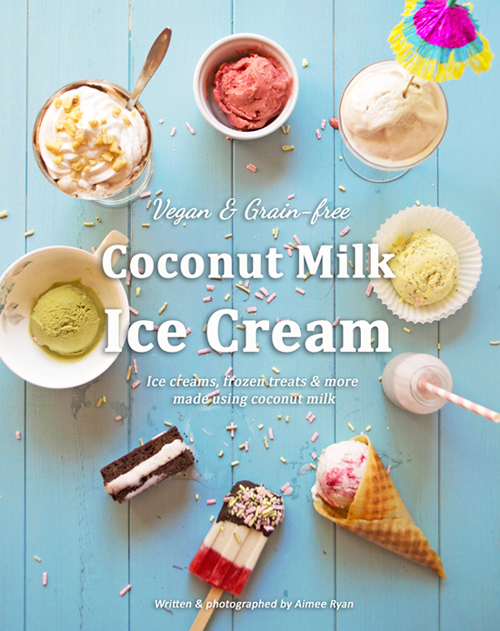 Aimee Ryan is the incredibly talented food blogger over at Wallflower Girl and she absolutely loves coconut milk ice cream. I've been following her blog for at least a year now and every single one of her posts are beautifully photographed and positively mouthwatering. She's one of those bloggers who just gets it right every time.
When I saw she'd published a cookery book of her very own on Coconut Milk Ice Cream I jumped at the chance to review it.
I have to admit I was somewhat sceptical about using coconut milk to make ice cream. There was no way this was going to be comparable to the real thing, was there? I was going to have to put this through a taste test.
Containing over 80 recipes for vegan and grain free ice cream recipes there are plenty to choose from, and I opted for trying out the mayan chocolate, one of Aimee's three favourite ice cream flavours (the other two being lemon poppyseed and salted caramel).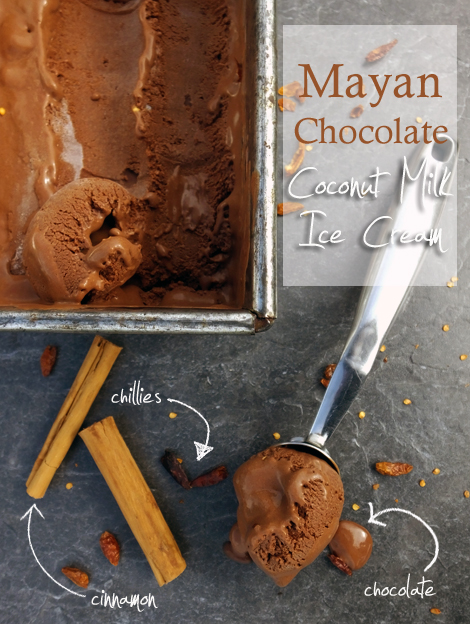 Oh my, how I was wrong! It started while I was whisking the mixture every half an hour to make the ice cream the old school way. I don't own an ice cream maker any more (the replacement one I was sent after my first one exploded bright blue coolant all over the contents of my freezer also ended with the same fate and I've not yet replaced it) so following Aimee's instructions I was whisking every half an hour for three hours.
After each whisk I licked the spoon.
Before it had even solidified into proper ice cream I became a coconut milk ice cream convert.
Oh… my.. goodness!
I had no idea! It's creamy and delicious, just like real ice cream, but not like any old ice cream, like posh expensive ice cream that you need to let sit for 10 minutes or so before you tuck in with a spoon and scoff the entire tub in one go.
The next time I do a supermarket shop I will be stocking up on coconut milk!
Aimee's self-published book contains recipes for familiar flavours like strawberry, pecan praline and rum and raisin, and plenty of exotic unusual flavours like wasabi, sweet chilli and fresh ginger. She has also included sections on the health benefits of using coconut milk, advice on the ingredients she uses, special diets and substitutions and tools and equipment. There are also recipes for other sweet treats including creamsicles, milkshakes, ice cream sandwiches, cones and sauces. Each recipe is refined sugar-free, grain-free, egg-free and vegan and uses easily obtainable ingredients.
Aimee has given permission for me to reproduce her Mayan chocolate recipe here so you can try it yourself. She is also offering one of my readers the chance to win a copy of her book! Scroll down to the bottom of this post for the worldwide Rafflecopter giveaway!
Her book retails at £14-99 but is on offer just now from Amazon for £11-14 plus free UK delivery.
Book: Vegan & Grain-free Coconut Milk Ice Cream
Author: Aimee Ryan
ISBN: 9781499281026
Publication Date: 22 May 2014
Cover: Paperback & Kindle
RRP: £14-99 (£6-80 for Kindle)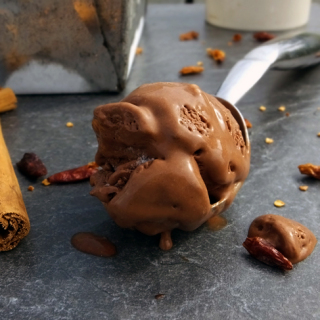 Mayan Chocolate Coconut Milk Ice Cream
A dark, luscious chocolate ice cream with a hot kick of cayenne pepper and a dash of sweet, warm cinnamon.
Print
Rate
Affiliate Links
This recipe card may contain affiliate ingredient and equipment links. As an Amazon Associate I earn from qualifying purchases.
Instructions
Mix 60 ml coconut milk with the arrowroot powder in a small bowl and set aside.

Pour the rest of the coconut milk into a large saucepan with the cocoa powder, spices, salt and maple syrup and bring to a boil, stirring all the time.

As soon as the mixture begins to boil, stir in the arrowroot mixture to thicken the liquid.

Remove from the heat and stir in the chocolate chips and alcohol. Keep stirring until all the chocolate has melted.

Chill the mixture in the fridge until cold and churn. Alternateively, place in a freezerproof bowl and pop in the freezer for 30 minutes. Remove from freezer, whisk with a hand held blender and return to the freezer for a further 30 minutes before repeating. Do this every half an hour for at least three hours.

Transfer the ice cream to a freezer-safe container and freeze for at least 3 hours or overnight.

To serve, remove ice cream from freezer and leave to soften at room temperature for 10 minutes before scooping.
Notes
* I didn't have any maple syrup and there's no money in the budget for it this month, so I substituted this with 90 grams of caster sugar.
Recipe reproduced with permission from Aimee Ryan's book Vegan & Grain-free Coconut Milk Ice Cream.
Environmental Information
How to Enter
For your chance to win a copy of Aimee Ryan's Coconut Milk Ice Cream (Paperback  or Kindle copy in UK, USA & Europe; Kindle only for the rest of the world) enter using the Rafflecopter form below. Come back and tweet about the giveaway every day for more chances to win!
Terms & Conditions
This giveaway is open to worldwide entries. Entrants must be age 18 or over. The winner will need to respond within 48 hours of being contacted; failure to do this may result in another winner being selected.
The prize is offered and provided by Aimee Ryan. The prize is a copy of Aimee Ryan's Coconut Milk Ice Cream (Paperback or Kindle copy in UK, USA & Europe; Kindle only for the rest of the world). There is no cash alternative and the prize is not transferable.
If you need some help using Rafflecopter, here's a quick clip to show you how. Rafflecopter will pick the winner at random from all the entries received. I will be verifying entries and any automated entries or those who have claimed they have made the mandatory blog post comment and really haven't will be disqualified. It's mandatory!
Closing date is midnight on Monday 28 July 2014 and the winner will be announced that day.
For another chance to win why not enter Aimee's giveaway on her own blog.
Elizabeth's Kitchen Diary was sent a copy of Coconut Milk Ice Cream for review. All opinions expressed are my own. This is not a paid post.