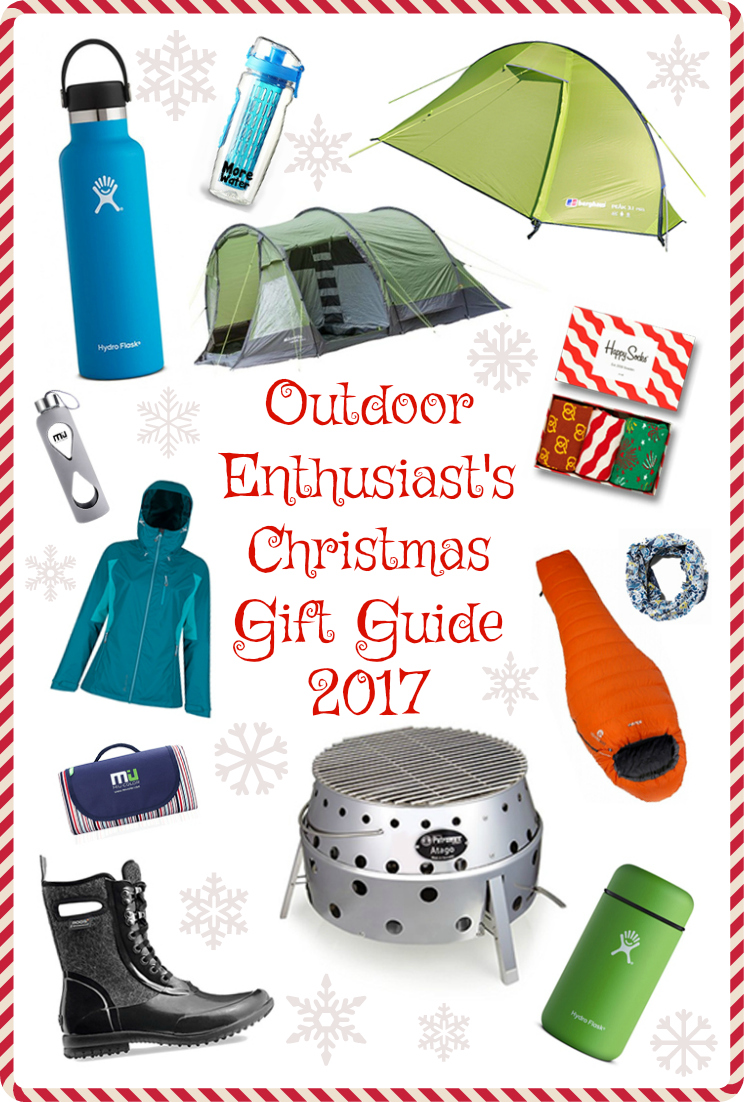 I can hardly believe it's nearly Christmas, again! It seems like only yesterday we were taking down the decorations from the last festive season. I confess I haven't even started Christmas shopping yet for this year. I'm going to need to take a trip into town this week and get stuck in!
In the meantime, here are some of the outdoor products I've been enjoying over the last year, things that I think would make for nice Christmas gifts. It's not an exhaustive list by any means, and I've omitted maps and books, compasses, binoculars and many of the other things I like, but all of these are tried and tested by myself personally.
I hope you get some inspiration from it!
CHRISTMAS GIFTS FOR OUTDOOR ENTHUSIASTS
Rydal Eurohike 6-Person Tent – a spacious, protective and practical tent that is perfect for family camping trips. Fitted with panoramic windows, open living areas and large bedrooms, the Rydal 600 is fully accommodating to expanding families, with plenty of room to relax. Darkened bedrooms reduce early morning light for extended sleeping, with high and low-level ventilation to keep air moving and regulate temperature. RRP £380, currently on offer for £199. Don't forget the Nikwax Tent and Gear Solarproof Spray-On Tent Waterproofer too (as a teaser stocking filler, perhaps?)
Berghaus 3.1 Pro Tent – perfect for the solo adventurer. The super lightweight Berghaus Peak 3.1 Pro tent will shield you from the wind, rain and little critters thanks to the fully waterproof and strong construction. Perfect for bike-packing or hiking. RRP £199, currently on offer for £119.
Vango Venom 400 Sleeping Bag – the best sleeping bag I've ever owned, this! Lightweight, it's small enough to pack into a rucksack or strap onto the back of the bike for adventures, and it's super toasty warm and waterproof with its hydrophobic down filling. I've never been cold in this sleeping bag yet! RRP £190
PetroMax Atago Fire Pit/ Stove/ BBQ – I don't actually own one of these, but I desperately want to! I had the chance to use one of these this summer when a friend came visiting in her campervan and I fell in love with it. It's an all-in-one tool that can be used as a conventional barbecue, a stove, an oven and a fire pit with charcoal briquettes or firewood. When folded, it has a height of only 15 cm (6 inches), which allows you to save space when you store it after a nice BBQ and a couple of drinks. £199 from Amazon.
Bogs Sidney Wool Women's Insulated Boots – lightweight rain boots for women. Super stylish, and wonderfully practically waterproof these are perfect for the city and country adventures in the rain. Created with Neo-Tech insulation and Max-Wick, all designed to keep feet dry and comfortable in wildly wet yet temperate conditions. RRP £110
Women's Cross Penine Hybrid Jacket – for high energy days in the hills or mountains. The shell uses durable waterproof / breathable ISOTEX 15,000 fabric with key-area stretch panels for enhanced mobility. Sealed seams, watertight zips and adjustable cuffs seal out the elements while 2-way underarm venting zips provide welcome airflow on tough ascents. The adjustable hood with a peaked visor offers optimal coverage and visibility. Further benefits include a shock cord hem, inner storm flap and internal map pocket. RRP £120 but currently on offer through Amazon. I have mine paired with a Laney III Fleece Jacket.
Seasalt Cotton Handybands – perfect for necks, hair, heads or just about anything. In soft organic cotton with lovely Seasalt stripes & unique prints. Buy online £12.95 each (currently on offer 2 for £20) or, if you live in Shetland, you can find them in Smith & Robertson in Lerwick.
Hydro Flask 21 oz Standard Mouth – perfect for days on the trail or at the office. But no matter where you are, this double-walled vacuum flask will keep your drink of choice hot or cold. Small enough to drink from on the fly and big enough to take ice cubes for your cold brew coffee, the 21oz standard mouth fits neatly into a car cup holder to keep you hydrated on long drives to and from great adventures. Available in an assortment of beautifully bright, vibrant, powder coat colours.
Hydro Flask Insulated Food Flask – take your soup or stew out with you on your adventures! Same great quality as above, but with a wide mouth for eating and easy cleaning. £32.95 from Amazon.
MIU COLOR® Foldable Large Picnic Blanket – a large 5′ x 6.5′ blanket that seats 3-4 people comfortably, yet easily folds into a compact 13″x8″ for transport and storage. We use ours in the base of the large room in our tent, above, for extra protection against tearing the floor. £12.79
MIU COLOR® Glass Water Bottle – for people who don't want their water to taste like plastic. This lead-free and crystal-clear borosilicate glass is extremely durable and resistant to chemicals and severe temperature changes. The lid is polished stainless steel. No BPA, no plastics. £12.99 from Amazon.
2-in-1 Fruit Infuser Water Bottle – for those who are actively trying to drink more water every day. Motivational markings ensure drinking two litres a day is a breeze, while the detachable infuser can be filled with fruits to flavour your water. BPA free plastic and 10% of the profits go to the charity Water Aid. RRP £24.99 but currently only £14.95 on Amazon.
Happy Socks Holiday Socks Gift Box – every outdoor adventurer needs socks! This collection of seasonal favourites makes a perfect present for that stylish someone in your life. Three pairs of comfortable combed cotton socks in Christmas shades are decorated with jolly patterns, including red and white candy cane stripes, delicate decorations and tasty golden pretzels – all finished with a candy cane striped box. Available in men's and women's sizes. £21.95 for a pack of three.
What would you add to this Christmas Gift Guide for Outdoor Enthusiasts?
With thanks to all of the above brands (except the BBQ) for the product samples over the last year or so. This is not a paid post, although if you click on any of the orange Amazon links and make any subsequent purchase within the following 24 hours we will earn a small commission.