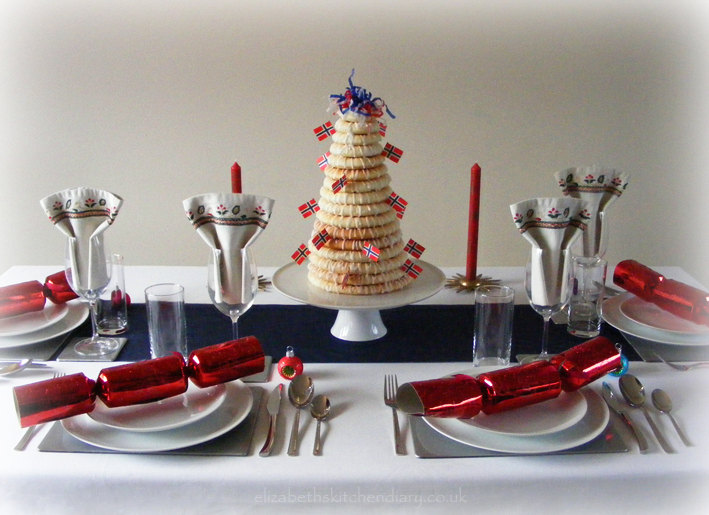 Christmas this year was a frugal affair. Some unexpected large bills at the end of 2013 and some even larger expenses coming in the New Year means that my partner and I decided to save a few pennies by not getting each other gifts; we would just focus on the children.
This is all fine and dandy in theory. In practise though, I think perhaps I'm not matured enough not to feel slightly disappointed at having nothing under the Christmas tree to open. I don't need anything in particular – I have a roof over my head, clothes on my back and food in my belly, and I get plenty of joy and satisfaction out of seeing the expressions on the children's faces when they open their Christmas stockings and gifts, but still, that childish side of me was feeling disappointed.
That all changed thanks to Debenhams. Early last week they sent me an email asking if I would like to go into one of their shops and pick out items up to a value of £100 to decorate my Christmas dinner table. In return I would photograph and share it. I replied saying I would love to, but alas, the nearest Debenham's to me is across 200 miles of sea south on the mainland of Scotland.
"No problem," said the lovely PR guy, "I'll just order it for you from our online shop and it should be there in time for Christmas."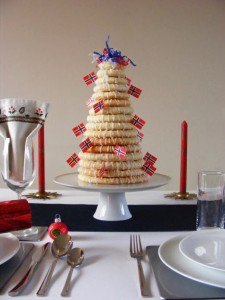 At the time of receiving the email I'd just started making a kransekake for our Christmas pudding. Kransekake is a traditional Norwegian celebration cake; a cake my half-Norwegian fiancé recalls fondly from his childhood in Norway. I was given his mother's recipe and every few years I make one for Christmas.  You can find her recipe here.
I have never owned a proper cake stand to display said Kransekake on, so this was a perfect opportunity to get one.I selected a lovely simple yet elegant white 'Dine' porcelain cake stand by Ben de Lisi from the Debenhams dinnerware department.
Every well decorated table starts with the basics, I believe: a nice dinnerware set and some matching cutlery. My current dinnerware set has seen better days. With three clumsy children (I'm going to blame them and not myself – ok it's probably mostly me loading the dishwasher) all of the plates except one are chipped. So, a new dinnerware set was in order. I requested the set matching the cake stand – all in simple elegant white. My current cutlery has also seen better days. Most of it is mismatched knives and forks collected from charity shops over the years. I've never, in my adult life, owned a nice matching cutlery set.
So I asked for one.  Debenham's Denby 'Spice' 16 piece set was on a special Christmas offer down from £80 to only £40, so there was enough remaining in the budget to get one. I was so excited!
I sat back and waited for the parcels to arrive. The kransekake rings were put on hold in an airtight container waiting for the cake stand to arrive.
I waited….
and I waited…
Christmas Eve came… the postie came…. and went; there were no parcels.
I resigned myself that the parcels weren't going to arrive in time for Christmas. My kransekake was going to have to sit on a plate again this year. Winds gusting up to 90 miles per hour have caused the ferries and flights to be cancelled over the last few days, so I chalked it up to the consequences of living in such a remote location.
Then, at half past six on Christmas Eve there was a knock on the door. A very windswept courier handed me three large parcels with a smile and a Merry Christmas. There was not much I could do with the contents of the parcels that late in the evening, so I put them under the tree so that I would have something to open in the morning.
When the children had finished opening all their gifts I opened mine and smiled like the cat who got the cream. I used what little natural daylight there is at this time of year at 60 degrees North to photograph our Christmas table. In fact, the photographs shown were taken during a short power outage which coincided with a clash of lightning, the rumble of thunder and a quick break in the clouds when the sun sitting low on the horizon peeked through.
I'm just finishing writing this blog post now as a leg of Shetland lamb is browning in the oven, the Shetland black potatoes are boiling, the braised red cabbage is slow cooking, the Brussels sprouts gratin is baking and the turnip and carrots are simmering: all locally grown veg from my veg box. I just need to get the gravy on before sitting down at my gorgeous newly decorated table with it's kransekake centrepiece. Thank you Debenhams!
Merry Christmas!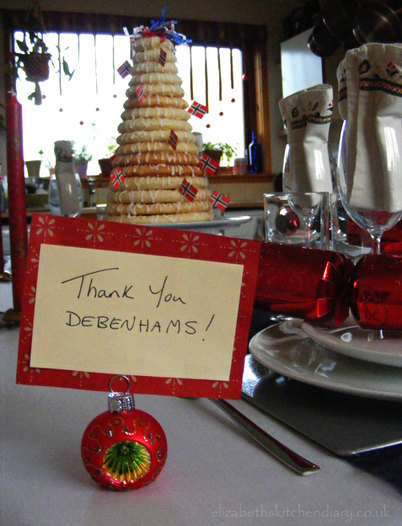 Debenham's sent Elizabeth's Kitchen Diary a selection of dinnerware for review. All opinions expressed are my own. Prices mentioned are pre-Christmas sale prices and may not be the same on their website now. This is not a paid post.