I go ballroom dancing every week. I've been dancing on and off now for around ten years and I love it very, very much. It's such a wonderful feeling to be gliding across the floor in a swirly dress dancing the Glen Roy foxtrot. It's positively civilised (and I'm quite fortunate to have an excellent dance partner).
Around nine o'clock we stop dancing for a tea break. One of the dancers always brings some lovely home made cakes that his wife sends with him to have with our tea (she's a superb baker!) but alas, our dance instructor is gluten intolerant, so he always has to bring his own little snack. He works full time so he doesn't have a lot of spare time to make his own home bakes, so it's usually something shop bought (which looks cardboardy!) he brings.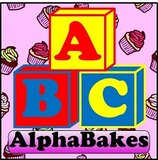 I have been promising for many, many years to make something for our dance instructor and I had picked up a container of xanthan gum a few months ago (on sale) to do just that. It then got forgotten in the back of the pantry until this month's Alphabakes challenge letter was revealed.
Alphabakes is a lovely blogging challenge co-hosted by Ros over at The More Than Occasional Baker and Caroline at Caroline Makes… this month (hosted by Ros) has challenged us with the letter X! It didn't take long for me to remember the xanthan gum lurking in the cupboard, and I happened to be heading dancing that evening so I got baking.
There were a few other ingredients lurking in my cupboard. Some sultanas, some pecans, the last of a packet of dried cranberries (leftover from our Canadian Thanksgiving) and the remainder of a packet of Dove's Farm gluten free flour (leftover from baking gluten free scones for an American Thanksgiving dinner I was invited to). As an aside, I also made gluten free bread in my bread maker with this flour – gah! What a dreadful bake! I'm so glad I am not gluten intolerant because if this is the quality of bread available, well, I'd just have to go without. I whizzed up the remainder into breadcrumbs and hid it in other dishes so it didn't go to waste, but blergh, as a bread it was awful. I actually made a face when I tried it. The gluten free scones, however, from the Dove's Farm website were quite palatable, although somewhat sweet..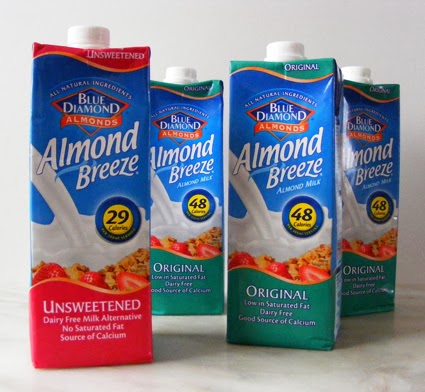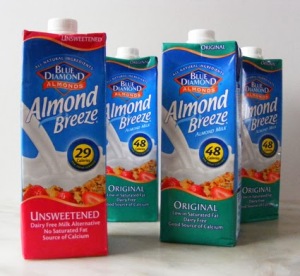 There were several litres of Blue Diamond Almond Breeze milk in my pantry that the fine folk at Blue Diamond had sent me to experiment with. I thought since I was going for a gluten free option I might as well try and make it dairy free too and play with the ingredients that I had available.
I have worked with almond milk in the past – replacing it measure for measure for dairy milk in recipes with success. They'd sent me two litres of chocolate flavoured milk as well, but this is not pictured because my children drank it all immediately. They loved it! I managed a small drink of it too before the children made it all disappear and was pleasantly surprised at the taste of it. The chocolate flavour milk is a delicious dairy-free alternative. I can't say the same about the flavours of the other two varieties – sweetened and unsweetened, but they work really well in baking.
I had a look on the Internet for cookie inspiration and found a recipe for gluten free oatmeal chocolate chip cookies which I used as a starting point for my own recipe. I knew I was on to a winner when my youngest kept stealing the cookies off the cooling rack when he thought I wasn't watching. Children are the best judges of cookies, I think, and these ones went down a treat.
I tested them on quite a number of people who were all really surprised to hear that they were gluten free. Gluten free bakes can often be a bit blergh (see bread comment above!) but these cookies are thick, moist, chewy and very moreish. The cinnamon, pecan and cranberries give a festive feel to them.
I packaged most of them up to give to my dance instructor as a gift and he was over the moon with them. As far as gluten free bakes go – this one is definitely a winner! I was so pleased to see the look on his face when he first bit into a cookie; the absolute delight of having a  tasty gluten free home bake all to his very self (with extras to take home for his freezer!)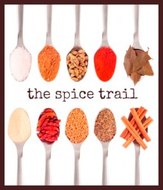 This month's Feel Good Food challenge by Victoria over at  A Kick at the Pantry Door  (and guest hosted this month by JibberJabberUK) has the theme of cranberries, so I am sharing this recipe with them too. This challenge is a blog hop, so scroll to the bottom to see what other bloggers have been creating in their kitchens with cranberries!
The predominant flavour in these cookies is cinnamon, and this month Vanesther over at Bangers & Mash is hosting a blogging challenge called The Spice Trail, which asks us to share our cinnamon flavoured recipes.
Elizabeth's Kitchen Diary received complimentary boxes of Blue Diamond Almond Breeze milk for review. All opinions are my own and I was not required to write a positive review. This is not a paid post.