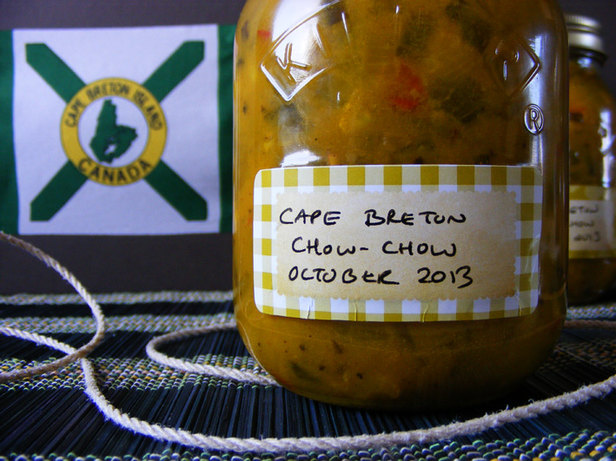 I have been under the impression, for some time, that I like green tomatoes. I love the 1991 film Fried Green Tomatoes and I'd always wanted to try making the delicacy myself ever since I saw those tomatoes frying in their bacon grease on the television screen. I did make them, once, when visiting my father on the west coast of Canada. It was late Autumn and he was the caretaker for a summer home on Thormanby Island. I was helping him sort out a pesky mouse problem and afterwards we had a wander through the garden and found some abandoned giant green tomatoes. We sliced and battered them that evening with seasoned cornmeal, fried them and dipped them in copious quantities of soured cream and they were amazing! I've been craving them ever since!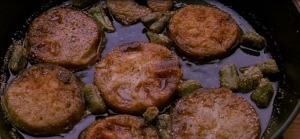 Screenshot from the 1991 film Fried Green Tomatoes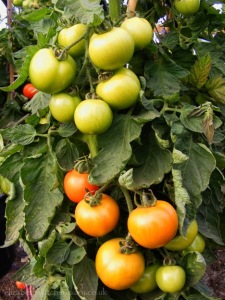 Turriefield Tomatoes (grown in a poly tunnel)
I've been unable to grow my own tomatoes here in Shetland (6000 miles away from the west coast of Canada) because I lack the space for a greenhouse/poly tunnel and the cruel North Wind wreaks havoc on anything I plant outdoors in my exposed garden. When I started getting an organic veg box from Transition Turriefield, a not-for-profit community project on the west side of Shetland I not-so-subtly dropped a hint that I wouldn't mind if a few green tomatoes appeared in the box on occasion. They have been ever so kind and have obliged, much to my delight.
However, my first two attempts at making fried green tomatoes have been wholly unsuccessful and I'm going off the idea entirely. I don't know what I am doing wrong, but I'm close to giving up and my partner doesn't want to try them again.
So, when a third lot of green tomatoes arrived I had no idea what I was going to do with them. Then, one of my followers (thank you Sandra!) on Facebook shared a photo of the old fashioned soft molasses cookies she made for her grandchildren using my recipe. Hiding in the photo background were a few bottles of green preserves. I'm nosey, especially when it comes to food, so I enquired and found out that the jars contained Cape Breton chow chow, made from a recipe I'd shared last year! The original blog post included two recipes for chow chow – one using green tomatoes and the other without (scroll down near the end of this post for that version). Sandra suggested that my original recipe was missing the plain flour needed to thicken the preserve slightly, so I have amended it accordingly.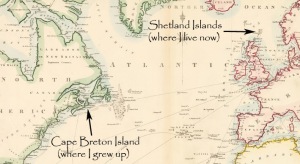 The North Atlantic (Image Source) 
I grew up on Cape Breton Island, on the east coast of Canada, and my mother used to make this recipe. I remember it fondly, the tart and sweet flavours with their vibrant coloured juice and little bits of cauliflower and tiny onions.  I was eager to make it myself after all these years. I had just enough green tomatoes in my veg box to make one third of the recipe below and this filled four Kilner's preserving jars. I'm leaving the jars untouched for a few weeks so that the flavour develops but I can't wait to try it again after all these years! I will update this blog post with another photograph once I open the jars, but I'm sure it'll be as good as I remember it. Sandra says her family have thoroughly enjoyed it! Cape Breton chow chow is very similar to British piccalilli and I suppose it could be tailored to use whatever veg you prefer.
I used local Shetland grown green tomatoes and onions from my Turriefield veg box in this recipe so I am sharing this updated post with #ShopLocal, my own food blogging challenge which aims to showcase local produce.
I am also sending this recipe over to Javelin Warrior's Made with Love Mondays from-scratch recipe round up.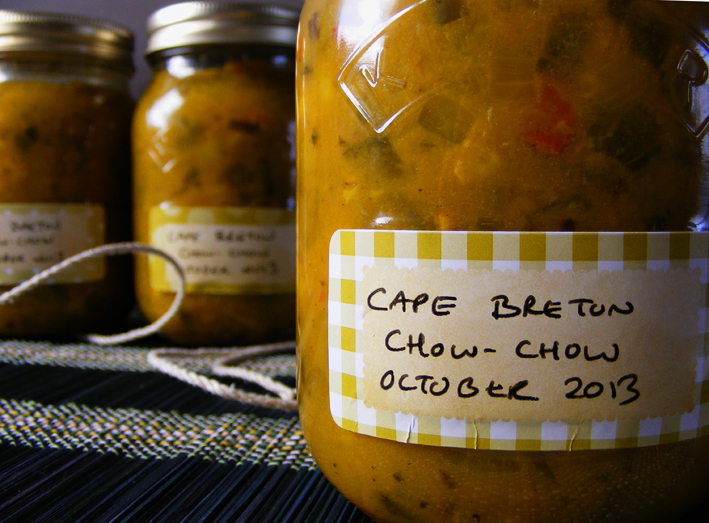 Cape Breton Chow Chow
A gorgeous and vibrant spiced vegetable pickle.
Ingredients
2.5 lbs green tomatoes
6 small cucumbers
2 sweet red or green peppers
1 small cauliflower
1 bunch celery
2 lbs small white onions
1 lb green beans, cut into 1 inch lengths
3/4 cup salt
2 quarts apple cider vinegar
2.5 cups white sugar
2 tbsp celery seed
3 tbsp dry mustard
4 tbsp turmeric
1 tbsp allspice (whole)
1 tbsp whole peppercorns
1 tbsp whole cloves
5 tbsp plain flour
Instructions
1. Cut the tomatoes, cucumbers, peppers, cauliflower and celery into small pieces and place in a large bowl.2. Add the onions and green beans.3. Cover with 3 quarts of boiling water and the salt and leave to stand for one hour.4. Drain and rinse well in cold water and then drain again.5. Mix the remaining ingredients (except flour) in a large pot and heat to the boiling point.6. Add the vegetables and cook mixture until tender, stirring frequently.7. Dissolve flour in a little bit of cider vinegar and add to the pot, stirring constantly until it thickens.8. Spoon into hot sterilised jars leaving 1/8 inch headspace and seal.
Details
Prep time: Cook time: Total time: Yield: 8 pints