A luxury London craft gin and tonic gift box from the British Hamper Company filled with artisan products sourced from the very best of London's small producers. Includes London Dry Gin, Union Jack gourmet truffles, chocolate-coated almonds and more. A review & giveaway in collaboration with The British Hamper Co.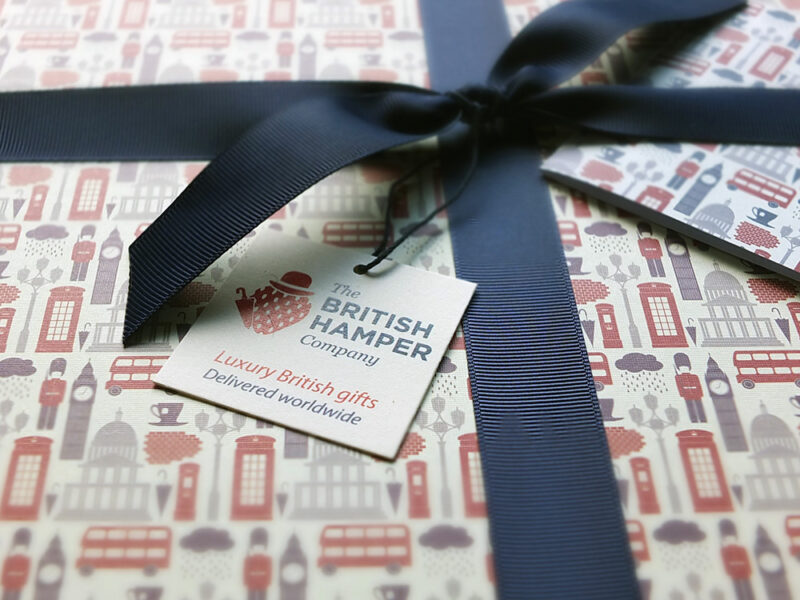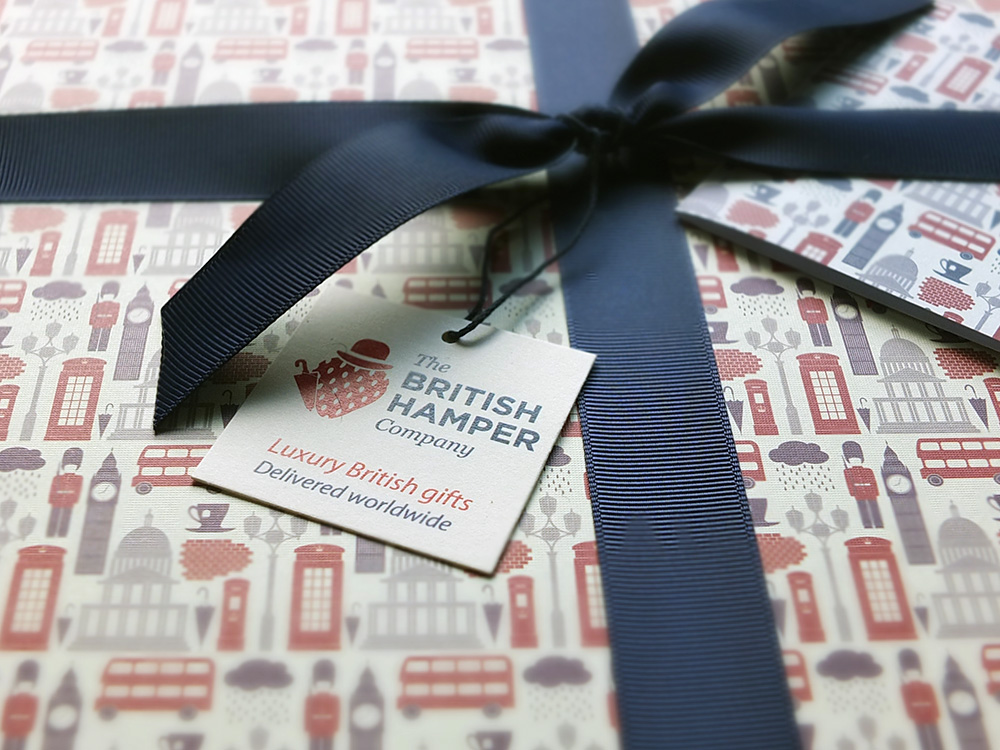 The British Hamper Company
The British Hamper Company is a family business, set up by the Tod family, which specialises in the worldwide delivery of luxury British gift baskets and food hampers.
They exclusively source food from throughout the UK, seeking out the best award-winning artisan producers to ensure an excellent variety of food and drink in each themed luxury hamper. From The Gourmet Scottish Fayre Hamper to the Connoisseur's Wine and Cheese Basket and The London Gin and Tonic Hamper, there's something for all tastes.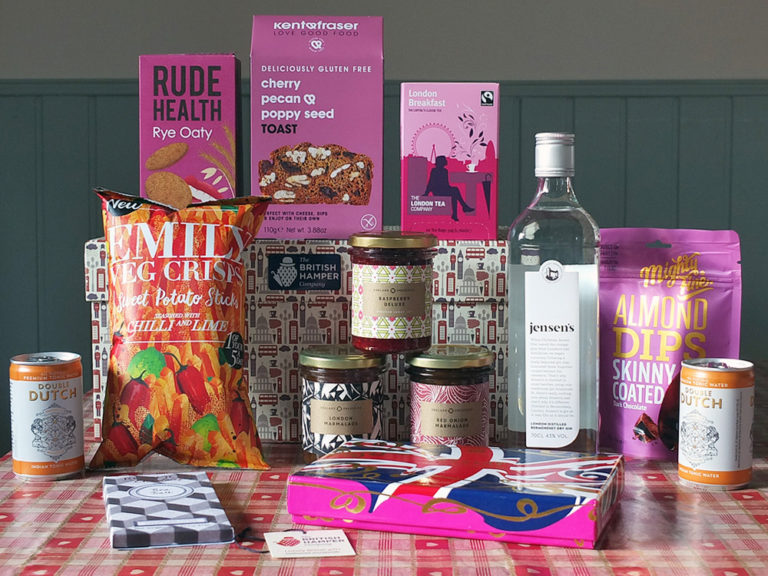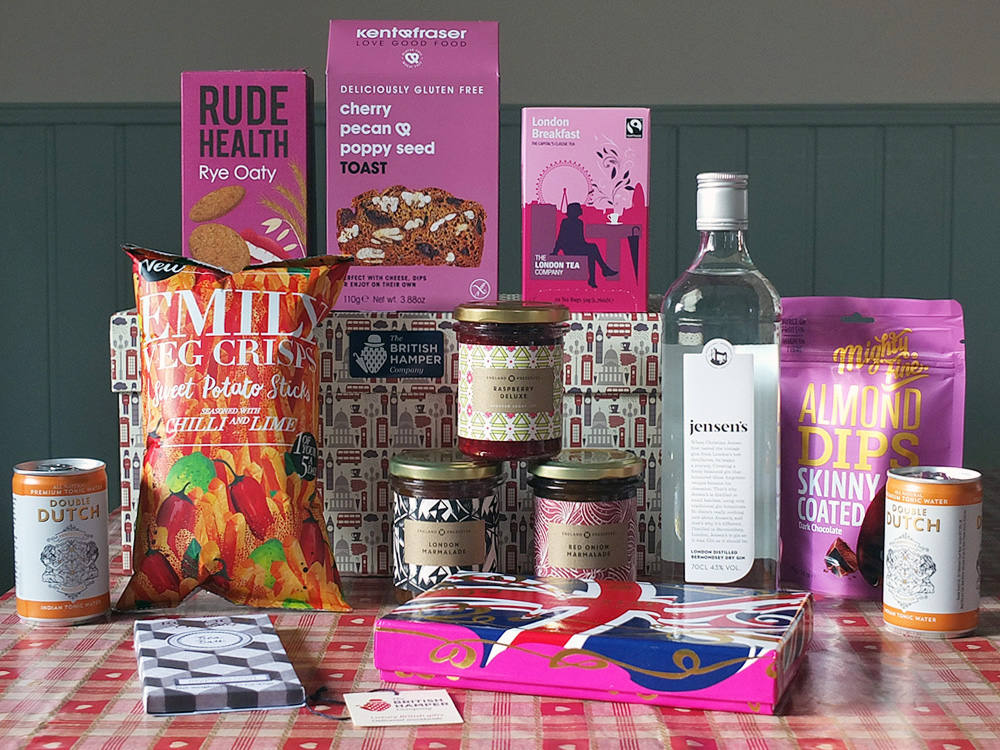 The London Gin and Tonic Hamper from the British Hamper Co
The British Hamper Company recently sent me the London Gin and Tonic Hamper to review.
With this hamper, the British Hamper Company have sourced a brilliant traditional London dry gin produced in small batches by Jensen's in Bermondsey, which they've paired with some of London's best artisan foods.
First impressions: the cardboard box itself that the hamper contents are enclosed in is rather lovely! I love the iconic London symbols and their colour scheme. This box won't get thrown away. Plus, the bespoke gift box is hand-tied with a length of gorgeous dark blue ribbon (which I will also repurpose) and a personalised gift card.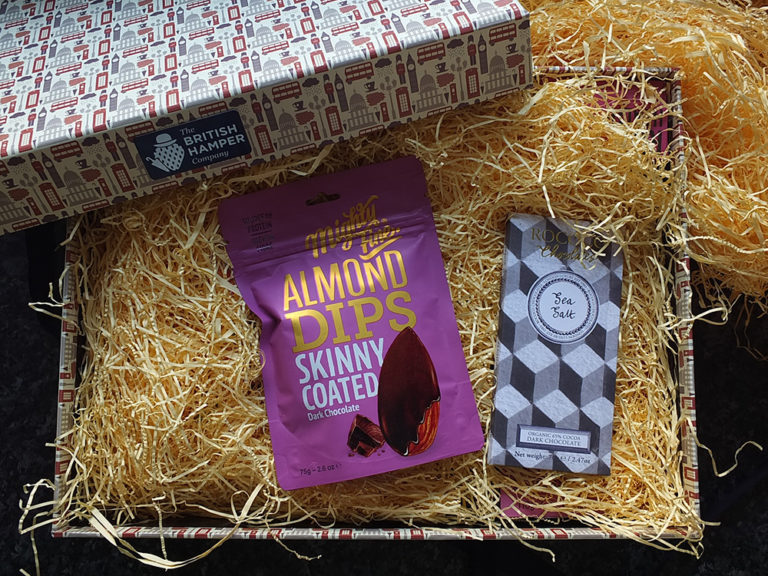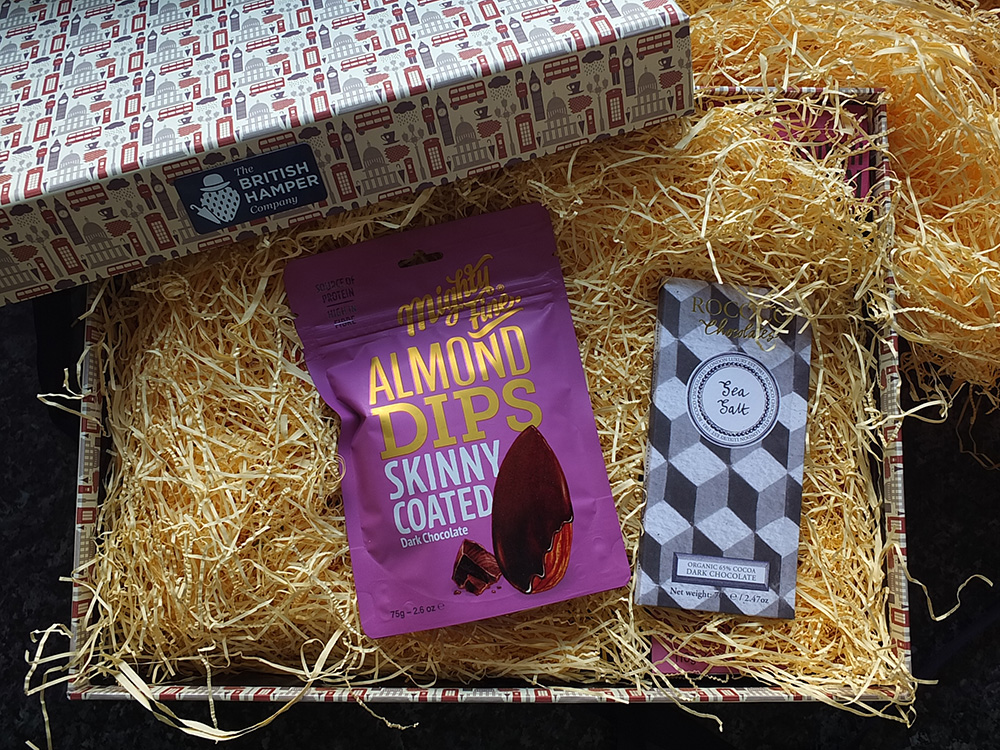 Chocolate Almonds & Sea Salt Chocolate
Dark Chocolate Coated Almond Dips – Mighty Fine almonds lightly roasted with a little salt before being dusted with dark chocolate. A superb after-dinner treat and deliciously moreish.
Sea Salt Dark Chocolate – This is a bar of award-winning chocolate from one of London's finest chocolatiers, Rococo. A small amount of Anglesey Sea Salt added to the 65% cocoa organic dark chocolate blend to make this rich and intense chocolate.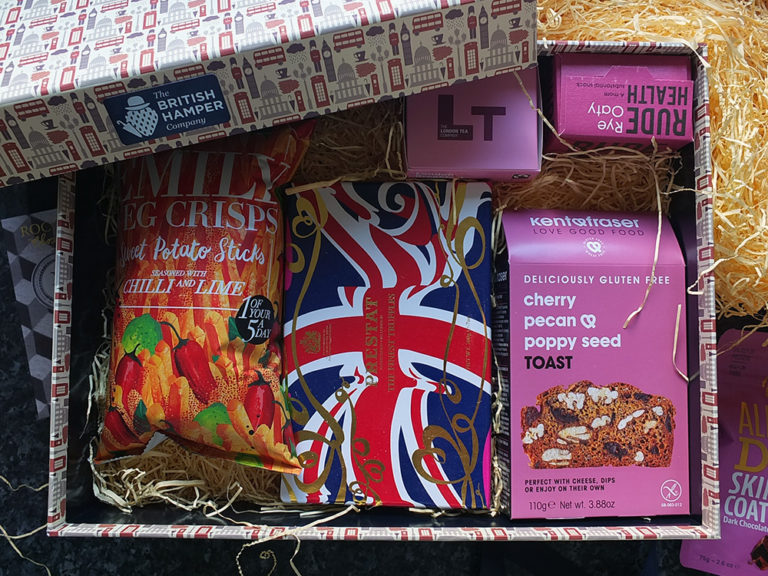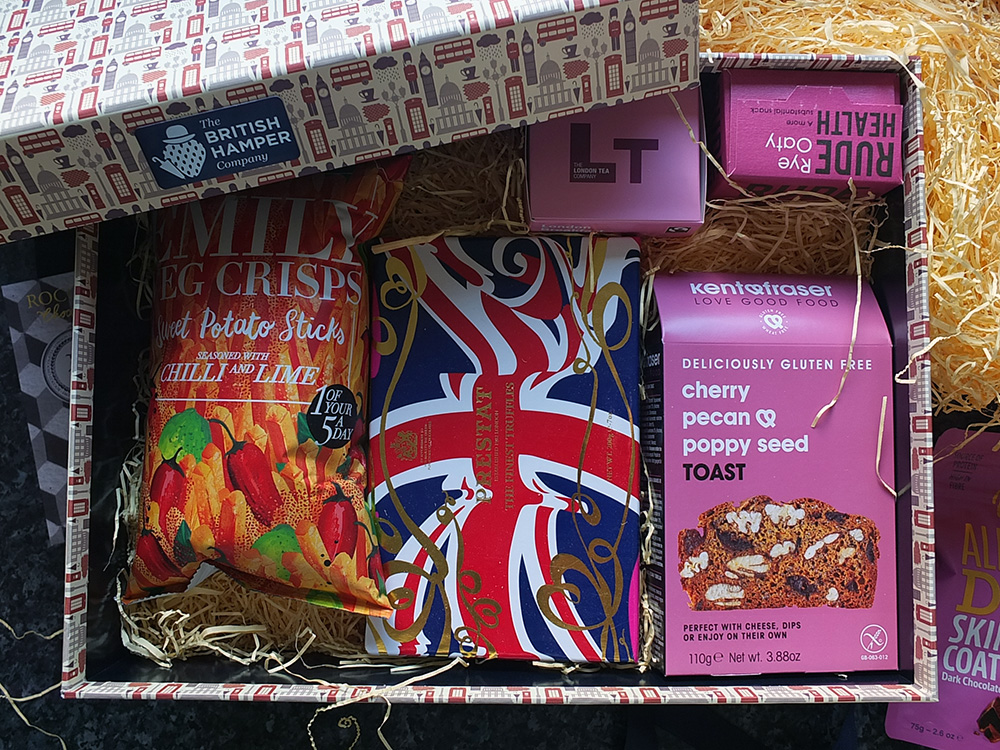 Crisps, Truffles, Tea & Savoury Snacks
Chilli & Lime Sweet Potato Sticks – delicious on their own as a snack or paired with a dip, these sweet potato sticks from Emily Veg Crisps also count as one of your five a day – you would never realise! It's also far too easy to eat the whole packet in one go. Just sayin'.
Union Jack Gourmet Chocolate Truffles – arguably London's smartest chocolatier with two Royal Warrants, Piccadilly based Prestat chocolates have been enjoyed by the royal, the noble, the famous and the fashionable since 1902. Gourmet Chocolate Truffles created to celebrate the royal wedding of the Duke and Duchess of Cambridge. Seriously good chocolate.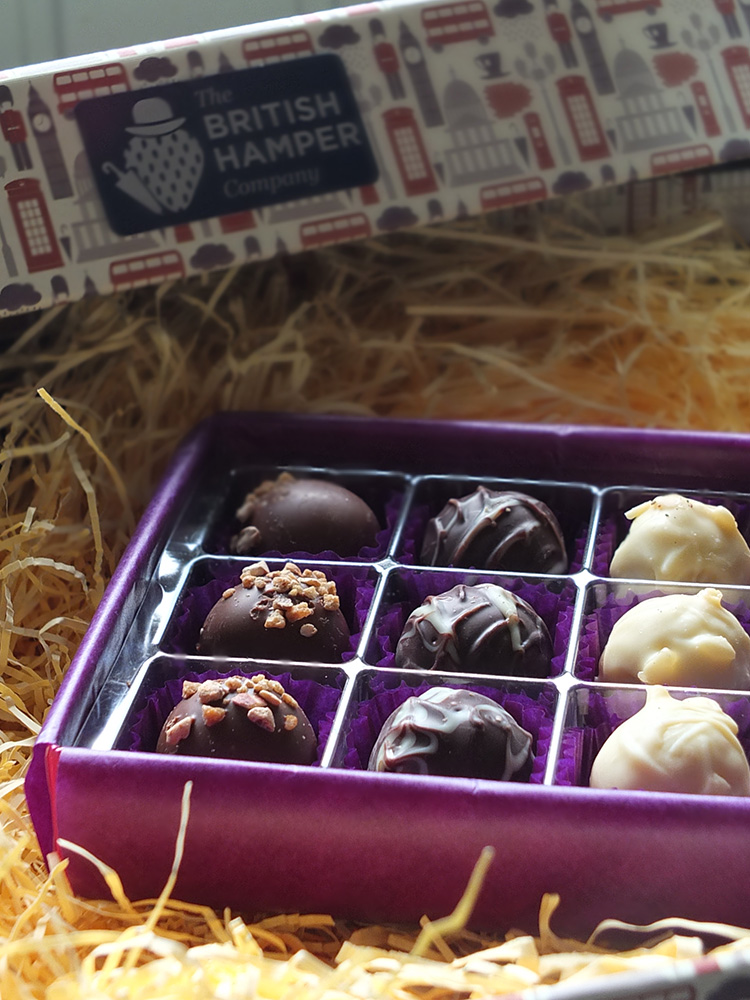 Cherry & Pecan Poppy Seed Toast – A delicious cherry, pecan and poppy seed toast from London based family bakery Kent and Fraser. Eat on its own as a healthy snack or combine with a good cheddar or your favourite dip.
Rye Oaty Biscuits – An oatmeal cracker from passionate London artisan producer Rude Health. These are perfect when accompanied with a good cheese such as Cropwell Bishop Stilton, and (my newly single me delighted in this) the biscuits are wrapped in individual portions, which means you don't have to scoff the whole packet before it goes stale!
Fairtrade London Breakfast Tea – A delicious tea for breakfast or afternoon tea with flavours that combine all the timeless elegance of old England, sourced from some of the best estates in Sri Lanka.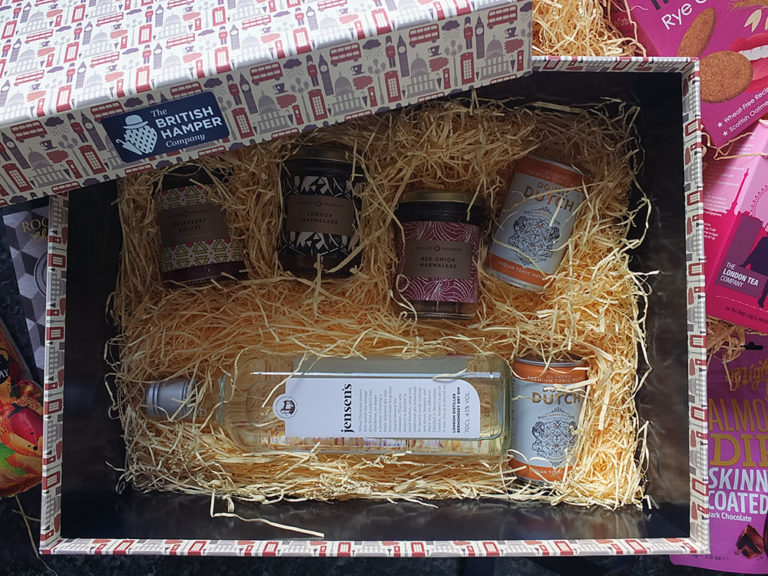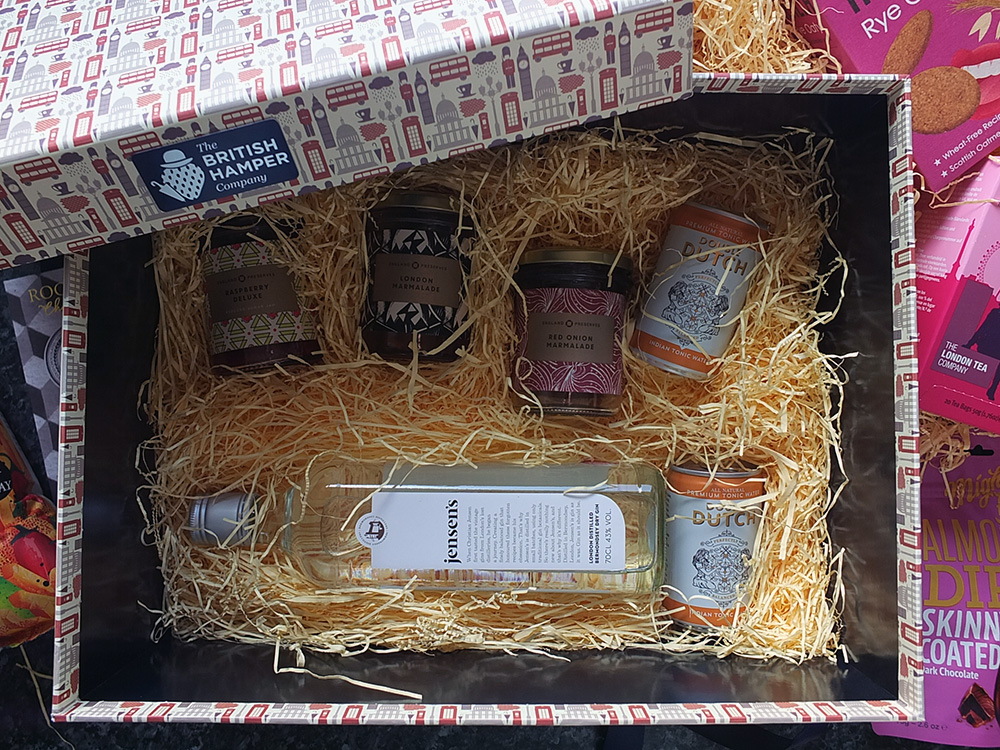 Gin, Tonic & Preserves
Jenson's London Distilled Bermondsey Dry Gin – a traditional London Dry Gin produced by Jensen's in small batches in South East London. This craft gin is right to the 'London Dry Gin' recipe – it is bursting with juniper flavour and can be perfectly paired with a quality tonic or in cocktails.
Double Dutch Tonic – A well-balanced tonic perfect to pair with any gin. London based Double Dutch have added quinine and a subtle crush of juniper and grapefruit to compliment your chosen gin.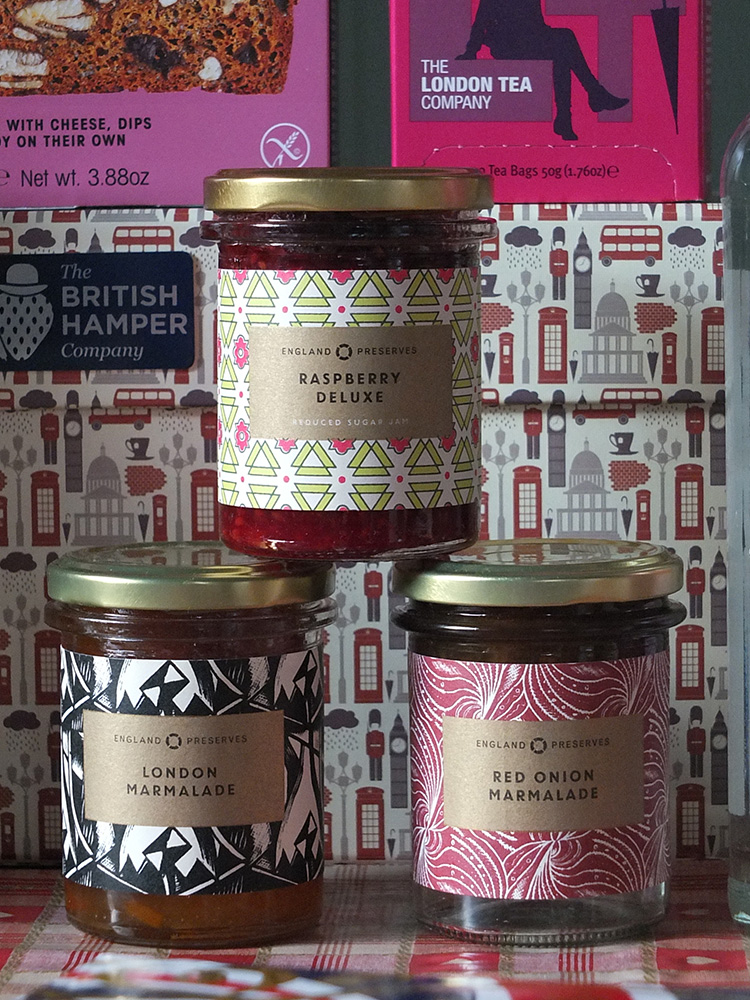 Raspberry Preserve – This jam, from England Preserves, is packed full of ripe raspberries and has less sugar than most jams which gives it a pleasantly tangy taste.
London Marmalade – A tangy orange marmalade, perfect for your breakfast toast.
Red Onion Marmalade – This is a delicious chutney that pairs well with a strong stilton or cheddar.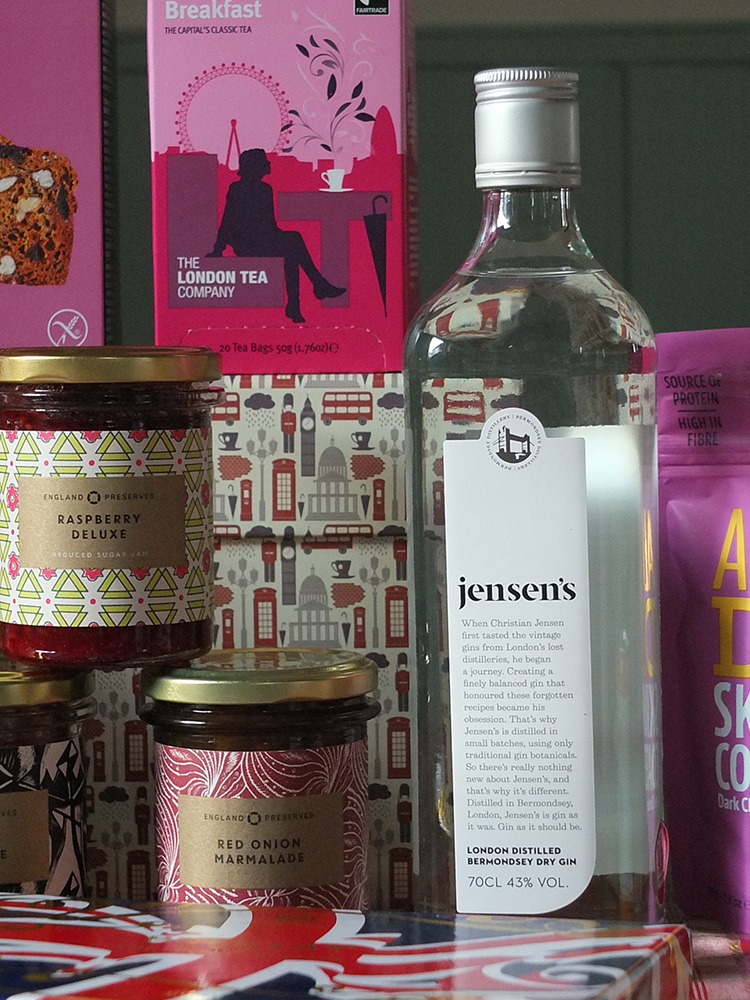 This luxury hamper is a very well balanced gift – perfect for a night in with the girls with a film. You've got your savoury snacks, drinks and sweets all wrapped up in one handy (reuseable) gift box.
The London Gin and Tonic Gift Hamper cost: £135 with courier delivery included. Visit the British Hamper Company website to find out more. Do check out their whole range of Produce of London Hampers. You can also find them on Facebook, Twitter and Instagram.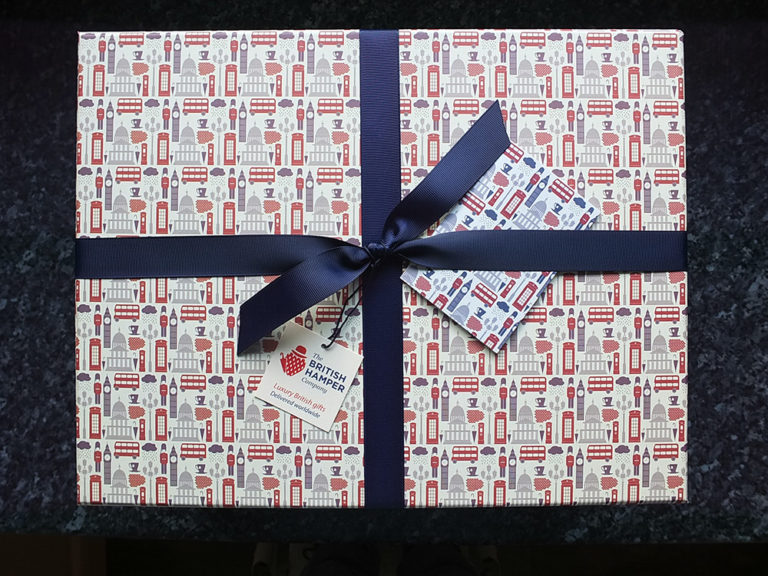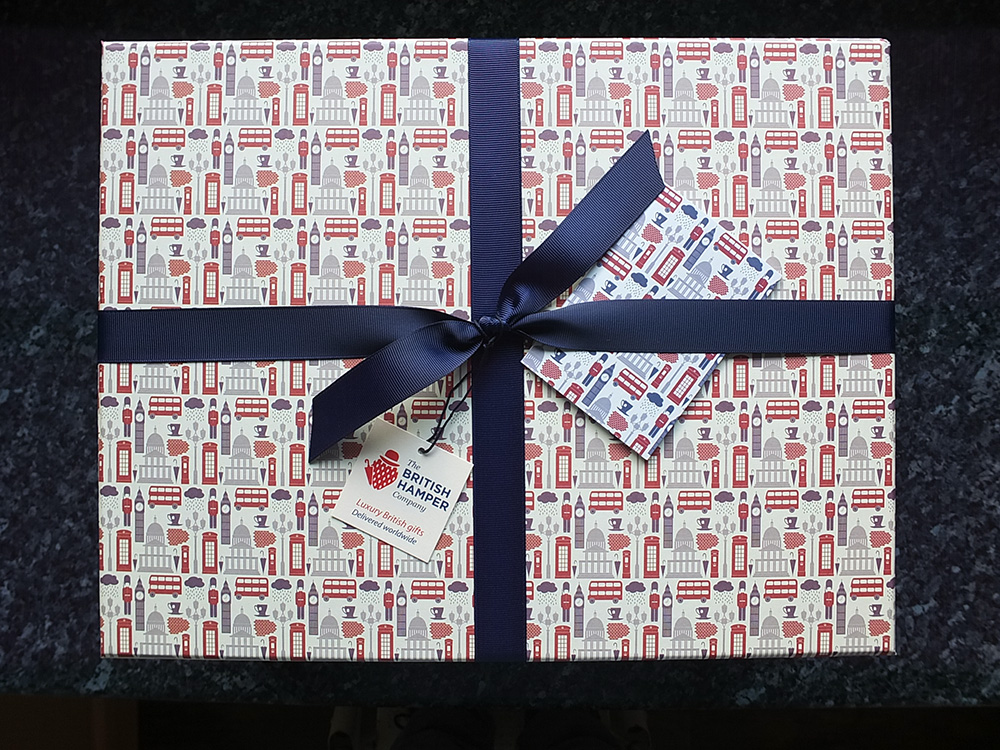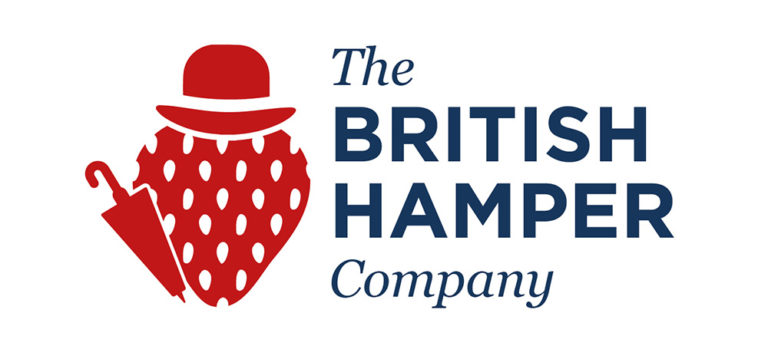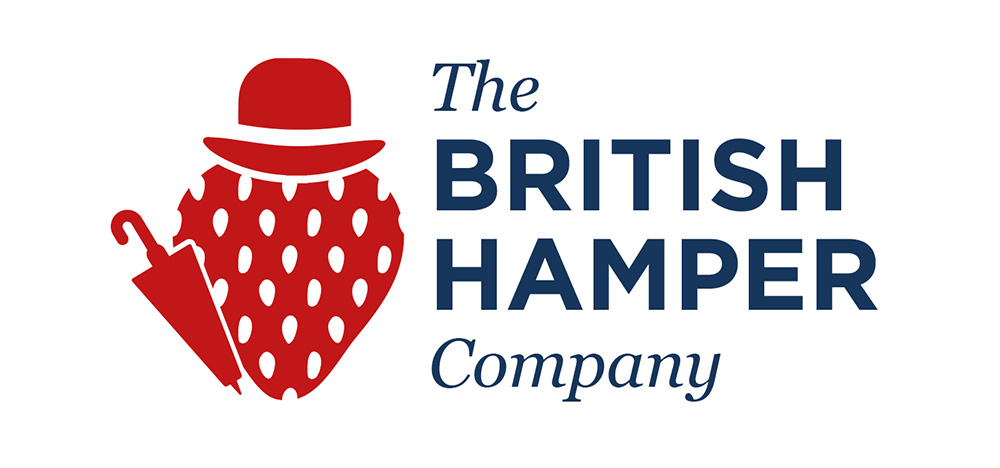 The British Hamper Company Giveaway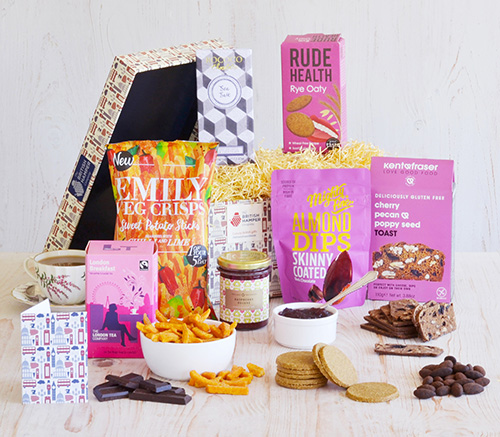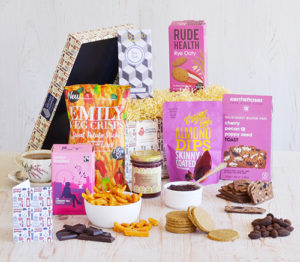 The British Hamper Company have very kindly offered the chance for one of my UK readers to win one of their Gourmet Produce of London hampers worth £44.97!
To enter, fill out the Rafflecopter form below!
Entry into our giveaways indicates you have read, and agree to, our Terms & Conditions. No purchase is required to enter. Giveaway ends Sunday night/Monday morning at 12 am Monday the 2nd of December. The winner will be announced shortly afterwards.
Elizabeth's Kitchen Diary was sent a British Hamper Company gift hamper in exchange for a review. All thoughts and opinions expressed are our own. Thank you for supporting the brands who make it possible for me to do what I love: mess up my kitchen and share recipes.