I've been struggling a bit this weekend. Not with hunger (although not having my late evening snacking sessions have been difficult), but with trying to be creative with what little I've got. That John Lewis Christmas Hamper I was sent for review last week has been sitting in the kitchen corner tempting me with it's gorgeous festive goodies. I am really, really looking forward to tucking into that on Monday.
I used up the last of my garlic in a lentil dahl for lunch on Saturday. Plenty of onions, garlic and ginger transformed the red lentils into a palatable dish, but oh my goodness gracious me that Tesco value brand long grain rice is vile! How can rice be so claggy and flavourless?! Also, how can they sell it for 40 pence per kilo – the people growing that rice must not get paid! You might have notice I haven't stuck with my meal plan. Originally I'd planned on eating this rice nearly every day. I couldn't stomach it, so I improvised.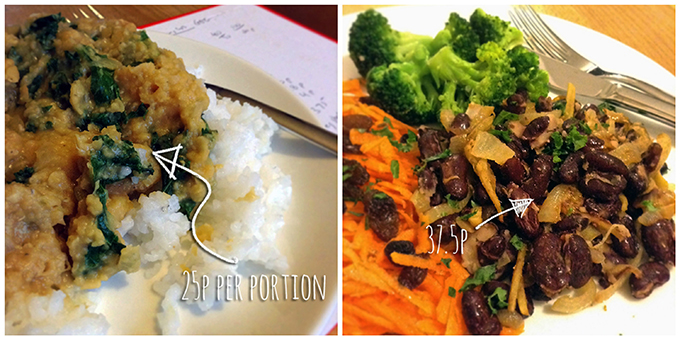 For my Saturday night dinner I had a veritable feast of kidney beans fried with plenty of onions and a whole thumb sized piece of ginger root cut into match sticks for flavour. Serve with a side salad of grated carrot and raisins with a gourmet dressing of: 1 tsp sunflower oil, it was really rather lovely (hubby had a bite and didn't agree with my opinion!). I also microwaved some frozen broccoli (which doesn't cook for the same time as when you're nuking fresh so I ended up eating it a little bit cold, but I didn't care. Hungry!).
Excuse the poorly lit Instagram snaps. We've not had much daylight this last week due to the Shetland winter weather – overcast, grey and dreary. That in itself has been uninspiring when it comes to creating tasty dishes. I just crave carbs!
Breakfast both morning was porridge made with water (blergh!).
Today I am planning on having yesterday's leftovers for lunch and dinner. Might have to make some more rice to act as a filler so I don't get hungry later this evening again. My revised frozen fruit crumble #2 (recipe posted on Day 5) has been a God-send in the evenings, satisfying my sweet tooth and keeping the grumbling hunger pangs at bay. I think I might keep making this recipe for one after the challenge ends, maybe adding a sprinkling of cinnamon and teaspoon of honey at the bottom of the dish.
12:30 I juiced my last two carrots with a tiny bit of ginger I had left, and whizzed up the last of the frozen fruit with the juice in the blender. It didn't make much juice but it was enough to tide me over until nearly 2pm when I reheated the last of my lentil dahl with the last of my kale.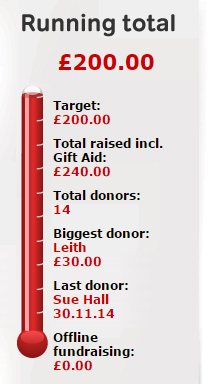 16:30 I've reached my target raised!!! 🙂 Thank you to all you lovely people who donated and offered support and encouragement throughout the week. I am extremely grateful to all of you.
17:00 Reheating the last of my refried kidney beans for dinner. Shall I serve it with rice (yuck!) or the last of my spaghetti? Signing off for the night now as I am exhausted. This week has been quite the eye-opener. A round up blog post will follow later on in the week once I hear back how much the whole week's challenge has raised. Thank you again to everyone who has supported me through this! xx
If you are new to this series of blog posts this week, from the 24th-30th of November 2014 I am taking the FoodCycle Breadline Challenge. This challenge, designed to raise awareness of food poverty in the UK and help raise vital funds for the Food Cycle food hubs, asks us to live off of only £2-10 per day (per person) for food and drink. Although we are a family of five, I am taking this challenge on my own, with an entire shopping budget of only £14-70. I will be blogging recipes, tips and thoughts throughout the week. You can sponsor me over on my Virgin Money Giving Page. A great big thank you to everyone who has sponsored me already, I am very grateful!
PLEASE SPONSOR ME ON THE #BREADLINECHALLENGE VIA VIRGIN MONEY GIVING
Elizabeth's Kitchen Diary with match, pound for pound, up to £200 the amount raised for Food Cycle via my Virgin Money Giving Page to donate to the Shetland Food Bank for their Christmas Food Parcels. Around 60 Shetland families will be supported by these food parcels this festive season.
About Food Cycle:

Food Cycle is a UK charity that combines volunteers, surplus food and spare kitchen spaces to create tasty, nutritious meals for people at risk of food poverty and social isolation.
£50 will help them serve healthy, nutritious three course meals for 100 people. Follow @FoodCycle on Twitter using the hashtag #BreadlineChallenge to keep up to date.
If you want to be kept up to date on my recipes, occasional craft tutorials, adventure stories and giveaways then please subscribe to my weekly newsletter; it gets sent out every Monday morning if there is new content. Your email address won't be passed on to anyone, you will never be spammed and you are free to unsubscribe at any time, no questions asked. Make sure you confirm your subscription or you won't receive the newsletter – if it hasn't arrived check your junk mail folder.
[wysija_form id="1″]