FoodCycle Fundraising Total so far: £120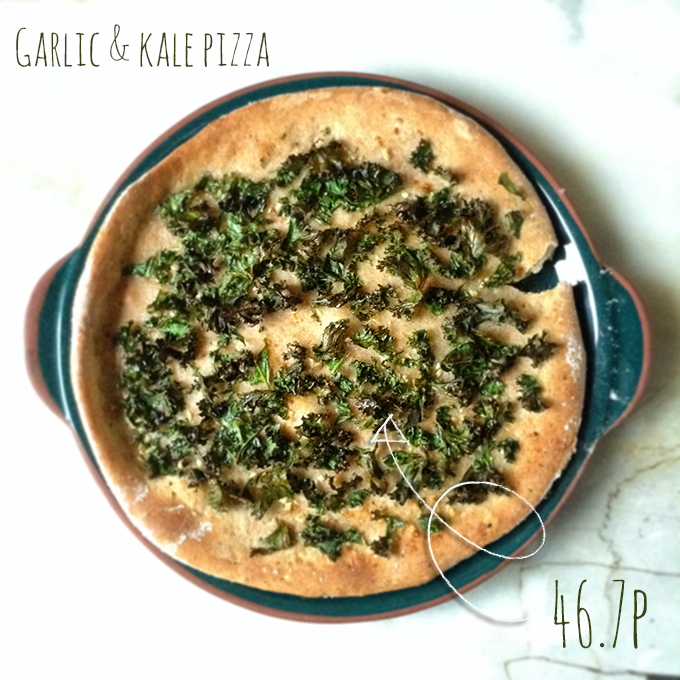 7:45 Wake. Kept hitting snooze. Feel like I've bit hit by a steam roller today.
8:00 Two coffees!
9:00 School run. Skipping the exercise session this morning, and for the rest of the Breadline Challenge as I think I need to conserve energy. This morning's p90x plyometrics would have set me back up to 600 kcal and let's just face it, I haven't got those calories to burn just now.
I learned my lesson yesterday. Never skip breakfast! Yesterday I skipped breakfast as I'd wasted 200 grams of my precious oatmeal trying to make oat milk. After my 539 kcal lunch and leftover spaghetti with sauce (no garlic bread this time) at around 500 kcal, come the evening I was ravenous, with such low blood sugar I didn't care and I failed the challenge. I'd only had just over 1000 kcal yesterday, and after a heavy weights session in the morning I needed more. It started with a handful of cherry tomatoes and then I ended up making a ham sandwich.
I am very grateful that there was food in the kitchen to eat. I had tried a stale leftover piece of flatbread, but even my hunger couldn't make that taste appealing. My willpower, when faced with tomatoes, ham and cheese was low, I am sorry. After a twitter conversation with a fellow Breadcycle Challenge participant I've decided to keep going anyway, so this morning – breakfast!
10:15 Porridge made with water, with raisins cooked along with it to sweeten. My mother used to make us porridge like this, but she'd sprinkle a bit of cinnamon into the water and we'd top it with loads of brown sugar. Total cost? 8.8p (why didn't I make this last night when I was hungry? I was too hungry to even think about cooking!) Excuse the poor photo – the sun forgot to rise today so all I've got for you is a lightbulb lit instagram snap.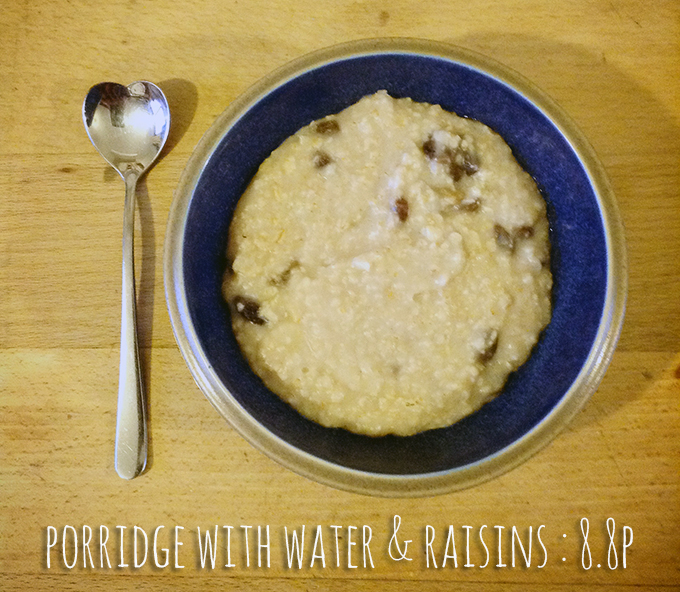 10:45 Put brown flour pizza dough on to rise. One of my Facebook followers suggested I use the kale to top a pizza, so I am going to give it a go using this recipe as inspiration. I've also taken to crushing a vegetable stock cube in my mini mortar and pestle and using that for salt/seasoning.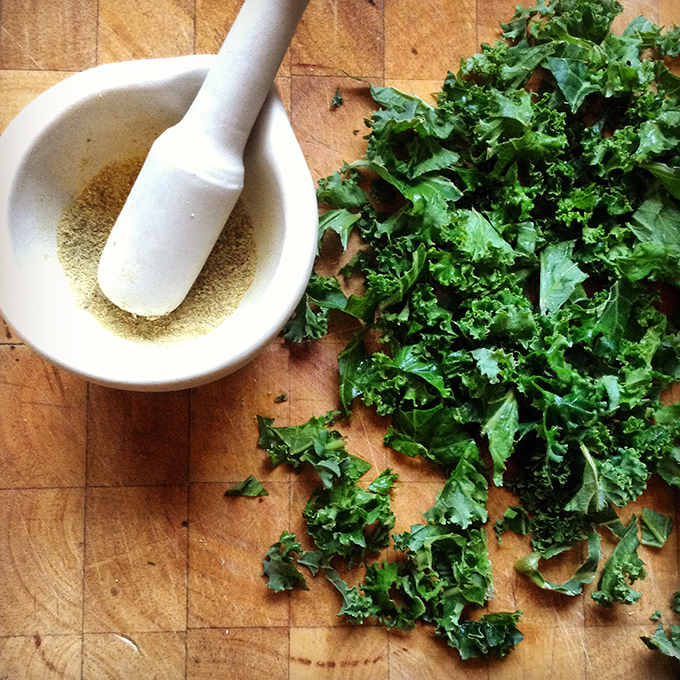 12:30 This pizza is really rather nice! Plenty of garlic flavour and all the loveliness of kale crisps on top! Nom! I only managed to eat half of it, but my husband had some for his lunch too so it didn't go to waste. Mine had a really thick base, almost like a focaccia instead of a pizza, but we can just call it deep pan. 🙂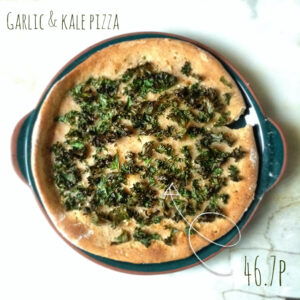 Affiliate Links
This recipe card may contain affiliate ingredient and equipment links. As an Amazon Associate I earn from qualifying purchases.
Instructions
Make the pizza dough. I made mine in my bread machine (I'm lazy) but to make it by hand combine all the dry ingredients together in a bowl and pour in the water.

Using a wooden spoon, stir until it starts to form a clump of dough.

Turn out onto a lightly floured surface and knead for 10 minutes.

Pop back into the bowl, cover with a tea towel and leave somewhere warm to rise until double in size, about an hour and a half.

Meanwhile, finely chop the garlic and place in a bowl along with the tablespoon of sunflower oil to infuse.

When the dough is ready, preheat the oven to 230 C.

Roll out the pizza dough to your desired thickness (I made a deep pan, almost focaccia like thickness, but you could roll it really thin for baking tray).

Using a little sunflower oil, grease your tray, or sprinkle it with some flour if it's likely to stick. Alternatively, use a sheet of baking paper.

Spread the garlic infused oil over the top of the pizza and then sprinkle with some crushed vegetable stock cube. If you are using a larger tray you might need a little bit more oil to cover the dough.

Chop your kale and sprinkle on the top. I used my hands to mix some oil over the kale so it would crisp up nicely.

Bake for 12-15 minutes, until browned and risen. Serve immediately.
Environmental Information
19:00 Late tea after dropping DD off for an overnight (an hour and a half round trip!). Thankfully I'd defrosted some of Jack Monroe's minestrone so all I needed to do was reheat it. So yum!
20:30 Attempted a fruit crumble again, this time with more ingredients as I had more budget left. This time I left the fruit frozen, sprinkled the crumble topping on and popped it in the oven at a higher heat for 25 minutes. I never would have known this crumble had so sugar in it as the liquid from the fruit and the raisins sweetened everything perfectly. I really, really enjoyed this!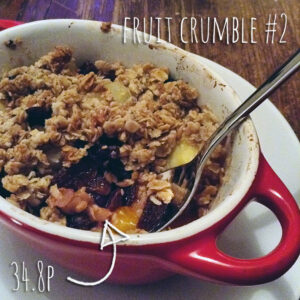 Affiliate Links
This recipe card may contain affiliate ingredient and equipment links. As an Amazon Associate I earn from qualifying purchases.
Instructions
Preheat oven to 190 C.

Place frozen fruit and raisins in a small dish.

Combine the remaining ingredients and sprinkle over the top of the fruit.

Bake for 25 minutes, or until the crumble is nice and golden.

Serve hot!
Environmental Information
Today was a good day. I felt I had plenty to eat and I had enough energy to last me the day. Only two more days of the challenge left! I have to say I am looking forward to a big proper meal! Total spent of my £2.10 budget today: 97.5p!
If you are new to this series of blog posts this week, from the 24th-30th of November 2014 I am taking the FoodCycle Breadline Challenge. This challenge, designed to raise awareness of food poverty in the UK and help raise vital funds for the Food Cycle food hubs, asks us to live off of only £2-10 per day (per person) for food and drink. Although we are a family of five, I am taking this challenge on my own, with an entire shopping budget of only £14-70. I will be blogging recipes, tips and thoughts throughout the week. You can sponsor me over on my Virgin Money Giving Page. A great big thank you to everyone who has sponsored me already, I am very grateful!
PLEASE SPONSOR ME ON THE #BREADLINECHALLENGE VIA VIRGIN MONEY GIVING
Elizabeth's Kitchen Diary with match, pound for pound, up to £200 the amount raised for Food Cycle via my Virgin Money Giving Page to donate to the Shetland Food Bank for their Christmas Food Parcels. Around 60 Shetland families will be supported by these food parcels this festive season.
About Food Cycle:

Food Cycle is a UK charity that combines volunteers, surplus food and spare kitchen spaces to create tasty, nutritious meals for people at risk of food poverty and social isolation.
£50 will help them serve healthy, nutritious three course meals for 100 people. Follow @FoodCycle on Twitter using the hashtag #BreadlineChallenge to keep up to date.
If you want to be kept up to date on my recipes, occasional craft tutorials, adventure stories and giveaways then please subscribe to my weekly newsletter; it gets sent out every Monday morning if there is new content. Your email address won't be passed on to anyone, you will never be spammed and you are free to unsubscribe at any time, no questions asked. Make sure you confirm your subscription or you won't receive the newsletter – if it hasn't arrived check your junk mail folder.
[wysija_form id="1″]