Please sponsor me over at Virgin Money Giving.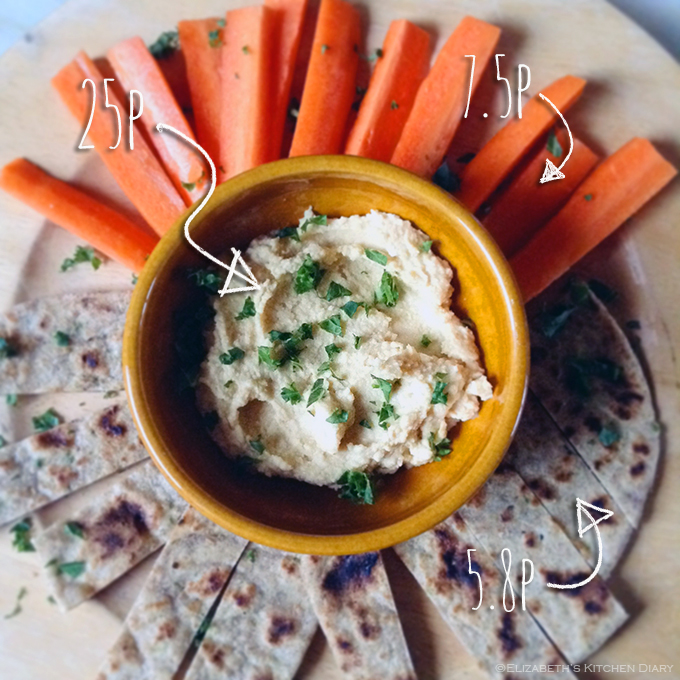 7:30 Awake. Dreams last night: foraging for wild fruit in my garden. They were the biggest juiciest strawberries and raspberries I have ever, ever seen.
8:00 Mug of coffee and put porridge oats on to soak to make oat milk. I've no more dairy milk as the UHT stuff only lasts for three days so I finished off the last 100ml with my dinner last night.
9:00 One hour back, chest and biceps workout. A lovely friend dropped off a cup of filter coffee!
10:15 After straining this oat milk looks rank. It's thick, like cream. I don't think you're supposed to use quick cook porridge oats to make oat milk – will try and dilute it to make a smoothie…. later. Yuck.
11:00 Sometimes a recipe idea works, sometimes it really doesn't. I can't possibly face that slimy oatmilk sludge, even diluted it gloops off the spoon. Pass. I've skipped breakfast today as I wasted 200 grams (15p) of my oatmeal on that idea.
12:30 Lunch – then again, sometimes a recipe idea totally works. Today's lunch is the reserved half tin of chickpeas from yesterday's ginger & garlic chickpeas with kale, blitzed up with sunflower oil, garlic and a pinch of ground up vegetable stock cube (25p). Served with leftover flatbread (5.9p) and a whole carrot cut into sticks (7.5p) this lunch is going down really rather well. Then again, hunger is the best spice!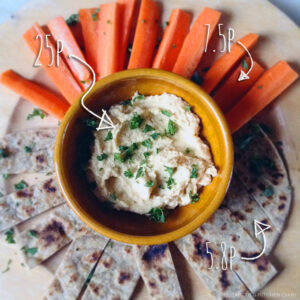 Affiliate Links
This recipe card may contain affiliate ingredient and equipment links. As an Amazon Associate I earn from qualifying purchases.
Instructions
Combine ingredients and puree with a hand blender or food processor.

Serve with carrot sticks (7.5p) and flatbread (5.9p)
Nutrition
Calories:
265
kcal
|
Carbohydrates:
28
g
|
Protein:
6
g
|
Fat:
15
g
|
Saturated Fat:
2
g
|
Polyunsaturated Fat:
10
g
|
Monounsaturated Fat:
3
g
|
Sodium:
359
mg
|
Potassium:
212
mg
|
Fiber:
5
g
|
Sugar:
0.01
g
|
Vitamin C:
6.6
mg
|
Calcium:
40
mg
|
Iron:
1.8
mg
Environmental Information
16:00 Threw out far too much food leftover from my children's lunch boxes. Fresh grapes, orange segments and some gorgeous mature cheddar cheese. Oh how I would love to have eaten those!
17:00 Made dinner for my family. My heart wasn't in it so it was just simple food, poached eggs and spicy oven chips to dip (pasta for the little 'uns). Made spaghetti for myself with the rest of the tomato sauce from yesterday as it was so lovely. No garlic bread today though as my bread is frozen, and frankly, it's a bit stale now. Watched my daughter pop delicious ruby cherry tomatoes into her mouth one by one, giggling while she was savouring each juicy mouthful. So… very…. envious.
21:00 I'm so, so very hungry. Seriously, low blood sugar ravenous.
21:30 I can't do it. I've failed. It started with a handful of those beautiful, succulent cherry tomatoes, and then I completely caved and made myself a ham and cheese sandwich. With mustard. And mayonnaise. And a great big glass of ice cold milk. That was followed by a Crunchie chocolate bar, but in my defense I didn't pay for that. My neighbour gave us a couple of them as a thank you after I photocopied some things for him a few days ago.
If you are new to this series of blog posts this week, from the 24th-30th of November 2014 I am taking the FoodCycle Breadline Challenge. This challenge, designed to raise awareness of food poverty in the UK and help raise vital funds for the Food Cycle food hubs, asks us to live off of only £2-10 per day (per person) for food and drink. Although we are a family of five, I am taking this challenge on my own, with an entire shopping budget of only £14-70. I will be blogging recipes, tips and thoughts throughout the week. You can sponsor me over on my Virgin Money Giving Page. A great big thank you to everyone who has sponsored me already, I am very grateful!
PLEASE SPONSOR ME ON THE #BREADLINECHALLENGE VIA VIRGIN MONEY GIVING
Elizabeth's Kitchen Diary with match, pound for pound, up to £200 the amount raised for Food Cycle via my Virgin Money Giving Page to donate to the Shetland Food Bank for their Christmas Food Parcels. Around 60 Shetland families will be supported by these food parcels this festive season.
About Food Cycle:

Food Cycle is a UK charity that combines volunteers, surplus food and spare kitchen spaces to create tasty, nutritious meals for people at risk of food poverty and social isolation.
£50 will help them serve healthy, nutritious three course meals for 100 people. Follow @FoodCycle on Twitter using the hashtag #BreadlineChallenge to keep up to date.
If you want to be kept up to date on my recipes, occasional craft tutorials, adventure stories and giveaways then please subscribe to my weekly newsletter; it gets sent out every Monday morning if there is new content. Your email address won't be passed on to anyone, you will never be spammed and you are free to unsubscribe at any time, no questions asked. Make sure you confirm your subscription or you won't receive the newsletter – if it hasn't arrived check your junk mail folder.
[wysija_form id="1″]