In collaboration with BookBeat.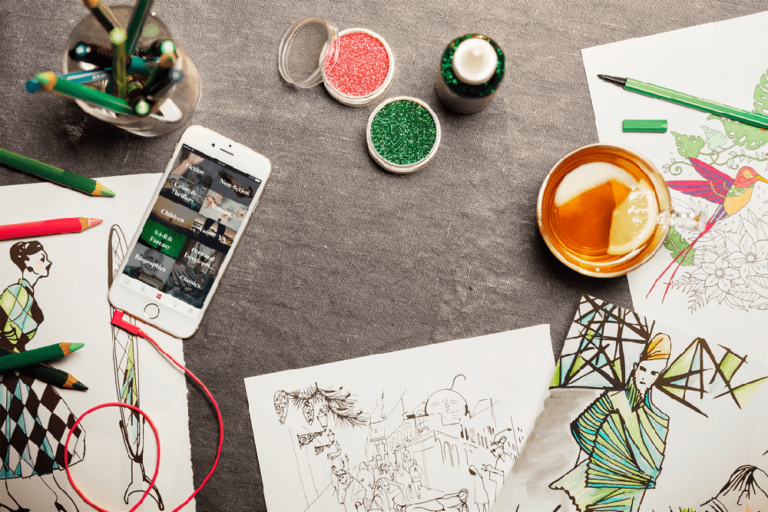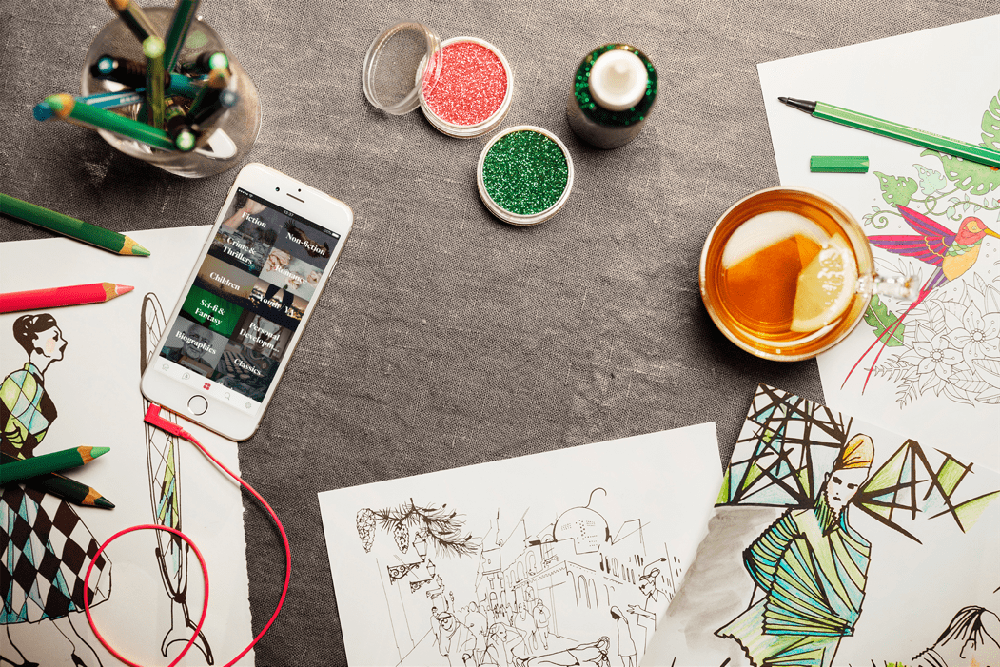 As an avid book reader, I confess it took me some to get used to the notion of 'listening' to a book. Surely you can't claim to have read the book if you've had someone read it out loud to you, right? Surely you don't get the same vivid mental images you do when your eyes are scanning the pages themselves?
How wrong I was!
What is BookBeat?
BookBeat is a subsidiary of Bonnier Books, one of Europe's leading publishing companies. Founded in 2015, BookBeat is a digital streaming service that allows listeners to find and listen to great audiobooks right on their mobile devices. For only £12.90 per month, listeners get unlimited access to thousands of audiobooks they can enjoy whenever and where ever they have the time. As always with BookBeat, there are no commitments – you can cancel your account at any time by logging in online.
Why choose BookBeat instead of other audiobook services?
There are lots of great audiobook services out there so why should you choose BookBeat? There are quite a few reasons. For one, as a user of BookBeat you pay a monthly fee for access to as many titles as you want and you can cancel at any time. We're talking unlimited listening with no cancellation fees. There are no hidden costs, what you see is what you get. Den of Geek has called BookBeat "a sort-of Netflix for audio books."


Can I use BookBeat while without WiFi or mobile coverage?
BookBeat is a great travel companion. Not only can you stream books via your data or wifi, you can also download audiobooks and save them to your library. By doing so, you're able to listen even when you don't have access to wifi! It's perfect for long trips, daily commutes, and for when you need a little relaxed "me time."
The kids and I have put this to the test over the last few months. Our Saturdays are usually spent travelling to various activities and clubs, meaning we have several hours of travelling in the car. Being able to download books for offline use really comes in handy for us. First, we listened to the classic Tales from the Arabian Nights, which I think I enjoyed more than the children did, but I've got that sense of satisfaction knowing they are expanding their imaginations during the car ride.
Next, I asked the kids to pick something they wanted to listen to and they chose The World's Worst Children by popular children's author David Walliams. Narrated by Walliams himself, my children thoroughly enjoyed listening to this audiobook and it was lovely seeing my youngest, eight, chuckling in the car seat next to me as he listened.
We're currently working our way through Michael Morpurgo's Eagle in the Snow, a gripping story inspired by the true story of one man who might have stopped World War II. The mental images invoked by this audiobook are so vivid I found myself startled awake at night dreaming of having our house bombed by German planes!
I've been doing a lot of travelling over these last few months. With two transatlantic trips and several overnight ferry crossings, I've been listening to Bookbeat audiobooks to help pass the time. If I am, to be honest, there was one incredibly ghastly ferry crossing where all I was able to do was to lie down, motionless with my eyes closed, and listen to Bernard Cromwell's The Last Kingdom.
Currently, I'm listening to Robin Hobbs' Assassin's Apprentice. This audiobook was recommended to me by my husband who listens to audiobooks at work. He's working his way through this series and has confessed that sometimes he really looks forward to going to work just so he can listen to the next instalment of the audiobook!
There is a wide range of audiobooks to choose from with Bookbeat, including the entire series of George R.R. Martin's A Song of Ice and Fire. If I hadn't already read these novels I'd be listening to them now.


However, I have noticed that there are not many new releases to choose from. I've been working my way through the Outlander series by Diana Gabaldon, which are not available via BookBeat. I'm currently devouring The Crow Girl by Erik Axl Sund, and although this Scandinavian crime thriller is available via other audiobook providers, it's not available via BookBeat. I'd have liked to have listened to this in the car today as I drive into town for an appointment..
Still, with close to 10,000 audiobooks available from Classics to Crime Thrillers, Children's to Romance, Biographies to Non-Fiction, there really is something for everyone. You can listen to your favourite novel while you drive in the car, while you do the ironing, the washing up, while you sit and knit in front of the fire. It's a great way to keep the mind occupied while your body is busy doing something else. I'm totally sold on the idea of listening to books now!
BookBeat have very kindly offered my readers the chance to try out their service for free for one month. Note, you do have to sign up with your credit card details to redeem this offer, but you can cancel at any time. No obligations.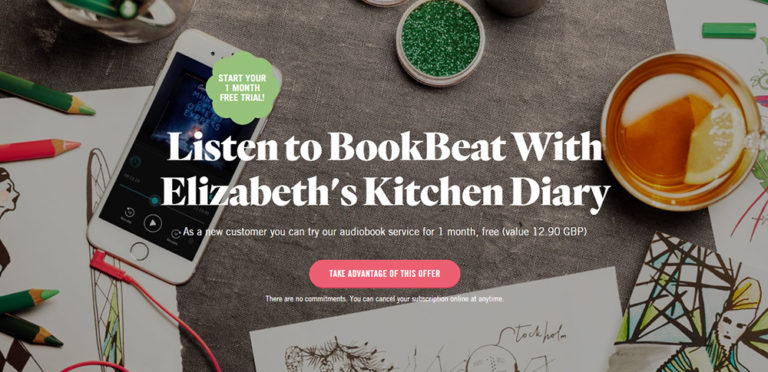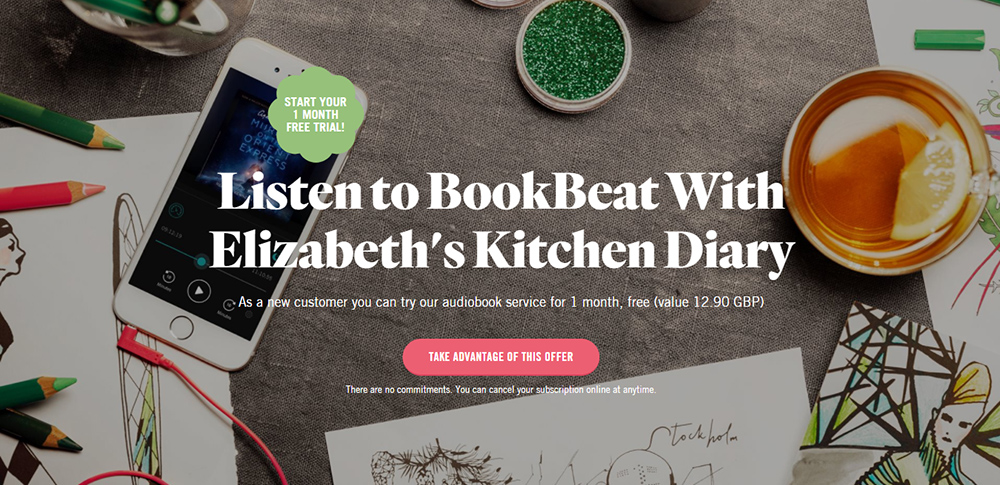 For more information visit the BookBeat website, and you can also find them on Facebook, Twitter and Instagram.
This is a sponsored post in collaboration with BookBeat, although all thoughts and opinions expressed are our own. Thank you for supporting the brands who make it possible for me to do what I love: mess up my kitchen and share recipe stories.