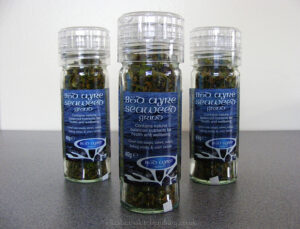 I am absolutely thrilled to have the opportunity to offer you, dear readers, your very own chance to win one of these three Böd Ayre Seaweed Grinders in my very first giveaway! Regular readers will be well aware that I am quite fond of including Shetland seaweed in my dishes, using it to enhance and enrich recipes including pasta and pesto to soups, ice cream and even a Norwegian gingerbread house! Böd Ayre Shetland Seaweed is one of my favourite local ingredients to work with and I'm delighted to have the chance to introduce it to you too!
A few days ago I enjoyed a cuppa and pleasant chat with the lovely and delightful Margaret, half of the dedicated husband and wife team who operate Böd Ayre in Vidlin, on the east coast of Shetland. Shetland is a remote archipelago north of the mainland of Scotland. Their premises are situated down a long and windy single track road with gorgeous views out over the clean, crisp waters of the North Sea.
Böd Ayre produce 100% organic edible Shetland seaweeds in a sustainable manner for both human and animal consumption. Their seaweed is grown in a seaweed cultivation farm on ropes just off the shore and they are deliberately not spored as to not upset the delicate ecosystem. Rather, they leave the ropes to spore naturally and carefully harvest the seaweed by hand, leaving the root and part of the plant to regrow. They also make a very successful liquid extract sold as a plant fertiliser, a perfect product for an organic garden.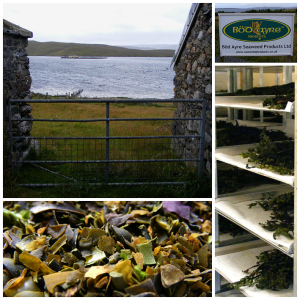 The main seaweed in Böd Ayre products is sugar kelp, with dulse, sea lettuce, Laminaria hyperboria and Fucus vesiculosis also making an appearance. Seaweed is a super food; it is naturally packed full of nutrients and boasts a whole range of antioxidant and other health benefits. Böd Ayre edible seaweeds are organically certified by SOPA, accredited by Safe and Local Supplier Approval (SALSA) and production approved by Food Safety.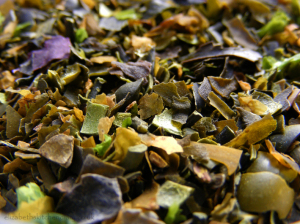 How to Enter
For your chance to win one of three Shetland seaweed grinders, kindly offered by Böd Ayre, enter using the Rafflecopter below. Come back and tweet about the giveaway every day for more chances to win!
Terms & Conditions
You will need to answer a question by leaving a comment on this post which then opens additional chances to enter the competition. Rafflecopter will pick three winners at random from the entries received. I will be verifying entries and any automated entries will be disqualified.
This giveaway is open to worldwide entries. Entrants must be age 18 or over. Winners will need to respond within 7 days of being contacted. Failure to do this may result in another winner being selected.
Prizes are offered and provided by Böd Ayre and Elizabeth's Kitchen Diary accepts no responsibility for the acts or defaults of said third party. The prize is one of three Böd Ayre Seaweed Grinders. There is no cash alternative and the prize is not transferable.
If you need some help using Rafflecopter, here's a quick clip to show you how.
Closing date is midnight on Monday 30 September 2013
Disclaimer: All opinions above are my own and I was not paid for this post.
a Rafflecopter giveaway