Keys-To-Go, the super slender, uber handy, ultra portable, fit anywhere, go everywhere keyboard.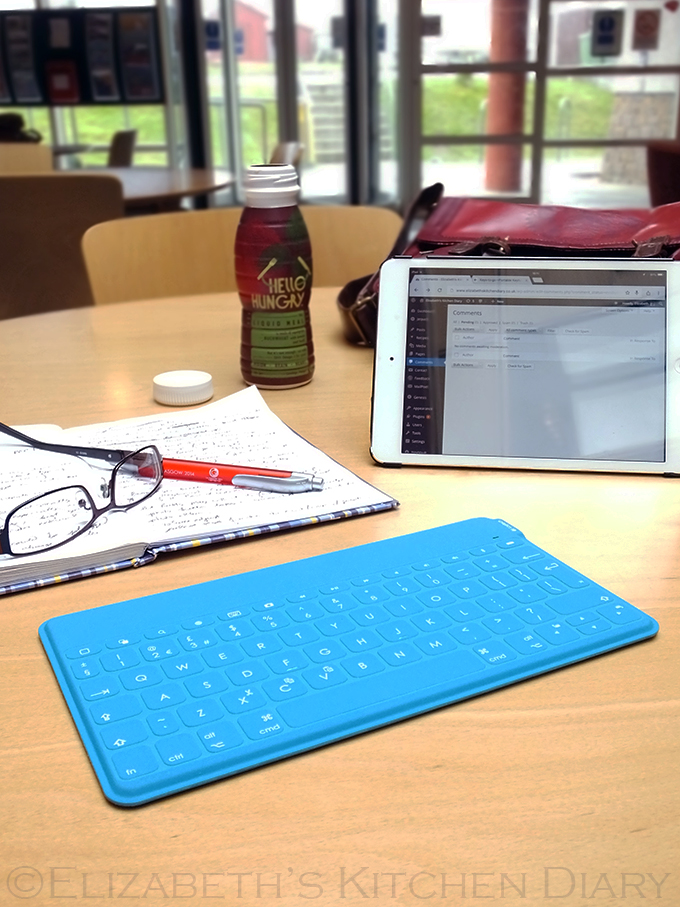 I never would have thought that once I'd finished my Open University Life Sciences degree that I would spend so much of my life typing. I thought my days of being given a topic and expected to write x number of words on it to a deadline were finished, but no!
As a freelance writer and food blogger I write… and I write a lot.
So, when the Logitech PR contacted me and asked if I'd like to try out one of their ultra portable keyboards I agreed. Anyone with an Apple device will know that the keypad is OK for typing out quick tweets or Instagram posts, but it's useless for emails or longer documents.
I opted for the Logitech Keys-to-Go for all generation iPads. I've got an iPad mini (something I won in a food photography competition a few years ago) and I wanted something sleek and small to carry along with it; something that would fit, comfortably, into my satchel.
The keyboard was remarkably easy to set up – it took all of about 60 seconds to open the packet, switch the keyboard on and sync it, via bluetooth, to my device and begin typing.
It's very thin (6 mm) and lightweight (180 grams), with a soft touch keyboard which is a pleasure to type on. It's silent – there are no clicking keyboard noises, ideal for when you're out in public, but you can feel the resistance of each key. It's waterproof, so it's ok if you accidentally spill your cup of coffee over it, it'll wipe clean no problem.
It comes with a micro-b to USB cable for charging, and as I don't carry a portable USB battery with me (ok, I do sometimes!) I think it would be convenient to have a micro-b to lightning cable so the keyboard could be charged off the iPad itself if needs be. Saying that, it only takes 2.5 hours to fully charge the keyboard, and this will last 360 hours (2 hours per minute of charge!) and if you forget to switch it off it automatically goes into sleep mode after 2 hours.
It takes some time to get used to the fact that you're not able to scroll across the screen like you can with a laptop mousepad, but iPad apps are designed for touch, so you need to get used to the different controls.
There are a lot of shortcuts on the keyboard – if you've got different language keyboards installed on your device, a click of a button on the keyboard will change between them. Another button will take a screen shot, there are buttons to adjust volume and a select text function to cut, copy and paste. All pretty handy!
All in all I'm really impressed with the Logitech Keys-To-Go keyboard, and it's permanently kept in my satchel unless I'm using it.
The Logitech Keys-to-go retails for £54.99 and it is available in teal (pictured above), black or red.
If you want to be kept up to date on my recipes, occasional craft tutorials, adventure stories and giveaways then please subscribe to my weekly newsletter; it gets sent out every Monday morning if there is new content. Your email address won't be passed on to anyone, you will never be spammed and you are free to unsubscribe at any time, no questions asked. Make sure you confirm your subscription or you won't receive the newsletter – if it hasn't arrived check your junk mail folder.
[wysija_form id="1″]
Elizabeth's Kitchen Diary was sent a Logitech Keys-to-Go keyboard for review purposes. All opinions expressed are our own. This is not a paid post.