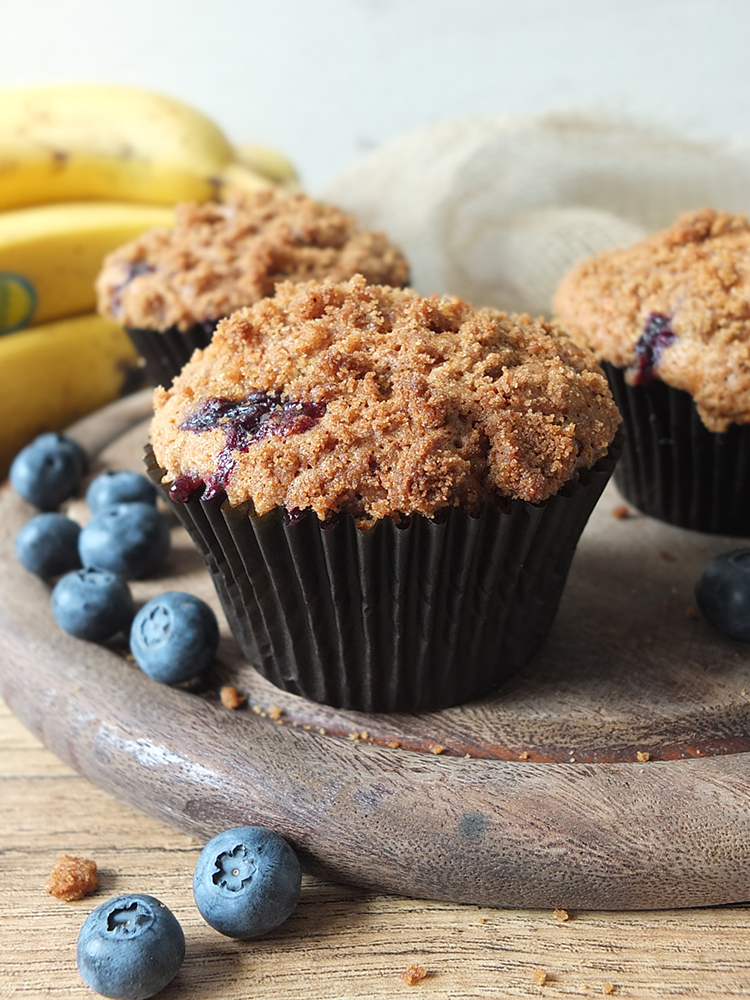 The wandering traveller has returned home, for the foreseeable future – or at least until the wanderlust strikes again! I'm home now from a week's camping in Norway (It was heaven! A blog post will follow soon!) which followed our family trip to Brussels that was close on the heels of my epic two week bikepacking trip through the highlands of Scotland (again, blog posts will follow once I get the time to sift through all the photos and write about them!). So many different places in such a short space of time. So much seen!
It's been a summer of adventure, that's for sure!
I'm home now, back in the comforts of my own kitchen and faced with a fruit bowl filled with incredibly over ripe bananas.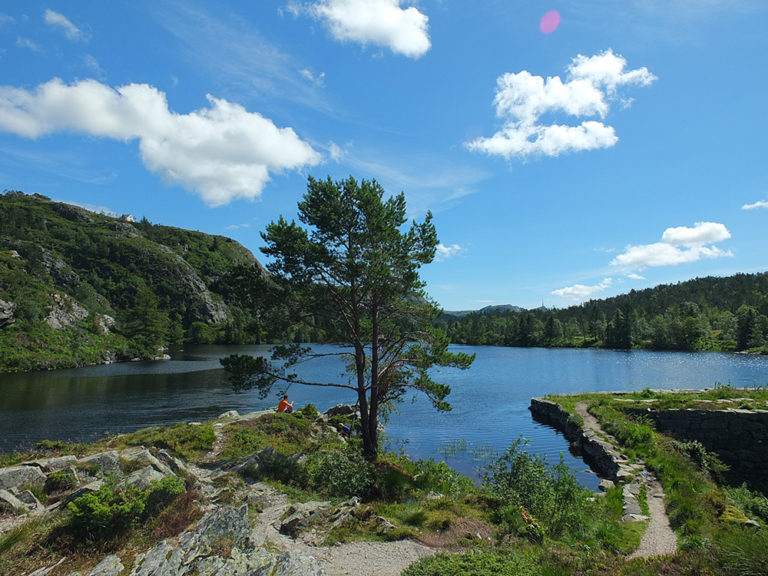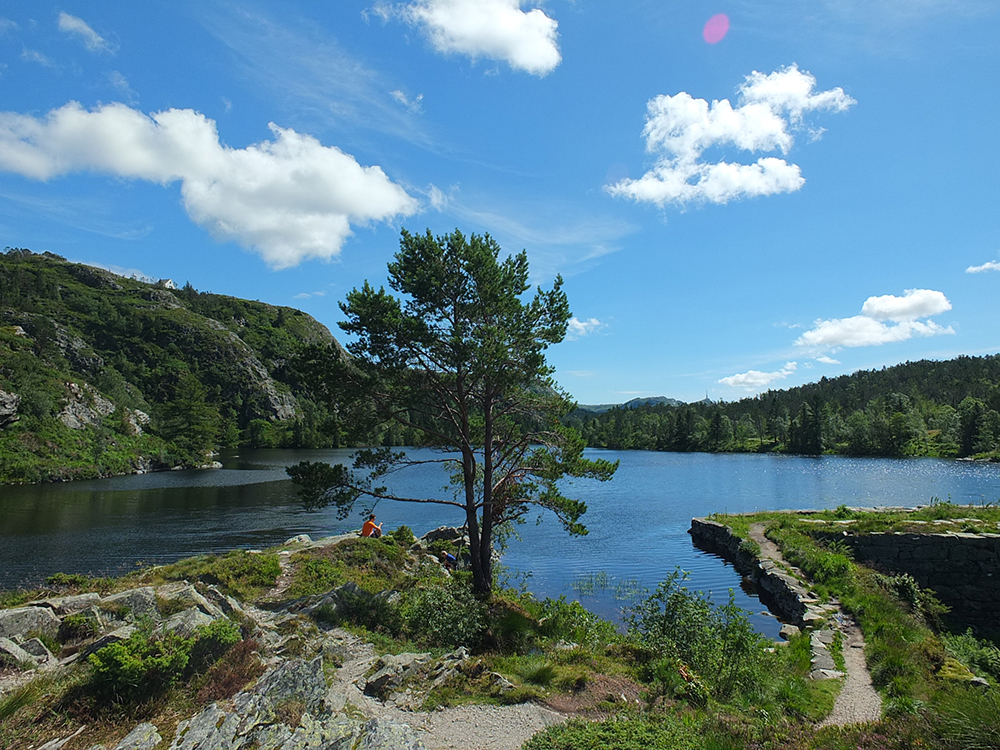 But first, a little bit about Bergen.
It rained there, a lot. I was rained on 5 days out of the 7 I spent there – apparently it's been the worse summer for rain in Bergen since 1929. So, when the sun shone brightly one morning, and stayed in the sky for the full day, I headed to the mountains just outside the city for a spot of hiking.
It was sweltering with heat and I was sorely tempted to take a dip in Storevatnet lake on Sandviksfjellet mountain, pictured above. This place was one of the most beautiful places I have ever been to.
The hill you see to the left, above, was covered in wild blueberries. I haven't seen wild blueberries since my Canadian childhood! Aah, so many summers of my youth spent picking blueberries – one for the bowl, ten for me. It was slow going in the summer sun.
I still had blueberries on the brain when my husband and children collected me from the airport (during the summer months there's a direct flight from Shetland to Bergen), so I popped a big packet of them into our supermarket trolley en route home. Shop bought are never as good as wild, but they'd do.
When faced with a mountain of over ripe bananas and these blueberries I quite fancied making blueberry banana muffins, and I found a lovely sounding recipe for banana crumb muffins in a recipe notebook my grandmother sent me, so I tweaked it a bit, UK-ifying the measures and adding a generous portion of juicy blueberries.
A wholly successful endeavour.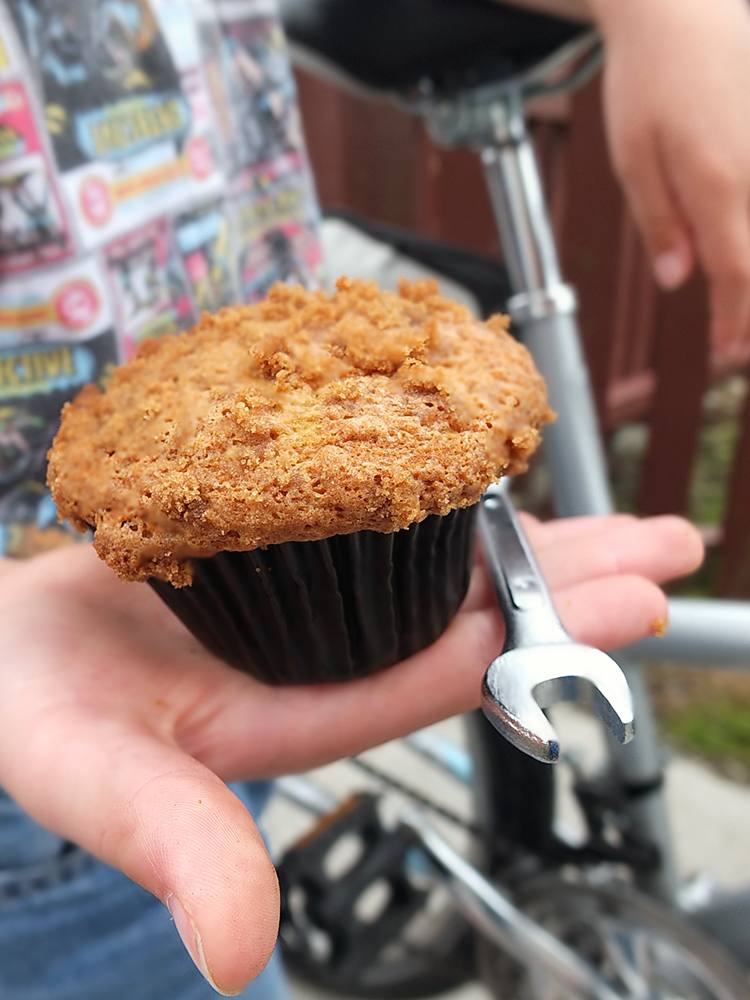 As an aside – my bike is broken and I'm currently off road. Thanks to the ScotRail strike in June which forced my travelling companion and I to alter our plans (and for us to miss the flying lessons I had booked in Perth! *shakes angry fist at ScotRail*) we were forced to either a) cycle from Fort William to Aberdeen to catch the ferry home (after cycling 400 miles and climbing Ben Nevis we weren't keen on this option) or b) find an alternate way to get to Aberdeen. None of the car hire places in Fort William offer one way car hires, so the bus it was.
To cut a long story short (*shakes angry fist at CitiLink and their cycle-unfriendly policies)(*HUGE thanks to Stagecoach who know how to treat their customers*) we had to disassemble our bikes and wrap them in layers of black bin bags and duct tape before we were allowed to put them in the underbus storage on the CitiLink bus. The bashing about underneath has caused some damage to the gear derailer and it doesn't work any more. Tweaking has made it worse and now the bike is unrideable. It's got a date with the Shetland Community Bike Project today, so I should hopefully be back on the road soon!
Pictured above, our youngest son (age 7), taking a muffin break while trying his best to fix the derailer for me, bless his cotton socks.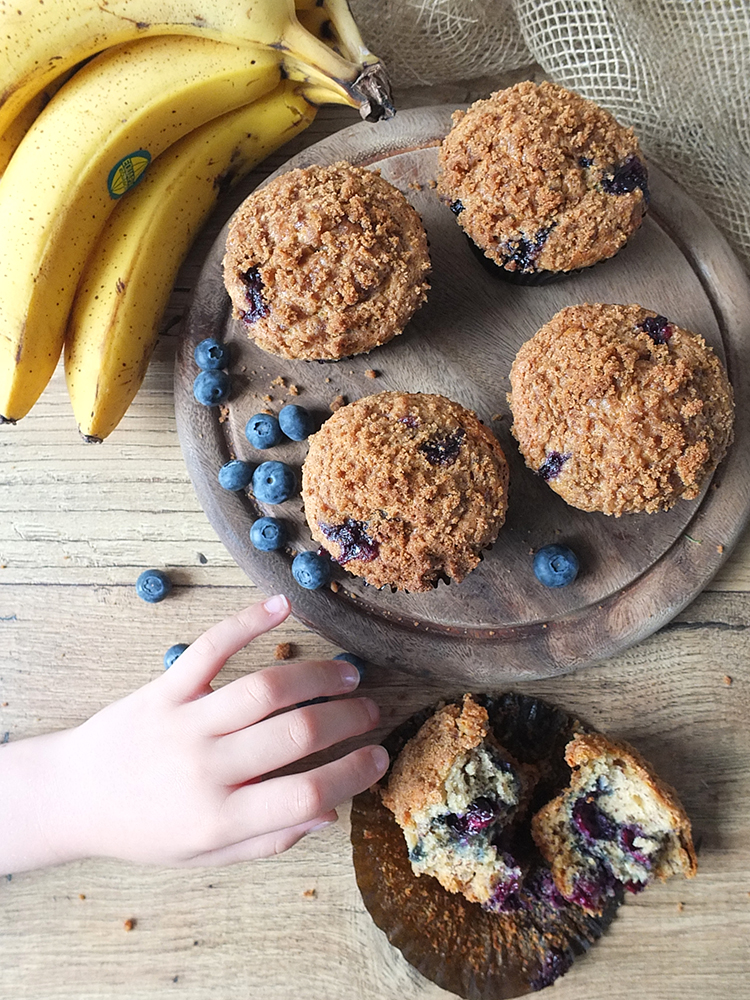 The generous sized muffin (we all like a big breakfast muffin, right?) are incredibly soft and moist with little bursts of blueberry throughout. The cinnamon scented streusel topping adds a lovely crunch texture and appetite stimulating aroma to the muffin.
All in all, they're a pretty fantastic muffin if I do say so myself, and they didn't last long in our house!
How do you use up over ripe bananas? Let me know in the comments!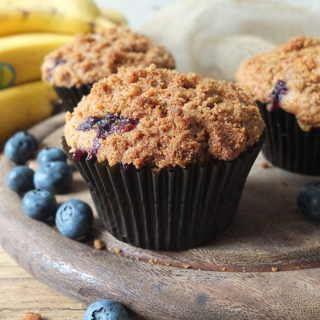 Banana Blueberry Streusel Muffins
A delicious way to use up those over ripe bananas; perfect for breakfast with a coffee!
Print
Rate
Affiliate Links
This recipe card may contain affiliate ingredient and equipment links. As an Amazon Associate I earn from qualifying purchases.
Instructions
Preheat your oven to 375 F/190 C/ 170 C fan and place large paper cases in a 12 hole muffin tin.

Sift together the flour, bicarbonate of soda, baking powder and salt and set aside.

Mash the banana in a separate bowl and add the cooled melted butter and egg and mix well.

In a third bowl, toss the fresh blueberries with two spoonfuls of the flour mixture to coat.

Add the banana mixture to the flour mixture and stir with a wooden spoon until just combined. Fold in the blueberries with any flour that might be remaining in the bottom of the blueberry bowl.

Spoon into the prepared muffin cases.

To prepare the streusel topping, combine the sugar, flour and cinnamon together and rub in the butter until the mixture resembles coarse bread crumbs.

Generously sprinkle the streusel topping over each muffin and bake, in the centre of the oven, for 20 - 25 minutes. A skewer inserted into the centre will come out clean.

Transfer to a wire rack to cool completely, or eat warm for breakfast with coffee!
Environmental Information
OTHER RECIPES TO USE UP OVER RIPE BANANAS
3 Ingredient 100 Calorie Chocolate Fudgesicle by Elizabeth's Kitchen Diary
Chocolate Banana Cardamom Muffins from The Hedgecombers
Pineapple, Banana and Chocolate Flapjacks by Tinned Tomatoes (vegan)
Healthy Banana Bread by Little Sunny Kitchen
Black Banana and Chocolate Chip Bannocks by Foodie Quine
Banana Weetabix Blueberry Muffins by Elizabeth's Kitchen Diary
Roasted Banana & Cream Ice Lollies by Kavey Eats
Spiced Banana and Orange Milkshake by Coffee & Vanilla
Vegan Banana Bread by Elizabeth's Kitchen Diary
Banana Pudding by Fab Food 4 All
Streusel Topped Banana Bread by Family Friends, Food
[wysija_form id="1″]