One batch, twelve flavours, in collaboration with Crock Pot.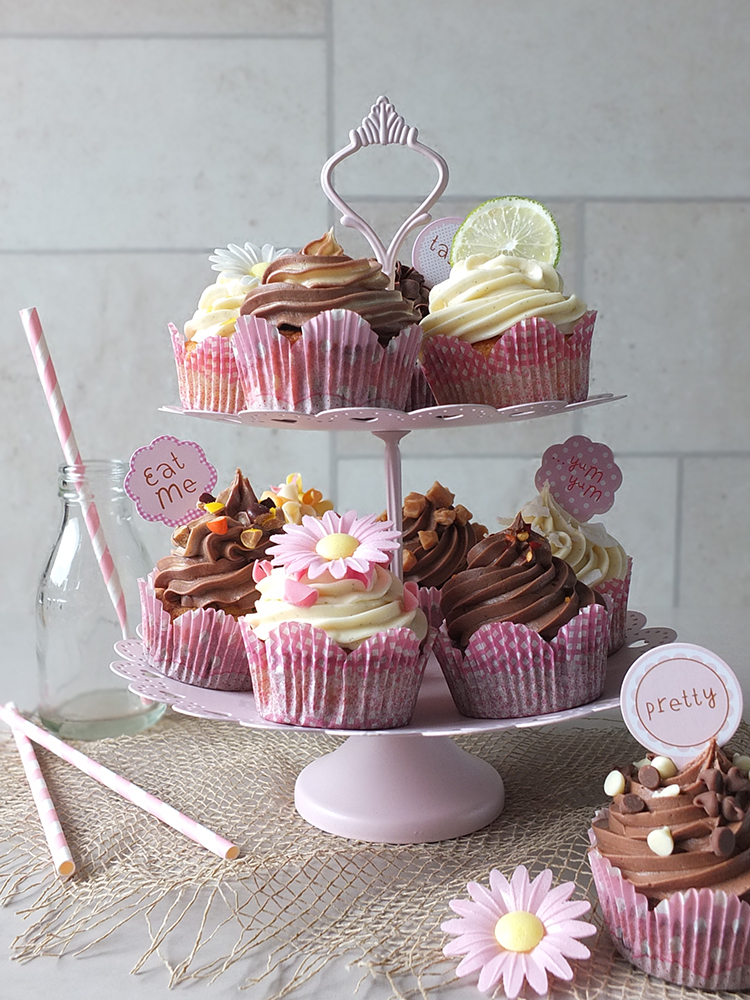 I do love a good cupcake, me. What's better than a good cupcake? A selection of good cupcakes! Who has the time though (or the waistline) so make six or twelve dozen cupcakes to get a variety of flavours to serve at an afternoon tea party.
Why not make one batch with twelve different flavours?!
Ok, I admit, this probably takes just as long to make as it would to make a dozen different cupcake recipes, but it's jolly good fun, and there's loads of different cakes to eat too! Win!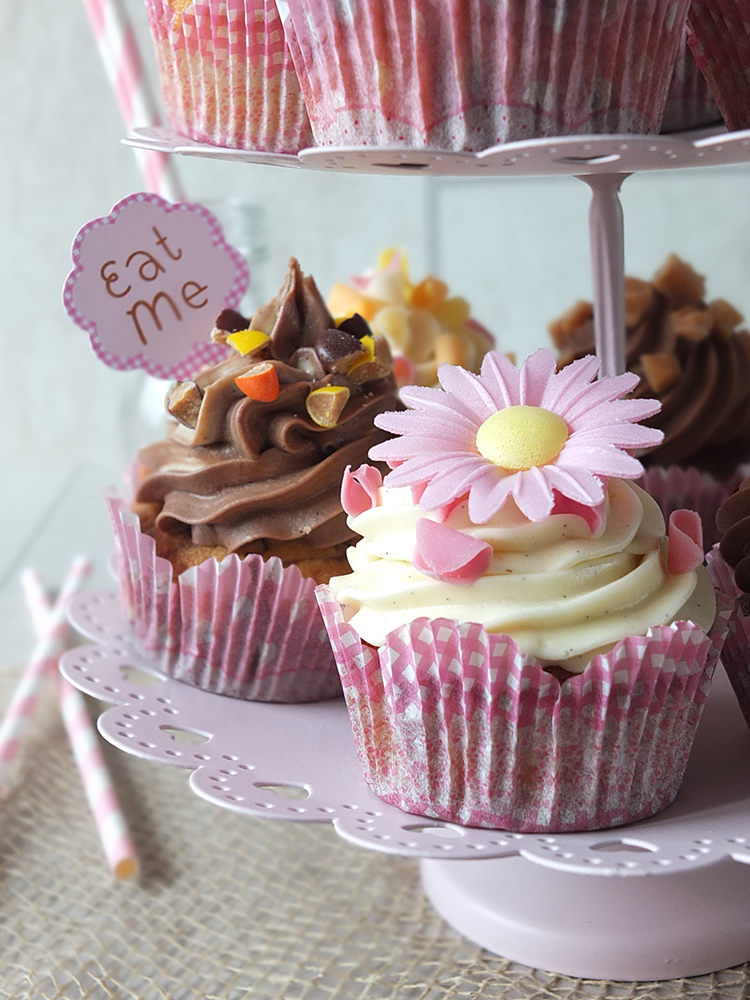 Every Autumn Crock Pot hosts a #Crocktober campaign, a social media drive highlighting the versatility of slow cooking. This Crocktober their social campaign is created around interesting 'Weekender' ideas – themed recipe suggestions featuring a slow cooker recipe.
I was asked to come up with a selection of cupcake recipes for an afternoon tea, and despite a few failed attempts at making cupcakes in my trusty Crock Pot (although the Internets assures me it can be done!), I opted for the oven. I do love my Crock Pot, mind – it's great for slow cooking stews and meats. Proper Autumnal comfort food. Minimal effort. What can be better than that?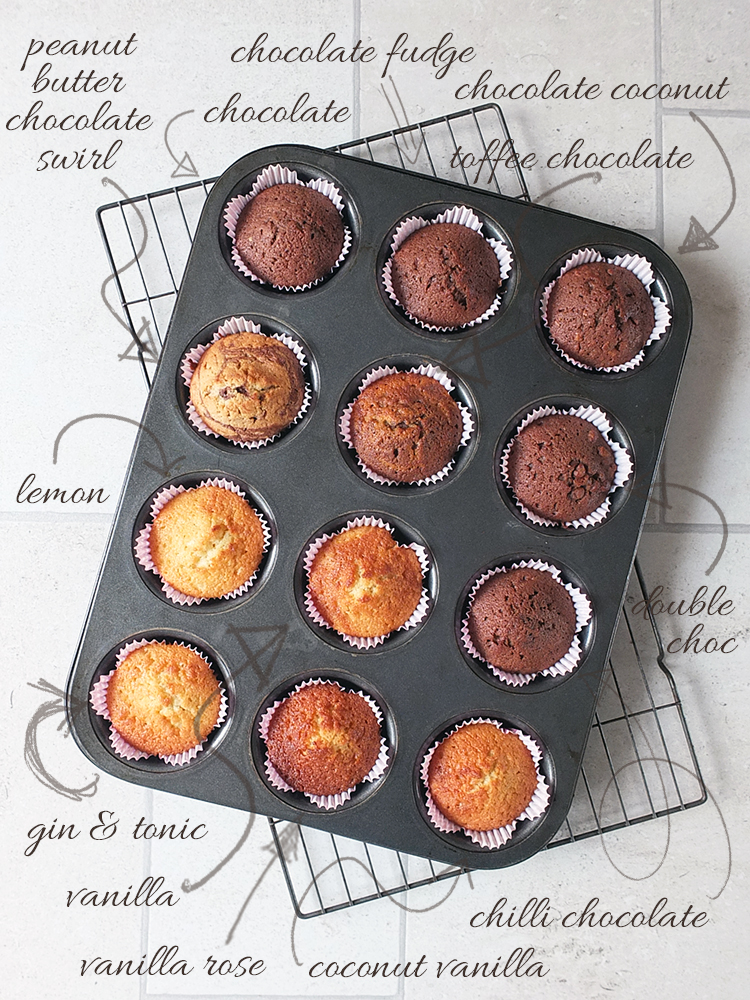 So yes, back to the cupcakes!
One recipe, twelve different flavours. The batter itself is really simple to make – it's a basic fairy cake recipe divided into half, and one half of it is flavoured with chocolate. When you start with this the possibilities are endless – simply divide each half into sixths and flavour each sixth as you desire – I've gone with some of my own personal favourites. Weighing out your batter in advance makes this job a lot easier, and ensures all your cupcakes will be the same size.
You can even combine a flavoured vanilla with the chocolate batter for a swirl effect. Simply spoon into the prepared case and swirl together with a toothpick.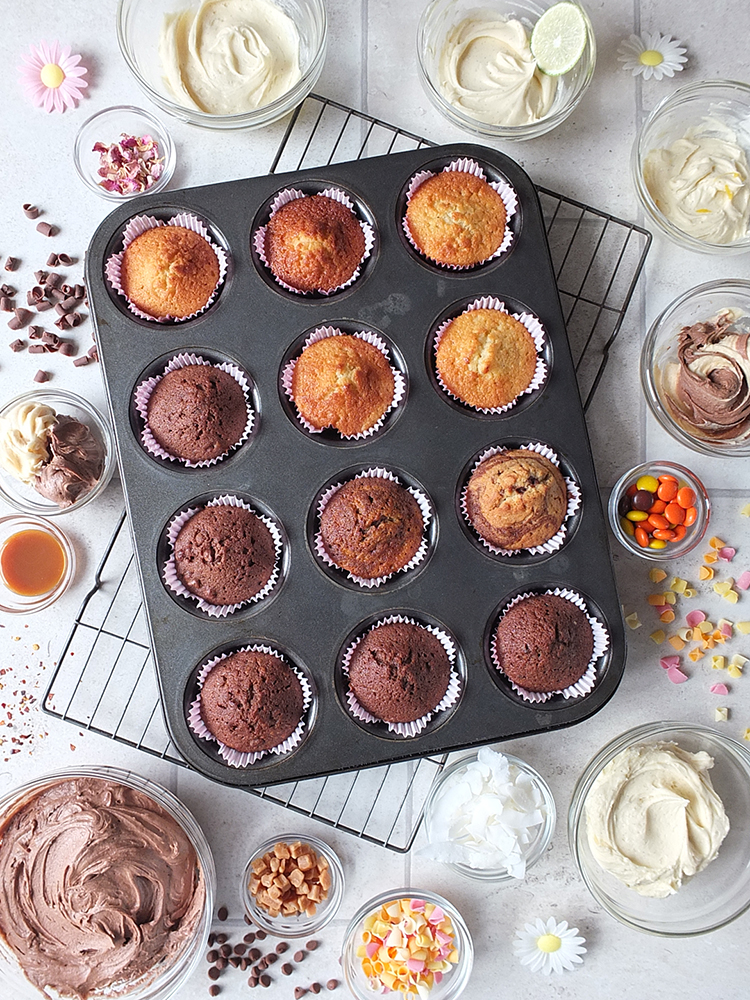 It's the frosting and decorating that takes awhile. To make life easier you could just either frost with chocolate or vanilla frosting, but I've gone the extra step and I've flavoured several of the cupcake frostings individually to complement their cake base. For example, a wee splash of gin in the gin & tonic variety, a little dash of rose syrup in the vanilla rose, a swirl of peanut butter flavoured frosting in the peanut butter chocolate swirl recipe, etc.
Or, don't use a piping bag (as you've got to remove and wash the nozzle between each cupcake!). Simply spread on with a palette knife and decorate as desired.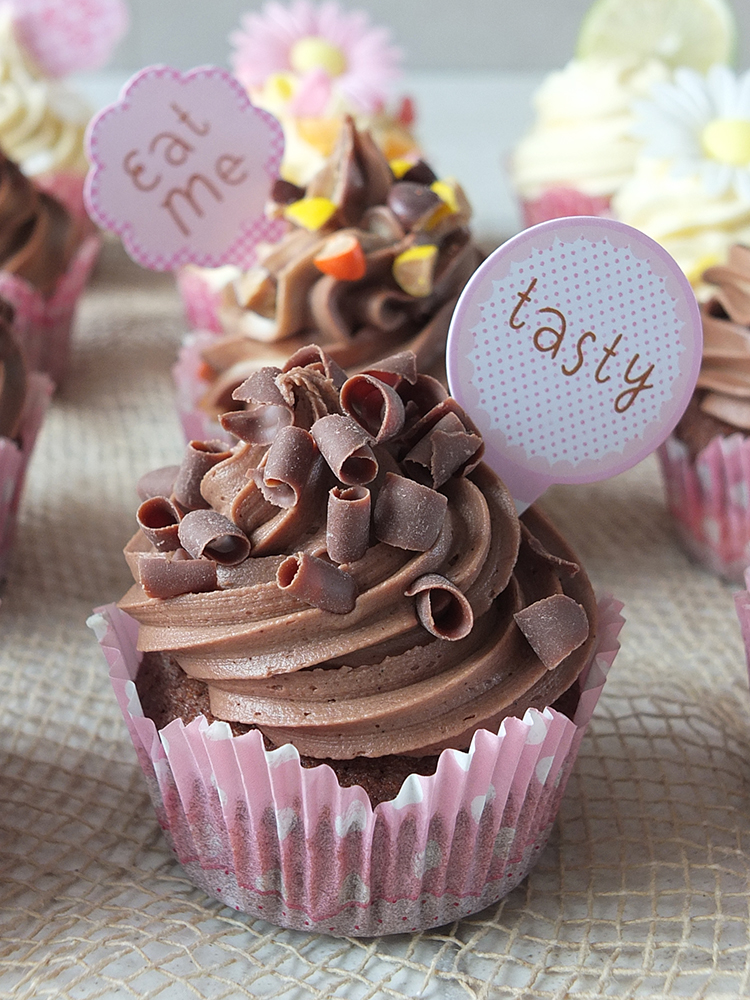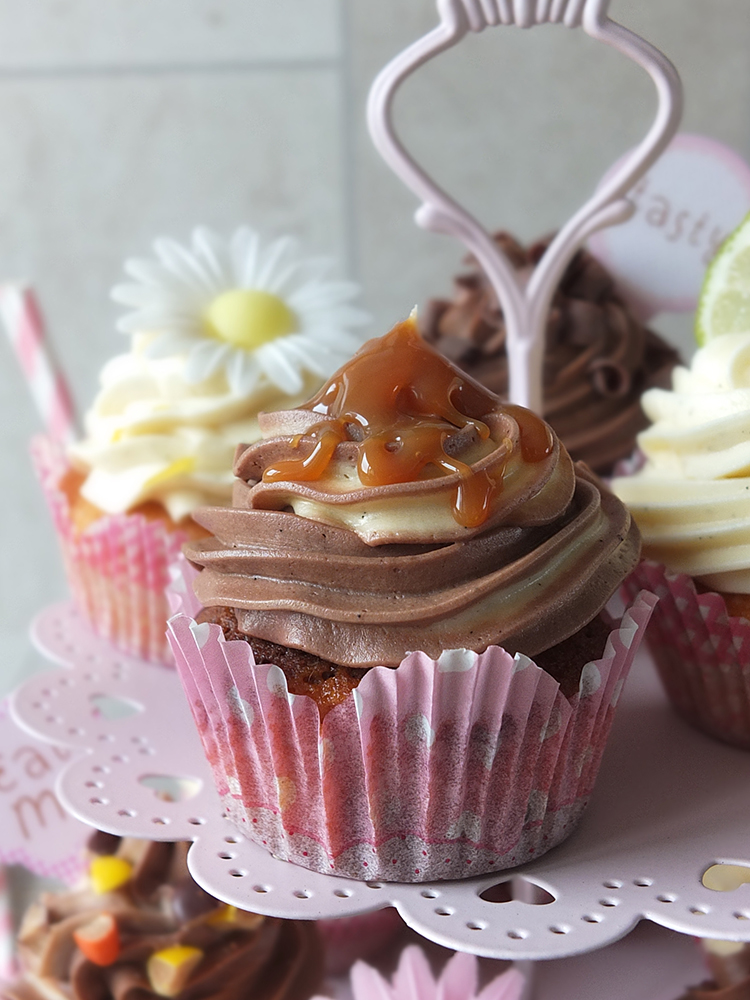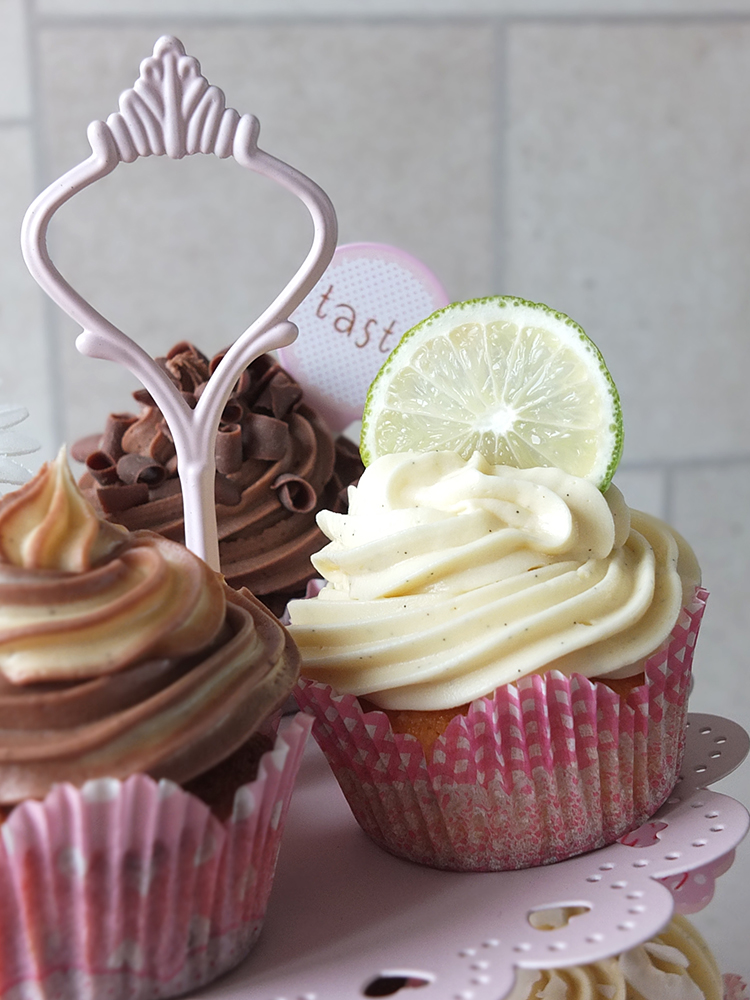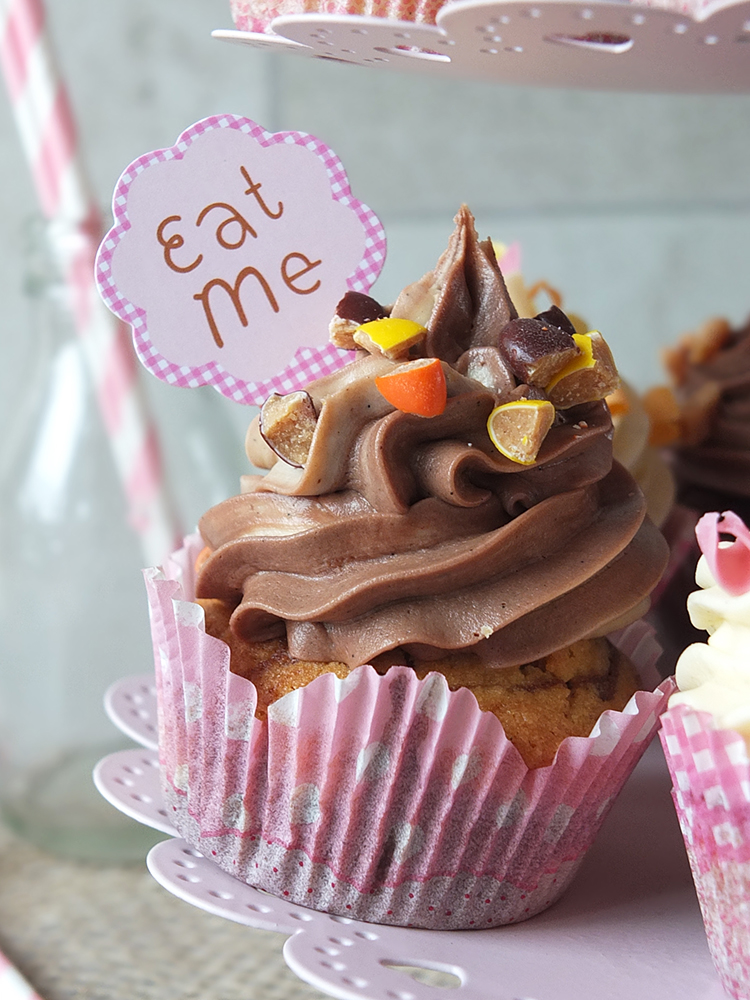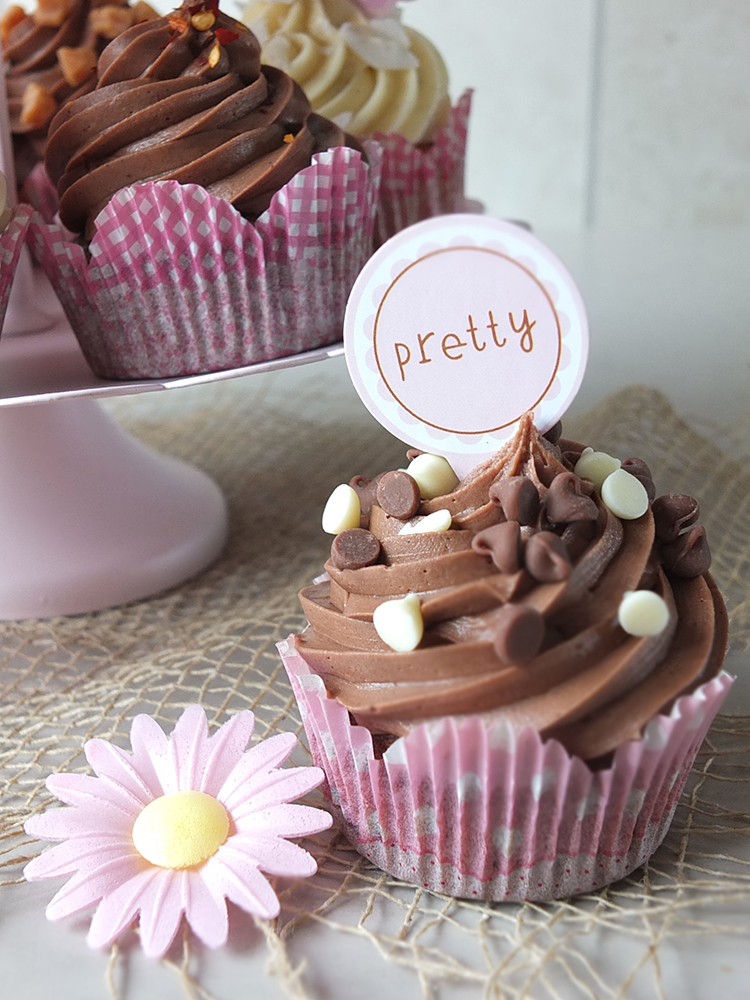 So what do you think of my cupcake ideas? I think they're perfect for an afternoon tea party, or even a birthday party, as long as you don't mind spending an afternoon pottering about in the kitchen playing with flavourings.
Follow CrockPot on Facebook, Pinterest and Instagram for recipe inspiration – they'll be rolling out some rather fantastic Weekender Ideas during #Crocktober!
What's your favourite cupcake flavour? Let me know in the comments!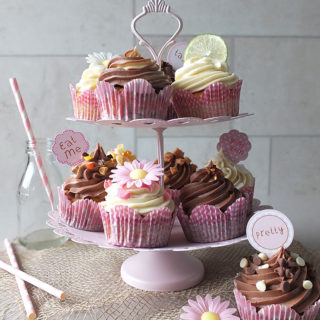 A Selection of Cupcakes for Afternoon Tea
One recipe, twelve different flavours.
Print
Rate
Ingredients
Affiliate Links
This recipe card may contain affiliate ingredient and equipment links. As an Amazon Associate I earn from qualifying purchases.
Instructions
Preheat your oven to 200 C and line a 12 hole muffin tin with paper cupcake cases.

Weigh your mixing bowl and keep a note of the number.

Cream together the butter and sugar until light and fluffy. Add the egg and vanilla and beat well.

Sift in the flour, add the milk and beat until well combined.

Weigh your mixing bowl with the batter in it, and divide the mixture equally in half. You should have two bowls with approximately 250 grams of batter in each one.

Add the cocoa powder to one half to make the chocolate batter.

For the chocolate, double chocolate, chilli chocolate, chocolate fudge and coconut chocolate flavours, measure out 1/6th of the final weight of your chocolate batter into a small bowl - approximately 40-42 grams of batter - one at a time, adding each of the flavourings before spooning into the prepared baking case. Take a note of where you've placed each flavour - jotting down a diagram helps.

For the gin & tonic, lemon, vanilla rose, vanilla and vanilla coconut flavours measure out 1/6th of the vanilla batter and add each of the flavourings one at a time. Spoon into the prepared baking cases.

For the peanut butter chocolate swirl flavour, measure out 25 grams of vanilla batter and stir in the peanut butter. Drop in small spoonfuls, along with 20 grams of chocolate cupcake batter into the prepared cupcake case. Swirl using a toothpick. Repeat for the toffee chocolate flavour.

Bake for 15-20 minutes until light golden and well risen. Transfer to a wire rack to cool completely.

Prepare your frosting by beating together the butter, icing sugar, vanilla and 4 tbsp double cream together. Divide the mixture evenly in half (weighing it out makes this so much easier) and add the cocoa powder and another tbsp of double cream to one half.

Measure out three 70-75 gram bowls of vanilla frosting. Add the gin & lime zest to one, the lemon juice to another and the rose syrup to the third. Pipe over the top of their respective cupcakes and decorate with a lime slice, lemon zest and pink chocolate curls. Frost the coconut vanilla and plain vanilla cupcakes with 70 grams of frosting and decorate.

Measure out two small bowls of 40 grams of chocolate frosting and set aside. Frost the chocolate, double chocolate, chilli chocolate, chocolate fudge and coconut chocolate flavours with the remaining icing and decorate with their respective decorations.

For the swirled frostings, add the peanut butter to 25 grams of vanilla frosting and swirl with one of the 40 gram bowls of chocolate frosting. Decorate with chopped American peanut butter candies. Repeat with the toffee swirl frosting, and topping with a drizzle of toffee sauce.
Environmental Information
OTHER CUPCAKE RECIPES YOU MIGHT LIKE
Chocolate & Chilli Cupcakes by Elizabeth's Kitchen Diary
Rose Buttercream Plant Pot Cupcakes by Emily's Recipes & Reviews
Chocolate & Vanilla Cupcakes by Elizabeth's Kitchen Diary
Sloe Gin Cupcakes by Jen's Food
Dark Chocolate & Bourbon Vanilla Steampunk Cupcakes by Elizabeth's Kitchen Diary
Chocolate Chai Masala Cupcakes by Tin & Thyme
Salted Caramel Apple Cupcakes by Elizabeth's Kitchen Diary
Vegan Carrot Cake Cupcakes by Planet Veggie
S'mores Cupcakes by Elizabeth's Kitchen Diary
SHARING WITH SOME LINKIES
Recipe of the Week by A Mummy Too
This is a commissioned recipe. Thank you for supporting the brands who make it possible for me to do what I love: mess up my kitchen (in this case big style!) and share recipe stories!
[color-box]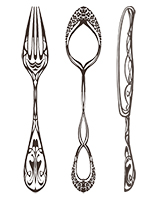 Have you made this recipe?
Take a photo and tag @tangoraindrop or use the hashtag #elizabethskitchendiary and share on Instagram and Twitter. It would make my day to see your creations!
[/color-box]