"'Triple A' emphasises the eccentric phase of each exercise to keep the muscle under tension for an extended period of time while training. This will help you redefine your arms, abs, and (ahem) a**." Here, we try out Day 4 of A Little More Obsessed by Autumn Calabrese: AAA (45 minutes).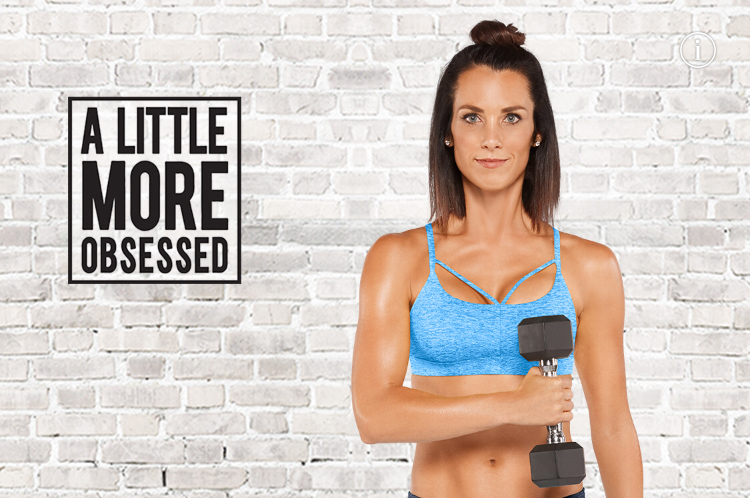 New year, new resolutions, right? Like many others, I'm wanting to embark on a new fitness routine. I have one last stone (14 lbs) that I want to lose, and this year I want to reach and maintain, my pre-pregnancy body weight.
This year I will do it!
I'm bored of doing the same old workouts over the last few years (Tony Horton's P90X, P90X3and his 22-Minute Hard Corps). I've just finished the Hell Week from the 22 Minute Hard Corps, and while browsing the Beachbody on Demand app I found the newly released A Little More Obsessed workout by Autumn Calabrese. I thought I'd give this six-day workout, with each day targetting a different area a go while reviewing my experience/progress on the blog.
I've already blogged my experience with Day 1: Total Body Core, Day 2: Legs, and Day 3: Cardio Core. Today I'm sharing my experience with Day 4: AAA.
Each series in this workout consists of four moves with ten reps, repeated three times.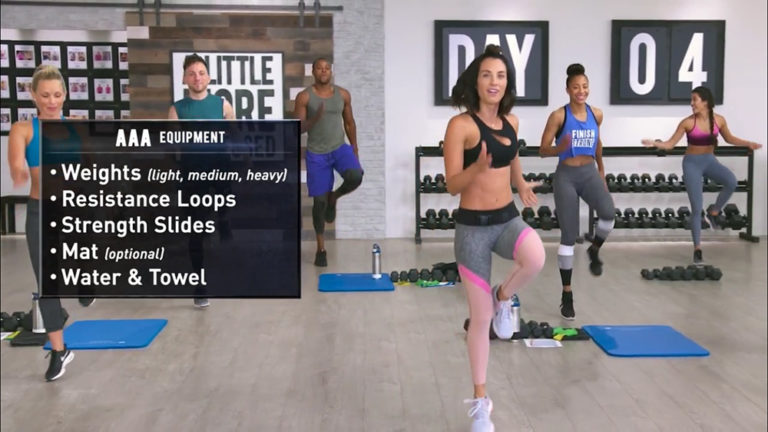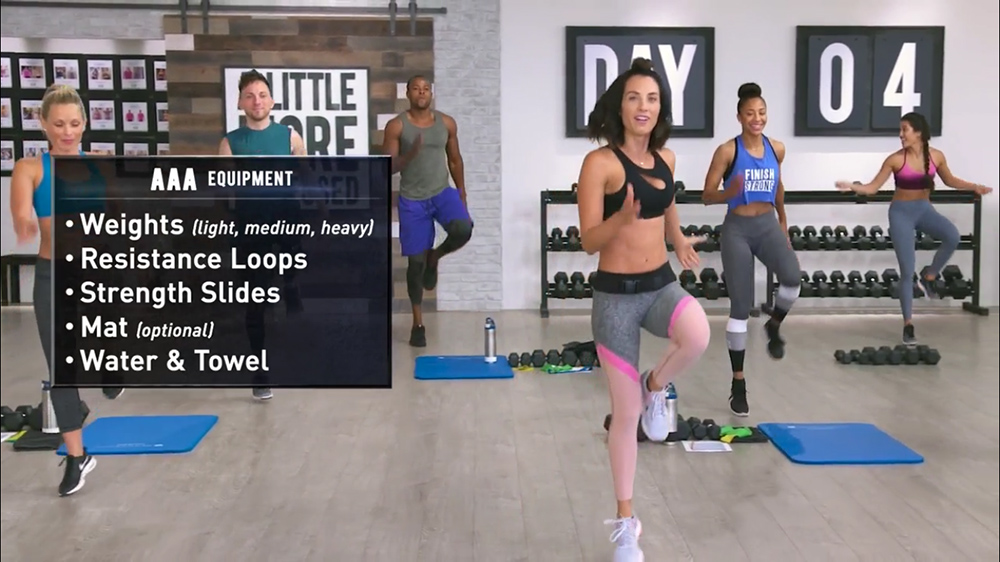 WHAT EQUIPMENT IS NEEDED FOR A LITTLE MORE OBSESSED DAY 4?
weights
resistance loops
strength slides
mat
water & towel
[amazon_link asins='B0785M5J33,B00MNJSZSA,B01C9NXXTK,B008JFLUCA' template='ProductCarousel' store='elizskitcdiar-21′ marketplace='UK' link_id='841e1b0f-1280-11e9-aa67-8f882731fd67′]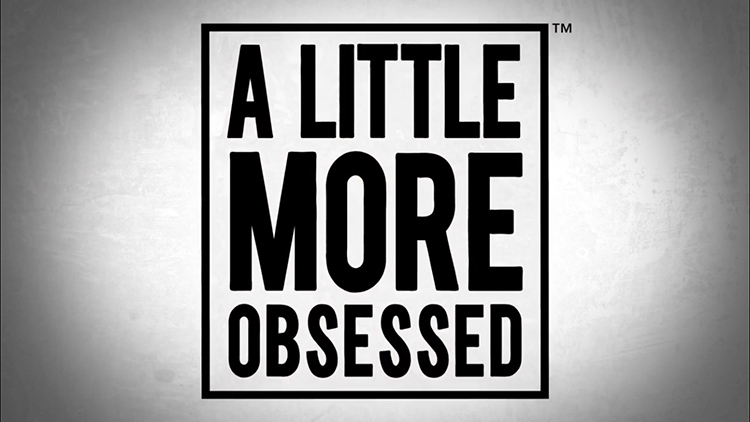 A LITTLE MORE OBSESSED: DAY 4 – AAA WORKOUT PLAN
A LITTLE MORE OBSESSED DAY 4: WARM-UP
Lateral Travelling High Knees
Butt Kicks, High Knees
Marching Torso Rotation
Around the World
Cow and Cat
Hug Yourself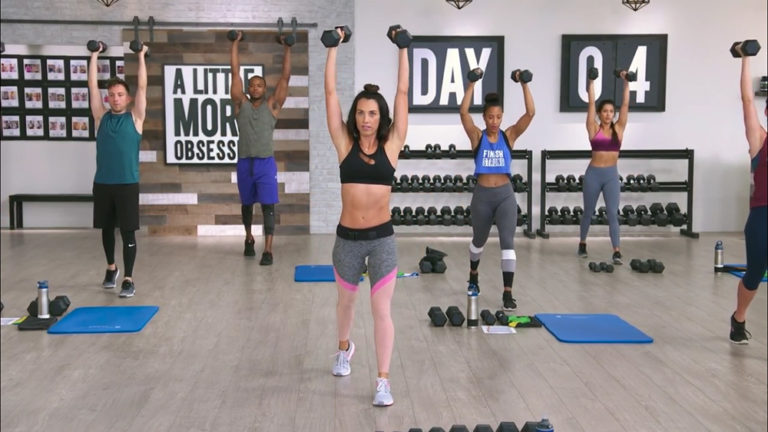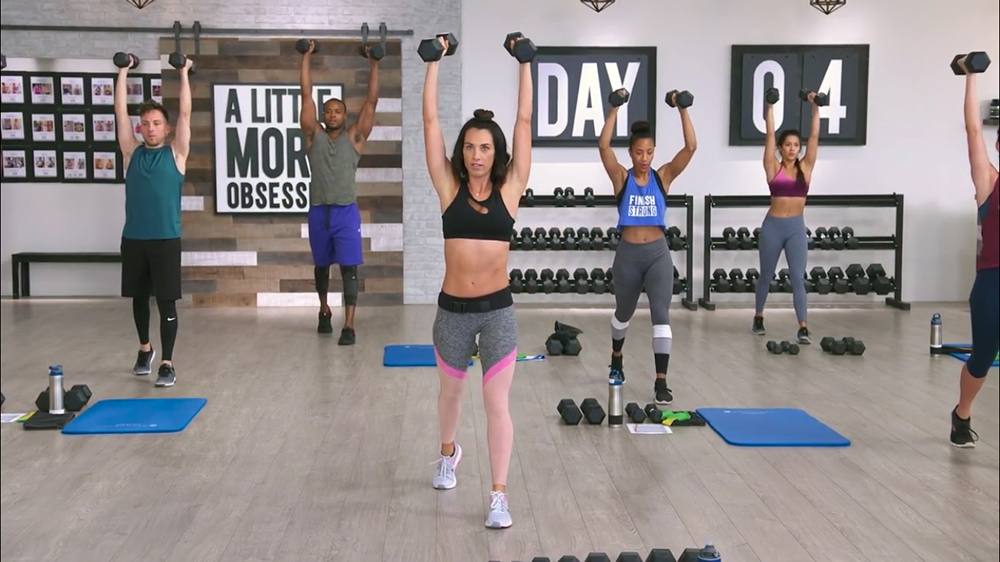 A LITTLE MORE OBSESSED DAY 4 – SERIES 1
Lunge Press x 10
L Raise x 10
Candlestick x 10
Athletic Hinge Pulse x 10
Repeat each set THREE TIMES.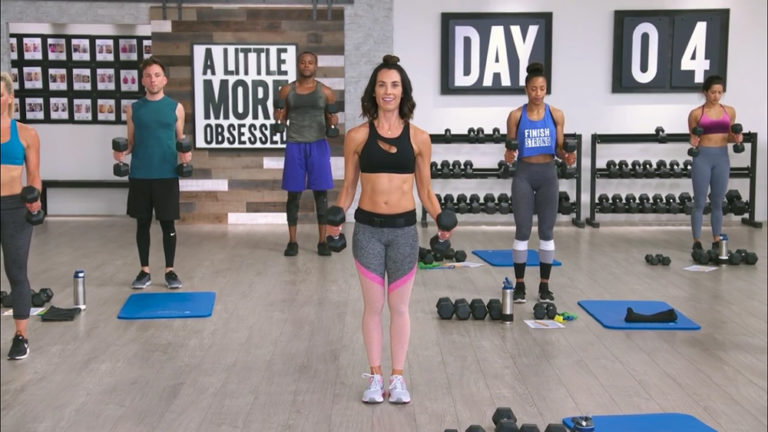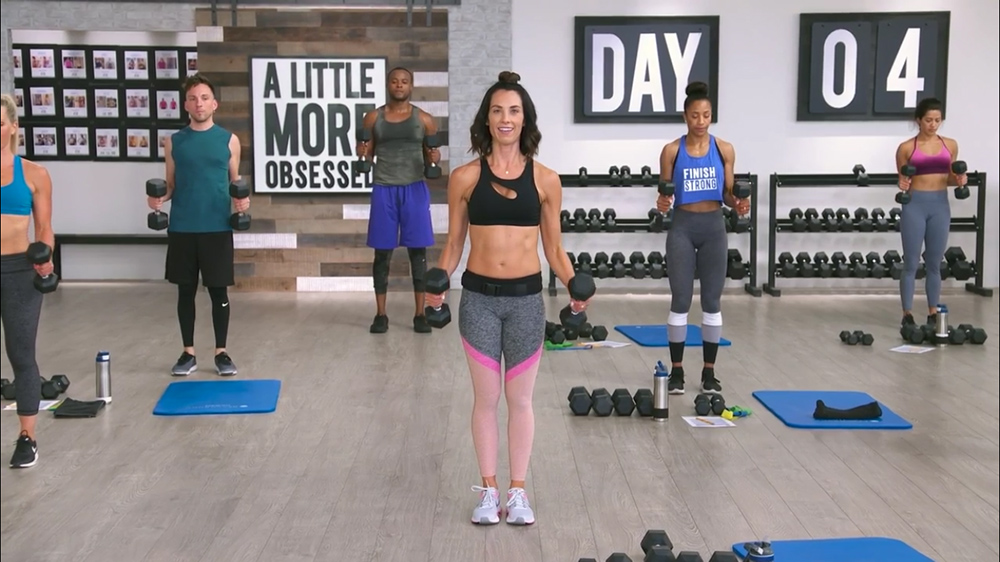 A LITTLE MORE OBSESSED DAY 4 – SERIES 2
Single-Leg Bridge with 1-Arm Pullover x 10
Hammer Curl x 10
Boat Pose Russian Twist x 10
Quad Ped Donkey Pulse x 10
Repeat each set THREE TIMES.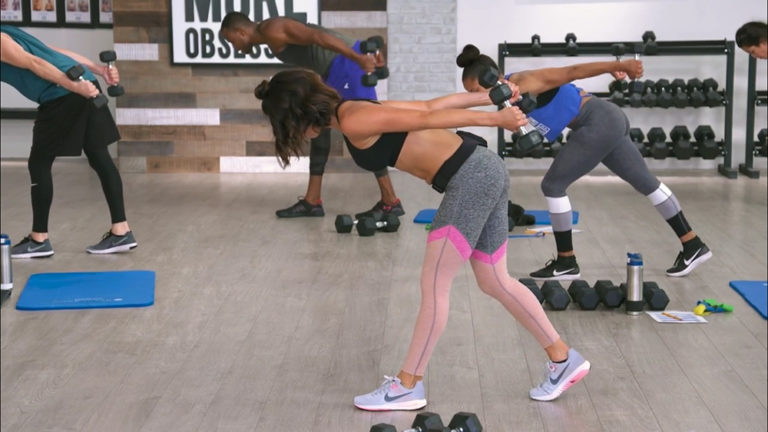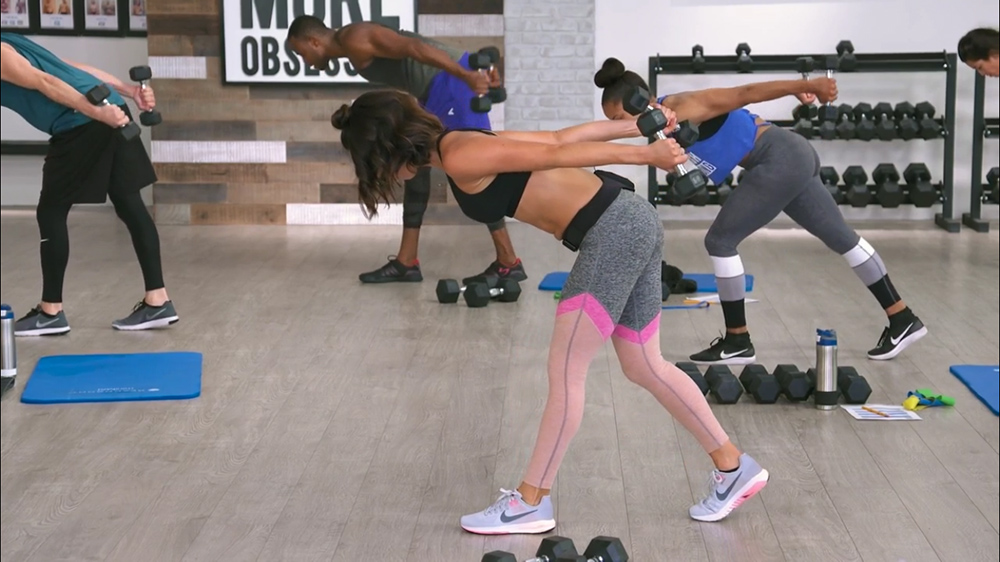 A LITTLE MORE OBSESSED DAY 4 – SERIES 3
Bridge Chest Press x 10
Lunge Triceps Kickback x 10
Plank Hip Dip x 10
Superman Glute Pulse x 10
Repeat each set THREE TIMES.
Cooldown & stretch.
A LITTLE MORE OBSESSED RESULTS: DAY 4: AAA
I actually really enjoyed this workout. It was a gentle weight exercise with some new-to-me moves that I could actually feel. The following morning (at the time of writing) I can feel a nice muscle ache in my inner thighs and my triceps, which is good. It did get a bit repetitive doing the same moves three times though.
It only burned 190 calories, which is better than nothing, I suppose, but for 45 minutes of effort, I want a bit more burn for my time, if you know what I mean.
The next morning: the scales dropped 1.3 lbs, and this is despite going into a grump and eating back all of my calories that day (no calorie deficit)! Weight loss total since I started the program = 1kg/2.2 lbs; BMI down by 0.4% (as measured by my Eufy BodySmart Scale), body fat percentage down by 0.6%, muscle mass up by 0.2%.
Tomorrow is Day 5: Booty.
PIN A LITTLE MORE OBSESSED DAY 2 WORKOUT PLAN & REVIEW FOR LATER!
This is not a paid post and I am in no way affiliated with Beachbody on Demand. All these photos are screenshots from my iPhone app. I'm just a gal trying to feel fab in a bikini. Amazon links are affiliate links, which means if you click through and make any subsequent purchase in the next 24 hours we will earn a small commission.