"Burn fat and build muscle from head to toe with this comprehensive workout that gives special attention to your core." Here, we try out Day 1 of A Little More Obsessed by Autumn Calabrese: Total Body Core (44 minutes).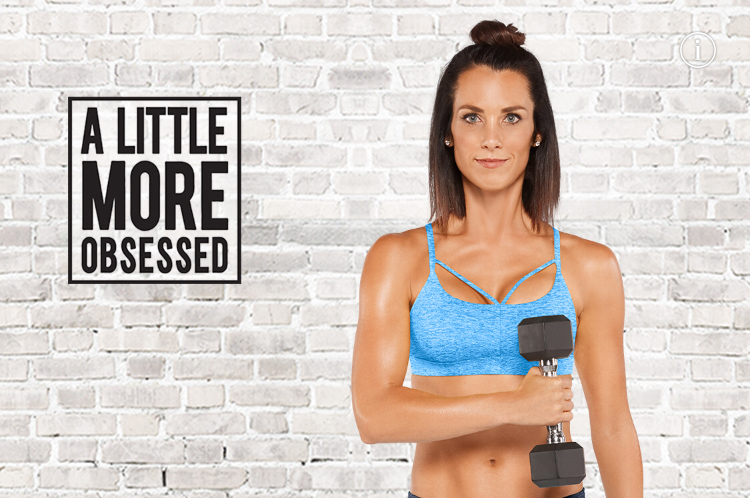 New year, new resolutions, right? Like many others, I'm wanting to embark on a new fitness routine. I have one last stone (14 lbs) that I want to lose, and this year I want to reach and maintain, my pre-pregnancy body weight.
This year I will do it!
So, I've signed up for a free 14-day trial of the Beachbody on Demand app. I've been a Tony Horton Beachbody fan for years, having completed his original P90X 90-day fitness program (I lost 30 lbs with this four years ago), and his P90X3 90-day program, oh, countless times, including twice through July-December 2018.
[amazon_link asins='B00GSBMW2Y,B000TG8D6I,B01BFJZMBG,B01KSX374E' template='ProductCarousel' store='elizskitcdiar-21′ marketplace='UK' link_id='ca10d8d4-1015-11e9-a141-41f130b9bf77′]
For the week from Boxing Day to New Year's, I did his 22-Minute Hard Corps Hell Week. Yes, Hell Week – 2 to 3 intense workouts every day for a week. To make that week even more difficult, I also filed my taxes and started to declutter the house. I'm a sucker for punishment, me, but I'm feeling pretty fit and strong. I'm rather pleased with my Cardio Fitness Levels (below), as measured by my Fitbit Charge 2.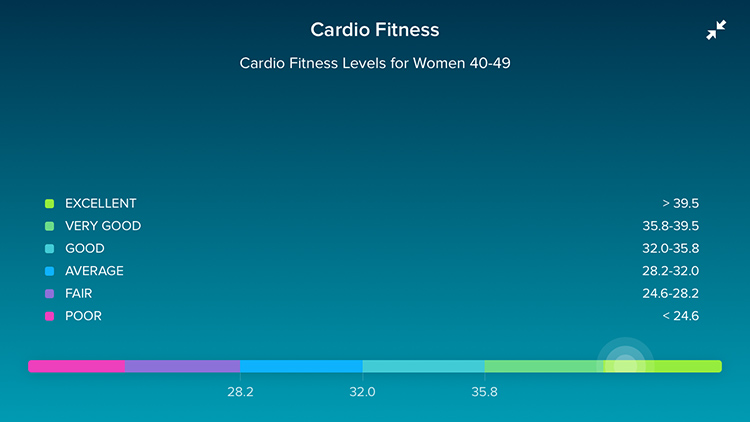 I'm also bored of doing the same old workouts – I want to try something new. On 2 January, after finishing the Hell Week, I was scrolling through the Beachbody on Demand app (which my husband very kindly set up on Amazon Fire so I can stream it on the tv in the living room) and A Little More Obsessed by Autumn Calabrese came up as a featured workout.
It's a six-day workout, with each day targetting a different area. It also fits nicely into the six days I have left to exercise before my husband and I set off across the Atlantic on a Caribbean Cruise! If there's ever an incentive to get fit it's prancing about in a bikini on the beach, especially when there's a photographer going to be around!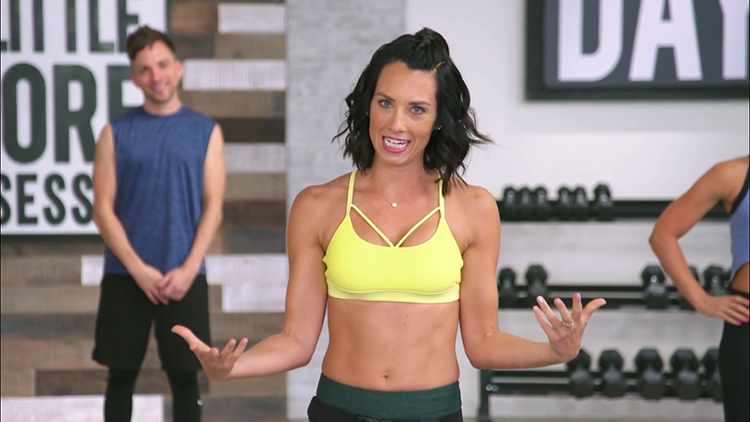 This workout has been designed as 6 bonus workouts to follow the 80 Day Obsession program, sort of like a Phase 4. The app gives you Tracker Sheets and a Workout Calendar if needed, but it's only six days so I don't think it's worth wasting the paper. If you're needing nutritional advice, there are several eating plans for various diets available as well.
I'm opting for a higher protein, reasonably low carb diet (under 100 grams of carbs) with plenty of seasonal green vegetables, no alcohol and only one piece of fruit daily. I'm calorie counting with My Fitness Pal going for a 1200 kcal diet, or a deficit of 1000 calories, meaning if I burn more in the day I can eat a little bit more.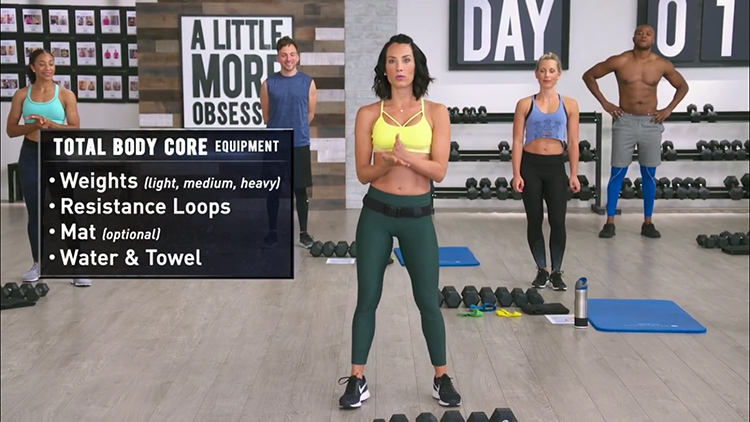 WHAT EQUIPMENT IS NEEDED FOR A LITTLE MORE OBSESSED?
The whole reason I clicked play on this workout was that in the Beachbody on Demand app it said that the only required equipment was a mat, water & towel. They also recommended: weights (light, medium & heavy) and resistance loops. I've got plenty of weights and a pull-up bar from my earlier P90X3 workouts, so I thought there might be some alternative movements to do without the resistance bands.
A LITTLE MORE OBSESSED: DAY 1 – TOTAL BODY CORE WORKOUT PLAN
A Little More Obsessed Day 1: Warm-Up
Lateral Travelling High Knees – this is a sort of jumpy dance move and is supposed to get you warmed up and the core engaged.
Butt Kicks for four, High Knees for four
Marching Torso Rotation – draw the abs in, loosening up the spine
Around the World Legs – arms up and around in a large circular motion
Cow and Cat – bend slightly, arching back up and down like a cow and a cat to stretch
Hug Yourself – stretching hip flexors, opening up the chest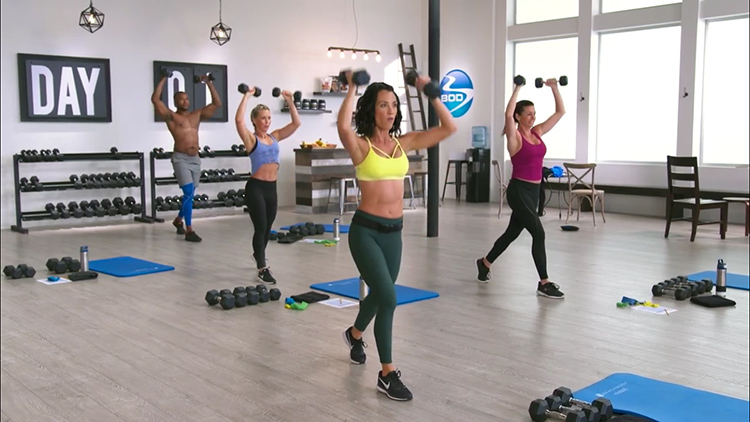 This workout is designed to give you two moves that work one muscle group and then an ab exercise. Each exercise group is repeated three times.
A LITTLE MORE OBSESSED DAY 1: SERIES 1 – SHOULDERS
Static Twisting Lunge with a Shoulder Press – hold weights palm facing in; lunge back with left leg, drop and rotate into your lunge, stand up and drive both weights up. Five on each side.
Lateral Squat Hop with Front Shoulder Raise – using a resistance loop above the knees, feet hip-width apart, extend arms holding a static weight in front of you. Hop to each side and lift the arms straight up. Five on each side.
Side V Pulses – lay on your side, pulse arms & legs 10 on each side
Repeat all three moves THREE TIMES.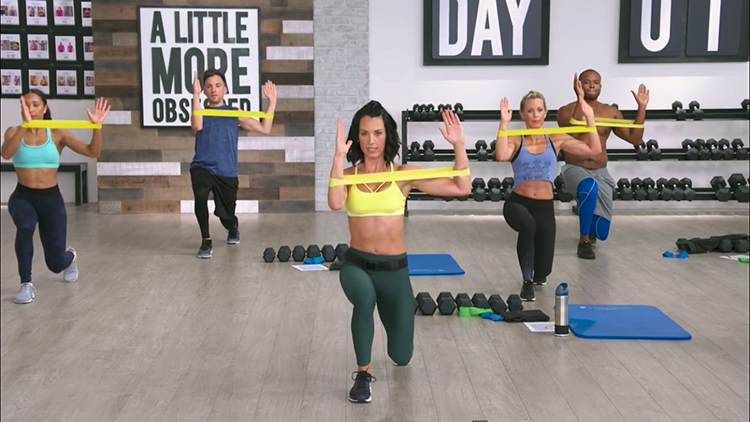 A LITTLE MORE OBSESSED DAY 1: SERIES 2 – BACK
Front Lunge Goal Posts – use a resistance loop on your upper forearms and raise like goal posts. Lunge and press five times on each side.
Two Jump Row – place your dumbbells on the floor on either side of your feet. Hop back, squat, hop between weights and lift the weights to the side of your body while bent forward. 10 x.
V-Up Flutter Kicks – resistance loop around thighs, cross your legs for four, up and down again.
Repeat all three moves THREE TIMES.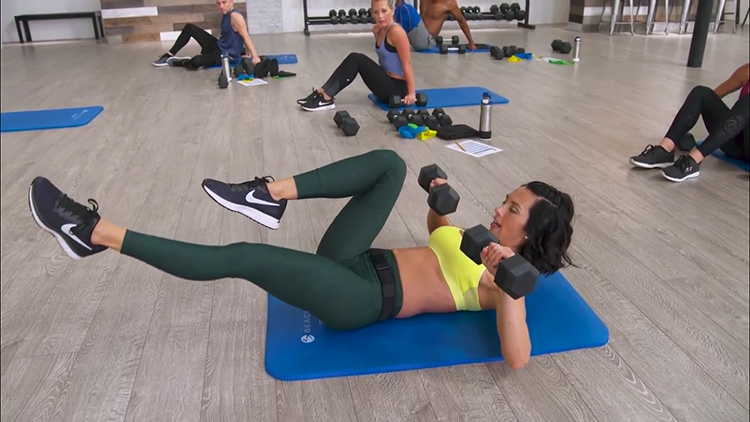 A LITTLE MORE OBSESSED DAY 1: SERIES 3 – CHEST
Chest Press with a Bicycle – contract crunch and alternate a leg press with lifting the weights up 10 x
Alternating Lateral Push-Ups – with resistance loop around upper forearms. 10 x
Roll Up Knee Twist – with resistance loop. On your back, roll up and twist with a weight. 10 x
Repeat all three moves THREE TIMES.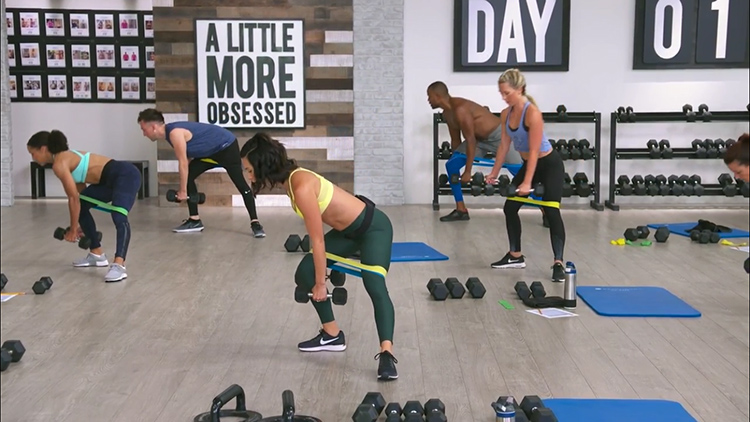 A LITTLE MORE OBSESSED DAY 1: SERIES 4 – BICEPS
Rotating Angle Lunge Curl – resistance loop above knee; lunge to the back left & right moving weights to the lower leg, return to the front and curl 10 x
Sumo Squat Curl – resistance loop above the knee. Sumo squat and curl single weight to the chest. 10 x
Loop X Tap – resistance loop above knee; lay on back, legs up, tap each leg down to the left and right. 10 x
Repeat all three moves THREE TIMES.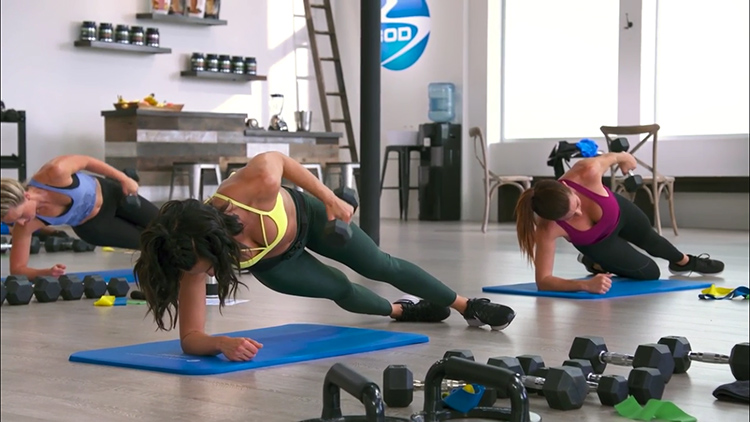 A LITTLE MORE OBSESSED DAY 1: BONUS MOVES – TRICEPS
Side Plank Triceps Kickback – 10 on each side
Frog Crunches – 10 x
To finish – 2 minutes of stretches.
A LITTLE MORE OBSESSED RESULTS: DAY 1 – TOTAL BODY CORE
Truth be told, I felt like this was a restful day, relaxing stretchy day. I wear a Fitbit Charge 2 which tracks my heart rate and movement, and as you can see from the graphs below, most of this workout was spent in the Fat Burn zone, with only 13 minutes of Cardio. True, it's not a cardio workout, so that's ok.
At only 187 calories burned for a 44-minute workout, I was a little disappointed. No extra food for me today. I contemplated supplementing today with something like Tony Horton's MMX (love that workout), but I decided that after last week's Hard Corps Hell Week I really ought to take it easy this week and maybe give this workout a go. It's only six days, and I thought I'd blog my progress too.
PERSONAL THOUGHTS & OPINIONS
My first impressions are that I really don't like this workout routine; it feels like a beginner workout although it's classified as Intermediate-Advanced. I have no idea who Autumn Calabrese is, and I've never done her earlier 80-day Little Bit Obsessed program, and I think after doing the P90X3 (twice) I'm too fit for this program.
Saying that I didn't do this workout with the resistance bands as I don't want to spend any more money after Christmas, and there's far too much stuff in my house already. Plus, given the number of bands that break in this workout, I'm disinclined to invest in something that's going to get thrown out right away.
I found repeating each set to be tedious, and quite frankly, boring. I think I've been spoiled by Tony Horton.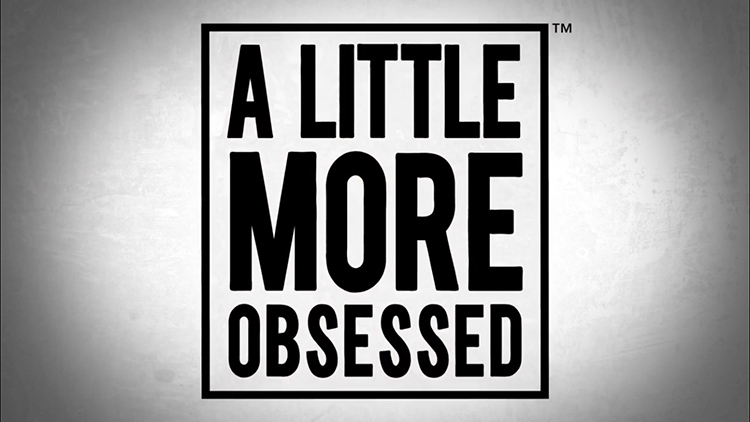 Also, If I want banter and chat, I'll go to a coffee morning. I certainly don't want to listen to other people banter and chat without participating, or even being able to hear what's being said. In this workout, there is loads of banter between her and the other people, but she's the only one with a microphone so you have no idea what anyone else is saying. There's far too much giggling and laughing too; it felt like an informal village hall club workout. With my workouts, I want to work out, and only work out. I also want to be motivated and inspired to keep going when I'm flagging. Music helps with that, I have found, and this workout is disappointingly quiet on that front.
Still, I will show up for the rest of the days and see what happens. Watch this space!
The next morning: grand weight loss total of 100 grams. Body fat percentage (as measured by my Eufy BodySmart Scale) down by 0.1%, muscle mass is the same.
PIN A LITTLE MORE OBSESSED DAY 1 WORKOUT PLAN & REVIEW FOR LATER!
This is not a paid post and I am in no way affiliated with Beachbody on Demand. All these photos are screenshots from my iPhone app. I'm just a gal trying to feel fab in a bikini. Amazon links are affiliate links, which means if you click through and make any subsequent purchase in the next 24 hours we will earn a small commission.