Dark brown sugar, ground almonds and fresh plums make this a rather delicious cake!
"Mum, why it so windy?"
It's that time of year again. The gales have returned causing ferry transport disruptions. It's getting dark early and outdoors is quickly becoming an unpleasant place to be. Any attempts at walking outdoors are done at a 70 degree angle.
There's also a whole slew of contagions going around. Madam has the spewwy bug – a mandatory 48 hour quarantine from school from the time of the last spew. Lovely.
It's cake baking weather!
I found myself with four punnets of British plums the other day, salvage from working in the shop. They were past their best and a few of the plums had gone a bit squidgy, but I wanted to salvage what I could.
A perfect time to try out the Hungarian Plum Cake recipe a neighbour of mine had given me. He, in turn, had been given it by a Hungarian fellow he knows.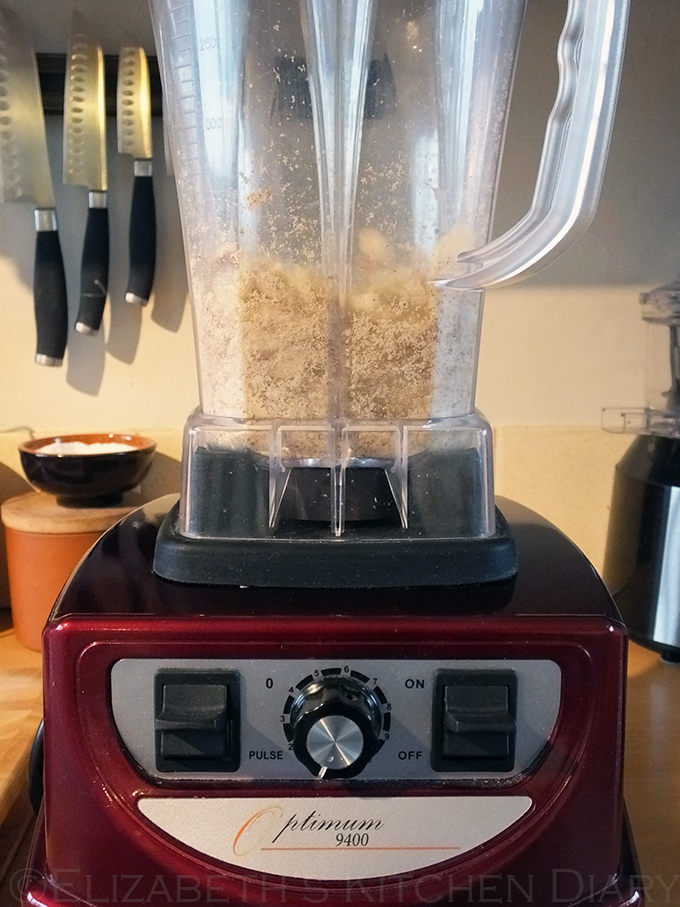 Of course, I was out of ready ground almonds. Not fancying leaving madam by herself for a few minutes while I nipped to the shop (ok, it's because I didn't want to go out in the wind and the rain!) I blitzed up 100 grams of raw almonds in my trusty Optimum 9400 blender. This mighty beast with its 3 horsepower motor and six blades turned 100 grams of whole almonds into ground almonds in a matter of seconds. If I'd left it any longer I would have had almond butter!
This cake, despite its sugar content, is almost savory. The recipe calls for brown sugar and I used dark soft brown sugar. This, along with the ground almonds and small self-raising flour content creates a dense, almost treacley cake studded with segments of purple skinned plums.
You could also use light brown sugar for a lighter cake, but make sure you drop the plum quarters in purple flesh side up so you can see the lovely colour after baking.
I still have quite a few more plums in the fridge… what would you do with them?
Servings

Prep Time

Cook Time

12

servings

10

minutes

45

minutes
Servings

Prep Time

12

servings

10

minutes
Preheat the oven to 180 C/ 160 C fan and lightly grease and line an 8 inch square or 9 inch round cake tin.

Beat the butter and sugar together until pale and fluffy.

Add the eggs, one at a time, beating well between each addition.

Sieve the flour on top of this mixture and fold in lightly.

Fold in the ground almonds, the almond extract and the chopped walnuts (or almonds, if using).

Spoon the mixture into the prepared cake tin and arrange the quartered plums over the top. These will sink into the cake as it cooks.

Bake for 40 - 45 minutes and then test with a skewer.

Remove the cake from the oven and leave it to cool in the tin for 15 minutes before turning out onto a wire rack to cool completely.

Store in an airtight container.
LINKING UP WITH A FEW FOOD BLOGGING CHALLENGES
Simply Eggcellent by Belleau Kitchen
Alphabakes by Caroline Makes
No Waste Food Challenge by Veggie Desserts
Recipe of the Week by A Mummy Too
Tasty Tuesdays by Honest Mum
OTHER PLUM RECIPES YOU MIGHT LIKE
Worcestershire Plum Cake by Jo's Kitchen
Maple Cinnamon Glazed Plum & Blackberry Sticky Buns by Kavey Eats
German Plum Cake (Pflaumenkuchen) by Little Sunny Kitchen
Plum Crumble Waffles by The Veg Space
Gluten Free Pistachio Plum Tart by How to Cook Good Food
Easy Roasted Plums with Star Anise by Supper in the Suburbs
Poppy Seed and Plum Cake by Ren Behan
Elizabeth's Kitchen Diary uses the Froothie Optimum 9400 blender, and the Froothie Optimum 600 slow juicer to make her juices, soups and smoothies. These are affiliate links, meaning if you buy a blender or juicer through them we will earn a small commission. This is not a paid post and all thoughts and opinions are our own.