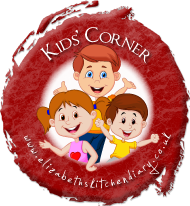 That's the summer holidays finished. This morning I sent my youngest off, hand in hand with his big sister, for his first day of school. I watched him for a few minutes from the doorway of his classroom as he sat at his desk, chin propped in his hand, listening to every word his new teacher was saying. I smiled, came home, put the kettle on and sighed in relief with the peace and quiet.
Now to catch up on all the things I've not had a chance to do this summer, namely a review of all the Kids' Corner products my children have been sent over the last few months!
SYLVANIAN FAMILIES COUNTRY DOCTOR'S CLINIC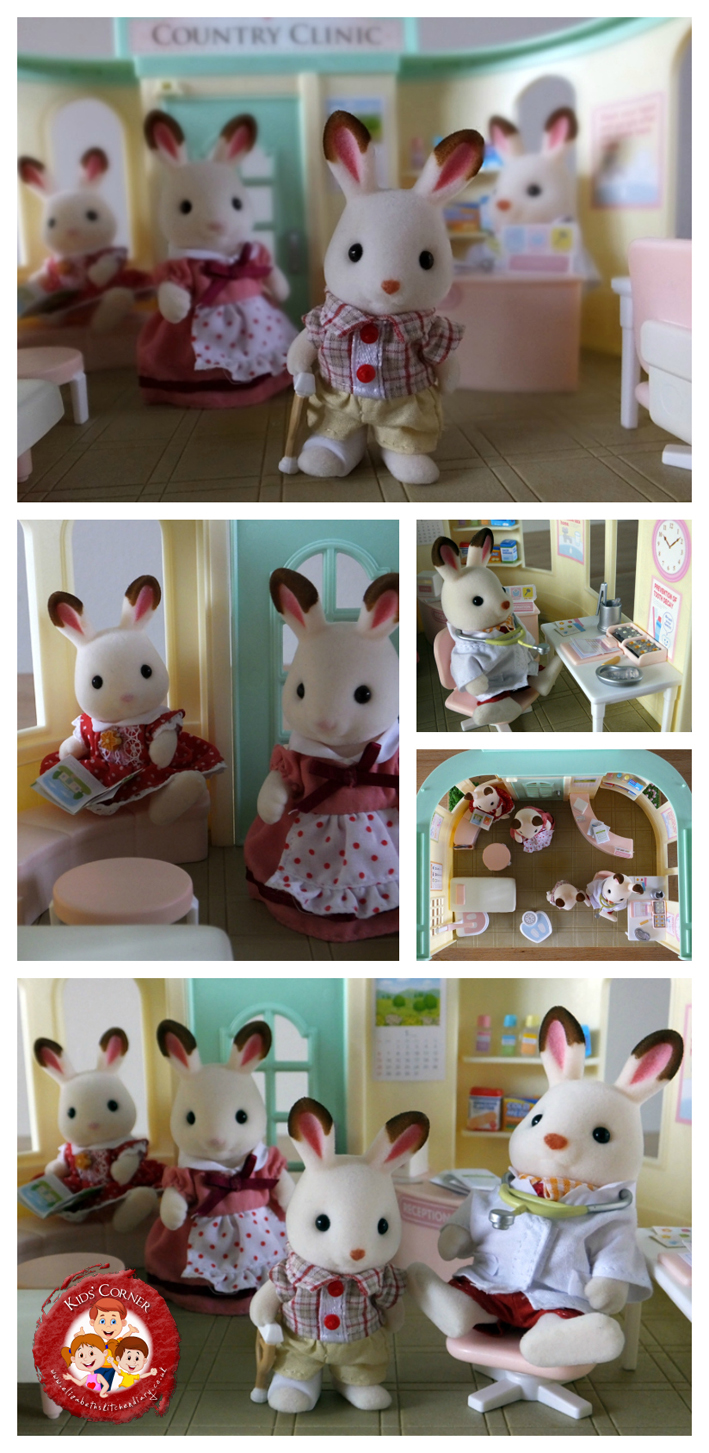 First up the Chocolate Rabbit Family head to the Sylvanian Families Country Doctor's Clinic. In case you don't know, the Sylvanian Families is a "unique and adorable range of distinctive animal characters with charming and beautifully detailed homes, furniture and accessories. They live, work and play in the idyllic and wonderful land of Sylvania."
The Country Doctor's Clinic RRP £ 32.99 consists of a clinic setting with over 45 pieces to assemble and play with. The connectable clinic itself can sit underneath the Cosy Cottage Starter Home, Beechwood Hall or Cedar Terrrace (sold separately) or can be played with on its own. The accessories for this clinic are absolutely adorable and include a reception desk, table, chair, stool, couch with built in magazine rack, little paper magazines, medicine boxes and bottles and all the examination instruments the doctor (Milk Rabbit Doctor – sold separately) would need to tend to his patients such as a white coat, stethoscope, scales and clipboard. There are plenty of stickers to decorate the walls including an eye chart and a clock and there is a foot cast and crutch for the injured patient.
The Chocolate Rabbit Family RRP £15.99 includes Frasier Chocolate (daddy), Teri Chocolate (mum), Coco Chocolate (son) and Freya Chocolate (daughter).
These sets are adorable! The children were squealing with delight when the parcel arrived and as we unpacked and assembled everything. Adult assistance is required for some of the more trickier bits like the tiny magazines and paper medicine boxes, but my children had a lot of fun dressing the Chocolate Rabbit Family, Milk Rabbit Doctor and putting up all the posters and laying out the clinic. Never mind the children – I had a lot of fun with this set! It sure beats the knackered She-Ra figurine and pile of builders' bricks I had to play with growing up!
You can find these items on Amazon, Argos, Toys R Us and all good toy shops.
Find the Sylvanian Family on Twitter and Facebook.
---
AQUABEADS JEWEL STARTER SET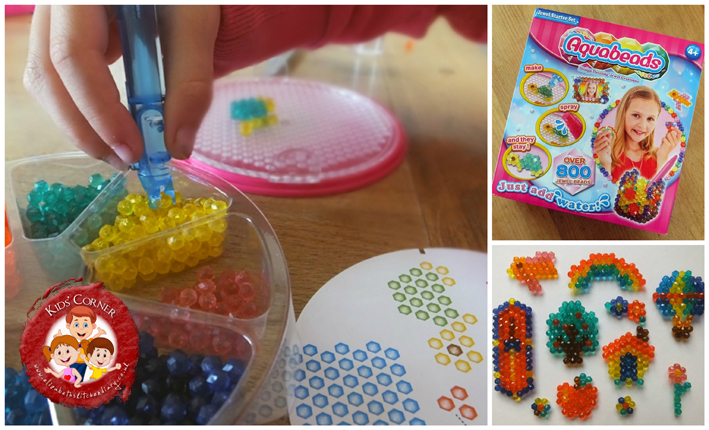 My kids are new to Aquabeads so this Jewel Starter set was a perfect introduction. Containing over 800 jewel beads, 5 template sheets, a layout tray, bead pen, sprayer and instructions this nifty little kit kept my wee ones entertained for well over an hour. Aquabeads are water soluble beads you arrange in patterns on the layout tray, spray them with water and leave them to dry. When dried the beads have stuck together (about an hour later) and the kids can play with their creations.
The beads are infused with an unpalatable bittering agent so if little ones "accidentally" put them in their mouths they'll spit them out right away. My youngest had to put this to the test – it works!
Retailing at £10-99 this product is recommended for crafty children age 4 over and can be found on Amazon and all good toy shops.
Find Aquabeads on Twitter and Facebook.
---
 GOLD STARS READY FOR SCHOOL BIG WORKBOOK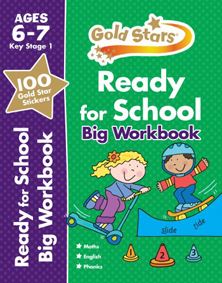 I'd picked up this fab little workbook from a stall at BritMums Live in London in June with full intentions of getting DD (age 7, nearly 8) to participate in Parragon Books #SummerWithGoldStars challenge. Alas, this didn't happen. Although the book is very well laid out with plenty of fun, educational activities, my daughter found them too easy to do and it didn't engage her enough to want to complete the challenge. I will be setting this up on the shelf until our youngest (age 5) reaches this stage at school.
Scientists claim that over the summer holidays many children experience Summer Learning Loss, a decline in academic skills and knowledge, equal to about 30 days of school. Parragon Books developed this work book and set a challenge for children to complete a page a day for 30 days to help combat this.
I'm sorry, we were too busy being outdoors and enjoying the summer to be inside doing sums and working on spelling. This last week alone my children scrambled over sea cliffs, explored geology, touched lava rocks in their natural setting, and camped and hiked out in the wilds of Shetland. That sort of learning you can't get in school and that's what the summer holidays is all about.
Still, it's a great little book with plenty of activities to do – 127 pages – on a rainy day. Retailing at £7-99 you can find it at Morrisons, Sainsburys, WHSmith, and other good retailers.
Parragon Books can be found on Twitter and Facebook.
---
ORION BOOKS – STORY STARS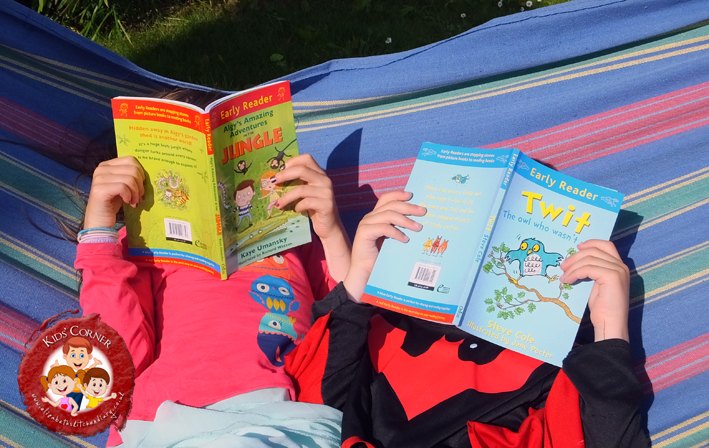 Swinging in a hammock reading – aaaah summer bliss!
I've signed my three children up to the Orion Books Story Stars Reviewers' Panel and this summer saw them each get their first instalment of books.
Each book is aimed at a certain age of reader, so my youngest received the Early Reader (blue label) Twit, DD (7) received an Early Reader (red label) Algy's Amazing Adventures in the Jungle and the eldest (14) received The Roman Mysteries: The Thieves of Ostia (which he's not yet finished reading so it's not reviewed here).
Twit, by Steve Cole, is a well illustrated clever little story about an owl who is being picked on by his older brothers. Twit meets a friendly vole and things take a turn for Twit's benefit with the vole's advice and guidance. My son loved this quirky adventure story, sitting and listening quietly through the whole thing as I read to him. It's a quick read – ideal for a bed time story.
Algy's Amazing Adventures in the Jungle, by Kaye Umansky, is about a boy who discovers a jungle at the end of his garden at his new house. It's a fab little adventure story which my daughter devoured in one sitting. Algy and his friend discover all sorts of interesting things in the garden jungle, you'll have to read it to find out though!
Affordably priced at £4-99 these books can be found online at Orion Books.
Orion Books can be found on Twitter and Facebook.
If you have a product aimed at children you would like to be reviewed on Kids' Corner please Contact Me.
Elizabeth's Kitchen Diary was sent the above products for review on Kids' Corner. All opinions expressed are our own. This is not a paid post.
If you want to be kept up to date on my recipes, occasional craft tutorials, adventure stories and giveaways then please subscribe to my weekly newsletter; it gets sent out every Monday morning if there is new content. Your email address won't be passed on to anyone, you will never be spammed and you are free to unsubscribe at any time, no questions asked. Make sure you confirm your subscription or you won't receive the newsletter – if it hasn't arrived check your junk mail folder.
[wysija_form id="1″]