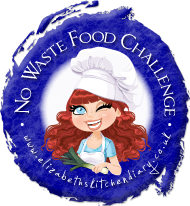 In the New Year of 2012 the lovely Kate over at Turquoise Lemons made a New Year's resolution to not waste so much food.
Inspired by the Love Food Hate Waste campaign Kate launched the No Waste Food Challenge in a bid to encourage others to do the same. She asked fellow food bloggers to share the ways they've avoided throwing out those wilted carrots, that cream slightly past it's best before date or the bits of things long forgotten in the back of the fridge or cupboard.
The challenge has run quite successfully over the last two years, and last year I began co-hosting it with Kate. This year, however, Kate has personal commitments taking up much of her time, so she's handed the No Waste Food Challenge baton over to me.
I have made a few changes to the challenge. First, I am keeping the theme open – each month you are free to share any recipe which uses up any ingredients which otherwise might have gone to waste. Tell us how you salvaged that stale bread, those spotty mushy brown bananas, etc! I've also set up a Pinterest board, which all entries will be added to.
I am looking for guest bloggers to host the challenge for the rest of the year – if you would like to host the No Waste Food Challenge just let me know and I'll add your details below. First come first serve! Hosts can be added to the Pinterest Board – just request access from me.
Guest Hosts for 2014:
January – Elizabeth at Elizabeth's Kitchen Diary @TangoRaindrop
February – Fiona at London Unattached @fionamaclean
March – Chris at Cooking Around the World @ChrisCH2011
April – Ness at JibberJabberUK @jibberjabberuk
May – Janice at Farmersgirl Kitchen @FarmersgirlCook
June – Michelle at Utterly Scrummy @utterlyscrummy
July – Anne at Anne's Kitchen @anneskitchen
August – Laura at I'd Much Rather Bake Than… @MustBakeCakes
September – Chef Mireille at Chef Mireille's East West Realm
October – Vohn at Vohn's Vittles @vohnmcg
November – Manjirichitnis at Sliceoffme @manjirichitnis
December – Anne at Anne's Kitchen  
Challenge Conditions:
1. Please link up your url using the linky at the bottom of each month's challenge post.
2. Feel free to republish old posts just make sure you add a link to the current challenge and add the challenge badge (the blue badge at the top of this post).
3. Make sure you link up before the end of the month!
4. Posts will be added to the No Waste Food Challenge Pinterest Board to help spread the food waste prevention love!
5. Please make sure your post includes a link back to this blog post and the relevant month's host.
6. Tweet @TangoRaindrop and the relevant month's host with the tag #NoWasteFoodChallenge and we will retweet all that we see.