Recently while making a
Black Forest Birthday Cake
for my significant other I learned a few things. a) brandied cherries normally take months to mature as brandy and sugar are poured over fresh cherries to cover, sealed and left for months to develop in flavour. Alternatively, if you want brandied cherries and you've only got two days and two shots of brandy to work with (as I did) a reasonable alternative can be made by simmering the cherries with the sugar and brandy, and leaving in the fridge for a few days.
I've also learned that extra thick double cream does not whip, no matter how much elbow grease you put into it. I'd planned on making a fancy cake for my partner's birthday and picked up two 600 ml containers of extra thick double cream on a supermarket sale. The shelves were cleared out of regular double cream so I thought it would have to do.
Alas, when it came time to assemble the black forest cake in all its glorious indulgent layers of whipped cream and brandied cherries, the cream would not whip. So, I was staring at 600 ml of cream which was going to go to waste unless I got creative, a bowl of coarsely chopped brandied cherries (which were intended to go in the cake) and the gorgeously enticing pink cherry brandy syrup in the glass bottle the cherries were stored in.
An idea was born!
This ice cream is absolutely gorgeous, if I do say so myself!
One of my favourite ice cream flavours as a child was cherry chip ice cream and this reminds me of it, but as a more indulgent grown-up version. I ended up making the recipe in my electric ice cream maker, since the cream wouldn't thicken while being whisked, but the recipe I've provided uses ordinary double cream so you should have no problem making it without an ice cream machine.
The simmering of the brandy with the cherries burns the alcohol off the fruit, so it is a recipe suitable for the whole family, should you wish to share, but you could also use the alcohol as an excuse saying it's a grown-up ice cream only!
If you are an ice cream fan like myself, you might also like to try some of my previous creations:
mint chocolate chip cookie dough ice cream
,
chocobanutty ice cream
made with chunks of chocolate and walnuts suspended in a banana ice cream base or
rhubarb ripple ice cream with hazelnut oat clusters
. I've also got another unique ice cream flavour heading into the freezer this evening, so watch this space!
Ooh.. here's an idea! What about a generous scoop of this brandied cherry ice cream served alongside a slice of
Black Forest cake
!?
Brandied Cherry Ice Cream
A luxurious and creamy cherry flavoured ice cream with a hint of brandy and grown-up sophistication.
Ingredients
250 grams

fresh cherries

75 grams

granulated sugar

50 ml

brandy

600 ml

double cream

397 gram

tin sweetened condensed milk

1 tsp

vanilla extract
Instructions
1. Destone and stalk the cherries, placing them in a small saucepan along with the brandy and sugar.
2. Bring to a simmer, and gently simmer, lid off, for approximately ten minutes, until the cherries are softened. Set aside to cool completely.
3. Whisk double cream, condensed milk, vanilla and 70 ml of the cherry brandy syrup together until thickened.
4. Coarsely chop the cherries and stir into the ice cream mixture.
5. Transfer to a freezer proof dish and freeze until solid, preferably over night. Stir twice in the first couple of hours to make sure the cherry pieces don't sink to the bottom.
6. Allow ice cream to sit at room temperature for five to ten minutes prior to serving, as it scoops easier.
Details
Prep time:
Cook time:
Total time:
Yield:
Serves 6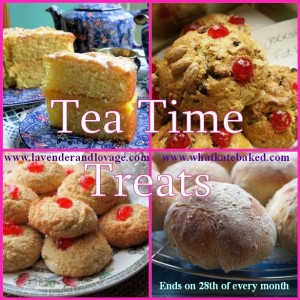 August's Tea Time Treats, a food blogging challenge alternately hosted by Karen from
Lavender and Lovage
and Kate from
What Kate Baked
, is all about ice creams, jellies and chilled desserts so I am sharing this recipe with them as I know, from first hand experience, this ice cream makes a fantastic tea time treat!